Tuesday MACtion: College Football Betting Odds & Picks for Buffalo vs. Miami, Ohio vs. Akron & More
Credit:
Justin Casterline/Getty Images. Pictured: Jarret Patterson.
There's nothing better than Tuesday night MACtion, and our college football experts have you covered from a betting perspective.
Collin Wilson broke down Akron-Ohio and Kent State-Bowling Green, while Patrick Strollo analyzed Miami (OH)-Buffalo.
Check out all three breakdowns, with updated odds plus Wilson's and Strollo's picks below.
Ah, Tuesday night MACtion. A sight unlike anything else on the planet. This is the stuff that bettors' dreams are made of.
There's no better way to follow up Monday Night Football than with three college games on Tuesday followed by three more on Wednesday. It's truly a gift.
Our college football experts wanted to add a little more to that gift by breaking down all three MACtion games for Tuesday night and sharing a betting pick for each.
But don't be too sad when Tuesday night MACtion is over. Because that just means there's Wednesday night MACtion that kicks off in less than 24 hours. And just as the famous line from the "Friends" theme song goes — we'll be there for you.
7:00 p.m. ET | Akron vs. Ohio
7:30 p.m. ET | Kent State vs. Bowling Green
8:00 p.m. ET | Miami (OH) vs. Buffalo
---
Akron vs. Ohio

Akron vs. Ohio Odds
Akron Zips
Akron kicked off the 2020 campaign with an onside kick, signaling the start for gamblers' most beloved conference.
There were plenty of negatives for the Zips in a 58-13 loss to Western Michigan, including a 19% Success Rate in passing downs and gaining 14% less than the national average in available yards. Quarterback Zach Gibson did not do the Zips any favors with a pick-six late in the first quarter.
If there is a positive note from the loss, the Zips' running back stable posted a successful night. Jeremiah Knight and Teon Dollard combined for over 140 yards on 27 carries, putting Akron on the board as the 17th-most explosive rushing attack. Knight produced six avoided tackles and 3.55 yards after contact.
---
Ohio Bobcats
The Bobcats took an opening loss to Central Michigan despite owning a 69% post-game win expectancy. Freshman Kurtis Rourke played well in his debut with 231 yards passing and two touchdowns. The little brother of Ohio legend Nathan Rourke did not throw a touchdown but fumbled twice. There was explosiveness in the passing game, as Ohio recorded six catches exceeding 20 yards.
Senior De'Montre Tuggle made the two biggest plays in the game, returning a kickoff for a touchdown to start the sceond half and later fumbling at the Ohio 16-yard line for an easy Central Michigan score.
The defense held up for the Bobcats, now ranking 25th in Opponent Passing Success Rate and sixth against the explosive run.
---
Betting Analysis & Pick
Our Action Network projection makes the game Ohio -25.5, but a case can be made for either side with the market shifting in the dead zone.
Ohio posted a 62% rush rate in its opening game, showing plenty of run explosiveness. While Akron had a 50% split in offensive play calling between the rush and pass, it did have a top-20 effort in rush explosiveness. The more interesting stat is that Ohio went 23% in two-plus first down percentage. The Bobcats are an explosive offense but have not proven the ability to sustain drives.
---
---
There are reasons to think scoring may be an issue in this game. Central Michigan was limited to just one run over 12 yards against the Bobcats; Ohio should limit Akron's lone weapon on offense. With Ohio running at a rate of 62% with a pace that ranks 72nd, there should be plenty of clock burned. The Bobcats struggled to put points on the board in scoring opportunities with an early rank of 108th in Offensive Finishing Drives.
Akron may cover, but it would come at the summation of a slow-paced game in which Ohio has no sustainable drives. Akron does plenty in special teams and in the passing game to deny itself a cover, but a pace of 87th on offense should help minimize the points.
Pick: Under 57 or better
---
Kent State vs. Bowling Green

Kent State vs. Bowling Green Odds
Kent State Golden Flashes
There were first-game mistakes for the Golden Flashes, who finished their first game with nine penalties for 78 yards in a victory over Eastern Michigan last week.
The end result of penalties and special teams left Kent State a -91 mark in hidden yards. The missed extra point by kicker Seth Phillis proved to be detrimental to any bettor with a -4.5 ticket on the home team. More importantly for head coach Sean Lewis, the Flashes were not very flashy in the opener.
Kent State put up just one explosive drive — defined as averaging more than 10-plus yards per play — out of 11 possessions. Only one pass and two runs went over 20 yards against Eastern Michigan. Success Rate was not an issue, particularly in standard downs, when Kent posted a rate 19% above the national average.
A tip of the cap must go to the Kent State defense that ranked second overall in the latest Havoc ratings. The Flashes dominated the line of scrimmage with 10 tackles for loss and a top rank in Line Yards. Defensive coordinator Tom Kaufman's unit had just nine missed tackles combined in 67 plays.
---
---
Bowling Green Falcons
The Falcons continue to loom in the basement of the conference along with Akron, making their Dec. 5 game an official must-bet for gamblers.
There are plenty of issues for Bowling Green, but the focus should be around the passing game. Matt McDonald went 8-of-30 with two interceptions. No matter how you slice the stats, there was nothing positive to see in the 25% Success Rate on passing downs and an average of less than one point per trip inside the 40-yard line. One of the more amazing stats from the opening night of MACtion was Bowling Green's rank of 14th in pass blocking, per Pro Football Focus.
Pace of play should be a factor before laying a bet with Bowling Green. The Falcons came in with a seconds per play rank of fourth in FBS. Their average of 20.4 seconds was not a reflection of garbage time, as Bowling Green averaged 19 seconds per play in its first three drives that resulted in a punt, interception and fumble.
---
Betting Analysis & Pick
The Action Network projection lands on at Kent State -15.5, much shorter than a market that is sure to steam through three touchdowns. Contrarian money is sure to pick up on Bowling Green above +21, but any investor must wonder how scoring will be generated by the Falcons.
---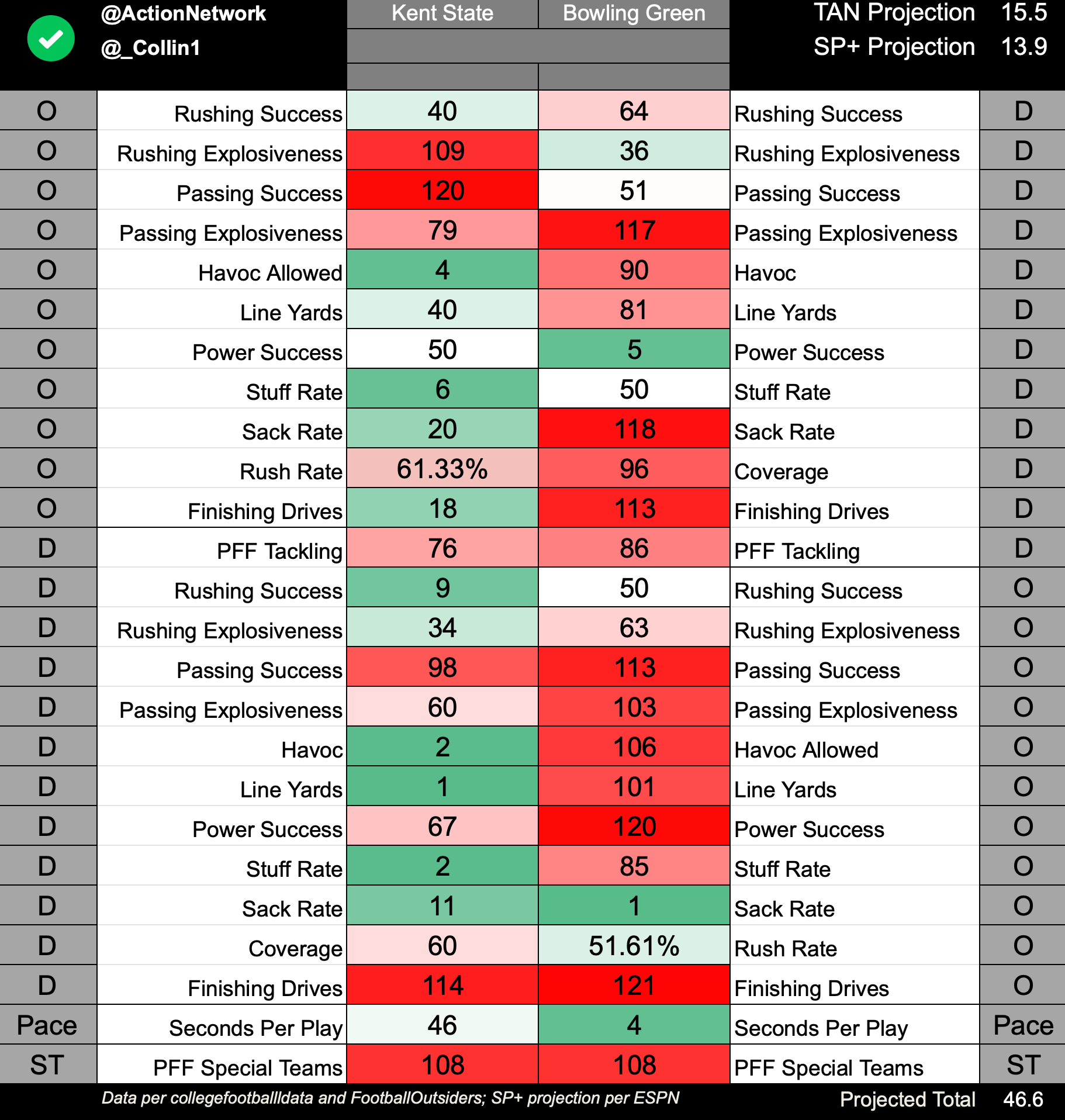 ---
Bowling Green made seven trips past the Toledo 40-yard line and left with a total of three points. The Falcons may lean into a rushing attack that ranked 50th in Success Rate, but Kent State's domination in the trenches against Eastern Michigan does not bode well for them. If backing Bowling Green at an outlandish number is too uncomfortable, there's a total to consider.
---

---
Per Sports Insights, crosswinds will be blowing in Doyt L. Perry Stadium from 17 to 23 mph with respect to stadium orientation. While Bowling Green has a light-speed tempo, it's one of the more unsuccessful offenses in the nation.
Meanwhile, Kent State recorded only one explosive drive against Eastern Michigan. Those elements, along with the wind, make an under the play. Look for any first-half number above four touchdowns and any live full-game total around the key of 56.
Pick: First-Half Under 30 or better; Under 56 or better
---
Miami (OH) vs. Buffalo

Miami (OH) vs. Buffalo Odds
The Miami (OH) RedHawks will travel north to face the Buffalo Bulls for Tuesday night MACtion as these teams battle for supremacy in the MAC East. Both teams enter the contest undefeated after the opening week of conference play. Miami was listed as the favorite to win the MAC East in the coach's poll, and Buffalo was voted to win the MAC in the media poll.
The RedHawks were victorious against Ball State last Wednesday, winning 38-31. The Bulls, meanwhile, knocked off the Northern Illinois Huskies on the road, 49-30. Miami and Buffalo both covered and hit the over in their season openers. Miami leads the all-time series, 15-7, after securing a 14-point win in Oxford last year.
Miami is coming into the game with starting quarterback Brett Gabbert, who's listed as questionable after he suffered a concussion in the second quarter of the opener. AJ Mayer replaced Gabbert and promptly went 16-of-24 for 212 yards and three touchdowns en route to the win. Mayer was named MAC Co-Offensive Player of the week.
Buffalo junior running back Jaret Patterson collected the other half of the MAC co-Offensive Player of the Week honor after rushing the ball 20 times for 137 yards and two touchdowns. The Bulls will look to feature their ground game anchored by Patterson against Miami's unclear quarterback situation.
---
---
Miami (OH) RedHawks
The defending MAC champs rallied behind Mayer, a redshirt sophomore, to defeat Ball State. Mayer was very impressive in relief of the starting Gabbert, whose brother is Buccaneers quarterback Blaine Gabbert. It's unclear which way the RedHawks will go at quarterback on Tuesday night, but look for Mayer to get the look given his performance last week.
The RedHawks had 422 yards of total offense, averaging 5.7 yards per play en route to five touchdowns.  Miami is utilizing a running back by committee for the time being, with three backs receiving nine or more carries. The backfield generated 134 yards on 42 attempts for an average of 3.2 yards per carry and two touchdowns. The RedHawks scored on six of their seven trips to the red zone last week, including all five of their touchdowns. Look for the RedHawks to continue their running back by committee approach as they look to solidify their starting QB.
The defense struggled against Ball State, giving up 31 points. The RedHawks gave up 478 yards and four touchdowns, allowing 6.83 yards per play. They allowed 309 yards through the air for one touchdown. On the ground, they gave up 195 yards for 3.3 yards per attempt and three touchdowns. The RedHawks had six sacks, one interception and one forced fumble. The late interception put Miami in position for the go-ahead touchdown with less than one minute left in the game.
Buffalo Bulls
The Bulls' offense is led by Patterson in the backfield. In his 28th career game, he rushed for two touchdowns and scored his 35th rushing touchdown of his career, which broke the all-time school record. Patterson enters the game 51 yards shy of 3,000 career yards.
Facing a Miami team that struggled so much against the run last week, expect Patterson to have a big showing.
Junior QB Kyle Vantrease was 12-of-18 for 178 yards with a touchdown and an interception, adding a rushing touchdown as well. The Bulls put up 357 yards of total offense, averaging an impressive seven yards per play.
Buffalo's defense took charge last week, contributing a remarkable three touchdowns against Northern Illinois. The scores came on two fumble recoveries and a pick-six. After one game this season, the Bulls are tied for first in the nation in defensive touchdowns. Buffalo allowed 397 yards and 30 points against Northern Illinois, with 241 of those yards and one touchdown coming through the air. On the ground, it allowed 3.3 yards per carry. The Bulls put up three sacks, one interception and four fumbles recovered.
---
---
Betting Analysis & Pick
The RedHawks' QB situation is a big question mark for the game. They have a strong run game and will look to get the table of running backs going early. This should pave the way for whichever quarterback ends up starting. The Bulls will continue to ride Patterson as the lead man in their offense and use him to open up the passing game.
Both teams had humdrum performances against the run in the opening week. Miami allowed 195 yards and three touchdowns, while The Bulls gave up 156 yards and three touchdowns. Expect a run-heavy approach from both sides.
Overall, Buffalo is the better team. It has one the best running backs in the country in Patterson, and Vantrease was sharp in his first game. Defensively, the five turnovers forced were also very impressive. Buffalo's run game and defense should be too much for Miami.
My model has the Bulls as 12.5-point favorites in this one. I would say it's best to lay the points.
Pick: Buffalo -9.5 (up to -10). Live betting should present to -10 or better in the first half.
How would you rate this article?