College Football Odds, Picks: Stuckey's 7 Favorite Conference Futures, Including Miami & Texas
Credit:
Samuel Lewis/Icon Sportswire via Getty Images. Pictured: Jaylan Knighton.
If you missed it last week, I detailed my favorite Power Five and Group of Five win totals.
Below, you will find my seven favorite conference and division futures — four Power Five and three Group of Five. If you're looking for even more insight, make sure you check out all of our preseason preview content on the Big Bets on Campus Podcast.
All of the numbers below were available when I logged the bets in the Action Network App but may have moved since. That's why I also included a note for each wager of the price I'd play it down to for your reference.
As always, I can't stress enough the importance of shopping around for the best odds at multiple books.
---
---
Power Five Futures
Bet Miami to +130
I'm buying the U in 2021.
The Hurricane offense really took off once Tyler Van Dyke took over under center. He threw for 25 touchdowns and six interceptions in nine starts, and Miami averaged over 35 points per game in eight league games with him at the helm.
Its only three losses came by a combined eight points in the following manner:
Missed a 33-yard FG to beat Virginia
Turned it over inside UNC's 20 in final seconds
Gave up game-winning TD in final seconds to FSU
The offense was not the issue once Van Dyke took over, and it should only improve with more experience. Plus, I expect new head coach Mario Cristobal (and new offensive coordinator Josh Gattis) to have a positive impact on a very experienced offensive line.
That should ultimately lead to a more efficient rushing attack to provide much more balance to the offense.
Miami did lose significant offensive production at the skill positions. There's still adequate talent to compensate, but the wide receiver position is certainly the one to monitor the closest.
The question becomes: What happens with the defense?
I think we can expect a major uptick in production under new defensive coordinator Kevin Steele, who should have the biggest positive impact on a linebacker corps that really held Miami back last season. I also loved some of the additions brought in through the transfer portal on this side of the ball.
Many of the problems on defense last year boiled down to a lack of discipline, which led to far too many penalties and missed tackles. Those are certainly easier to fix than a lack of talent, and this staff has the pedigree to do just that.
So, why the division and not the conference? Well, Clemson is a major unknown in the Atlantic Division with quarterback and coordinator uncertainty. I could see the Tigers having a major bounce-back season, but I certainly don't mind taking Miami to win the ACC.
I'm just much lower than the market on Pitt — Miami's biggest competition in the division — so I wanted to isolate that discrepancy in a more direct manner.
It also helps that Miami will host Pitt in the regular-season finale in a game that could decide the division. While Pitt does avoid both Clemson and NC State out of the Atlantic (Miami plays only the former), the Panthers must also travel to the other top three teams in the division.
The Canes also play fellow division foe North Carolina at home after a bye week while avoiding any teams on their schedule coming off of a bye.
It's all about the U.
---
---
Bet Texas to +300
Is Texas back? Well, that depends on your definition.
Back enough to win the Big 12? I believe so, especially with my outlook for the other top teams in the conference that must deal with plenty of roster attrition and coaching turnover.
The Horns flopped in the second half of the season to finish with a stunningly disappointing 5-7 record, but they did go just 2-5 in one-score games. They were really just a few plays away from a nine- or 10-win season.
The Texas offense flashed its potential at times, but the passing attack was far too inconsistent, especially down the stretch. Part of that had to do with an offensive line that struggled in protection.
I expect the offense to thrive in Year 2 under the tutelage of offensive guru Steve Sarkisian.
There's no concern about the rushing attack with arguably the best running back in the country working behind an offensive line that excelled in run blocking in 2021.
With more experience, that unit should also improve in terms of pass blocking.
Texas also has the best wide receiver room in the conference with the return of Xavier Worthy and Jordan Whittington to go along with Wyoming transfer Isaiah Neyor, who can fly.
And while there's some uncertainty at QB, there's no denying the ceiling is sky-high with Ohio State transfer Quinn Ewers. Hudson Card is certainly still in the conversation, but the former five-star phenom Ewers should eventually win the job.
I have no worries about the offense.
However, I can't say the same about the defense. Texas couldn't stop a nosebleed last year, ranking outside the top 100 in countless defensive categories. The run defense was an absolute sieve, and the Horns couldn't generate any semblance of a pass rush.
But I think there are reasons for optimism in Austin.
Remember, Texas was in the first year of a new scheme under DC Pete Kwiatkowski. Experience and familiarity will certainly help.
Plus, there's just too much talent to not see improvement. Sark also brought in ex-TCU head coach Gary Patterson as an analyst, which can't hurt.
Texas continues to crush recruiting and came as away as major net winners in the transfer portal. This is the most talented team in the Big 12, per my numbers, so I don't agree with the gap in odds (+300 to +200) compared to Big 12 favorite Oklahoma.
Those two will meet on a neutral field in Dallas in a game that will go a long way in determining who plays for the Big 12 title. I actually make Texas a very small favorite in that contest.
Schedule-wise, Texas has a very manageable road slate with only four games away from the Forty Acres. Those include Texas Tech, Oklahoma State, Kansas State and Kansas. That means it only travels out of state three times, going no further than two states north — and it has the benefit of a bye before the trip to Manhattan.
Lastly, I'm lower than the market on Baylor and Oklahoma State — two Big 12 contenders on Texas' schedule. While I do like what TCU did in the offseason, the Frogs must travel to Austin.
Hook 'em.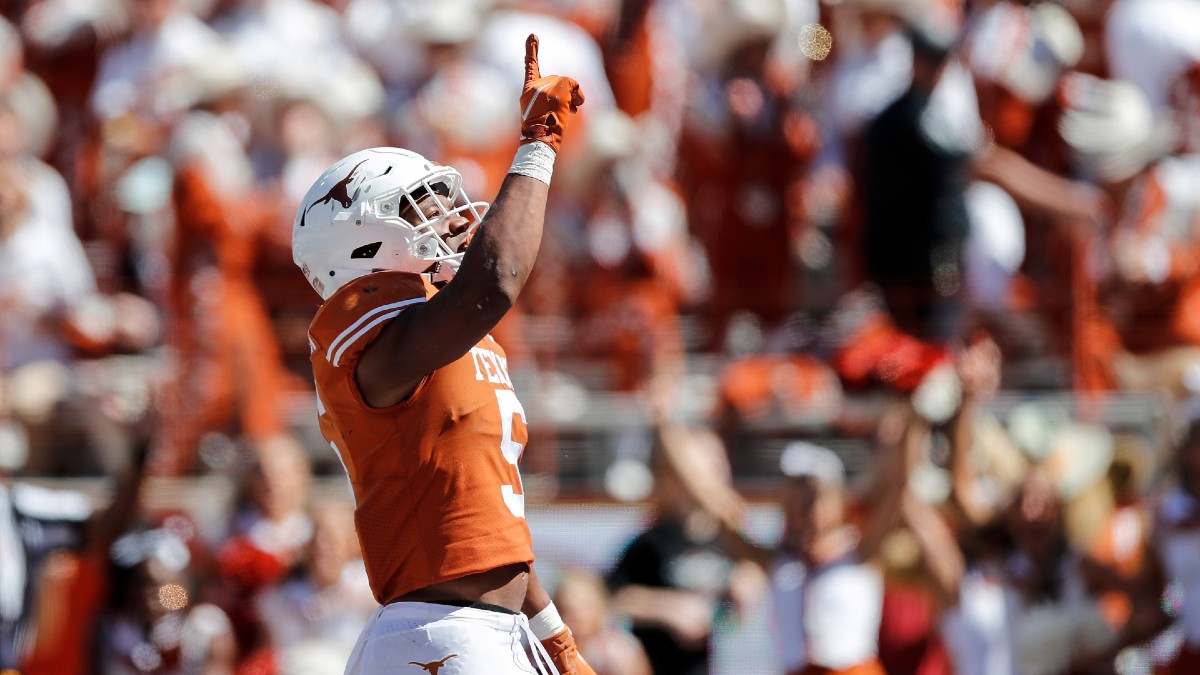 ---
---
Bet Oregon to +275
I'm not sure why Oregon has higher odds to win the Pac-12 than both Utah and USC.
I get USC brought in a lot of shiny new skill-position toys via the transfer portal for Lincoln Riley to play around with. That hire will pay dividends in the near future, but I still have major questions about the offensive line depth and defense.
Utah will certainly be a factor with Cam Rising back under center. However, the Utes did lose two offensive linemen to the NFL and a ton of talent on defense.
Oregon is also undergoing an abundance of change with an entirely new staff and plenty of new projected starters, but I'm bullish on what we will see. For my money, the Ducks possess the most complete roster in the conference.
Bo Nix, who thrived under new Oregon offensive coordinator Kenny Dillingham at Auburn in 2019, should serve as an upgrade at quarterback over Anthony Brown, who I never bought into.
Fresh faces will have to step up at wide receiver and running back, but the talent is there and the offensive line should be excellent.
Defensively, Oregon lost six of its top eight tacklers from last season, but I think Dan Lanning can turn this group into a force.
The defensive line has depth for days in front of the stupendous linebacker duo of Justin Flowe (back from injury) and Noah Sewell. Those two as the Mac and Money in the 4-2-5 base are about as good as it gets.
The secondary lost key pieces from last year, but I'm not as worried as some.
The safeties still have adequate experience, and I actually really like the cornerback duo of five-star sophomore Dontae Manning and Colorado transfer Christian Gonzalez. The latter started every game in each of the past two seasons at Colorado — both technically as a freshman, receiving All-Pac-12 recognition last year.
Lanning will have this unit in shape by the time conference play rolls around. Oregon will certainly get plenty of valuable reps in out-of-conference bouts against Georgia and BYU in September.
The other extremely important factor to consider is the schedules of the top teams in the Pac-12. Keep in mind that there are no divisions this year. That means the two teams with the highest conference winning percentage will play for the title, adding extra emphasis on the importance of each team's conference slate.
Well, Oregon won that lottery. The Ducks avoid USC and host Utah in a game I project them as a minuscule favorite. They also have an extremely manageable road conference lineup of Washington State, Arizona, California, Colorado and Oregon State. It doesn't get much easier than that in the Pac-12.
Meanwhile, Utah draws USC and must travel to both UCLA and Oregon. USC also has a pair of road dates against Utah and UCLA.
Quack quack.
---
---
Bet Tennessee to +1200
Call me crazy, but I think the Vols have value to win their division.
Yes, I'm aware the division contains the defending national champions, but I'm slightly lower than the market on Georgia. While I still have the Dawgs ranked third nationally, we could see some growing pains after all of the departed starters lost to the NFL even if they reload so effortlessly with talent in Athens.
Additionally, I'm not a believer in the Gators this year and am lower than the market on Kentucky. Those are Tennessee's two other main competitors in the SEC East.
I just don't think UK should have better odds to win the division, which you're seeing at plenty of books. For reference, Kentucky hosts Georgia but must travel to Tennessee and Florida. Meanwhile, Tennessee hosts both Florida and Kentucky.
The Vols do go to Georgia and likely have to win that game between the hedges to come out of the East — especially when you consider Tennessee has to play Alabama while Georgia and Kentucky do not. But I think it's worth a stab at this price.
In regard to the on-field product, this is a very experienced team that went 1-3 in one-possession games last year.
With the spectacular Hendon Hooker (31 TDs, 3 INTs) back under center and the addition of USC transfer Bru McCoy at wide receiver, it's fair to assume this electric offense will be even better in Josh Heupel's second season. This is a top-five offense to go along with a rock-solid special teams unit.
So, the question comes down to the defense, which struggled mightily at times last year. Will see see a substantial improvement even with the loss of its top two defensive backs? Some of the underlying metrics suggest that could be the case.
First off, the defense ranked outside the top 100 on third downs and 120th in the red zone. It was actually decent on standard downs, which is a lot more predictive.
You may also recall what Tennessee had to deal with prior to last season with a max exodus of talent, especially on defense. Depth was a concern, and many young players got thrown into the fire. That should pay off in the second season of a new scheme.
And while the Vols did lose their top two defensive backs, their pass defense can't get much worse. Plus, they did address the secondary in the transfer portal, which treated Tennessee very kindly overall.
I'm optimistic we see an improvement on defense.
Look, this is nothing more than a longshot. It's not something I expect to happen, but I certainly show enough value to throw a dart for some couch change.
Rocky Top.
---
---
Group of Five Futures
Bet Ohio to +1500
Last month, I found a rogue 25-1 on Ohio to win the MAC that I had to hit. That number has since disappeared, but you can still find 18-1 in the market.
The Bobcats finished 3-9 in a disastrous season that was likely doomed before it started when longtime head coach Frank Solich retired unexpectedly in July. That certainly had to make things a bit chaotic so close to the start of the season.
The East is wide open in the MAC with Kent State, Miami (OH) and Ohio. I actually wouldn't be shocked to see any of the teams in the East make it to the conference championship game, where anything can happen as we've seen in recent years.
Keep in mind Ohio entered last season with odds of 5-1 to win the MAC before everything went wrong. The Bobcats also went 2-4 in one-possession games and finished 110th in turnover margin.
The on-field product should improve, especially on a defense that returns nine starters. The Bobs also upgraded at coordinator by bringing in Spence Nowinsky from division rival Miami (OH).
This is a prime buy-low spot in the wild and wacky MAC. The returning experience in the trenches on both sides of the ball should also provide a boost.
I also think the division, as a whole, got much worse with Kent State dropping in my power ratings. Miami (OH) is the clear favorite in my book, but things could get very hairy for the RedHawks if quarterback Blaine Gabbert suffers another injury.
I really only need Ohio to win the wide-open and extremely weak East Division to get to the MAC Championship. It also would provide a potential hedge opportunity, but I'd probably just let it ride.
The MAC also represents the conference with the best chances of stunning turnarounds from one season to the next. Look no further than last year with Northern Illinois, which became the first-ever FBS team to win its conference the year after going winless.
Going back a bit further, in 2019, Central Michigan entered the season 50-1 to win the MAC after going 1-11 the previous season. The Chips remarkably won their division with a brand new staff.
The Bobcats will need to find some receivers to step up and likely catch a few breaks, but I just couldn't pass up this price in a division with Bowling Green, Akron, Miami (OH), Buffalo and Kent State
Stay tuned for more in my annual MAC Manifesto next week.
Bleed green.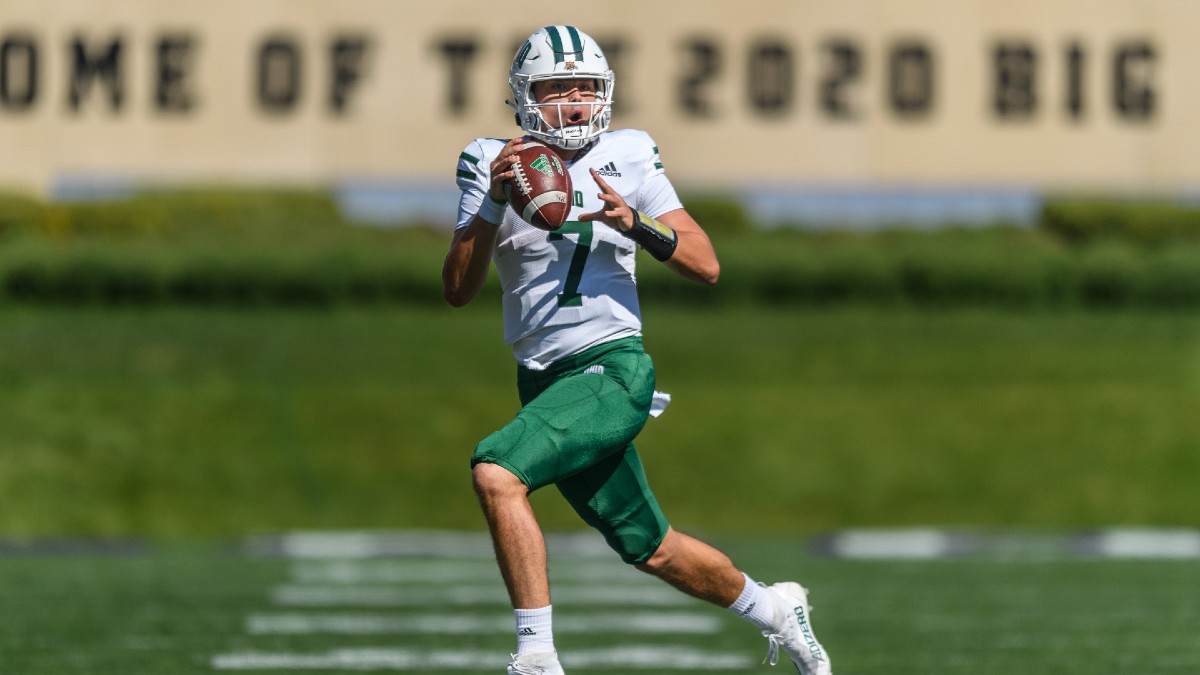 ---
---
Bet Air Force to +200
It's really just a three-team race in the Mountain Division between Boise State (+110), Air Force (+200) and Utah State (+400).
I actually think the Aggies take a major step back after last year's magical season, which ended in an improbable conference championship. They qualify as a major negative regression candidate and must replace a bevy of key contributors, especially at receiver and on defense.
Therefore, I really only think it comes down to Air Force and a Boise State program that seems to be trending in the wrong direction in recent seasons.
With that assumption, I just can't pass up this price on a Falcons team I'm super high on this year. I even have them power rated marginally higher than Boise.
Air Force must replace some key pieces on defense, including tackle Jordan Jackson (now with the Saints) and a pair of key defensive backs. However, service academies generally excel in that department.
Plus, it's not like any of that production departed from a rushing attack that led the nation in 2021. Quarterback Haaziq Daniels and star back Brad Roberts both return to Colorado Springs for a team that won 10 games last season, despite finishing 2-3 in one-possession games.
One of those defeats came at the hands of Utah State in a game when Air Force blew a double-digit fourth-quarter lead before losing a fumble in Aggie territory on the potential game-winning drive.
Overall, Air Force returns over 90% of its rushing production. Additionally, eight offensive linemen return with at least eight career starts to what could easily be a top-10 unit nationally. This is the most experienced offense Air Force will roll out in quite some time.
Believe it or not, I project Air Force as a favorite in all 12 games.
That includes a home date with Boise State as a small favorite that could decide the division. Although, for what it's worth, Boise will benefit from a bye the week prior. Additionally, the Broncos have conference favorite Fresno State on their schedule, while Air Force avoids the Bulldogs.
The new chop block rule could have a negative impact on the triple-option offense, but I see too much value to pass up on the Falcons — especially since a coin-flip game at home against Boise State may decide the Mountain Division.
HUA!
---
---
Bet Marshall to +500
Heading into the first year of a new conference, I absolutely love Marshall's additions from the transfer portal from a defensive needs perspective.
The Power Five acquisitions should shore up a run defense that plagued the Herd all last season. More bulk up front to go along with the best cornerback tandem in the league will make this Marshall defense a tough nut to crack for opposing Sun Belt teams.
I'm also a big fan of this coaching staff, which enters Year 2 under Charles Huff. It's reasonable to expect a subsequent bump in production across the board.
Marshall also qualifies as a major positive regression candidate. Turnovers killed the Herd all season, which especially burned them in close games. They finished 1-4 in one-possession games in large part due to a -11 turnover margin, including -9 in their six losses with the bowl.
In those defeats, they turned it over 14 times while generating only five takeaways. And of those five, they fumbled two back themselves on the next play, including one that Middle Tennessee returned 90 yards for a touchdown.
There's a new quarterback in town after Grant Wells jetted down I-64 to Blacksburg, but he lost the script last season for whatever reason. I'm not too worried about a large drop-off in quarterback efficiency with the uber-experienced Henry Colombi.
Assuming Colombi wins the job, he will benefit from a number of talented weapons on the outside and the return of star running back Rasheen Ali.
Ali amassed over 1,700 scrimmage yards and 24 touchdowns in 2021.
The biggest questions surround the offensive line, which must replace a trio of very experienced starters.
Most importantly, Marshall won the Sun Belt schedule lottery. The Herd will host Louisiana, Coastal Carolina, App State and Georgia State. Those are the other four teams with the best odds to win the conference.
Plus, 2022 may be a bit of a transition year for Louisiana (favorite to come out of the West) and Coastal. Both teams must deal with massive roster turnover. There's only so much Grayson McCall can do for a Coastal team that returns just four other starters.
As a result, Marshall has a very favorable road conference slate with only four dates with Troy, James Madison, Ole Dominion and Georgia Southern.
You can't ask for any better in the much tougher East Division, which could come down to Marshall's home showdown with Appalachian State.
We are Marshall.
How would you rate this article?
This site contains commercial content. We may be compensated for the links provided on this page. The content on this page is for informational purposes only. Action Network makes no representation or warranty as to the accuracy of the information given or the outcome of any game or event.