College Football Betting Odds, Picks: Stuckey's Top Power 5 Win Totals, Including Washington & Nebraska
Credit:
Abbie Parr/Getty Images. Pictured: Victor Curne (79) and Brandon McKinney (23).
In case you missed it last week, I detailed my nine favorite Group of Five win totals. Below, you will find my eight favorite win totals from the Power Five conferences, including a pair from the ACC, Big 12 and SEC.
Stay tuned for my favorite conference and division futures later this week, and make sure you tune into all of our preseason betting preview podcast episodes on Big Bets on Campus.
---
---
Atlantic Coast Conference
Georgia Tech Under 3.5 Wins (-110)
2021 Record: 3-9
Head coach Geoff Collins took on the monumental task of transitioning Georgia Tech away from its patented triple-option offense. That's no easy feat and certainly wasn't going to happen overnight, especially with a pandemic mixed in.
That said, after three full seasons, I'm no longer buying what Collins is selling, and the boosters might agree.
His in-game management decisions have been particularly poor. Tech has also had major penalty issues during his tenure. I wouldn't be shocked if Collins doesn't make it through the year.
The Yellow Jackets have won three games in each of the past three seasons with Collins at the helm. In fairness, they went 1-4 in one-possession games last year with closes losses against Virginia, Miami and Clemson. One could make a case those are signs of things trending in the right direction, but I just don't see it with this current roster and an unrelenting schedule.
Tech returns only six total starters — the low mark in the ACC. It also has a new offensive coordinator calling the shots in Chip Long, who I don't fancy much at all.
Offensively, Alabama poached its best player in star running back Jahmyr Gibbs, while last year's second-leading rusher, Jordan Mason, resides on the San Francisco 49ers' roster.
Meanwhile, the offensive line's returning starts drops from 117 last year to 37 with the likelihood of five underclassmen being projected starters.
The outlook is even bleaker for the defense, which returns only two starters. It lost all three starters along the defensive line and will now be transitioning to a four-man front. Three starters also depart from the secondary, but I'm not sure the pass defense can get any worse than last year.
Massive roster turnover and a potential lame-duck coach mixed in with schematic changes and a vicious schedule isn't necessarily a recipe for success.
Georgia Tech Schedule Analysis
It can be argued Georgia Tech has the most difficult schedule in the nation. It has three winnable games at home against Virginia, Duke and Western Carolina.
If they find a way to sweep those three games, which would require a win as a probable home dog vs. Virginia, the Yellow Jackets would need to find one more win out of the following nine games to clear their win total:
Clemson (in Atlanta)
Ole Miss
at UCF
at Pitt
at Florida State
at Virginia Tech
Miami
at UNC
at Georgia
Merciless. I have them projected as double-digit underdogs in each of those nine contests. I'll happily pay to see this GT squad sweep the three winnable games in addition to pulling off an upset as a sizable pup.
My guess is we see a 3-9 record for the fourth straight season.
Under 3.5
---

Pitt Under 8.5 Wins (-110)
2021 Record: 11-3
The Panthers had a magical 2021 campaign but should come back down to earth a bit in 2022.
Their aggressive defense should still be rock solid — even with a few unanswered questions at linebacker and in the secondary. Six of the eight returning starters received All-ACC honors last season. The defensive front should be especially nasty, led by two future pros in Calijah Kancey and Habakkuk Baldonado.
However, the offense could have issues despite having one of the most experienced offensive lines in the country and a trio of returning backs.
Not only do they have to replace record-setting quarterback Kenny Pickett, now playing professionally in the same city, but the Panthers also lost All-American wide receiver Jordan Addison to the transfer portal. Losing the reigning Biletnikoff Award winner is a massive blow to a wide receiver room that also lost Taysir Mack, Shocky Jacques-Louis and tight end Lucas Krull.
Head coach Pat Narduzzi did bring in transfer Kedon Slovis to fill the void left by Pickett, but I'm not a big fan. More importantly, offensive coordinator Mark Whipple and wide receivers coach Brennan Marion departed this past offseason.
Narduzzi brought in Frank Cignetti as Whipple's replacement in a very predictable move. Cignetti is much more philosophically aligned with Narduzzi's ever-burning desire to run the ball. I think Pitt's offense will become much less efficient as a result without even considering the departed talent.
Pitt should be a very intriguing under team and may find itself in a few too many close games for comfort against inferior opponents.
Keep in mind that Pitt hadn't won more than eight games in 11 straight years prior to 2021.
Pitt Schedule Analysis
Pitt does have a low floor with a number of should-be wins. If we assume the Panthers open the season with a win over West Virginia — which is no certainty as seven-point home favorites — they should have six wins in their pocket with other home games against Duke, Georgia Tech, Rhode Island, Syracuse and a road revenge matchup against a rebuilding Western Michigan team.
Therefore, this win total likely comes down to whether or not they can go at least .500 in their other six games, which include the following:
vs. Virginia Tech
vs. Tennessee
at Louisville (both teams off bye)
at North Carolina (UNC off bye)
at UVA
at Miami
Four of those six come on the road, and I'm higher than the market on a number of those opponents. Per my power ratings, those six basically contain four coin-flips and two where they should be a medium underdog.
I'll make Pitt prove it can at least split those games, assuming it takes care of business in the other six.
West Virginia winning in Week 1 would be lovely. Go 'Eers.

Under 8.5
---
---
---
Big Ten Conference
Nebraska Over 7.5 Wins (-110)
2021 Record: 3-9
If you watched Nebraska football last year, you saw two things.
Many mind-blowing mental mistakes
The greatest 3-9 team in the history of college football
Nebraska somehow went 0-8 in one-possession games in 2021, plus a ninth loss by nine points against Ohio State. Meanwhile, its three wins came by an average of just under 40 points. Remarkably, the Huskers finished 1-8 in the Big Ten with a net positive point differential.
Nebraska does need to replace a number of key pieces, including quarterback Adrian Martinez (who giveth and taketh), its interior offensive line and  two receivers and a cornerback who went to the NFL.
However, I loved what Scott Frost and company did in the offseason with the additions from the transfer portal and changes on the coaching staff.
Pitt's loss now becomes Nebraska's gain with new offensive coordinator Mark Whipple, who should make positive changes to an offense now likely led by Texas transfer quarterback Casey Thompson.
The most underrated moves may have been on special teams.
First off, Nebraska actually now has an official special teams coordinator for the first time since 2016. That's massive for a team that was downright dreadful in that department last season. The special teams mistakes and inefficiencies arguably cost the Huskers a few games. When you lose so many close ones, special teams tend to be a major culprit.
Nebraska also brought in the FCS Punter of the Year and a reliable grad transfer kicker from the FCS ranks. I also think the return game — which was miserable in 2021 — has much more promise.
I expect a major uptick overall, which may alone flip some of those close losses into wins.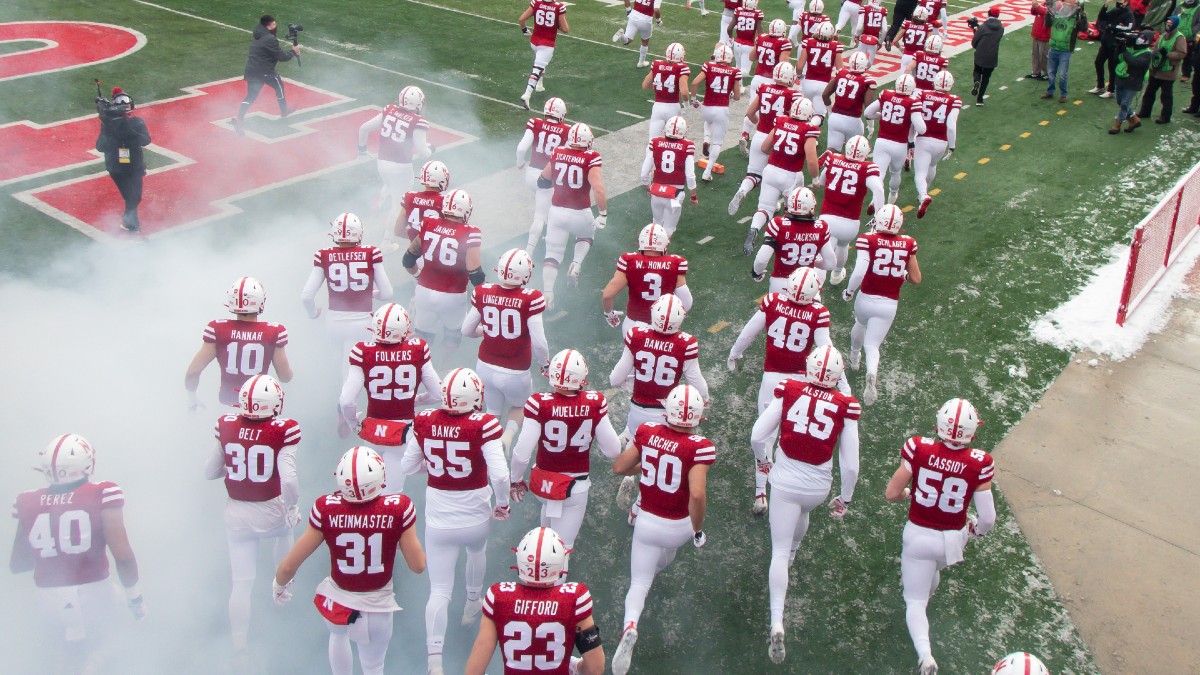 Nebraska Schedule Analysis 
Nebraska's only road games prior to Nov. 12 come at Rutgers and Purdue in mid-October. It's a very generous nine-game stretch to start the season with the toughest game coming at home vs. Oklahoma in which I project the Huskers as a favorite.
In fact, I have Nebraska as a favorite in each of its first nine games, including seven as a double-digit favorite. Simply take care of those, and the win total is cleared with one more win of the following five games:
vs. Oklahoma
at Purdue
at Michigan
vs. Wisconsin
at Iowa
I have the Huskers favored in three with the other two coming on the road at Iowa (coin-flip) and Michigan.
Everything sets up for a fast start. If a few bounces actually go their way this season, this team could easily win 10 games.
Over 7.5
---
---
---
Big 12 Conference

Oklahoma State Under 8.5 Wins
2021 Record: 12-2
Similar to the Big Ten, I only showed value on one preseason Big 12 win total.
A theme you will see throughout my win total analysis is the impact of coordinator changes, which applies here. I think the Pokes will severely miss the services of defensive coordinator Jim Knowles, one of the best in the business.
New coordinator Derek Mason has big shoes to fill and will have to do so with only four returning starters. The defensive line should be fine, but there are major questions at linebacker after losing two to the NFL. Four of the five extremely productive starters in the defensive backfield must also be replaced.
I expect a significant drop-off from last year's elite production.
Offensively, the experienced Spencer Sanders returns under center. However, he may find himself under constant pressure behind an offensive line that lost its two best players. The Pokes also lost their leading receiver and top two backs.
You also never know when Sanders will have one of his patented meltdown games where he goes into full-charity mode to help out the opposing defense. And if anything happens to Sanders, the rest of the quarterback room is extremely inexperienced.
Oklahoma State is also a prime negative regression candidate. It finished 6-2 in one-possession games last year, including a win at Boise State due to an inadvertent whistle.
It also had a +11 turnover margin. That will be hard to duplicate with all of the defensive turnover and a quarterback who has 40 turnovers in 32 career starts.
Oklahoma State Schedule Analysis 
The Pokes do at least have three very winnable home nonconference games to start the year against Central Michigan, Arizona State and Arkansas Pine Bluff. We can assume a 3-0 start for Mike Gundy's boys.
However, they draw five conference road games, including trips to Oklahoma and Baylor. They will also likely be underdogs at TCU and have a coin-flip in a tough spot at Kansas State. They will be favored at Kansas, but that game might be trickier this year against a Jayhawks team coming off of a bye.
That road slate looks like 2-3 to me, which means they would have to sweep their Big 12 home games to get to nine wins. They should be favored against Texas Tech, Iowa State and West Virginia, but I wouldn't be shocked to see a loss in any. And they will likely not be favored at home against Texas.
The floor is pretty high, but I show enough value to take my chances on under 8.5 wins with a team that I think has way more questions than answers.

Under 8.5
---
---
---
Pac-12 Conference
Colorado Under 3 Wins (-110)
2021 Record: 4-8
It's going to be a long year for head coach Karl Dorrell, who finds himself squarely on the hot seat in Boulder. The Buffs got crushed in the transfer portal, losing six starters while also bringing in six new coaches.
I'm not a fan of quarterback Brendon Lewis and hated the hire of offensive coordinator Mike Sanford, who absolutely flopped at Minnesota last year. I don't see much improvement for an offense that averaged fewer than 20 points per game in 2021.
The defense lost five of its top seven tacklers, including both starting cornerbacks, who transferred in conference to USC and Oregon. There are also massive holes to fill at linebacker for a unit that will transition to a 4-3 base.
Lastly, the Buffs must replace a very productive punter, who also exited via the portal.
Colorado Schedule Analysis
Going under three wins with Colorado may sound scary to some, but the schedule is an absolute gauntlet. The Buffaloes face 11 Power Five teams with the lone exception being a road trip to face a very strong Air Force squad. They also face each of the projected top-six teams in the Pac 12.
There's not a single "gimme" win on the entire schedule, which contains nonconference matchups against TCU (-9) in the opener followed by road trips to Minnesota and Air Force.
Their most winnable game is a home date with Cal in a virtual coin-flip. They will likely be at least a touchdown underdog in their other five home games against TCU, UCLA, Arizona State, Oregon and Utah.
I also have them projected as at last a touchdown underdog in all six road games.
Yes, the Buffaloes were a mess last year and still won four games, but one of those came against an FCS team — a luxury they won't have in 2022. Two of the other three came at home by six combined points, including a double-overtime victory over Oregon State.
Now, the roster and staff are in much worse shape and the schedule is tougher.
Under 3
---

Washington Over 7.5 Wins (-115)
2021 Record: 4-8
What an absolutely dreadful season for Washington in 2021, starting right from the jump with an embarrassing home loss to FCS Montana.
The 4-8 season ultimately cost head coach Jimmy Lake his job.
In comes new head coach Kalen DeBoer from Fresno State, along with both of his coordinators. This should serve as a massive upgrade from a coaching and leadership perspective after all of the instability under Lake.
Last year's quarterback play was almost insulting with the Huskies throwing more interceptions than touchdowns. One of the worst rushing offenses in the country didn't do the passing game any favors.
The quarterback play should improve significantly with the addition of Indiana transfer Michael Penix Jr. even if just by default.
It's worth noting that Penix thrived at Indiana in 2019 (70% completion rate) under then-offensive coordinator DeBoer. With improved play-calling and competent quarterback play, this offense should make significant strides from last year's disaster.
The defense must replace two first-team All-Pac 12 cornerbacks who got drafted and another defensive back who signed with the Bengals as a free agent. That's the main concern for a pass defense that statistically ranked as one of the best in the nation in 2021.
The hope is that Cal Poly senior transfer Jordan Perryman (two-time All-Big Sky can lock up one cornerback spot with Mishael Powell (who did get a few starts in 2021) stepping in on the outside.
I'm not as worried about the safety position and think Dom Hampton is a perfect fit for the new hybrid "Husky" position.
While the pass defense thrived, the run defense couldn't stop a nosebleed.
That should change this year with the Huskies transitioning from a 2-4-5 base to a 4-2-5 that should give them more bulk up front and serve as a better schematic fit for a linebacker corps that added former Pitt captain Cam Bright. His addition is especially critical since they will likely have to make do without Edefuan Ulofoshio until at least midseason.
If NFL prospect Zion Tupuola-Fetui can regain his pre-injury form off the edge, I'm more optimistic about this defense than most.
Lastly, the Huskies did get a bit unlucky in 2021, going 3-5 in one-possession games while ranking 117th in turnover margin. So, they do qualify as a potential positive regression candidate.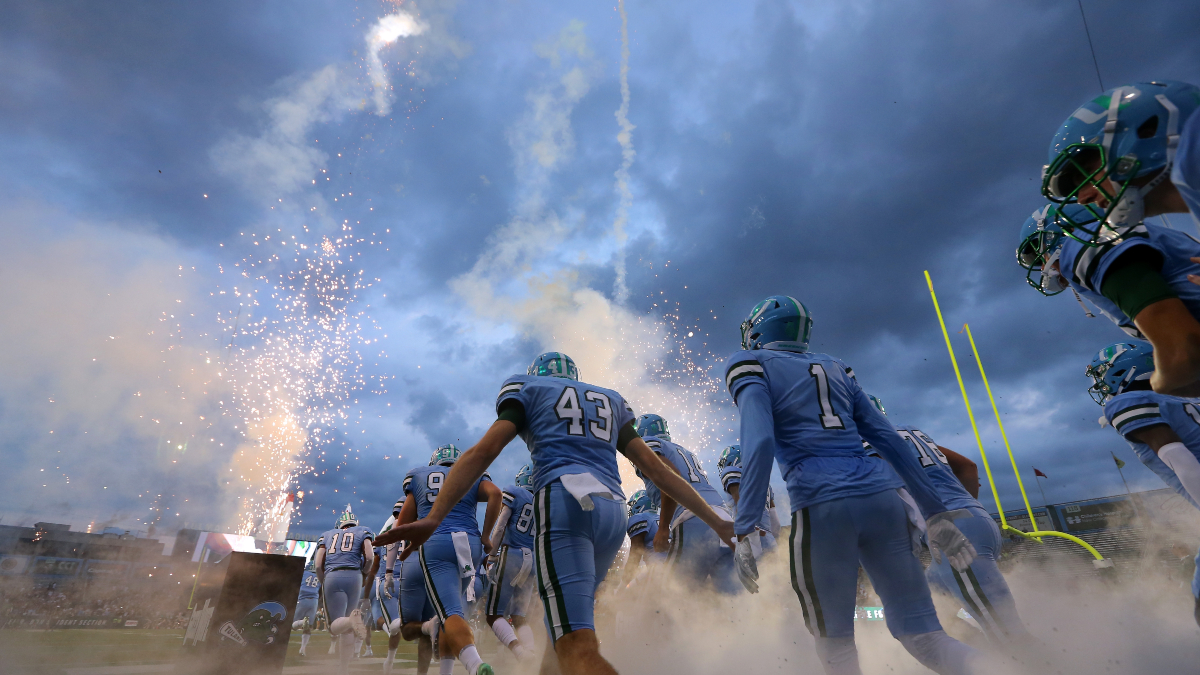 Stuckey's Top Group of 5 Win Totals
Washington Schedule Analysis
Washington should start out 2-0 with home games against Kent State and Portland State. That should help build some nice momentum heading into a third home nonconference showdown with Michigan State.
If the Huskies can come away victorious against Sparty, they should start out 4-0 with another home game to follow in their conference opener vs. Stanford.
It really is a very favorable schedule. Not only does UW get three nonconference home games, including two cupcakes, but it also avoids both USC and Utah.
It also has a very easy home league schedule with matchups against Arizona, Oregon State, Stanford and Colorado. It should be double-digit favorites in all four.
If we assume Washington takes care of business in the six home games it will be favored by double digits, it would just need two other wins from the following six to clear the win total:
vs. Michigan State
at UCLA
at Arizona State
at Cal
at Oregon
at Washington State
Even if we assume the Oregon game is a loss, the other five are very winnable. In fact, the Huskies could very well be more than a touchdown favorite on the road at Cal and Washington State. The other three are likely coin-flips.
This schedule sets up very nicely for a rebound season with at least eight wins.

Over 7.5
---
---
---
Southeastern Conference

Kentucky Under 8 Wins (-120)
2021 Record: 10-3
Hopefully, all of my friends and family in Lexington don't make it this far in the article, but I'm lower than most on Kentucky's prospects this year.
There's no denying the tremendous work Mark Stoops has done in the Bluegrass, In 2018, the Cats won 10 games for the first time since 1978 and replicated that feat once again last season. That said, I think it will be a struggle to reach eight or nine victories in this upcoming campaign.
While Will Levis continues to get plenty of love as a potential top-10 pick in next year's NFL Draft, I'm not as sold.
Plus, he will have to deal with a new offensive coordinator in Rich Scangarello, who at least comes from the same tree as former OC Liam Coen. Coen now holds the same position with the defending Super Bowl champions.
The offensive line has been one of the most reliable in the country over the past few seasons. The Big Blue Wall has arguably been the foundation and identity of Kentucky's newfound success on the field.
However, there could be some growing pains after seeing last year's right tackle and center get drafted.
Kentucky must also fill the void on Levis' blindside after the loss of Dare Rosenthal, who will likely find himself on an NFL roster eventually. The former LSU transfer allowed only one sack in 12 starts last year. Zach Yenser, the third offensive line coach in the past three seasons, has his work cut out for him.
Levis also lost his top two receivers, including star Wan'Dale Robinson, who finished with over 1,300 yards last year before being selected by the Giants in the second round of the NFL Draft. Robinson was responsible for 43% of Kentucky's explosive plays in 2021 — the highest rate of any receiver in FBS.
There are some talented freshmen and transfers in the wide receiver room, but Robinson was invaluable.
Additionally, there are questions in the backfield regarding the availability of star Chris Rodriguez due to legal issues. The irreplaceable junior back rushed for over 1,300 yards last year, averaging over six yards per carry.
Lastly, with the transfer of Beau Allen, the quarterback depth is very raw if anything happens to Levis.
Defensively, Kentucky must replace stud safety Yusuf Corker and second-round draft pick defensive end Josh Paschal, now with the Giants and Panthers, respectively.
In total, the secondary lost three starters when including Vito Tisdale's knee injury in the spring, while all three starters on the defensive line must be replaced, including stalwart nose tackle and current Carolina Panther Marquan McCall.
Defensive coordinator Brad White annually does a great job and has a loaded linebacker group to work with. However, even with some much better turnover luck in 2022, this defense could have issues in SEC play.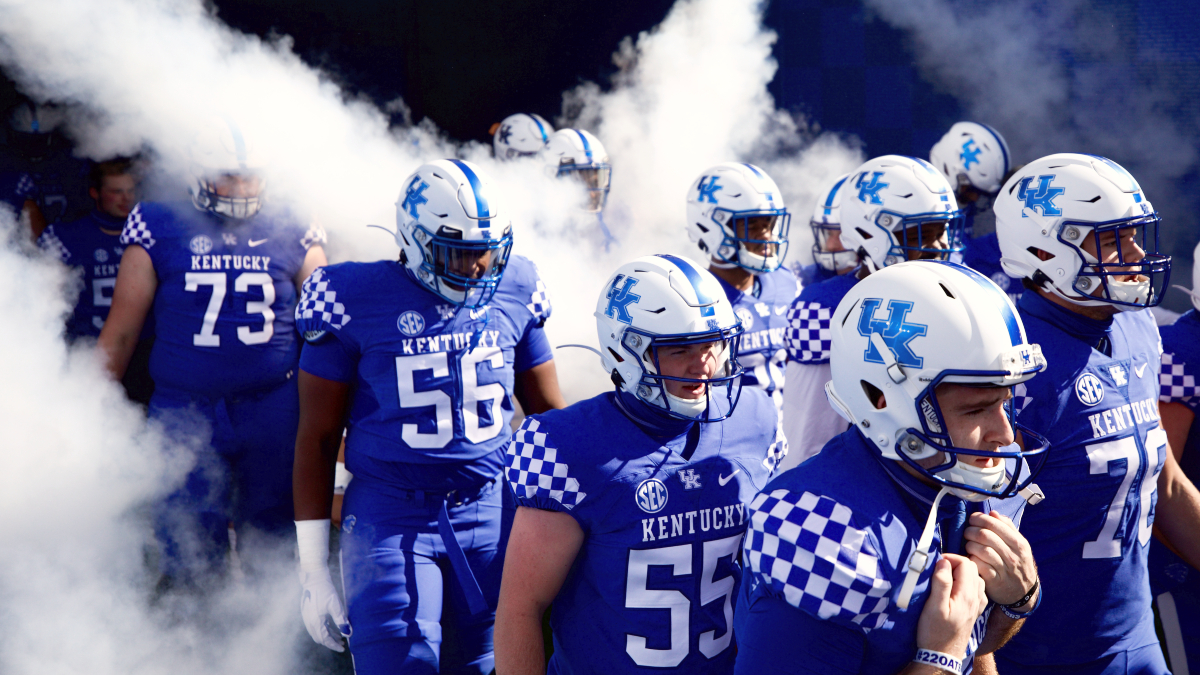 Kentucky Schedule Analysis
Last year, Kentucky won nine regular-season games but didn't beat a single team that finished with a winning record until a bowl victory over Iowa. It also finished 5-1 in one-possession games, including that Citrus Bowl win.
The Cats do have four nonconference games at home, including three probable wins in September against Youngstown, Northern Illinois and Miami (Ohio) — although those last two could be tricky if they aren't careful.
The other one comes against in-state rival Louisville in the season finale. That could really go either way.
In regards to the conference slate, Kentucky has a road trip to the Swamp in the second game of the season, which could be very tricky with all of its new pieces against a Gators team out for revenge. Kentucky has won just once in its last 20 trips to Gainesville.
The Cats' other road foes in SEC play include Ole Miss, Tennessee and Missouri (in a tough situational spot). Their home league games come against Mississippi State (who I love this year), Georgia, South Carolina and Vanderbilt.
In total, I project Kentucky as a substantial favorite in five games.
The remaining set of games contains many that could go either way. Based on my preseason power rating and roster concerns, I'm willing to go under 8 here.

Under 8
---
Mississippi State Over 6.5 Wins (-120)
2021 Record: 7-6
As I mentioned above, I love the Bulldogs this year. Quarterback Will Rogers really took control of the offense last year and should thrive in his third year as a starter in an Air Raid system that's all about timing and repetition.
Historically, Mike Leach has only had three other three-year starting quarterbacks (Graham Harrell, Luke Falk, Kliff Kingsbury) as a head coach. Those teams all won at least nine games and improved on their win total from the previous season.
Rogers is not alone as a returning starter with experience this year. The Bulldogs have one of the 10 most experienced rosters in college football with 17 returning starters by my count.
The defense should rock solid once again even with the loss of cornerback Martin Emerson to the NFL. I like what the Bulldogs did in the transfer portal on this side of the ball, and the return of Jordan Davis from injury could be massive up front.
The offense must replace leading receiver Makai Polk (now with the Ravens), but there's enough experience on the outside and at running back to compensate for his departure.
And while both tackles also left, including top-10 pick Charles Cross, that's not as big of a concern for a quick passing attack.
Last year, Mississippi State won seven regular season games despite a 2-3 record in one-possession bouts and terrible fumble recovery luck. That included a one-point loss to Memphis in which the officials robbed it of a victory.
It also lost another to Ole Miss in which it outperformed the Rebels statistically. Wide-open drops and special teams miscues plagued the Bulldogs in that Egg Bowl defeat.
The latter shouldn't be as big of an issue after addressing the massive hole at kicker through the transfer portal. Miss State was the only SEC team with a sub-70% field goal make rate in 2021.
Leach also brought in a new special teams coordinator, so I expect a massive jump in overall efficiency from a special teams unit that was a bottom-10 group last year.
Mississippi State Schedule Analysis 
The schedule is one of the hardest in the country with games against both Georgia and Alabama on the docket.
Leach's team does at least have four relatively easy nonconference games against Memphis, Bowling Green, ETSU and at Arizona. That should translate into four wins if it can avoid falling victim to a potentially tough spot in the Tucson heat.
Therefore, the question is raised: Can the Bulldogs win at least three of the following SEC games to reach seven wins?
at LSU
Texas A&M
Arkansas
at Kentucky
at Alabama
Auburn (Miss State off bye)
Georgia
at Ole Miss
With only Alabama as a certain loss in my book, I'm betting on yes.
Over 6.5
---
How would you rate this article?
This site contains commercial content. We may be compensated for the links provided on this page. The content on this page is for informational purposes only. Action Network makes no representation or warranty as to the accuracy of the information given or the outcome of any game or event.