Week 12 College Football Betting Odds, Predictions: Collin Wilson's Full Card, Including 2 Pac-12 Top-25 Affairs
Credit:
Christian Petersen/Getty Images. Pictured: An Oregon Ducks player takes the field.
As usual, Collin Wilson is all over this week in college football, breaking down the biggest of matchups.
In Week 12, the expert is targeting a key Big 12 affair and two top-25 Pac-12 matchups.
Dive in below and formulate your own NCAAF betting card.
Somehow, Week 12 has jumped up on us out of nowhere.
But before we get to the final week of the regular season — better known as Rivalry Week — we have some solid matchups for the penultimate Saturday of the 2022 season.
It all starts in Waco, Texas, as Baylor hosts TCU looking to end the Horned Frogs' dream season knock their in-state conference rival out of the College Football Playoff picture.
Eight hours later, two high-profile Pac-12 showdowns await.
USC represents the Pac-12's lone shot at making the playoff, but the Trojans must overcome a UCLA team led by Dorian Thompson-Robinson in what is expected to be a high-scoring affair with a total in the mid-70s.
Finally, Utah and Oregon go to battle with Pac-12 Championship and Rose Bowl berths on the line.
Read on to see how I'm betting all three massive Saturday showdowns — and be sure to check out the rest of Action Network's Week 12 betting coverage.
---
Collin Wilson's Week 12 College Football Best Bets
The team logos in the table below represent each of the matchups that senior writer Collin Wilson is targeting from Saturday's slate of games. Click the team logos for one of the matchups below to navigate to a specific bet discussed in this article.
Game

Time

Pick

12 p.m. ET

Baylor +2.5

8 p.m. ET

UCLA +2.5

10:30 p.m. ET

Utah -1.5

Specific bet recommendations come from the sportsbook offering preferred odds as of writing. Always shop for the best price using our NCAAF Odds page, which automatically surfaces the best lines for every game.
---
TCU vs. Baylor
The college football world was once again reminded last week that TCU is not just a Big 12 contender, but an undefeated entity that should compete for the national title.
The Horned Frogs entered Austin against the Longhorns as a touchdown underdog. Questions around the health of the most explosive players on offense buzzed, as the Horned Frogs are guaranteed to play in Arlington for the conference title.
TCU left no doubt in the win with a 99% postgame win expectancy, keeping the Longhorns from finding the end zone of offense.
Baylor lost a crucial conference game against Kansas State in Week 11. The loss not only sends the Bears to three losses in the race for Arlington but puts its season win total over in doubt. The Wildcats used a balanced attack both through the air and on the ground with a backup quarterback in the 31-3 blowout.
Head coach Dave Aranda has been excellent in getting his teams to respond from a loss, going 4-1 against the spread since last season. Now, the Bears have a national stage to knock a national title contender out of the playoff race.
---
No one has informed the Horned Frogs that college football teams have a minimum of one hangover game per season. TCU has dominated opponents from a total yards perspective, covering the last four games against Texas, Texas Tech, West Virginia and Kansas State.
Pass explosiveness has been the primary weapon for quarterback Max Duggan, who showed no signs of a calf injury that was suffered against the Mountaineers.
Duggan was limited on the ground for the third straight game with only one scramble attempt.
TCU excelled in executing downfield to wide receiver Quentin Johnston. With Biletnikoff consideration upcoming, Johnston averages an explosive 2.9 yards per route run. The junior showed no signs of an ankle injury that preceded the Texas game.
The most impressive unit from the trip to Austin, however, may have been a stellar defensive performance.
Defensive coordinator Joe Gillespie called a masterpiece against Texas quarterback Quinn Ewers.
Cornerback Tre'Vius Hodges-Tomlinson recorded three pass breakups after being targeted on seven different passing attempts. Ewers saw just eight pressures on the game, but the mixing of coverage kept the freshman confused as his targets recorded a season-high four drops.
The Horned Frogs heard the playoff committee's criticism of the defense. TCU held Texas scoreless in the first half at home for the first time since 1997, as defenders singled out star running back Bijan Robinson, failed to record an explosive play.
TCU has been unable to play at this level all season, ranking 113th in pass rush and Defensive Finishing Drives.
The Horned Frogs are still one of the worst teams in allowing chunk plays on passing downs, but if Gillespie can scheme and get the defense to execute like it did against Texas, then TCU will be on its way to the playoff.
---
Baylor's loss to Kansas State came in shocking fashion, as quarterback Adrian Martinez got knocked out of the game early. Backup Will Howard would go on to throw three touchdowns against the Bears defense.
The inefficiencies for Baylor's offense started with quarterback Blake Shapen, who completed just over half of his passing attempts.
Aranda mentioned the struggles in getting his team to be the best version of itself with misalignments and mistakes on defense. The head coach now has the task of getting his team to rebound with a chance of moving up on the bowl position ladder.
This will be Senior Day for the Bears, playing in their final home game of the year with 25 players set to be honored. If Baylor wants to secure the victory for its seniors, freshman running back Richard Reese must return as an explosive option in the backfield.
Baylor is a run-first team, but the legs of Shapen and Reese have been missing the past two weeks. Reese carried the ball over 30 times in wins over Kansas and Texas Tech before logging just 13 over the past two weeks.
Shapen has been equally ineffective on the ground, tallying just three scrambles for nine yards against Kansas State.
Baylor is a top-25 team in Stuff Rate and Rushing Success, which makes the ground game the biggest key in keeping TCU's offense off the field.
The Bears defense was ill-prepared for Howard to play quarterback for Kansas State. Baylor has had been an excellent coverage unit all season, but Howard's entry into the game had Aranda scrambling to adjust for more passing. Howard finished with three passing touchdowns and not a single turnover-worthy play.
Baylor's defense has been hit-or-miss all season with a key strength in stopping the explosive rush.
The biggest issue is when Baylor gets opponents behind the chains. Aranda's defense ranks 121st in Defensive Standard Downs Success Rate, allowing opponents to convert plenty of long down and distance attempts.
---
TCU vs Baylor Betting Pick
Dykes' postgame comments about Texas were those of relief, not just in beating Texas but securing a spot in the Big 12 Championship. Predicting letdown spots in college football can be dicey, but TCU clearly had its sights set on Texas and securing a spot in Arlington.
This TCU team has already far exceeded preseason expectations, but it needs wins over Baylor and Iowa State in its remaining games to stay in the national title picture.
Aranda has had no issues getting his team to respond after a loss. The Bears hold a distinct advantage in rush explosiveness in this game, ranking 18th in rush expected points against the Horned Frogs' defensive rank of 70th.
The key to the game will be in a rebound performance from Shapen against a defense that is poor in eliminating explosive passing. The sophomore's turnover-worthy play rate is cut in half when no pass rush is present, an area where the TCU defensive front struggles.
While Shapen works against a 3-3-5 stack defense that he previously dominated with three touchdowns against Iowa State, Duggan will work against a multi-scheme from Aranda's defense. With scrambling limitations for the TCU quarterback, Baylor will have the advantage in defending the explosive pass.
We project TCU as just a one-point favorite with a total of 60.
The Horned Frogs may be in hangover mode after beating former coach Gary Patterson at Texas. But more importantly, Baylor has the resume to stop explosive plays and knock TCU out of the national title picture.
---
---
USC vs. UCLA
The sexiest combination of uniform colors and stadium background will be on display once against when USC takes a short trip to the Rose Bowl for a Pac-12 mega showdown with UCLA.
The Trojans look to end the conference season with just a single loss and a guaranteed trip to Las Vegas to compete for the Pac-12 title. USC has one of the lowest strength of schedule ranks of all teams contending for the playoff, so a win here and over Notre Dame would work wonders for the Trojans.
UCLA got caught looking ahead to its rival in a Week 11 loss to Arizona. The loss took the Bruins out of the national title discussion, but a spot in the conference championship is on the table against USC.
Chip Kelly's team holds a tiebreaker over Utah in the standings, as the Bruins must hold serve at home before heading to Berkeley to finish the regular season against Cal.
UCLA hasn't played in the Rose Bowl game since 1999, but a berth for a conference title game and a trip to the "Granddaddy of Them All" is on the line against USC.
---
Star USC running back Travis Dye suffered an injury against Colorado, which is poor timing. The transfer from Oregon had gained nearly 900 yards on the ground, creating 29 missed tackles and averaging 3.2 after contact.
From a numbers perspective, the Trojans may not take as big of a step back with backup Austin Jones taking over starting duties.
Jones is not the clubhouse leader that Dye has been, but he owns a better average in yards after contact and a higher rate of explosive rushing attempts, which means the Trojans are in good shape.
USC has scored a minimum of 40 points in all but two games this season: matchups against Oregon State and Washington State. The Beavers and Cougars each created nearly a dozen hurries on quarterback Caleb Williams.
USC's defense continues to struggle under coordinator Alex Grinch. The Trojans are outside the top 100 in Success Rate and allow opponents an average of 4.1 points in scoring opportunities.
Not only is USC allowing plenty of explosiveness on the ground, but the defense also ranks 119th in Standard Downs Success Rate. An anemic offense in Cal nearly upset USC a few weeks ago, logging nearly as many first downs as the Trojans with a third-down conversion rate of over 50%.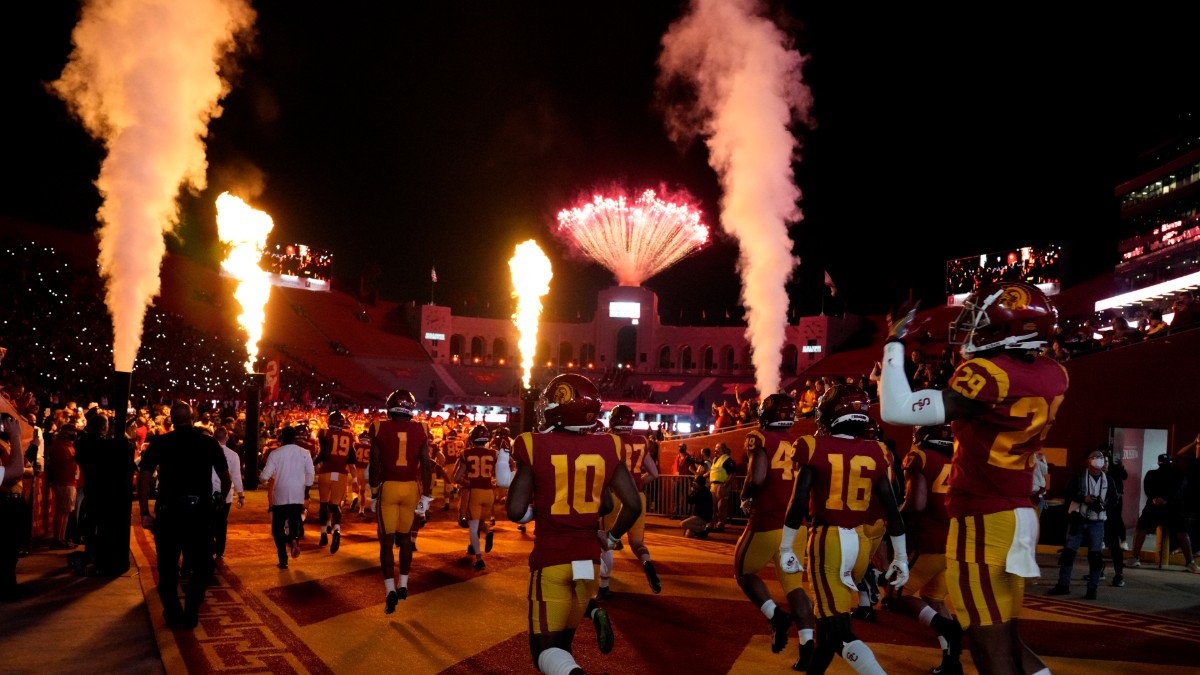 ---
The Bruins have excelled in getting blockers to pave the way for explosive runs. Quarterback Dorian Thompson-Robinson has been excellent in designed run plays but has more than doubled that total in 34 scrambles this season.
Adding to the ground attack is Zach Charbonnet, who's a Doak Walker contender thanks to 4.5 yards after contact and 44 missed tackles created.
USC must contend with an offense that ranks top-five in Rushing Success Rate and Line Yards. Head coach Chip Kelly still prefers an uptempo pace at 23.1 seconds per play, but UCLA plays in standard downs at the 13th-highest rate.
This is a highly successful ground attack that sets up downfield targets through play action. Thompson-Robinson has a 7:1 touchdown-to-interception ratio on 119 play-action attempts.
The pass defense let the Bruins' national title hopes slip away in the loss to Arizona last week. The Wildcats averaged 11 yards per pass on 29 attempts, leading to seven scoring opportunities that totaled 34 points.
Coordinator Bill McGovern has allowed the Bruins defense to sag outside the top 100 in Success Rate and Line Yards. UCLA is also one of the worst defenses in the nation at generating Havoc.
The one aspect in which UCLA defenders can be counted on is limiting chunk yards in early downs, with a rank of 19th in standard downs explosiveness.
---
USC vs UCLA Betting Pick
There's no shortage of bulletin board material coming out of the UCLA camp.
Thompson-Robinson was clear about his disdain for the Trojans, even stating the number the Bruins want to put 60 points on the board.
The offensive explosive plays will come through different methods for each team.
Williams leads a USC defense that will scramble and hit busted plays in passing downs. UCLA does have a top-18 pass rush, which should flush Williams from the pocket.
The Bruins' ability to limit the Trojans quarterback outside the tackles is the key handicap when USC has the ball. USC is one of the most undisciplined teams in the nation, ranking 108th in penalties.
UCLA will start with heavy run from Thompson-Robinson and Charbonnet against a USC defense that allows first downs at one of the highest rates in the country. The Trojans allow plenty of explosives on the ground, ranking near the bottom of FBS when it comes to allowing plays of at least allowing 30 yards.
Action Network projects UCLA as the favorite in this game, as its pass rush and ability to limit explosive plays in standard downs will be enough to record a few stops against USC's offense.
Along with their penalty struggles, the Trojans rank 114th in Special Teams SP+ thanks to poor marks in kicking and field position.
Look for UCLA to remove USC from the national title and Pac-12 title pictures in an outright upset.
---
---
Utah vs. Oregon
The College Football Playoff is slipping out of focus for the Pac-12, but plenty of drama remains for the conference title game and Rose Bowl berth.
With a single conference loss, the path is set for Oregon and Utah: survive and advance.
The Ducks took their first conference loss in Autzen against Washington in Week 11, sending the team into a logjam at the top of the conference standings. A win over the Utes all but guarantees a trip to Las Vegas to compete for the conference crown, as the Ducks own a tiebreaker over UCLA.
Utah holds a key tiebreaker over USC, but a loss to Oregon means it would need plenty of help to reach the conference championship.
Since losing to UCLA on Oct. 8, the Utes have rattled off four straight victories. Utah is firing on all cylinders with two recent covers that included holding Stanford to just 22 yards rushing.
Utah will end the season at Colorodo, making this game with the Ducks the last hurdle to Las Vegas. Oregon will seek revenge after taking two losses in a two-week span to Utah last season.
---
Utah head coach Kyle Whittingham is happy with his defense over the past 10 quarters of play. The Utes limited Stanford to 177 total yards, while a potent Arizona offense that beat UCLA racked up just 203 yards passing.
Havoc has been a huge part of the Utah defense, as it ranks 16th nationally in that area. Edge rusher Gabe Reid is top-20 individually in pass rush productivity, per PFF.
The defense has been stingy against the pass, which has helped the Utes grow into a top-10 offense.
On offense, Utah ranks in the top 10 in Success Rate both through the air and on the ground while also sitting top-five in Havoc Allowed. Although Cam Rising has had crucial turnovers in the red zone this season, the junior has thrown just four interceptions.
The play-action pass has been a key weapon for Rising, but the run game has been a rock for the Utes all season. Tavion Thomas rushed for a season-high 176 yards against Stanford, posting six runs over 10 yards.
---
Since the season-opening loss to Georgia, the Ducks have been rolling in head coach Dan Lanning's first season.
Oregon had covered seven of its eight games heading into the Week 11 home match against Washington. However, the Huskies did what the Ducks have done to every other team: score on almost every drive.
Oregon missed just four tackles the entire game but allowed Washington a whopping 69% Success Rate on passing downs. The Ducks also uncharacteristically fumbled at the goal line after posting nearly the best grade in college football when it comes to Havoc Allowed.
Washington produced just 10 pressures on the game, a stark contrast to a Utah team that's aggressive in sending blitz.
Bo Nix continues to lead a Heisman campaign, as he's graded as the sixth-best quarterback in NFL rating, per PFF.
Nix is having the best season of his career from a clean box score perspective. The senior has not logged a turnover-worthy play since Week 5 against Stanford. More importantly, he hasn't thrown an interception or recorded a turnover-worthy play in 79 pressured dropbacks this season.
The Ducks leave plenty to be desired defensively, ranking near-dead last on third downs and in defending pass explosiveness. Despite serving as coordinator for a National Champion defense last year, Lanning leads a group that's outside the top 100 in Havoc and Finishing Drives.
The Ducks have been mid-FBS in Defensive Success Rate and defending explosiveness in standard downs but evolve into one of the nation's worst defenses in passing downs.
---
Utah vs Oregon Betting Pick
Utah's ability to remain ahead of the chains on offense is crucial to the handicap. The Utes have the 10th-highest rate of snaps in standard downs with a Success Rate rank of eighth.
Whittingham prefers a heavy rush offense in 12 or 13 personnel, putting as many blocking tight ends as possible on the field. An early-season injury to Brant Kuithe has opened the door for tight end Dalton Kincaid to log 65 targets and seven touchdowns on the season.
Only two teams in college football have given up more first downs via the opposing pass than Oregon, indicating Kincaid and wide receiver Devaughn Vele will have a command successful targets against the Ducks.
Utah will have the advantage on offense to sustain drives, drain clock and take advantage of an Oregon defense that allows 4.2 points to opponent scoring opportunities.
Lanning mentioned the aggressiveness of a Utah defense that sends more than four rushers on 28% of snaps.  While Oregon's one of the best teams in the nation in pass blocking, left tackle TJ Bass has allowed 17 pressures this season. Reid primarily lines up on the right tackle, but edge Jonah Elliss ranks second on the team in pressures and will be paired up with Bass.
Action Network projects this game at Oregon -2, but the Ducks will meet one of the best defensive teams on their schedule. That number assumes Nix and his offensive line are at full strength, as there are questions leading up to kickoff.
Without Nix, the point spread projection would favor Utah on the road against Ty Thompson.
Look for Utah to rack up successful drives that eat clock and end in points. The Utes' aggressiveness on defense will produce pressured pockets and allow points off explosives.
The Oregon defense has yet to see an offense with heavy tight end personnel, giving Utah a large advantage on both sides of the ball.
How would you rate this article?
This site contains commercial content. We may be compensated for the links provided on this page. The content on this page is for informational purposes only. Action Network makes no representation or warranty as to the accuracy of the information given or the outcome of any game or event.