Week 4 College Football Odds, Picks: Stuckey's 10 Trickiest Situational Betting Spots for Saturday
Credit:
Chris Graythen/Getty Images. Pictured: The Florida State Seminoles.
Every week, college football teams across the country find themselves in tough spots based on a number of factors.
Stuckey analyzed the schedules and found 10 of the toughest spots for Saturday, including South Carolina vs. Charlotte and Florida State vs. Boston College.
Check out all of Stuckey's breakdowns and picks for Week 4 below.
Just like I have the past few weeks, I will detail 10 of the trickiest spots I circled after last weekend for the Week 4 Saturday college football slate.
To find these spots, one just has to look at a team's opponents the week prior and week after to get an idea of where any potential flat spots might pop up.
Ultimately, the actual spread value still reigns supreme. No matter how great a situational spot appears on paper, you still have to factor in how much value the number holds. A good or bad spot may sway me one way or the other on a bet I'm on the fence for, however.
Motivation, injury situations and depth also come into play, especially early in the season. It's certainly more art than science.
For Friday night, Nevada definitely has an uphill climb facing an angry Air Force team coming off an upset loss at home against Wyoming. Keep an eye on the status of a couple of key offensive starters who missed last week.
The Wolf Pack played until past 2:30 a.m. ET in a seven-hour game at Iowa on Saturday night thanks to multiple weather delays. Now, it will stay out on the road for its second-straight road contest and in latitude with a short week to prepare for the triple-option. Not ideal — although I'm never in a rush to lay 24 with a service academy.
Meanwhile, another Mountain West school, Boise State, will take an odd trip down to UTEP on a short week prior to beginning conference play against San Diego State and Fresno State. I could see the Broncos potentially overlooking a bad Miners squad a bit.
In regard to Saturday, see below for my thoughts on 10 of Saturday's trickiest situational spots.
---
Notre Dame +1.5 at North Carolina
3:30 p.m. ET · CBS Sports Network
Can Notre Dame figure out how to generate any offense before it heads to Chapel Hill to take on a 3-0 UNC team?
Based on what I've seen this season, I'm highly skeptical with a backup quarterback and underwhelming receiver group — even if against a highly-questionable Tar Heel defense. Even the Notre Dame offensive line has failed to live up to expectations.
In contrast, UNC's offense has looked electric through three games, led by electric freshman quarterback Drake Maye, who has thrown for over 900 yards to go along with 11 touchdowns and just one interception in three victories. He also ranks eighth nationally in passing efficiency.
Also, while ND was fighting for its life in South Bend against Cal to avoid an 0-3 start for the first time since 2007, UNC enjoyed a bye week. The staff hopefully spent that additional time addressing some of the defensive issues and preparing for this matchup.
Plus, I'm sure the players have been hearing plenty about back-to-back losses to Notre Dame over the past two seasons.
That extra week should aid in the health department.
UNC will definitely get two starters back from injury in right tackle Spencer Rolland and three-technique defensive tackle Myles Murphy. Also, Josh Downs — one of the best receivers in the country — is practicing this week and could return after missing the past two contests. The same can be said for a few depth pieces at running back.
Keep in mind that Notre Dame's Week 2 home loss to Marshall now looks even worse after the Herd fell to Bowling Green last week.
In a favorable situational spot with the only offense you can trust in this matchup, UNC looks like a play at anything under a field goal.
---
Minnesota -2.5 at Michigan State
3:30 p.m. ET · Big Ten Network
This might be a tough spot for the Gophers, who have started out 3-0 but against absolute nobodies in Colorado State, New Mexico State and Western Illinois. Facing their first real test on the road in a raucous environment to open up conference play could lead to a slow start.
Meanwhile, Michigan State should come out inspired at home — where it's covered six straight — after losing in fairly convincing fashion at Washington last week.
Injuries will play a large role in this one, especially for Sparty, who had to make do last week without star receiver and return man Jayden Reed and a pair of key defensive starters in All-Big Ten safety Xavier Henderson and stud defensive tackle Jacob Slade. Keep in mind this is a defense that already lost starting linebacker Darius Snow to a season-ending injury.
Reed is obviously critical to the offense, but at least quarterback Payton Thorne really came on in the second half. He also finally established a connection with wide receiver Keon Coleman, who finished with nine receptions for 116 yards and two touchdowns.
The defensive injuries will be just as important to keep an eye — especially Slade on the interior — against a physical Minnesota run-first offense, spearheaded by running back Mo Ibrahim.
When healthy, Michigan State's run defense is much superior to its very vulnerable secondary that doesn't appear to have made many strides after a disastrous 2021.
The good news for Sparty is this is a fairly favorable matchup for their defense. Minnesota really relies on its ground attack and just lost leading receiver Chris Autman-Bell to a season-ending injury.
If this line keeps moving in Minnesota's direction, I will happily take Sparty at +3 or better, even with the injury concerns.
---

Appalachian State -7 vs. James Madison
3:30 p.m. ET · ESPN+
Can Appalachian State get up for another big game after three emotionally-draining thrillers?
So far, all the Mountaineers have done is play in absolute thrillers. After falling, 63-61, to UNC in their season opener, they pulled off a 17-14 stunner at Texas A&M before backing that up with a home victory over Troy in their conference opener as a result of a last-second, miracle Hail Mary.
Three games decided by four points or less that all came down to the final seconds — that has to be draining.
Conversely, JMU has started out 2-0 in its first-ever FBS season with two blowout wins over MTSU and Norfolk State. It should also come into this one well-rested and prepared after getting the benefit of a bye last week.
I'm sure it will also have a little extra pep in its step for its first-ever Sun Belt conference game.
However, I'm having difficulty getting a real read on JMU without very reliable priors (since it played in FCS last year) with only two matchups against cupcakes to start 2022. I was low on the Dukes coming into the year, but transfer quarterback Todd Centeio has played out of his mind for a team that might be much better than I had projected.
However, I ultimately need to see much more against quality competition. This matchup may prove very informative, but it looks like a pass to me from a pregame betting perspective.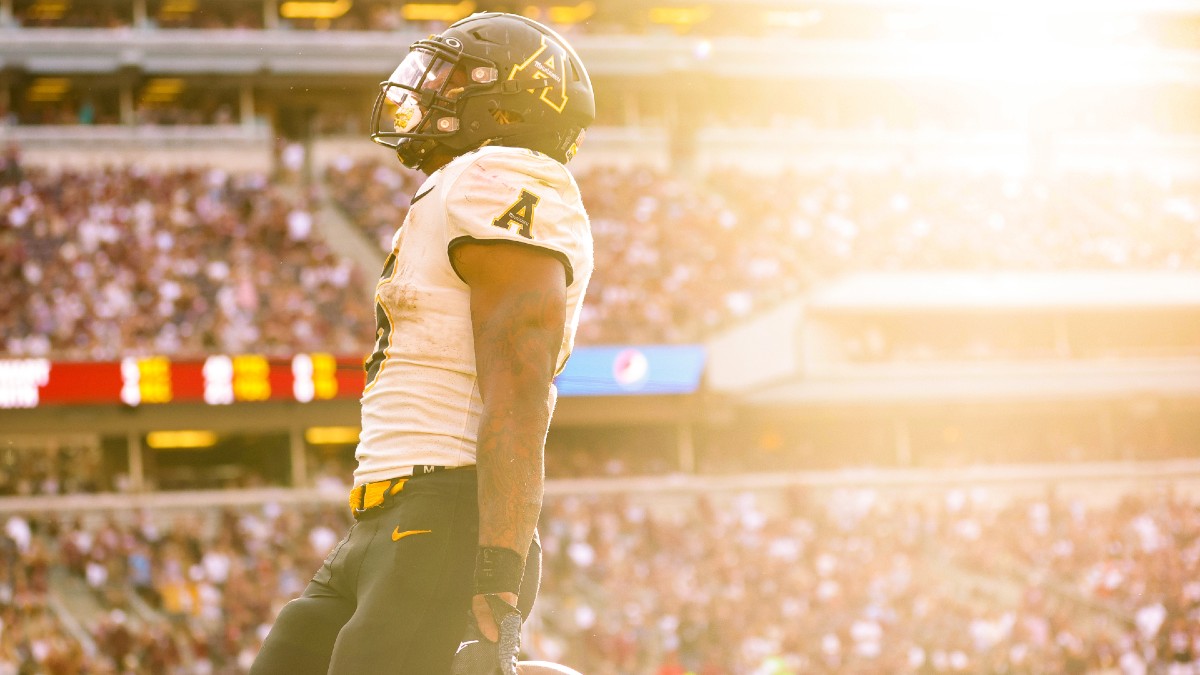 ---

South Alabama -13 vs. Louisiana Tech
7 p.m. ET · ESPN+
I love this Jaguars team, but this is a really tough spot.
After pulling off an upset on the road in Mount Pleasant over Central Michigan, they headed out west for a road date with UCLA in a game they probably should've won. The Bruins pulled out a one-point victory on a last-second field goal after South Alabama failed a fake field goal attempt with under three minutes to go.
Now, it comes home to face a bad Louisiana Tech team before the start of league play against none other than Louisiana, which has dominated their division in recent years.
If the Jaguars are too hung up on last week's defeat or looking ahead too much to exacting revenge for last season's two-point loss to Louisiana, this one could end up getting a bit tricky.
---

Tulane -13 vs. Southern Miss
7:30 p.m. ET · RSN
What a call last week by Green Wave head coach Willie Fritz, who went for it on fourth-and-1 at their own 20 to seal an uber-impressive upset victory over Kansas State to improve to 3-0 in 2022.
Now, can he keep his kids focused for a home date with a feisty Southern Miss squad, especially with a road trip to Houston looming on deck to begin AAC play? We will find out on Saturday night.
There's a lot of familiarity with these two staffs, as Southern Miss head coach Will Hall served as offensive coordinator at Tulane under Fritz in 2019-20.
I think that familiarity probably favors the underdog Golden Eagles, who can be a tricky team to prepare for with all of the different options they have at quarterback, including star running back Frank Gore Jr. running the wildcat.
Southern Miss has a rest and preparation edge here after beating Northwestern State last week by a final score of 64-10. I assume the staff spent a good chunk of the week leading up to that game preparing for this week, while Tulane likely spent every possible minute on Kansas State.
This isn't a terrible matchup for a Southern Miss defense that excels in pass coverage, which is where Tulane's offense has excelled with quarterback Michael Pratt. The Green Wave have also struggled to get their ground game going, which could play right into the hands of the Southern Miss defense.
I'm strongly considering Southern Miss here, especially if this line ever touches +14.
---
South Carolina -22 vs. Charlotte
7:30 p.m. ET · ESPNU
After getting bludgeoned in back-to-back conference games against Arkansas and Georgia, the Gamecocks return home for a potential flat spot against lowly Charlotte.
However, the 49ers might not be the doormat you may assume with Chris Reynolds back under center.
The super senior absolutely torched Georgia State last week for over 400 yards passing and five touchdowns en route to a major upset as 20-point underdogs. Yes, the same Georgia State team that outgained SC, 311-306, in Columbia in Week 1.
The 49ers were completely dysfunctional in the absence of Reynolds, who missed the second half of the season-opener and the following two games with an injury. From a point-spread perspective, he's one of the most important players in the country based on the relative drop-off to his replacement.
Additionally, SC has been absolutely ravished by injuries, especially on defense, with the following list of injuries to Week 1 starters:
LT Jaylen Nichols
DT Alex Huntley
MLB Stone Blanton
CB Cam Smith
CB Darius Rush
S RJ Roderick
S Devonni Reed
Head coach Shane Beamer stated all are questionable, but I assume he'll take a very cautious approach with most since SC has South Carolina State on deck prior to a brutal schedule the rest of the way, starting with Kentucky.
In addition to those listed above, SC has already lost starting outside linebacker Jordan Strachan and middle linebacker Mohamed Kaba to season-ending injuries. Meanwhile, a couple of key depth pieces in the secondary have also dealt with injuries.
In total, SC could be without eight of its 11 defensive starters from its opening week depth chart. The back-end is particularly in rough shape, which could spell trouble against a very potent passing attack with Reynolds back in the mix.
I like the 49ers catching over three touchdowns.
---
Miami (Ohio) +7 at Northwestern
7:30 p.m. ET · Big Ten Network
Miami (Ohio) will finish up its brutal nonconference stretch with a trip to Northwestern, which should come out with an extra chip on its shoulder after back-to-back home upset losses against Duke and FCS Southern Illinois.
The Wildcats have a number of injuries in the secondary worth monitoring. However, Miami's passing attack is nowhere near as potent without starting quarterback Brett Gabbert, who's likely out for the year.
The RedHawks, who will also likely be without their starting left tackle once again, are beat up after nonconference road bouts against Kentucky and most recently Cincinnati. With their conference opener looming next week, they may shift their focus to staying healthy if this one gets away.
I think you're getting Northwestern cheap here at anything at a touchdown or below. It should control the trenches on both sides with ease.
---

NC State -39 vs. UConn
7:30 p.m. ET · RSN
I'm only including this one since it's a classic sandwich spot on paper.
After NC State took care of business last week against a tough Texas Tech squad, it will host UConn before one of the program's most important stretches of ACC games in a very long time against a trio of currently undefeated opponents:
at Clemson
vs. Florida State
at Syracuse
Yes, UConn is dreadful. NC State should blow this one open with ease thanks to a large disparity in talent.
It's hard to envision how the Huskies will actually score against an elite Pack defense. Also, their cluster injuries on offense at quarterback, running back and wide receiver won't make things easier for the nation's smallest roster that already lacked depth.
Head coach Jim Mora just brought in a new quarterback in former Arizona walk-on Brayden Zermeno, who could even see playing time at some point this week.
The NC State aerial attack has been very underwhelming to start the season. As a result, head coach Dave Doeren may want to get Devin Leary cooking early on.
However, he likely doesn't want to show too much before ACC play and will want to ensure it can head into the upcoming stretch as healthy as possible. Already dealing with injuries at the skill positions and cornerback, NC State may go into a shell in the second half if it has a big lead as expected. If so, I'll look at a potential 2H under wager.
Fun fact: The Huskies have traveled to Raleigh to face NC State only one previous time back in 2003. In a quarterback matchup of Dan Orlovsky vs. Philip Rivers, the Pack came out victorious, 31-24, thanks to a pick-six in the final seconds.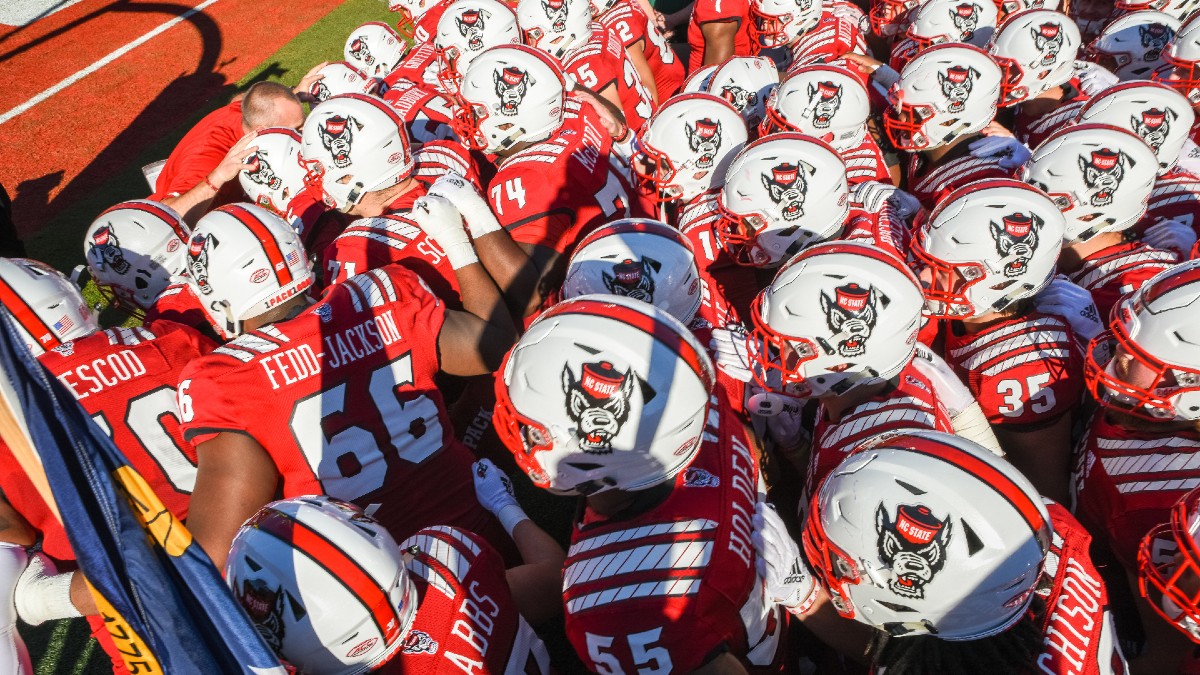 ---

Florida State -17.5 vs. Boston College
8:30 p.m. ET · ACC Network
Florida State finds itself in a potentially tricky spot, similar to fellow ACC program NC State.
After pulling off an incredible comeback win at Louisville, the Seminoles come home for a date with Boston College before the following vicious three-game stretch against a trio of undefeated schools in conference:
vs. Wake Forest
at NC State
vs. Clemson
The injury situation is also a bit worrisome for Florida State.
A number of starters left the Louisville game with injuries and never returned, including quarterback Jordan Travis, left tackle Robert Scott Jr. and a defensive end Jared Verse. Additionally, starting defensive tackle Fabien Lovett also missed last game due to an injury suffered against LSU.
All remain questionable as of now, but Travis did at least send out the following optimistic tweet.
Can Boston College challenge the Seminoles? Not if it doesn't improve the product we saw on the field in a pair of losses to Rutgers and Virginia Tech to start the year. The offensive line has been the primary culprit after extreme turnover in the offseason.
I lean BC at the current number of +17.5, but I'm still gathering more injury updates.
---

Western Michigan +6 at San Jose State
10:30 p.m. ET · CBS Sports Network
Similar to Miami (Ohio), fellow MAC foe Western Michigan finds itself in a tough spot after brutal nonconference matchups with Michigan State and Pittsburgh.
Now, it must head out west for a 10:30 pm ET start time to take on a San Jose State team fresh off of a bye. The Spartans will also have revenge on their minds after an embarrassing loss in this same week last season in Kalamazoo.
Coming into the season, I was high on the Spartans and low on the Broncos, so I'd only look at the home team laying under a touchdown here.
How would you rate this article?
This site contains commercial content. We may be compensated for the links provided on this page. The content on this page is for informational purposes only. Action Network makes no representation or warranty as to the accuracy of the information given or the outcome of any game or event.