College Football Picks & Betting Odds: Ohio State-Michigan, Alabama-Auburn, Oklahoma-Oklahoma State & More
Credit:
Mark J. Rebilas-USA TODAY Sports. Pictured: Alabama's mascot Big Al
Saturday's college football betting slate is chock full of marquee games, as conference championship and College Football Playoff implications loom.
Ohio State visits rival Michigan with the Buckeyes trying to keep their unbeaten streak alive (noon ET). Alabama needs a win at Auburn to keep its playoff chances from dying (3:30 p.m. ET). The winner of Wisconsin vs. Minnesota will get the pleasure of playing Ohio State in the Big Ten Title Game. And finally, Oklahoma appears like a longshot to make the playoff, so it certainly can't afford a loss against rival Oklahoma State (8 p.m. ET).
Our experts analyze the latest betting odds and pick out their favorite bets in each of these four games.
Let's dive in.
---
College Football Picks & Betting Odds
Ohio State vs. Michigan Odds & Picks
Spread: Ohio State -8.5
Over/Under: 49.5
Time: Saturday, 12 p.m. ET
TV: FOX
Location: Ann Arbor, Mich.
Two months ago, it felt like Ohio State would win 'The Game' in a rout. Jim Harbaugh might be laughed off the field.
But the Wolverines have really come around since the second half of their loss to Penn State in mid-October, outscoring opponents 180-52 in that time.
Ohio State has been the best team in the country by many measures, but showed some cracks against Penn State last week.
Will the Buckeyes roll and win their eighth straight in this rivalry, or can Michigan keep this thing close?
Ohio State at Michigan Line Movement
Check out our new college football odds page or download The Action Network app to get updated lines.
Despite two-thirds of the bets landing on Ohio State, this line has dropped to Buckeyes -8 after opening -9. There are still some -8.5's out there as of Friday afternoon.
But this line has moved in a big way since the summer, when Vegas books opened Michigan -3.5 in its Game of the Year lines. The Buckeyes got as high as -13.5 in October lookahead lines, but with the Wolverines improving, it's dropped a few points.
The total has seen significant movement, as well. After opening 52, it's dropped to 49.5 despite 70% of the money hitting the over.
Collin Wilson: Is Michigan's Defense on Par with Ohio State?
The most important angle before Ohio State vs. Penn State was whether or not the Buckeyes' offensive line would be able to protect Justin Fields, who has been known to hold onto the ball too long.
The Buckeyes have allowed 25 sacks this season (2.27 per game), which ranks 84th in the country. Penn State had three sacks and amassed 10 tackles for loss against the Buckeyes.
Michigan's defense may be playing better than anybody else in the country right now. After struggling against Middle Tennessee State and Army to start the season, the Wolverines have developed into a formidable defense, ranking eighth in sack rate, 12th in rushing explosiveness, 14th in passing success rate and 21st in rushing success rate.
Michigan may struggle with a number of JK Dobbins rushing attempts in short-yardage situations, but its ability to prevent explosive plays should turn this game into a grind.
Ohio State's defense is perhaps the only other unit playing as well as Michigan. Field position and finishing drives will be a key to victory in the Big House. Ohio State's defense is the No. 4 unit at finishing drives (which is defined by points per attempt past the 40-yard line), while Michigan ranks 12th in that same category.
The defenses set this game up for a play on the first-half and full-game under, though it's lost much of its value by dropping to 49.5. The weather forecasts calls for some rain and wind, which could slow down both passing games.
[In New Jersey? Bet now at PointsBet]
Stuckey: All Signs Point To the Under
Ohio State has absolutely dominated this series, winning 14 of 15 and going 10-5 against the spread.
I think you're going to see a heavy dose of the run game from Ohio State and I'd expect Michigan to follow suit with a conservative game script. The Wolverines will want to shorten the game and keep the Ohio State offense on the sideline while neutralizing the dominant Ohio State pass rush.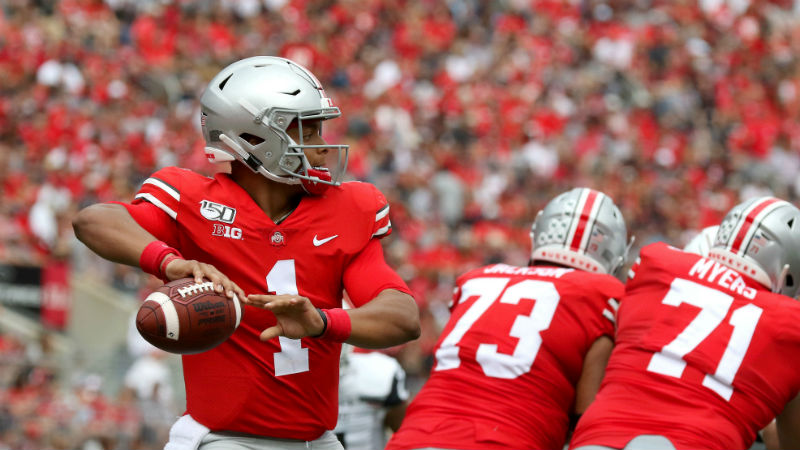 The Michigan offense has improved over the past two months, but it hasn't faced a defense like Ohio State yet. There are future professionals all over this unit and the Buckeyes have an elite player at every level — Chase Young up front, Malik Harrison at linebacker and Jeff Okudah at corner.
The Buckeyes are only allowing 217 yards per game and are on pace to become the first team to allow less than 250 yards per game since the 2011 Alabama Crimson Tide.
But wait, there's more. Ohio State only allows 3.5 yards per play. Since 2010, only two other teams have allowed fewer than 4 yards per play:
2011 Alabama 3.3
2019 Ohio State 3.5
2012 Florida State: 3.9
Don't be fooled by Penn State's 17 points last week. Those scores were gifted. Against this defense, I expect Michigan's improving offense to look pedestrian again.
I do think the Michigan defense can get to Fields in passing situations to kill some drives. When the Wolverines do force the Buckeyes to punt, Ohio State will rely on its elite punter, Drue Chrisman, to flip the field. Having a good punter is always conducive to an under.
In regards to the side, it looks about right to me. I'd look to Ohio State if this thing dipped below 7, but I'd play Michigan if public money drives this to over 10 on gameday.
[In New Jersey? Bet now at PointsBet]
---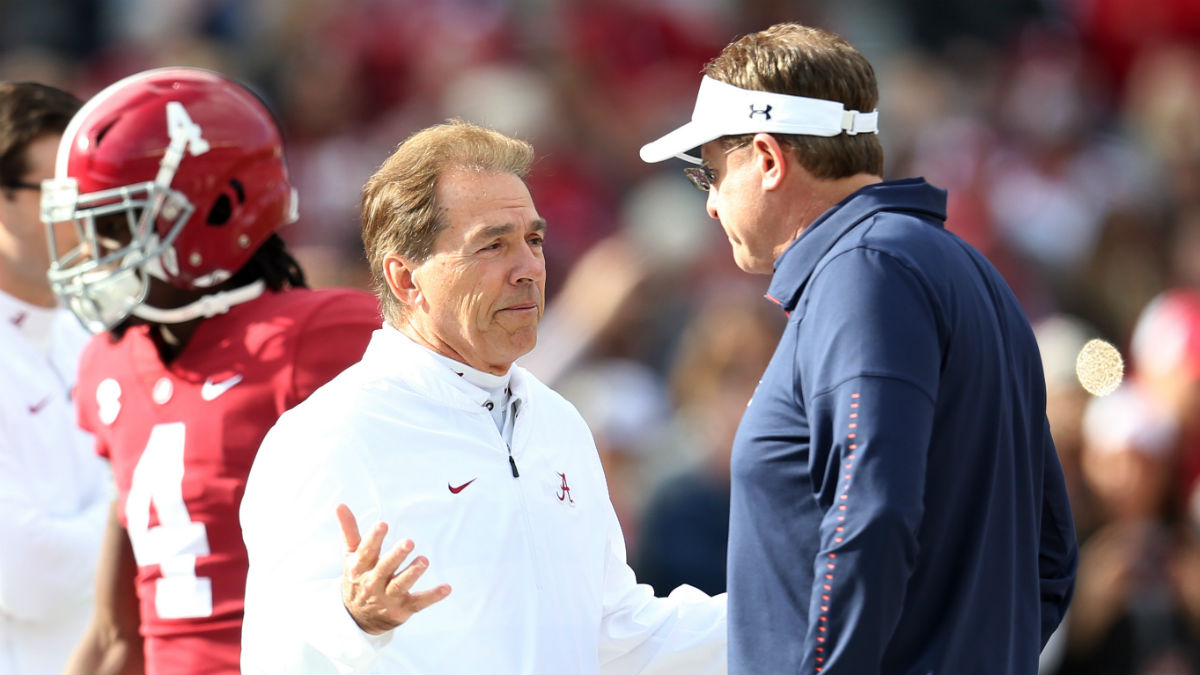 Iron Bowl Odds: Alabama at Auburn
Spread: Alabama -3.5
Over/Under: 50
Time: Saturday, 3:30 p.m. ET
TV: CBS
Everyone seems to be talking about Alabama's path to the College Football Playoff. But shouldn't they first be talking about whether or not the Tide can win the Iron Bowl?
Nick Saban's team is a 3.5-point favorite as of Friday afternoon, a sharp drop from the lookahead lines posted at various Vegas sportsbooks throughout the season. Before Tua Tagovailoa's season-ending hip injury, the Tide were -9.5 at the Westgate SuperBook.
Can Auburn's defense do enough to cover and even pull off the upset? Let's break it all down.
---
Odds as of Friday afternoon and via PointsBet, where Action Network users can access an exclusive promotion to get a 200% deposit match (deposit $50, bet with $150). No strings attached. No rollover required.
---
Alabama vs. Auburn Line Movement
Alabama has mostly sat at -3.5 throughout the week, but did get up to -4 a few times before being knocked back down to -3.5.
The total has dropped from 50 to 49.5 behind 90% of the money on the under.
Collin Wilson: Is Alabama on Upset Watch?
The media made a big deal of Nick Saban saying that Auburn is the best team his team will face this season, but he may be correct (sorry, LSU fans) — at least on defense.
Auburn's defense ranks inside the top-10 in rushing and passing success rate and 11th in finishing drives. The Tigers struggle defending passing explosiveness, but Alabama, for all of its success after the catch, couldn't beat an LSU defense that ranks 127th in the same category.
Indeed, this may be the toughest team Nick Saban has had to face this year.
LSU's Joe Burrow may have set the template for dismantling a young Crimson Tide defense. The soft part of the Alabama defense is the front 7, specifically over the middle. Auburn is a successful rushing team, but ranks outside the top-100 in rushing explosiveness.
The biggest edge Auburn has when it has the ball is in short-yardage situations. The Tigers rank 10th in offensive stuff rate and will go up against an Alabama defense that ranks 111th in the same category. Auburn should be able to convert on short-yardage rushes.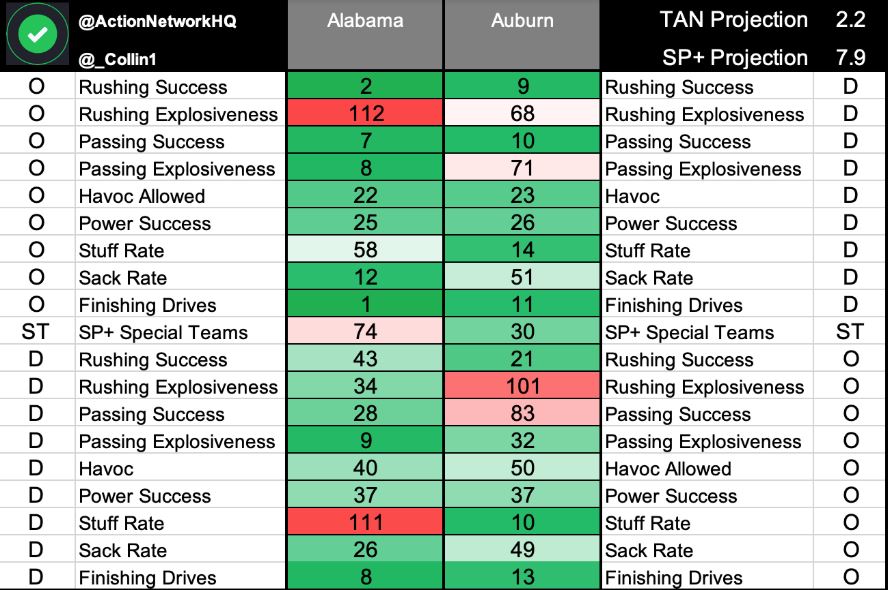 Alabama quarterback Mac Jones spent most of the game against Western Carolina hitting Devonta Smith in the flats on quick passes. That formula should be neutralized by an Auburn defense that ranks 23rd in defensive havoc, led by Roger McCreary, who has 11 passes defended on the season.
Alabama wide receiver Henry Ruggs is listed as questionable and if he is out, that frees McCreary up to pay attention to the remaining Alabama targets.
At this point of the season we have a pretty good idea of just how good this Auburn team is. The Tigers have played the 13th-hardest schedule in the nation and have played close games against LSU, Florida and Georgia. The truth is, we don't have a good feel for this Alabama team. The Tide ranks 84th in strength of schedule.
The Tigers hold a clear special teams advantage, will be able to rush for short yardage at will and boast the strongest defense that Alabama has faced this season.
My money is on Auburn to pull off the upset in the Iron Bowl.
Pick: Auburn +3.5
[In New Jersey? Bet now at PointsBet]
Stuckey: This Game Is a Coin Flip
I make this game a coin flip and think there are two reasons why my number differs from the market in such a marquee game this late in the season.
I have the difference between Tua Tagovailoa and Mac Jones as closer to six points, but the market seems to indicate it's closer to 2-3 points.
Tua is a generational talent and brings a mobile component to the game. Jones does not have the mobility that Tagovailoa has. Jones is a solid quarterback and has the best wide receiving corps in the country, but let's not act like he's on par with Tua.
Jones, a former Kentucky commit from Florida, was graded somewhere in the 15-20 range as a pro-style quarterback coming out of high school. While Tua was a five-star recruit, Jones was just a three-star, which illustrates the difference in talent level.
Jones does have good numbers in limited action this season, but the majority of his action came in two starts against FCS Western Carolina and lowly Arkansas. Color me not impressed.
Auburn will not only mark the toughest defense he's faced by far, it will also be his first ever collegiate road start.
Led by Derrick Brown, this ferocious defensive front for Auburn can match up with Alabama in the trenches and make Jones beat them, which I'm willing to pay to see.
This Alabama team is not without flaws elsewhere, especially along the defensive line where the Tide can be pushed around. Despite looking great at times this season, the Tide has played an easy schedule and when they had to step up in weight class against LSU, the Tigers took the game to them.
Despite playing a much tougher schedule, the Auburn defense still has superior advanced metrics. Per my numbers, the Tigers have faced eight top-50 offenses and have held them to 19 points per game. That includes holding LSU, Georgia and Oregon to under 24 points.
Let's look at the common opponents on each team's schedule:
LSU
At Alabama: 46 points and 7.1 yards per play
Home vs. Auburn: 23 points and 5.8 yards per play
Ole Miss
At Alabama: 31 points and 5.5 yards per play
At Auburn: 14 points and 3.9 yards per play
Texas A&M
Home vs. Alabama: 28 points and 5.6 yards per play
Home vs. Auburn: 20 points and 5.6 yards per play
Mississippi State
Home vs. Alabama: 7 points and 4.7 yards per play
At Auburn: 23 points and 5.2 yards per play
Arkansas
Home vs. Alabama: 7 points and 3.8 yards per play
Home vs. Auburn: 10 points and 3.4 yards per play
If you look at the five common opponents they've played this year, Alabama has allowed an average of 28 points per game (112) while Auburn has allowed an average of only 20. And from a yards per play perspective, Auburn allowed 4.8 yards per play to Bama's 5.4. (Auburn also held Georgia to 21 points and below 4 yards per play).
Lastly, don't forget about Special teams, which could become an x-factor. The third phase should favor Auburn, which has the superior special teams unit. Per S&P, Auburn's special teams unit ranks 30th while Alabama sits at No. 74.
I understand freshman quarterbacks have not had much success in the past against Nick Saban but Bo Nix has gotten valuable experience against one of the toughest schedules in the nation. Plus, he will be much more comfortable at home.
You're getting the better defense and more experienced quarterback as a home underdog.
Pick: I'd play Auburn at +3 or better. [In New Jersey? Bet now at PointsBet]
---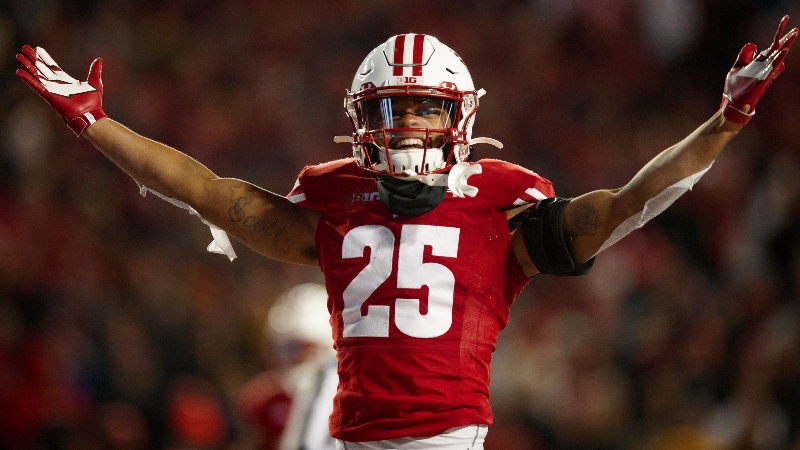 Wisconsin vs. Minnesota Betting Odds
Odds: Wisconsin -3
Over/Under: 44.5
Time: 3:30 p.m. ET
TV: ABC
Before last season, Wisconsin had beat Minnesota 14 straight times in the battle for Paul Bunyan's Axe. Now, the Badgers will try to take it back in a game that means a whole lot more.
The winner of Saturday's game will head to the Big Ten Championship Game to take on Ohio State. (And, of much less consequence, take the series lead. These two teams are 60-60-8 against each other and have played every year but one since 1890.)
Minnesota's offense ranks top 10 in many metrics, and the Gophers have carved teams up through the air since starting Big Ten play.
The Badgers are the complete opposite — running back Jonathan Taylor is among the best in the country running behind a monster offensive line.
Model Prediction for Minnesota-Wisconsin
Collin Wilson uses his power ratings to project point spreads and totals for every Week 14 game. His power ratings are available to Action EDGE members.
Spread: Wisconsin -3.3
Total: 58.9
Has Minnesota Faced an Offense Like This?
For the gamblers who hold Wisconsin and/or Minnesota Big Ten title futures, this is the biggest game of the weekend. The Gophers come into the season finale with just one loss, as a victory sends PJ Fleck to the championship game in Indianapolis.
A Badgers victory would give us another chapter in the conference championship history between Wisconsin and Ohio State.
Minnesota won at Northwestern in Week 13 after another stellar four touchdown performance from Tanner Morgan. The Gophers defense had three sacks and four quarterback hurries, limiting the Wildcats in their offensive possessions.
But Minnesota now sits with a strength of schedule rank of 77th, much lower than Wisconsin at 12th. And the Gophers haven't seen a run game like this.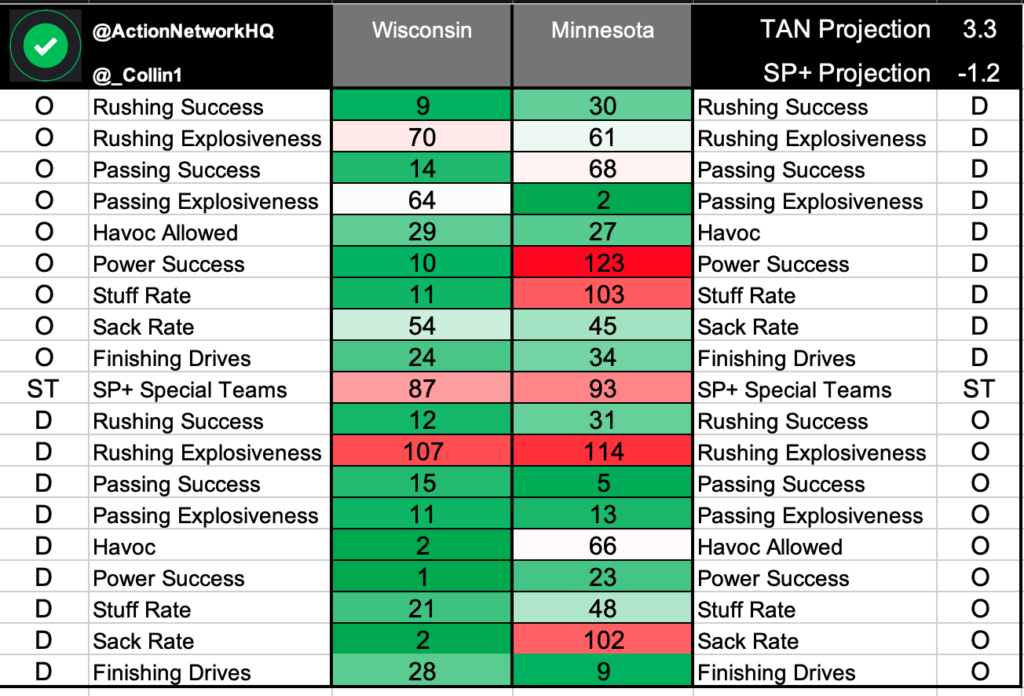 The bread and butter of the Wisconsin offense has always been Jonathan Taylor and the offensive line. As shown by the numbers above, Wisconsin has a rushing success rank of No. 9 generated by a Power Success and Stuff Rate rank in the top 11. That could spell trouble for a Minnesota defense that ranks 123rd and 103rd in those same categories.
Wildcat formation with Aron Cruickshank and Jonathan Taylor sharing the backfield? That has big play written all over it.

27-yards later, Wisconsin lead. pic.twitter.com/zFuDUAOmmc

— George Balekji NBC15 (@GeorgeBalekji) November 23, 2019
Minnesota exposed a Penn State defense that was susceptible to the deep ball. Tanner Morgan continues to drop dimes on Big Ten defenses that are not prepared in the secondary for wide receivers Rashod Bateman and Tyler Johnson.
Unlike Penn State, the Badgers have an excellent secondary that should show more resistance than the Nittany Lions. Wisconsin is 15th in defensive passing success rate, second in sack rate and second in the nation in defensive havoc.
If the Wisconsin defense wasn't enough to slow down the Gophers prolific passing attack, consider the weather does not look favorable for air attacks. Minneapolis, which is currently under a Winter Storm Warning, has a forecast for snow and wind gusts over 15 mph. That should favor the better defensive team and the offense with a ground attack.
Pick: Wisconsin -2.5 and Under 47.5  [In New Jersey? Bet now at PointsBet]
---
Oklahoma at Oklahoma State Odds
Odds: Oklahoma -13
Over/Under: 69
Time: 8 p.m. ET
TV: FOX
Oklahoma might be one of the coldest teams in the country, at least as it relates to the point spread.
The Sooners, always big favorites thanks to their dynamic offense, haven't covered in four straight games, including an outright loss to Kansas State as a 23-point favorite. Their next three wins came by a total of nine points, and they were a 14.5-point favorite on average.
So can Oklahoma State swoop in and pull off a big upset? It will be an uphill battle without quarterback Spencer Sanders.
Collin Wilson: Will Oklahoma's Turnover Luck Change?
Oklahoma ranks 115th in turnover margin at -7. That puts them in the same range as UConn, Kansas and UTEP. There are issues all over from Jalen Hurts fumbling or throwing interceptions in the red zone, but the biggest issue is that the Sooners have only gained three fumbles.
This is certainly not the statistic the Sooners wanted to struggle with on either side of the ball, especially since the 'Speed D' implemented by Alex Grinch should feast on havoc.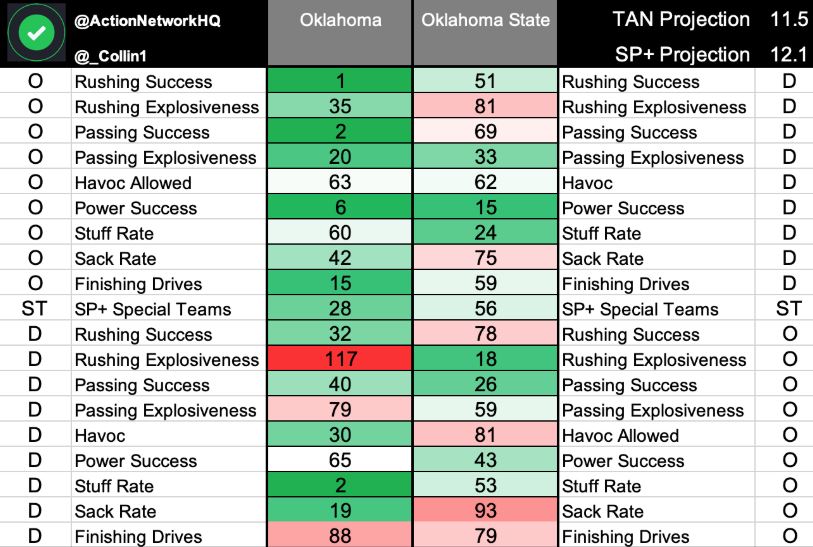 Despite losing starting quarterback Spencer Sanders, Oklahoma State found a way to cover the closing number against West Virginia. The Cowboys are now 9-2 against the spread for the season and will go bowling in a few weeks. But first, there is Bedlam.
Dru Brown was adequate under center for the Cowboys in Morgantown, going 22-for-28 with touchdowns and no interceptions. Brown hit five different receivers, but the offense was led by running back Chuba Hubbard.
Oklahoma's defense ranks 74th in passing explosiveness, but Brown didn't show much against West Virginia to suggest he will be able to capitalize on that weakness.
Oklahoma's offense ranks first in success rate and should be able to do what it wants against the Cowboys, who rank outside the top-50 in efficiency and 96th in opponent red zone scoring percentage.
Oklahoma has fallen to 63rd in havoc allowed, but the Cowboys are just 62nd in defensive havoc, so the Sooners should be able to contain the Oklahoma State defense.
With an advantage in red zone efficiency, havoc and finishing drives I think the Sooners have enough edges to back them at any number under two touchdowns.
The College Football Playoff Committee will have its eye on this game and if the Sooners can clean up the turnovers, they will have a chance to make a statement against a talented Oklahoma State squad in a rivalry game.
[In New Jersey? Bet now at PointsBet]
Kyle Miller: These Offenses Aren't That Close
Oklahoma State did cover, but the Cowboys struggled for much of the day against West Virginia last week. I expect that to continue this week when they host Oklahoma for Bedlam.
On the outside this game doesn't look nearly as important as some of the more recent bouts between these two, but this one means everything for Oklahoma. The Sooners still have an outside shot at a playoff birth but they obviously can't afford a slip up here.
As has been the case for many years with these teams, the offenses will be able to move the ball effectively and dictate the way this one plays out. Oklahoma had the superior unit on that side of the ball when Sanders was healthy, but now it's not even close. Brown had an average day in Morgantown last week but he'll need to do much better than average if the Cowboys were to pull off the upset.
While Oklahoma State has been very explosive on the ground, they rank just 78th in rushing success rate. The reliance on long plays will only grow stronger without Sanders. If they aren't getting a ton of long runs from Hubbard, Oklahoma State isn't going to do much on offense.
Jalen Hurts, CeeDee Lamb, and the Oklahoma offense need to make a statement. Time is running out for them to make their playoff push and they need a convincing win in this game.
Pick: I make the Sooners a 16.5-point favorite in this one so I'm happy to lay two touchdowns or less.
[In New Jersey? Bet now at PointsBet]
Stuckey: Buy Low on the Sooners?
As Collin pointed out above, I think the perception on this Sooner team is artificially low because of a few unlucky results, including close wins and non-covers against Texas, TCU and Iowa State.
Oklahoma could have blown Texas out of the water, but the Sooners kept the Longhorns in the game thanks to multiple turnovers in the red zone. Against TCU, Oklahoma outgained the Horned Frogs by almost 300 yards and were about to go up 18 before a 98-yard pick six — which only happened because the receiver fell down. And the Sooners led the Cyclones by 21 multiple times before taking their foot off the gas and having to survive a furious comeback attempt.
The bottom line is this team is fully capable of blowing a team like Oklahoma State out of the water and the bad turnover luck is mostly random.
This is still one of the best offenses in the country, averaging 8.4 yards per play, which is better than the 2017 Oklahoma team with Baker Mayfield. In fact, if the season ended today, Lincoln Reilly's bunch would finish tied with 2006 Hawaii for the second-highest single season yards per play average in NCAA history.
This is an offense that ranks first in rushing success rate and second in passing success rate with plenty of complementary explosiveness. And despite some of the bad turnover luck in the red zone, the Sooners still rank 15th in Finishing Drives.
The Oklahoma State defense is an average unit that doesn't get after the quarterback. Jalen Hurts should be able to methodically move OU down the field all day long.
On the other side of the ball, the Oklahoma defense is improved from last year, primarily as a result of defensive speed and scheme tweaks. They are a very aggressive unit that can get after the quarterback and force turnovers. On the flip side, the Sooners do give up too many explosive passing plays, but Oklahoma State's offense isn't set up to exploit that weakness without Sanders and top wide receiver Tylan Wallace.
Hubbard is one of the best running backs in the country, but Oklahoma should be able to focus on stopping him without Sanders and Wallace in the lineup.
Oklahoma State played a very conservative game against West Virginia and didn't go over the 300-yard mark. Oklahoma should create enough negative plays to get Oklahoma State behind the sticks to stall enough drives to where the Sooners can't keep up.
Pick: I'm splitting this bet on the Oklahoma first-half and full-game spread, as I think the Sooners will finally have a complete game and win by two-plus touchdowns.
How would you rate this article?