Wilson's College Football Betting Picks: 6 Best Bets for Week 14
Credit:
Danny Wild-USA TODAY Sports. Pictured: Jabari Laws
Collin Wilson breaks down his six favorite college football picks for Week 14.
After hitting his only Friday best bet, he's got five plays remaining, including Auburn-Alabama and Army-Hawaii.
The blood always gets pumping for rivalry week.
After a healthy dose of calories and NFL football on Thanksgiving, college football takes center stage in the final weekend of the season. And not only are rivalries great, but futures and season win totals are in play.
If you have been following along on the Action Network App, books should be paying a handsome amount of futures with the following victories on Middle Tennessee State under, New Mexico under, Kent State over, Cal over, Nebraska under, Arkansas under, TCU under, Illinois over, Liberty over, Texas under, Oklahoma State over, South Florida under and Houston under.
Not all of them can be winners, but as more sportsbooks try to establish themselves in new states, there may be softer win total markets in the next few years. We'll be ready for 2020 futures right away.
Before that, lets get to the picks for the final week of the regular season. Be sure and follow me in The Action Network App to get all my bets on Week 14 games, plus the conference championship opening lines I bet on Sunday.
College Football Best Bets, Week 14
---
Odds as of Friday morning and via PointsBet, where Action Network users can access an exclusive promotion to get a 200% deposit match (deposit $50, bet with $150). No strings attached. No rollover required.
---
Wake Forest vs. Syracuse
Spread: Syracuse +4
Over/Under: 66.5
Time: Saturday, 12:30 p.m. ET
TV: FSN
Syracuse was down 21-3 after the first quarter against Louisville and never had a chance to get back in the game. Multiple times the Orange found themselves in Cardinals territory with a turnover on downs or settling for field goals.
Quarterback Tommy DeVito was benched once the game was out of hand. The steam from the Duke victory evaporated as Syracuse fell to 4-7 and lost its shot at bowl eligibility.
The Syracuse defense is looking to rebound strong in a final game after the firing of defensive coordinator Brian Ward earlier this month, and it didn't do itself any favors by giving up 56 points and 9.97 yards per play to Louisville.
Wake Forest Jaime Newman will present a challenge to Syracuse, ranking 21st in passing success rate and 33rd in pass explosiveness. The injury to star receivers Scotty Washington and Sage Surratt didn't limit the Demon Deacons against Duke, as Newman hit five different targets for 284 yards and ran for another 144.
Expect special teams to be a factor in this game, as Syracuse has a top 15 rank in SP+. Wake Forest ranks 126th or worse in opponent kickoff return yards and opponent pent return yards. Louisville had a 100-yard touchdown kick return against Wake earlier this season, while Clemson's Amari Rodgers took a punt return 53 yards.
The biggest blows against Wake Forest came last week against Duke, where Damond Philyaw-Johnson returned two kickoffs for touchdowns for the Blue Devils.
The biggest advantage for Syracuse on offense may be a rank of 28th in pass explosiveness against a Wake Forest defense that is 109th against the explosive pass.
That should be the X-factor for Syracuse to hang in a game where points are expected — the total has been steamed up from 64 to 67 with 98% of the early money on the over.
Pick: Syracuse +4 [In New Jersey? Bet now at PointsBet]
UConn vs. Temple
Spread: Temple -28
Over/Under: 49.5
Time: Saturday, 3:30 p.m. ET
TV: CBS Sports Network
The season is mercifully ending for UConn, which will not finish as the worst team in FBS, per our Action Network power ratings. UMass, Bowling Green, UTEP and Akron all fell behind the Huskies in 2019.
Believe it or not, coach Randy Edsall met Vegas expectations with a 5-6 mark against the spread.
By the advanced statistics, UConn was able to surprise in the big play department on both sides of the ball.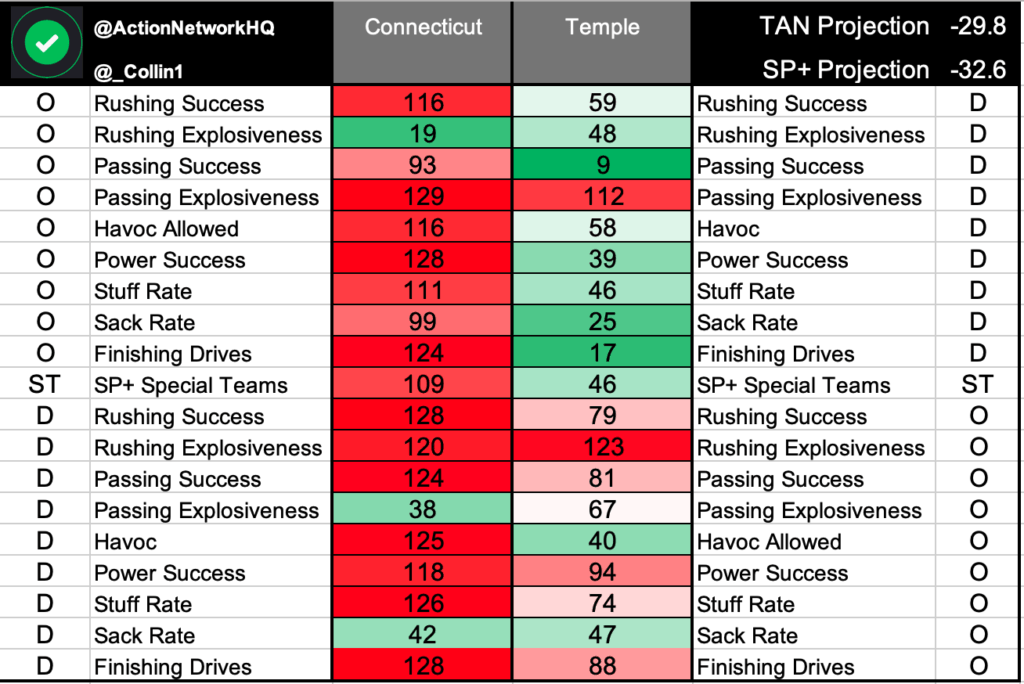 The Huskies rank 19th in offensive rush explosiveness, while the defense is top 40 in limiting opponent explosive passes. Those numbers have been critical in point spread covers against Houston, East Carolina, and Illinois.
This will be UConn's last game as a member of the AAC, giving Edsall plenty of reason to motivate his players, while Temple comes into the game on a bit of hangover.
A 15-13 loss to Cincinnati ended the Owls' outside shot at a conference crown, leaving Rod Carey's crew at seven wins in his first season. A win or loss against UConn should not affect the bowl destination for Temple.
Looking further into the advance stats, it may be reason to ask where enough points will be scored to cover the total. UConn does not have the best success rate, which will be compounded with Temple's rank of No. 9 in defensive passing success. The Owls are 25th in sack rate and second in opponent red zone points per attempt, both indicators UConn will struggle to score.
More importantly, the Owls are 110th in red zone scoring percentage on offense. This game may be light on points, as our Action Network totals project a number closer to 46.5.
Pick: Under 49 [In New Jersey? Bet now at PointsBet]
Wisconsin vs. Minnesota
Spread: Wisconsin -2.5
Over/Under: 48
Time: Saturday, 3:30 p.m. ET
TV: ABC
For the gamblers who hold Wisconsin and/or Minnesota Big Ten championship futures, this is the biggest game of the weekend. The Gophers come into the season finale with just one loss, as a victory sends PJ Fleck to the championship game in Indianapolis.
A Badgers victory would give us another chapter in the conference championship history between Wisconsin and Ohio State.
Minnesota won at Northwestern in Week 13 after another stellar four touchdown performance from Tanner Morgan. The Gophers defense had three sacks and four quarterback hurries, limiting the Wildcats in their offensive possessions.
But Minnesota now sits with a strength of schedule rank of 77th, much lower than Wisconsin at 12th. And the Gophers haven't seen a run game like this.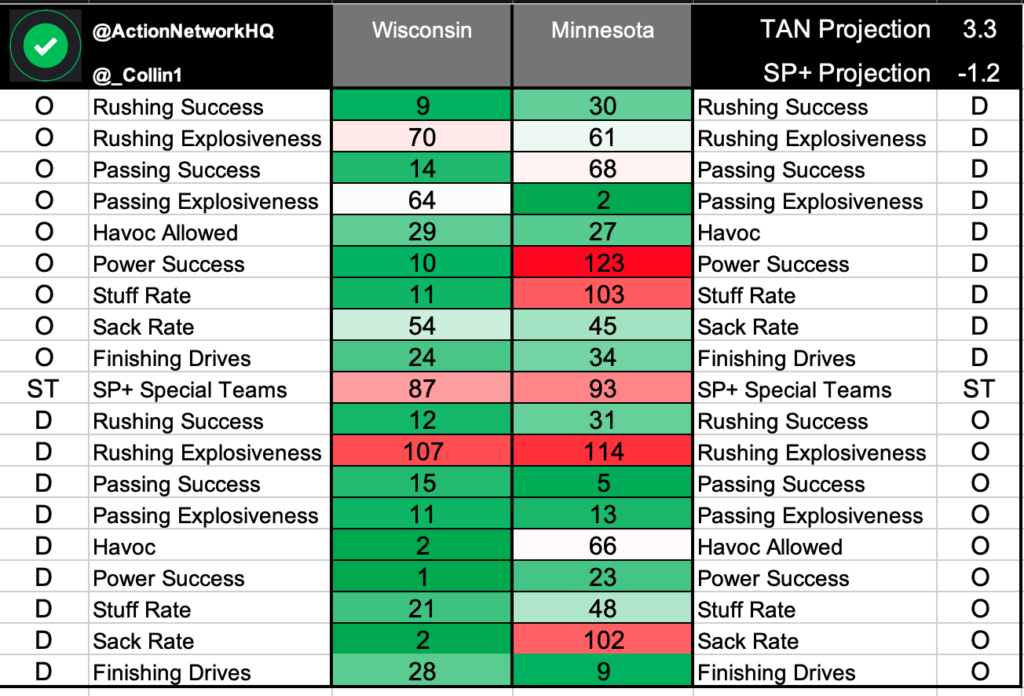 The bread and butter of the Wisconsin offense has always been Jonathan Taylor and the offensive line. As shown by the numbers above, Wisconsin has a rushing success rank of No. 9 generated by a Power Success and Stuff Rate rank in the top 11. That could spell trouble for a Minnesota defense that ranks 123rd and 103rd in those same categories.
Minnesota exposed a Penn State defense that was susceptible to the deep ball. Tanner Morgan continues to drop dimes on Big Ten defenses that are not prepared in the secondary for wide receivers Rashod Bateman and Tyler Johnson.
Unlike Penn State, the Badgers have an excellent secondary that should show more resistance than the Nittany Lions. Wisconsin is 15th in defensive passing success rate, second in sack rate and second in the nation in defensive havoc.
If the Wisconsin defense wasn't enough to slow down the Gophers prolific passing attack, consider the weather does not look favorable for air attacks. Minneapolis, which is currently under a Winter Storm Warning, has a forecast for snow and wind gusts over 15 mph. That should favor the better defensive team and the offense with a ground attack.
Pick: Wisconsin -2.5 and Under 47.5  [In New Jersey? Bet now at PointsBet]
Oregon State vs. Oregon
Spread: Oregon -19
Over/Under: 65.5
Time: Saturday, 4 p.m. ET
TV: Pac 12 Network
The handicap on Oregon State scoring points has come down to the opposing defense's prowess in the trenches. In games against Washington State, Arizona and Arizona State, the Beavers scored at least 35 points. In games against Utah, Cal and Washington, the Beavers scored 31 total points. Against Oregon, the Beavers may once again have issues scoring points.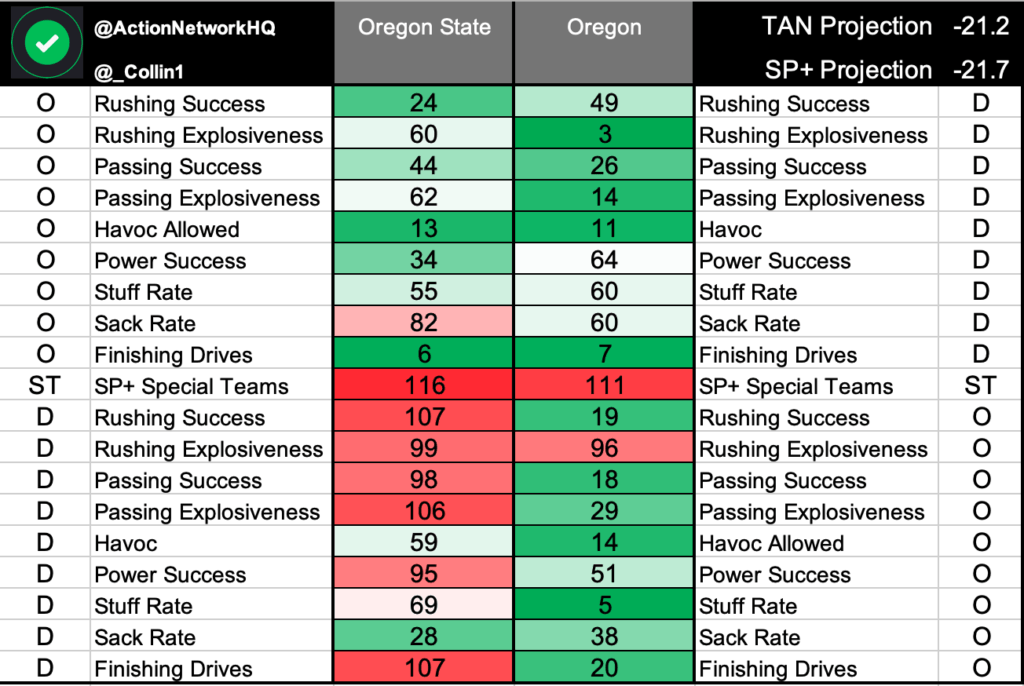 Oregon has a clear advantage in success rate when it has the ball. The Ducks offensive line should have no issues clearing a path with a Stuff Rate of No. 5 against a defensive unit for the Beavers that ranks 69th in the same category. Finishing drives is one of the biggest gaps between this unit, with Oregon ranking top 20 in point per trip past the opponent's 40-yard line.
Oregon State has been one of the best red zone teams in the a nation. In 37 trips to the red zone, the Beavers have scored 32 touchdowns and just two field goals. The key question is if the Ducks defense will allow Oregon State to reach the red zone. Oregon ranks No. 7 in finishing drives and No. 2 in opponent red zone scoring per attempt.
Our Action Network total projects 57 points, well below the current number. The Oregon defense will look to rebound at home against its rival, while Oregon State's offense will continue to struggle in games that it's outmatched in the trenches.
Pick: Under 65.5 [In New Jersey? Bet now at PointsBet]
Army vs. Hawai'i
Spread: Hawai'i -2.5
Over/Under: 56.5
Time: Sunday, 12 a.m. ET
TV: CBS Sports Network
Congratulations are in order for the Rainbow Warriors, as they have won their first every West division title in a narrow victory over San Diego State. The tarot cards Nick Rolovich brought to Mountain West Media Days paid off, but nowhere in those cards could forecast a 5-6 Army team desperate for a win.
All kidding aside, Hawai'i is one week away from a Mountain West title game against Boise State. The furthest thing from the players and coaches minds is Army.
The biggest matchup in this game, like always when handicapping a service academy team, is how a defense fares in the trenches. Hawai'i may have issues with a defensive rushing success, Power Success and Stuff Rate all outside the top 100.
This may be a big spot for the Black Knights, as Army's offense ranks No. 4 in rushing success, No. 1 in Stuff Rate and No. 11 in finishing drives.
Army will have all the motivation it needs for that elusive sixth win to make bowl season.
Hawai'i has a top 10 in success rate, which should equate to yards against the Army defense, but Army's opponents deal with the same issue of a low number of possessions, requiring a team to be flawless in their offensive drives.
Hawai'i is 104th in the nation in penalties compared to Army's top 14 rank. Look for Army to capitalize once again against Hawai'i, which will have its mind on the MWC title game and bowl season.
Pick: Army +2.5 [In New Jersey? Bet now at PointsBet]
Iowa vs. Nebraska
Spread: Nebraska +6
Over/Under: 45
Time: Friday, 2:30 p.m. ET
TV: Big Ten Network
Back in August which would have been the crazier statement — Nebraska will win the Big Ten, or Nebraska will miss a bowl game?
The Cornhuskers haven't seen much progress under coach Scott Frost in his second year, but a victory over Iowa will give Nebraska a sixth win and bowl invite.
Adrian Martinez has had a bit of a rebirth over the last few weeks, culminating in a 54-7 victory on Maryland last week. The key for Nebraska is limiting interceptions and keeping the ball off the carpet, illustrated by a rank of 125th in havoc allowed.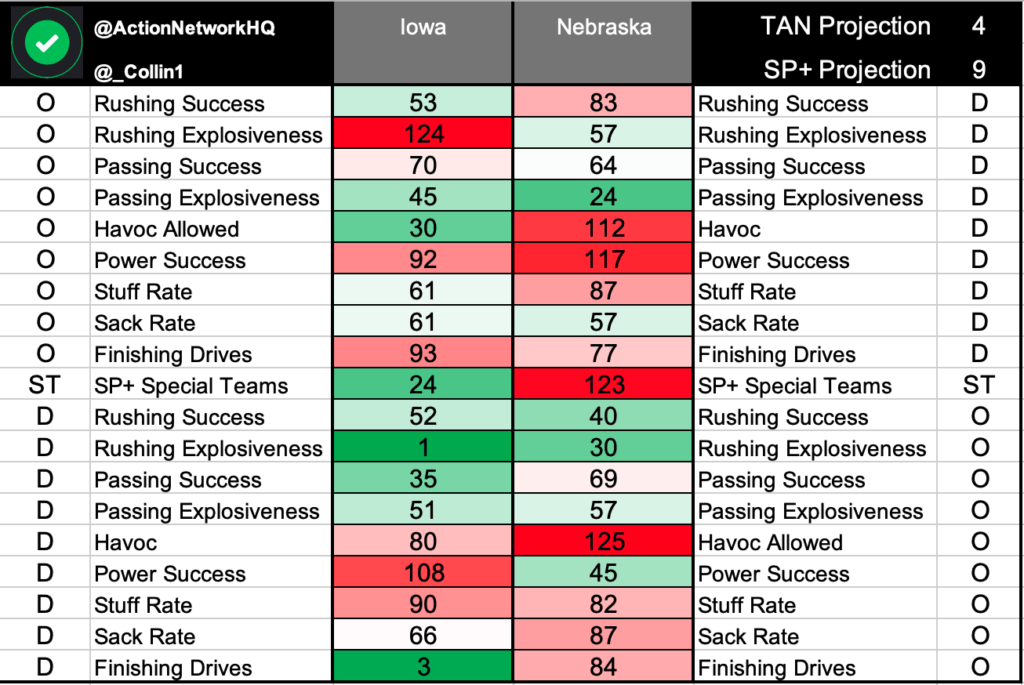 The Iowa defense has been the best in the nation at limiting rush explosiveness, but the Hawkeyes defenders are not getting into the backfield with a Power Success rank of 108th and Stuff Rate of 90th. A bend-don't-break style.
Iowa's rank of 116th in tackles for loss means Martinez should have plenty of space to work in the backfield.
Iowa's offense will continue to operate at an efficient pace against the Nebraska defense that masks quarterback blitzes while ranking top 25 against pass explosiveness.
Our Action Network power ratings make this game Iowa -4 against a healthy and motivated Nebraska team.
Ball protection will be key for the Cornhuskers and an Iowa rank of 80th in defensive havoc may be the biggest key to the game. As an added bonus, the place kicking for Nebraska has finally come together to the delight of Martinez.
Pick: Nebraska +6 [In New Jersey? Bet now at PointsBet]
How would you rate this article?