Wilson: My Projected Odds & Spreads for Week 14 College Football Games
Credit:
Joe Maiorana-USA TODAY Sports. Pictured: Justin Fields (1) celebrates with teammates
Collin Wilson uses his betting power ratings to project odds for every college football game in Week 14.
Use these projections to find early value before betting limits go up and the market settles throughout the week.
Utah was all the rage when discussing college football futures back in the spring. Their odds of winning a Pac-12 Championship opened at 10-1 odds before settling at 3-1. Odds to make the College Football Playoff started at 10-1 for the Utes.
But despite Utah continuing to win — it squashed Arizona 35-7 on Saturday — Week 13 may have sealed the fate of the Pac-12 in the national title picture. That's because Oregon lost to 5-5 Arizona State. At two losses the Ducks are out the running for the College Football Playoff, even if they win the Pac-12. More importantly, Oregon's impending drop in the rankings will affect Utah's chances of getting into the Playoff because of the potential quality of win in the Pac 12 championship game.
In other conferences, Oklahoma and Baylor both secured their spot in Arlington for the Big 12 title game. The Sooners struggled to put TCU away with multiple turnovers in the red zone for the 28-24 victory. Cincinnati meets Memphis in Week 14 as the Bearcats have a AAC Championship game locked up. If Cincy beats the Tigers, Navy travels to Cincinnati with a victory over Houston. If Cincinnati loses to Memphis, the Bearcats travel to Memphis for the AAC Championship.
Hawaii will travel to Boise to compete for the Mountain West Championship. Wisconsin and Minnesota will decide the opponent in the Big Ten Championship against Ohio State. Florida Atlantic can beat Southern Miss to make the Conference USA championship game against UAB. If Southern Miss is victorious, the Eagles may face Marshall. It is wide open in the Conference USA with just one week to play.
As for projected College Football Playoff spreads, our new Action Network power ratings have been adjusted and would expect to see these numbers posted:
Clemson -1.5 vs. Ohio State
Clemson -6 vs. LSU
Clemson -10 vs. Georgia
Ohio State -4.5 vs. LSU
Ohio State -8.5 vs. Georgia
LSU -4 vs. Georgia
But before we get to that, Week 14 is up. And we are projecting every point spread below in anticipation of Sunday opening lines.
Look here to identity early betting value when opening lines are released on Sunday and follow me in The Action Network App to see when I bet those lines.
Projected College Football Odds, Week 14
A negative number indicates the home team is favored by that many points; a positive number indicates the home team is an underdog.
Week 14 Scheduling Notes
Ole Miss, Central Michigan, Air Force, Army and New Mexico will be off a bye week.
Clemson-South Carolina and Florida State-Florida will each face each other off a bye week
Ohio, Boise State, Texas A&M, Oregon State, Boston College, BYU and California will be on back-to-back travel.
Week 14 Advanced Data
Ohio State at Michigan | Saturday, Noon EST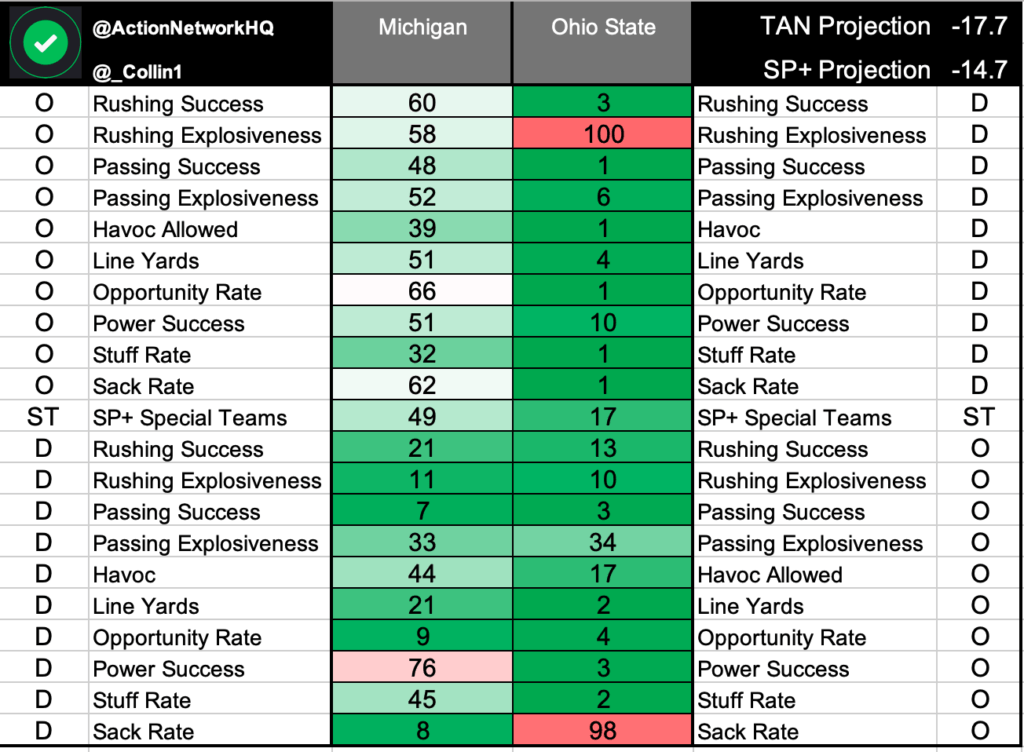 Data not updated with Week 13 results
Oklahoma at Oklahoma State | 8pm EST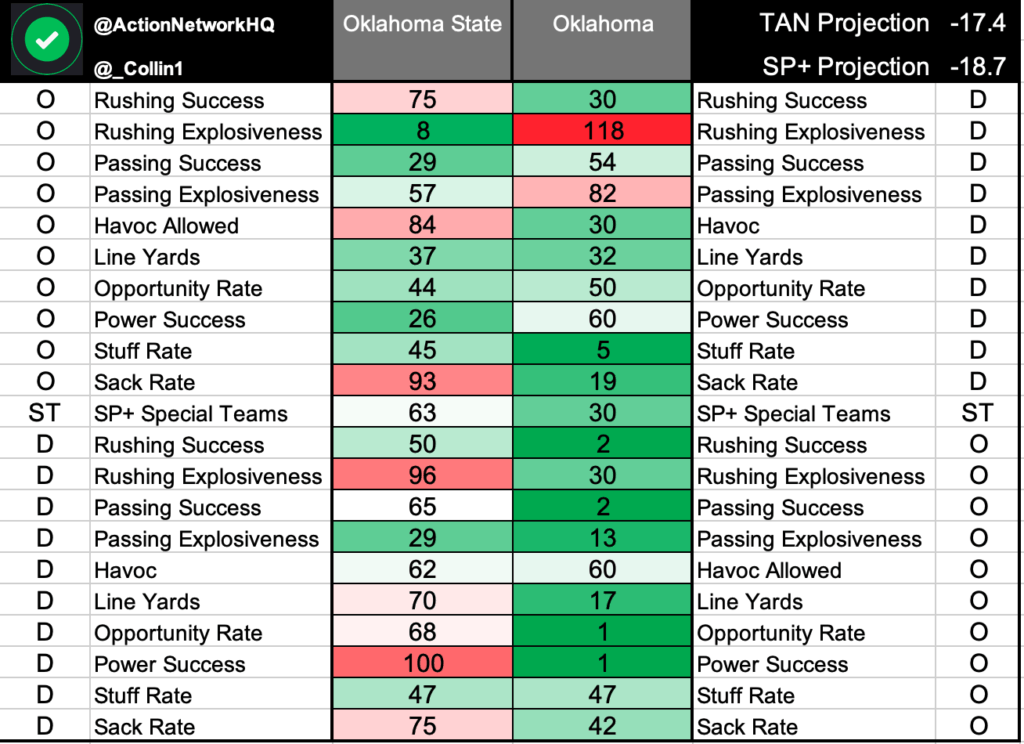 Data not updated with Week 13 results
Week 13 Injury Notes
Baylor quarterback Charlie Brewer left the Texas game with an ankle injury, but coach Matt Rhule said Brewer is expected to play vs. Kansas.
Penn State Sean Clifford left the Ohio State game with injury. Coach James Franklin said Clifford was available to come back in but wasn't 100% so he stayed with Levis
Week 14 Situational Spots to Play
Ohio State does not have to beat Michigan to play in the Big Ten Championship.
Miami (Ohio) has tiebreakers over Ohio, Kent State and Buffalo. The Redhawks can lose to Ball State while still representing the MAC East in the championship game.
Neither Appalachian State or UL Lafayette have to win in Week 14, as both have qualified for the Sun Belt Championship game.
Hawaii is in a conference championship lookahead spot against Army. The Black Knights must win to qualify for a bowl game.
Teams aiming to reach bowl eligibility include Kent State, Nebraska, Troy, Oregon State, Colorado, Boston College, Michigan State and UL Monroe
Teams aiming to reach bowl eligibility against teams that cannot make a bowl include North Carolina (NC State), TCU (West Virginia), Ohio (Akron), Mississippi State (Ole Miss) and Missouri (Arkansas)