College Football Playoff Eliminator for Week 12: Alabama Eliminated From Contention
Credit:
Robin Alam/Icon Sportswire via Getty Images. Pictured: A College Football Playoff marker.
Two weeks of the college football regular season remain, as the College Football Playoff committee unveils another edition of the CFP rankings later tonight.
We saw some more movement in Week 11 and a few surprising upsets in the Pac-12, with UCLA and Oregon both going down. Let's take a look at where things now stand.
Entering last Saturday, I had eliminated 115 of the 131 FBS teams from games played in Weeks 1-10. That left us with 16 playoff hopefuls remaining heading into the final month of the regular season. That number has decreased to 13, with three more schools sent home in Week 11.
Those 13 teams are now fighting for four spots — and as always, they're sorted into our three distinct tiers. Let's start off by taking a look at the latest trio sent to the wayside.
---
Eliminated From College Football Playoff in Week 11
The Tide pulled out a nice road win in Oxford on Saturday, but with LSU's win over Arkansas, Alabama officially cannot make the SEC Championship game. With two losses and no chance at a conference title, I don't see a path.
The Illini were always a total longshot, but the home loss to Purdue removes all doubt.
The Rebels were right there against Alabama but couldn't quite get it done. That loss ended their chances in the SEC West, as well as any playoff hopes.
---
Eliminated in Weeks 1-10
As always, here are the ground rules that will be in place all year:
Any loss eliminates a Group of Five team immediately. In the history of the CFP, there has only been one Group of Five team to make the playoff — last year's undefeated Cincinnati Bearcats. A one-loss Group of Five team is simply not making the playoff in the current format.
Auto-elimination for any Power Five team that loses a third game. To this point, there has never even been a two-loss team that made the playoff. There have been a few that have been close over the years, but there will certainly not be a three-loss team among the final four.
Any two-loss Power Five team that has been eliminated from conference championship contention will also be eliminated in this column. Given that we've never seen a two-loss team make it to this point, it's safe to assume a two-loss team would need to win its respective conference.
Lastly, I reserve the right to eliminate any team that simply does not have a realistic path to the playoff.
Here are the latest tiers: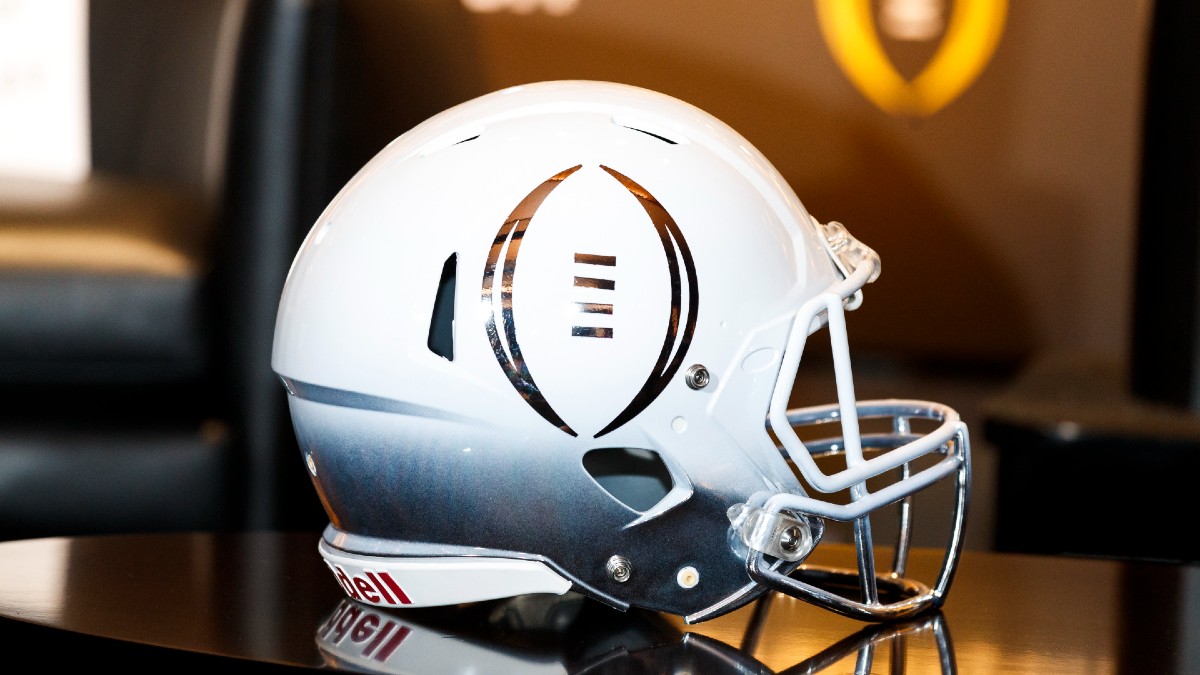 Collin Wilson's Top CFP Futures for Week 12
---
All National Championship odds are as of Tuesday, Nov. 15 and via DraftKings.
---
Firmly in the Mix (4)
Each of these four continue to separate themselves from the rest of the country. But it can't be these four forever, as Michigan and Ohio State meet next week. The plot continues to thicken.

Georgia Bulldogs (-120)
Handle business this week in Lexington, and the Dawgs are all but a lock for the playoff. Georgia will be heavy favorites over LSU in the SEC Championship game, but even with a loss, this is likely still a playoff team.

Michigan Wolverines (+700)
The Wolverines keep handling their business — albeit against a relatively easy schedule. Win out, and this is likely the No. 2 seed in the playoff. Lose in Columbus, and it's wait and see.

Ohio State Buckeyes (+240)
The nonconference win over Notre Dame is looking better and better for the Buckeyes and could serve as a nice feather in their cap if they does stumble against Michigan.

TCU Horned Frogs (+2500)
The Horned Frogs survived another difficult road test, and the dream of a 13-0 season is starting to become more and more real. That said, winning in Waco against a solid Baylor team is no easy task.
---
Hanging in There (5)
Each team in this tier has suffered a loss of some variety. That said, there's still a clear pathway to the playoff — just less room for error the rest of the way.
Clemson Tigers (+5000)
The Tigers put up an impressive bounce-back performance against Louisville. Clemson would be in the conversation at 12-1 with an ACC title, but the way in which it lost to Notre Dame will not help.

LSU Tigers (+4000)
The Tigers survived a tricky road test in Fayetteville to keep their playoff chances alive. LSU will be a fascinating case if it wins out. A two-loss team has never made the playoff, and an SEC champ has never been left out.

North Carolina Tar Heels (+8000)
The Heels do it again. North Carolina won a high-scoring affair at Wake on Saturday, and this team continues to be the ultimate dark horse of this playoff race. It will definitely need more help, but there's still a pulse.

Tennessee Volunteers (+1200)
I continue to be bullish on the Vols' playoff chances. They handled business against Missouri, and their final two games are against South Carolina and Vanderbilt. A USC loss would ensure Tennessee is ahead of any Pac-12 team in the pecking order.

USC Trojans (+4000)
The Trojans are now the Pac-12's only real contender for a playoff bid. If USC ends the season with wins over UCLA, Notre Dame and the Oregon/Utah winner, it would have a really strong case for that last spot.
---
Would Need a Miracle (4)
Each of these four Pac-12 teams still has a route to winning the league. Do that, and hope for absolute chaos in the other conferences. You never know.
How would you rate this article?