Rovell's College Football Vegas Report: The Surprising Team Sportsbooks Need Saturday
Credit:
Derick E. Hingle, USA Today Sports.
We're onto Week 2 of the college football season and even though most of the public action won't hit Vegas until Saturday, we're starting to get a good idea of what the betting picture will look like for this week.
I spoke with veteran Las Vegas bookmakers, John Murray of the Westgate SuperBook and Matt Lindeman from Circa Sports, to get the behind-the-window view of the Week 2 market.
Big Ten Teams Dominate Betting Talk
In somewhat of a surprise, Big Ten teams have been the talk of the betting world in the early going.
First, there was Illinois, who last week saw three shockingly large $55,000 bets to cover (as a 17- and 18-point favorite) against Akron. The Illini won by 39.
Another $55,000 bet came in on them this week as 20.5-point favorites against UConn this week. Just a reminder that Illinois went 4-8 last season.
Penn State is also generating a bunch of buzz at the window this weekend, especially at Circa Sports in Downtown Las Vegas. Circa took a bold step on Sunday, becoming the first Vegas sportsbook in three years to open the college football market for the following weekend. It also became the first book to ever post CFB totals on a Sunday, beating the overseas markets.
Circa's Matt Lindeman put up Penn State as a 22-point favorite against Buffalo and the number gradually moved up to 29.5.
"Obviously the computer models out there are giving Penn State credit on paper for beating Idaho by 72," Lindeman says.
While the number has not moved as much, he's more exposed on the Maryland-Syracuse game, which is a similar situation with a Week 1 blowout.
Maryland, which closed as a 31-point favorite last week, beat Howard by a score of 79-0. Lindeman opened the Terrapins as five-point underdogs and they're now 1.5-point favorites. He attributes the move partly to it being a play by Dr. Bob Stoll, a respected gambler who runs a college football betting service in Vegas. Stoll was on Maryland. "When that happens it will always move to zero through to the other side, as it did," Lindeman said.
The public is still backing Maryland, as 85% of the tickets are on the Terps even though the line has moved to -2.
Biggest Bets
FanDuel says its biggest bet this weekend is an $11,000 play on Central Michigan to cover as a 35-point 'dog to Wisconsin. It is the first meeting between the two schools. Let's call it "The JJ Watt Classic."
The bettor is obviously banking on Wisconsin playing too slow to run up the score on the Chippewas.
If Wisky's star running back breaks through, like Jonathan Taylor did on Saturday scoring a career-best four touchdowns against USF, the Badgers can rack up some points. If there aren't big bursts, they'll be among the slowest teams in college football to get down the field — full huddle and rushes in play keeping the clock rolling.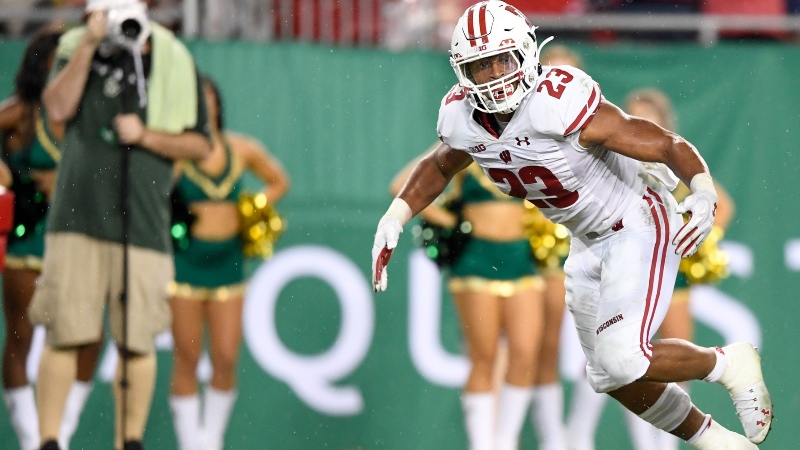 Wisconsin beat USF by 49 last week and Jim McElwain's CMU bested Albany, 38-21, its 11th straight victory over an FCS team.
In recent history, the Badgers are awful at covering huge spreads. In fact, in the last five years, they have been at least 30-point favorites in eight games. They've covered once — a 58-0 win against Miami University in 2015 as a 31-point favorite. Meanwhile, CMU has been at least a 20-point dog three times in the last five years, having covered +23, +26 and +28, the latter two against Michigan State on the road against ranked Spartans teams. The Chippewas are 10-6-1 against the spread against Big Ten teams since 2005.
Strangest Line of the Week
Tennessee as a 3.5-to 4-point favorite over BYU. Tennessee lost outright last week to Georgia State. BYU lost to Utah by 18, but it was somewhat deceptive because the Utes scored two defensive touchdowns.
"I don't get this game," admitted Superbook Director John Murray. "The Vols were so embarrassing last week, I'm guessing their fans will be jumping for joy if they win by one this week."
Hardest Game to Predict
Stanford at USC (-1). With both QBs out, it's hard to make a call here.
"We haven't received much action on this game," Murray said. "I think it's honestly just as hard to pick for the bettors as it is for us to handicap."
The Big Game
LSU (-6.5) at Texas is the biggest game of the week, as College Gameday will be in Austin. First let's discuss the line, which now has LSU as almost a touchdown favorite.
"Everyone is on LSU," says Murray. "We're taking four to one on the Tigers. Everyone is overreacting to last week's win (55-3) over Georgia Southern." I did indeed get a text from my diehard Tigers fan who was telling me Joe Burrow was a lock to win the Heisman.
Lee Corso's Headgear
We found the incredible website GameDayCole.com to check out Lee Corso's record when he picks for and against LSU & Texas since the beginning of College GameDay in 1996.
When He Has Picked LSU: 11-6
When He Has Picked Texas: 7-4
When He Has Picked Against LSU:  6-3
When He Has Picked Against Texas:  2-3
The Books Need Who?!?
It's a rare occurrence when the bookmakers really need a team that has won two of the three national championships, but bookmakers need Clemson this week, as the public is on 17.5-point underdog Texas A&M to cover. Lindeman said the biggest needs for Circa going into the weekend are Syracuse and Clemson.
How would you rate this article?