Rovell: CFP Semifinal Prop Picks for Our $1,000 Contest
Credit:
Marvin Gentry, USA Today Sports. Pictured: Tua Tagovailoa
We're giving away $1,000 cash to the winner of our College Football Playoff Semifinal prop contest.
Darren Rovell (@DarrenRovell) came up with the 10 questions on the prop sheet and run through his picks for each.
Hey, Darren Rovell here … Don't know if you heard — we're giving away $1,000 for the College Football Playoff Semifinal. For free. All you have to do is complete our gauntlet of prop bets below and beat the field.
Since we can't win, here's our advice — take it or fade it, the choice is yours.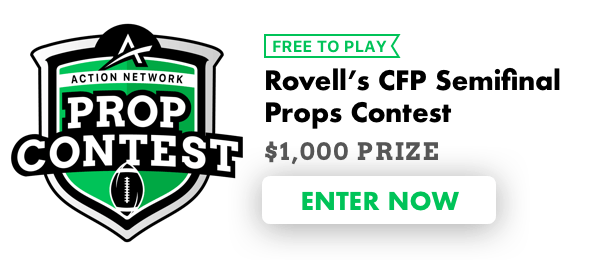 1. Which team will have the greater percentage of crowd at the Cotton Bowl at kickoff
(As judged and tweeted by a reporter at the stadium)?
Rovell's pick (Notre Dame): I took Notre Dame here. Chance to go to the title game for the first time in six years, I think these 'Domers have plenty saved up to get to Dallas. Meanwhile, Clemson fans would rather wait until the real thing.
2. Will the broadcast team for the Notre Dame/Clemson CFP Semifinal mention "Rudy" or "Manti Te'o" by name during the game?
Rovell's pick (Yes): "Rudy" is a long shot, but Te'o is reasonable because of the road to the title for the Fighting Irish. I say Te'o is mentioned.
3. What will be the highest ticket price sold, including fees, for either CFP Semifinal game on StubHub?
Less than $5,000
$5,000-$5,999.99
$6,000-$6,999.99
$7,000-$7,999.99
$8,000 or more
Rovell's pick ($7,000-$7,999.99): Wild guess here, but I'm thinking there are some club, all-you-can-eat seats that are going to go for a bit north of $7,000, including fees.
4. Will Nick Saban (ALA) be seen on camera smiling in the first half?
Rovell's pick (No): Nick Saban flashing a smile? No way and certainly not in the first half.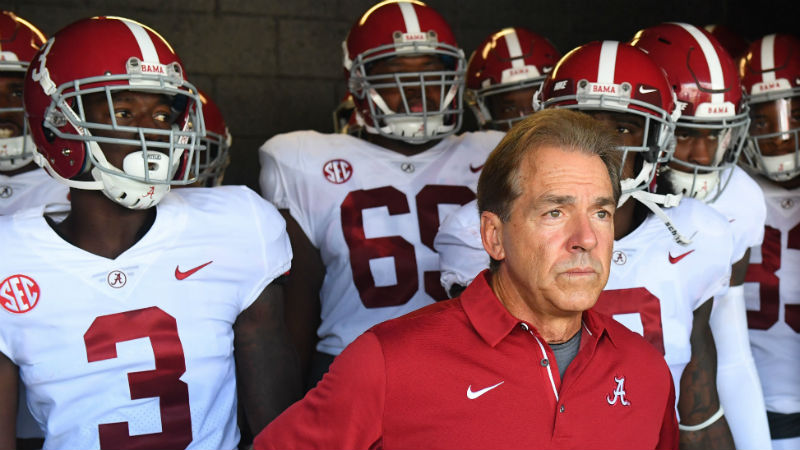 5. How many total words will be said by the coach interviewed at halftime of the Orange Bowl (Alabama/Oklahoma): Over/under 70.5
Rovell's pick (Under): Let's say Alabama is up on Notre Dame, so Saban is the coach getting interviewed. He's very wordy, but I'm going to say he's going to be shorter than usual.
6. How many times will the broadcast team for the Alabama/Oklahoma CFP Semifinal mention Kyler Murray's baseball career: Over/under 2.5
Rovell's pick (Under): Kyler Murray and his A's contract definitely gets mentioned, but no more than two times.
7. How many players will attempt a pass in the two CFP Semifinal games?
4 or less
5
6
7
8 or more
Rovell's pick (6): I think this number of players that throw the ball question is the toughest and it all depends on if you think Jalen will replace Tua at any point. If a QB gets hurt and/or if there will be a trick play of some sort. I like Hurt's chances and one trick play, which would put number at 6.
8. How many of the following will occur during the two CFP Semifinal games: Kick return TD, Punt return TD, Defensive TD and Safety
Rovell's pick (1): This is the "unlikely things to happen" question. I always feel safest by answering one.
9. Who will cover the spread in the CFP Semifinal: Clemson (-12.5 vs. ND) and Alabama (-13.5 vs. OKLA)
Alabama and Notre Dame
Alabama and Clemson
Oklahoma and Clemson
Oklahoma and Notre Dame
Rovell's pick (Alabama and Notre Dame): Two huge spreads here. I think Notre Dame Beats Clemson outright and Alabama covers over Oklahoma.
10. Will Alabama-Oklahoma (Orange Bowl) beat the overnight rating for last year's Alabama-Clemson game (12.5)?
Rovell's pick (No): I don't think this game beats the Alabama-Clemson game from last year.

Tiebreaker: What will be the combined passing yards for Tua Tagovailoa (ALA) and Kyler Murray (OKLA) in the Orange Bowl?
Rovell's pick: 854 passing yards.