'We Might Have Something Fun Here': How TCU's Sonny Dykes Led the Horned Frogs From Underdog to Contender
Credit:
Ron Jenkins/Getty Images. Pictured: TCU head coach Sonny Dykes.
GLENDALE, Arizona — Less than three hours before kickoff of the College Football Playoff semifinal at the Fiesta Bowl, TCU coach Sonny Dykes emerged from underneath the stadium. Wearing a purple plaid sport coat over a purple TCU sweatshirt hoodie, the head Horned Frog — flanked by two cowboy hat-wearing, pistol-carrying TCU public safety officers — started to walk on the field.
A security guard did something nobody has done to Dykes or TCU all season: He stopped Dykes in his tracks.
The security guard wouldn't allow Dykes on the field without seeing his credential (Michigan's Jim Harbaugh had no such issues). Yet, Dykes didn't protest. He didn't go on a Steve Sarkisian F-bombing pregame tirade. He simply showed the security guard his credential and walked onto the State Farm Stadium turf.
Dykes could have easily gone with the cliched, "Don't you know who I am?" rant, but to be honest, the casual fan or Fiesta Bowl security guard probably didn't have any idea who Sonny Dykes was.
That, however, is changing. Especially after TCU's wild 51-45 Fiesta Bowl victory vs. Michigan and ahead of Monday's national title game vs. Georgia.
Daniel "Sonny" Dykes, 53, is in his first season as TCU's head coach. The Horned Frogs entered the season with 200-1 odds to win the National Championship. It should have been a million-to-1. TCU was coming off a 5-7 season and was picked to finish seventh in the Big 12.
Even the purpliest TCU fans were pessimistic. Their expectations were something like this: "This season, TCU has a new head coach, new coordinators and a possible competition at quarterback. The defense needs a total overhaul, and the outlook for the Frogs hasn't been this murky in some time. A 6-6 record is a decent result for Sonny Dykes' first season in Fort Worth."
A funny thing happened on the way to the Horned Frogs' .500 season. Dykes brought in some key transfers to pair with TCU's returning talent. He had a quiet confidence that this team was better than perceived.
"We've tried to find ways to be creative," Dykes said. "We tried to do a bunch of different things to find the best players and get them to buy in quickly. Those people all taught me you have to be yourself and think outside the box. And you've got to not be afraid to try things that other people aren't doing or try things people tell you, 'Hey, that's not going to work.' You just gotta believe in yourself and believe in your plan and go out and execute it."
Before the season, Dykes joked to a friend that he should be fired if TCU didn't dominate his old school, SMU, where he coached the past four seasons. TCU defeated SMU, 42-34, in Week 3, but the final score was probably closer than Dykes envisioned.
Dykes wasn't fired. Instead, the Horned Frogs were just starting to fire on all cylinders. What followed the SMU win was a 31-point blowout of Oklahoma, a victory at undefeated Kansas and a double-OT, come-from-behind win over Oklahoma State.
"The Oklahoma game is when we saw, OK, look, here's what we're capable of because we played really good football on all three sides of the ball," Dykes said. "It was a bit of an eye-opener for me, honestly. And the big question we had to answer after that was how are we going to handle prosperity and how are we going to deal with adversity because that's going to happen quickly."
After the 17-point comeback vs. Oklahoma State, Dykes knew he had a "special group."
"These guys get it, and there's some maturity, and we might have something fun here," Dykes said. "Those were two moments for me I thought were big."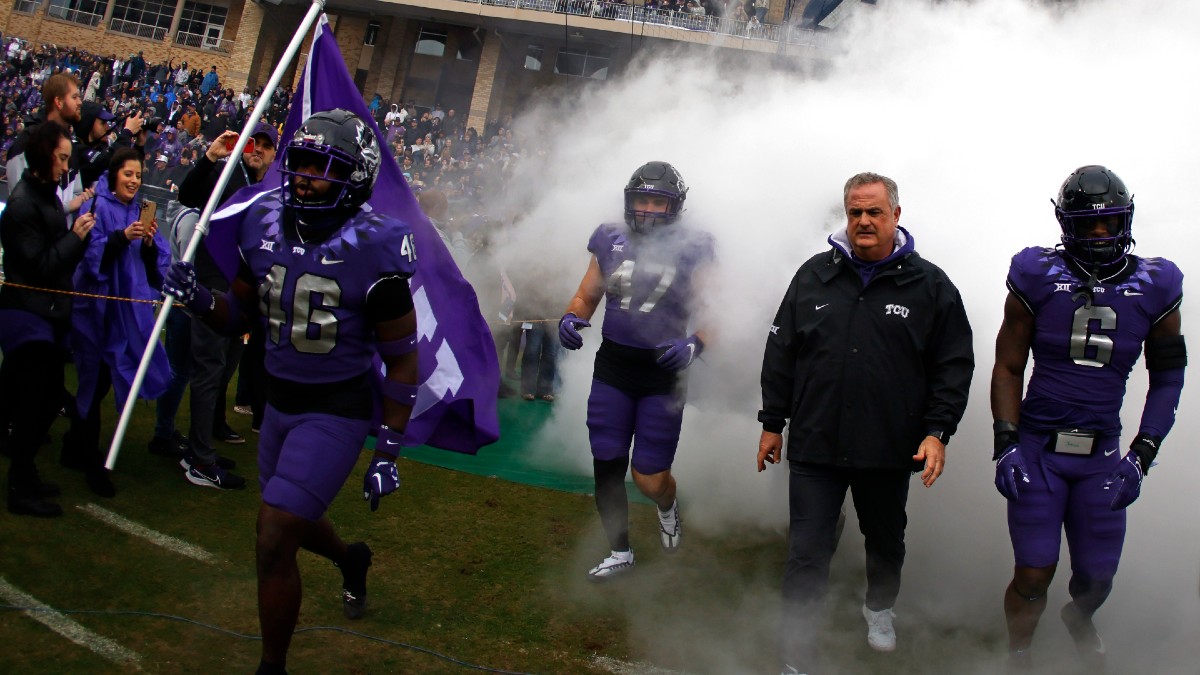 TCU, with a preseason projected win total of 6.5, was off and running to a 6-0 start. Six games and six wins later, the Horned Frogs were 12-0, one of only three undefeated teams, featuring Heisman Trophy finalist quarterback Max Duggan.
Dykes is confident, yet down to Earth. He doesn't carry around an ego like some (most?) of the maniac, paranoid head coaches in college football. He apologizes for responding late to a text message he meant to send a few days ago. His father, Spike Dykes, was the legendary Texas Tech coach. Dykes' West Texas upbringing is with him to this day.
"My dad was a character; he just was," Dykes said. "He was raised by characters. His mother and father were really great people. My grandmother was a bit larger-than-life personality. My dad was a big personality. I've been lucky to work with coaches that were that way. Hal Mumme, Mike Leach and Mike Stoops.
"Guys that I've had a chance to work for — they were all unique guys, and they were all really one of a kind, and they had a different approach to doing things."
The week of the Fiesta Bowl, Dykes remembered when he was playing high school football and came home one night to find his dad, Texas Tech's coach, sharing a drink with A&M coach R.C. Slocum at 1 a.m. the night before the Tech-A&M game.
"So, in that spirit, I was going to invite Coach Harbaugh to my hotel room tonight and see if we wanted to open up a bottle of bourbon and reminisce," Dykes said before the TCU-Michigan game. "I don't know if he will take me up on it."
Said Harbaugh: "It's way past my bedtime."
TCU put Michigan's season to bed in the Fiesta Bowl by forcing the Wolverines into uncharacteristic mistakes and being the more physical team against the supposedly bigger Big Ten club.
The Horned Frogs have resembled their coach all season: calm, cool and confident. Of TCU's 14 games, 10 have been decided by 10 points or less. There's never any panic. Dykes admits part of that is the relationship between a player and coach "is a really unusual relationship."
"My dad loved teams that were unselfish," Dykes said. "That was one of the things that he talked about all the time, was it's amazing what can be accomplished when the people didn't care who got the credit. I've heard that one million times from my dad growing up.
"I think this team really embodies that philosophy. We've got a group of guys that really sacrifice for each other, really invest in each other, really care about each other on a very, very deep level. And a team that, again, never quits, regardless of what the situation is. They're going to play through the whistle, through the quarter, through the half, through the game — never quit."
Dykes, in his first College Football Playoff appearance, already has more playoff wins in the past nine years than Jim Harbaugh, Brian Kelly, Lincoln Riley, Luke Fickell and Jimbo Fisher combined.
Next up is big, bad Georgia from the mighty SEC. The Bulldogs are heavy favorites to become the first team to win back-to-back national titles since 2011-12.
"When you hear about how you're about to lose to a team or however many points you're going to lose by, it just fuels us as a team," TCU linebacker Dee Winters said.
The Horned Frogs are nearly a two-touchdown underdog — or under'frog' if you prefer. That's fine with TCU. Dykes has them right where he wants them.
Hopefully, on Monday, SoFi Stadium security guards will recognize the guy in the purple plaid sport coat and purple hoodie when he walks onto the field.
How would you rate this article?
This site contains commercial content. We may be compensated for the links provided on this page. The content on this page is for informational purposes only. Action Network makes no representation or warranty as to the accuracy of the information given or the outcome of any game or event.