Joffe: I'm Baaaaack … Who's Ready for Big CFB Dogs?!
Credit:
Quinn Harris-USA TODAY Sports. Pictured: Akron football players celebrating
Which big underdogs have I hit on this season?
Have I unlocked the secret to gambling on college football?
And when will the 49ers ever stop screwing me?
Well folks, I'm sorry to have disappeared on you like that, but writer's block is a real b****.
All that matters: I'm here now, so how about a mid-season report to catch y'all up on my Big Dogs and the new teams that are Dead To Me?
Big Dogs
I've made a total of 209 big dog bets (+1000 or higher) so far this college football season. Those have gone 8-200-1.
Now, that sounds pretty bad, but here's the kicker: I'm up 27.25 units! A few highlights:
Least impressive win: Gardner Webb over Campbell paid +1050
Most impressive win: Elon beating James Madison at +8000!
Other notables: Akron (+2100) beat Northwestern and ODU (+2800) beat Virginia Tech.
I'm certainly not going to sit and here and claim this is a strategy to use every season, but being up 27 units is prettay … prettay good.
Now if only I'd actually bet large amounts of money on all these games I'd have enough cash to fund my next Vegas trip, but alas, these bets are purely for the fun of it.
We still have a few more CFB weekends to go and a lot could still happen, but for now I'm calling this a success!
Here's my dogs for this weekend … LFG!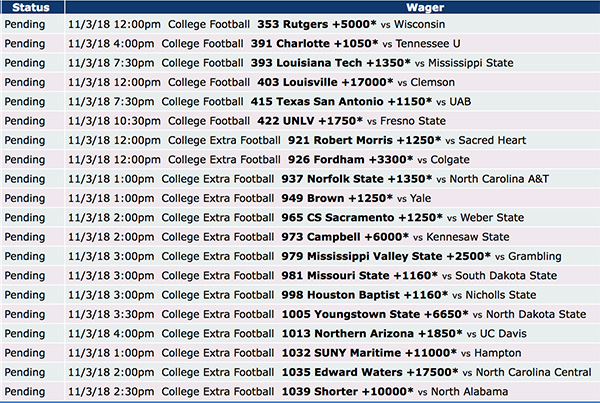 And guess what starts next week … college basketball season big dogs!!!!
Dead to Me
Let's quickly recap the teams that I've already written about:
Now on to the additions since then. (It seems the first weekend in October was a particularly bad one for me …)
Apparently Louisiana Tech, though I can't remember why. Slight problem: I just bet LaTech to +23.5 vs Mississippi State this weekend. Oops. I should probably keep up with this list to avoid such a conflict. Oh well, the Bulldogs get a second chance at life. Don't blow it guys.
That next day, the Packers and Jaguars joined the list, and again, I'm not 100% sure why, but based on my (limited) research, I think it was because of this ATS pick'em league I'm in. Could also have been a bet, I don't remember and I'm sure I don't want to relive it by diving too deep to find out. Both these teams suck anyway, so I'll give them a "mostly dead" label — a la Miracle Max.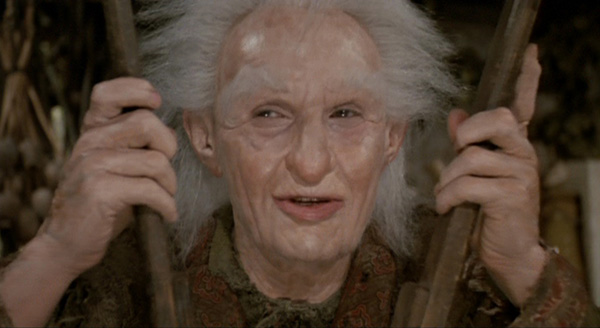 The Carolina Panthers joined the list that day and I remember why. Buckle up, because this gets a little complicated … It was almost the end of the game, and they were losing to the Giants. I had taken Carolina in a survivor pool in which I had two entries left. I'd come to terms with them losing and me only having one entry remaining in that contest. The silver lining? It was going to wipe out a crap-ton of other people, so OK, LFG. I also bet Carolina -6.5 as the only game left in a huge parlay, but I was willing to deal with the loss for the reasons above. Then with one second left, Graham Gano hit a 63-yard FG and the stupid Panthers won but don't cover. I'M SO MAD RELIVING THIS OMG.
Then the 49ers, down 28-12 with three minutes left against the worthless Cardinals, decided to score a pointless TD that blew the under. FML.
Looking back over my tweets for the following weeks, I see that I also added Georgia State, the Bearcats and the 49ers AGAIN.
So, the moral of this story is keep track of who is dead to you, because if you don't, you'll end up with nobody to blame but yourself.
How would you rate this article?