LSU vs. Texas Betting Odds & Picks: Should the Tigers Be So Trendy?
Credit:
Derek E. Hingle, USA Today Sports. Pi
LSU is nearly a touchdown favorite at Texas in this marquee Week 2 college football clash.
In the summer, this line was offered around a pick'em, but love for LSU and Texas injuries have caused the market to adjust.
LSU vs. Texas Betting Odds & Pick
Odds: LSU -6.5
Over/Under: 55.5
Time: 7:30 p.m. ET
TV: ABC
Location: Austin, Texas
LSU and its new-look spread offense will travel to Austin on Saturday and lay almost a touchdown as a road favorite.
The Tigers have gotten lots of love from the betting market, going from -4 to -6.5 after opening closer to a pick'em in Game of the Year lines this summer.
Has the love for LSU gone too far, or is this Tigers' team a legit national contender? Let's get to it.
Tom Herman, Ultimate Underdog
You probably know by now — in his head coaching career, Tom Herman is 13-2-1 ATS as an underdog, covering by 13.8 points per game. Herman's team has won 10 of those 16 games outright, as well. — John Ewing
The public likes LSU to cover as a majority of spread tickets are on the Tigers. Since 2005, in top 10 matchups the team getting a majority of bets has gone 74-93-3 (44%) ATS. — John Ewing
Texas Pressure, Non-Existent
The Longhorns did enough to impress me against Louisiana Tech, but a few underlying statistics keep me skeptical about Texas being back.
The key to beating LSU will be pressure from the defensive line. Texas was 91st in sack rate during 2018 and needed to establish themselves against an inferior G5 offensive line.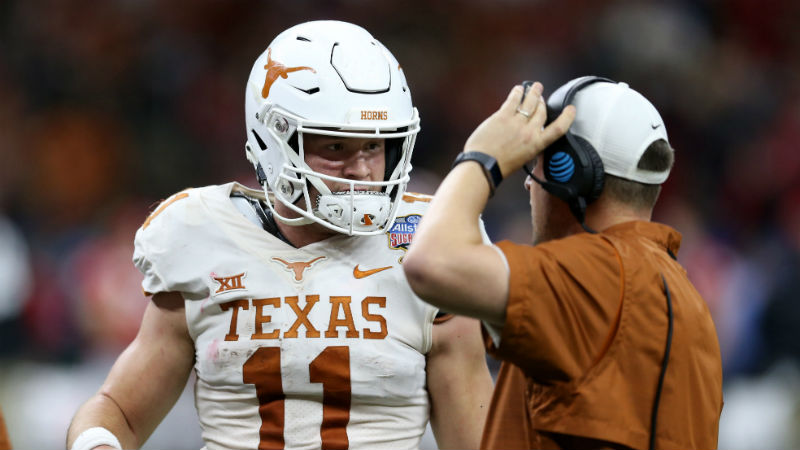 In Week 1, Texas had one sack and zero quarterback hurries. Of the five tackles for loss, only one came from the defensive line. This was not the box score I expected to read in a covering effort from the Longhorns. Louisiana Tech had three turnovers and punted only twice in the game. — Collin Wilson
How Good Is New LSU Offense?
New passing game coordinator Joe Brady took the reigns against Georgia Southern and promptly helped lead the Tigers to five touchdowns on five drives. Quarterback Joe Burrow hit 10 different receivers for double-digit yards.
The offensive scheme was simple — hit running backs in the flats and take a shot downfield when blitzed. Both the LSU offense and defense could not have had a better box score.
Brady spent two years at Penn State as a grad assistant under Joe Moorhead, and those spacing/spread influences are showing up at LSU. There are a lot of people out there very high on this Tigers offense. — Collin Wilson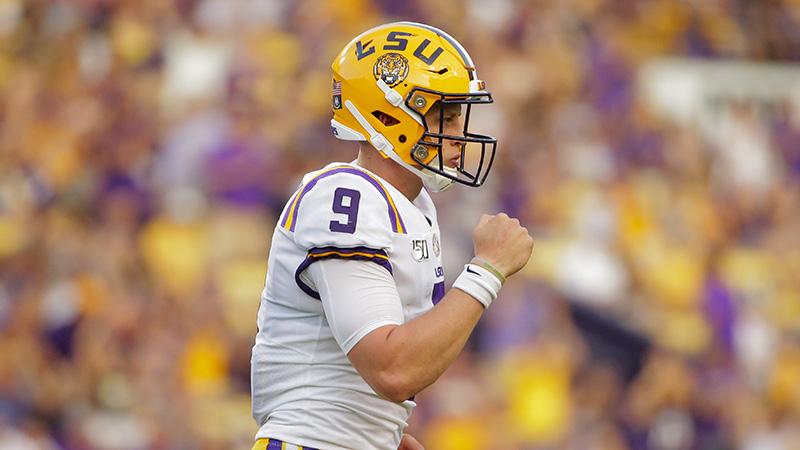 How often will Texas DC Todd Orlando utilize his "Cowboy" package with 8 DBs against the LSU spread and how much success will it have? They certainly have enough depth at talent in the secondary, particularly at safety.
Jalen Green is also a rock solid but there are questions about the corner opposite him. How Kobe Boyce performs opposite Green could go a long way in determining the outcome of this game.
LSU has implemented a new up-tempo spread offense, which is more of a Big 12 offense than an SEC offense, so Texas has familiarity with LSU's new style. — Stuckey
Won in the Trenches
This game will come down to the trenches. Both the Longhorns and Tigers are considered to have young and inexperienced offensive lineman.
But the LSU defense should have the advantage in every unit.
Ehlinger will be under pressure all day and his top targets will have suffocating coverage from an excellent secondary. The stable of running backs is thin, leaving LSU to drop plenty back while keeping a spy on Ehlinger.
Collin's Pick: I'm taking LSU at any number less than -7. — Collin Wilson
How Do Injuries Change Texas Offense?
Texas star freshman RB Jordan Whittington got injured last week, which hinders a backfield that's already littered with injuries. In general, LSU is much healthier.
The Texas rushing attack will now pretty much fall on the shoulders of RB Keaontay Ingram and of course quarterback Ehlinger. I think Texas is going to have to spread it out to throw more without RB depth — and to also give Ehlinger more lanes to run via design or improvisation.
WR Collin Johnson will have to go off for Texas to win this game but LSU can counter with two defensive backs that will be playing in the NFL very soon. — Stuckey
Stuckey: How I'm Betting This Game
I love Herman firing up his team in an underdog spot as much as anybody. How could you not like a 24-2 ATS record dating back to his coordinator days?
But I ultimately bet numbers, not teams or coaches. And there are some questions at running back and one of the corner spots for Texas.
That said, at +7 or higher, I have to roll with the Longhorns. Everyone is assuming this LSU new offense will automatically be a success, but I don't take too much from throwing on Georgia Southern. Going up against DBU in Austin is a different story.
This is honestly starting to remind me of another LSU game last year, when the Tigers were in the role of Texas.
The whole world seemed to be betting the 6-0 Georgia Bulldogs laying a TD in Baton Rouge. I felt like I was the only one on LSU that day and the Tigers ended up rolling.
I'm getting similar vibes, which is completely meaningless from a betting perspective, but thought I'd at least share.
Stuckey's Pick: Texas +7 or better
Special Teams Edge, LSU
Texas was just average last year on special teams but relied on a trio of freshman at kicker, punter and punt returner. All three return to a unit that should improve as a result.
LSU had one of the best special teams units in all of college football last year but the Tigers did lose kicker Cole Tracy, who was tremendous in 2018. However, they did bring back Zach von Rosenberg, one of the best punters in college football.
Cade York has big shoes to fill at kicker (LSU also led the NCAA in kickoff efficiency last year) but he did drill one from 48 last week. If he can come anywhere close to being as productive, LSU will once again have an elite special teams group. — Stuckey
How would you rate this article?