Sun Belt East College Fantasy Football Preview: The Relevant Players From Coastal Carolina, App State & More
Credit:
Mary Holt/Icon Sportswire via Getty Images. Pictured: Thomas Hennigan.
The Sun Belt East features two of the conference's marquee teams — one with a rich football history and one upstart.
Appalachian State will always be remembered for the historically improbable upset of fifth-ranked Michigan in 2007. However, it has also built quite a strong program with four consecutive Sun Belt Championships from 2016-19.
Enter Coastal Carolina, which played its inaugural season in an FBS conference in 2018. Last year was quite a series of firsts for the Chanticleers, as it was the first time they won a game against a ranked opponent, hosted ESPN's College GameDay, won the Sun Belt Conference, and played in a bowl game.
The rest of the East will fight for table scraps and hope to knock off one of the big boys ahead of them.
Georgia Southern will continue to run its brand of the triple option in the Peach State, and Georgia State will try to build off its 2020 LendingTree Bowl win. The Panthers have an exciting young core and could raise some eyebrows in the conference this year.
Finally, Troy is trending down and has not made a bowl game since three appearances in a row from 2016-18. Third-year head coach Chip Lindsey will try to right the ship for the Trojans.
For our conference previews, we will try to include all the relevant offensive players for the 2021 season, broken into the following groups:
Fantasy-Relevant
Roster-Fillers
Stashes
Players to Avoid at ADP
---
Teams listed in alphabetical order. Click any team logo below to navigate to a specific team breakdown, and click the Sun Belt Conference logo to return to the top of the page.
Photos via Getty Images.
---
---
---
Fantasy-Relevant
Camerun Peoples took over as the starting running back in Week 7 of the 2020 season and never looked back.
After splitting time early in the year, Peoples averaged 19 carries a game over the final six games.To say he was sensational may be an understatement, as he rushed for a whopping 825 yards and nine touchdowns in that span.
Of course, those numbers include his ridiculous 22-317-5 line against North Texas.
The 6-foot-2, 220-pound Peoples has prototypical size and breakaway speed but was not used much in the passing game.
Contrast Peoples' three receptions with former star Darrynton Evans' 21 in 2019. While he is very relevant on the college side, it remains to be seen if Peoples will be an NFL prospect.
I think he will begin the season sharing touches with Daetrich Harrington, and if that continues throughout the season, I will be bearish on his pro potential.
I still like his value in the 16th round of C2C drafts.
---
Roster-Fillers
Corey Sutton is the top pick out of the Mountaineers receiving room.
After transferring from Kansas State in 2018, he led this team in receptions, yards, and touchdowns. He accounted for 31% of Appalachian State's receiving yards and 37% of the team's receiving touchdowns.
Sutton was tracking with similar production in 2019 before an injury cost him his final three games.
The 6-foot-3, 215-pound big-play threat opted out in 2020 but returns as the most exciting receiver on this team.
With an excellent 2021, he may garner some NFL buzz. Well off anyone's radar, he's not being drafted in the first 20 rounds of C2C drafts.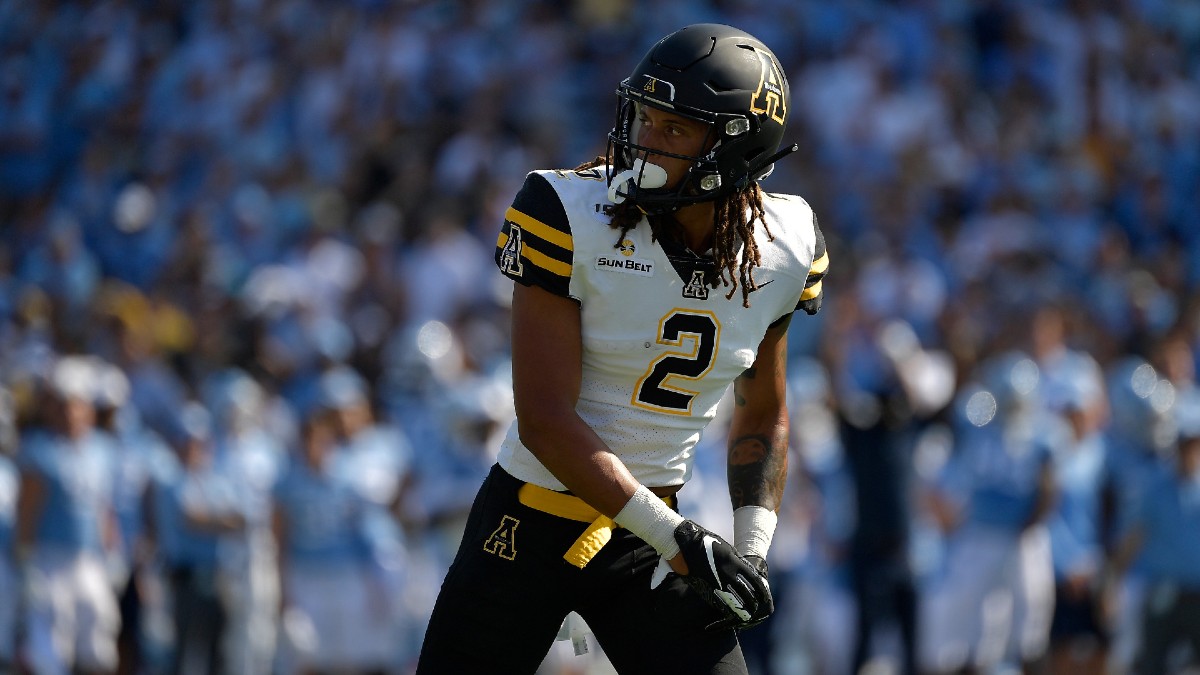 ---
Stashes
Thomas Hennigan and Malik Williams round out the receiving corps, but the offense does not pass enough to support multiple pass-catchers.
Should injuries open up targets in this offense, either player would be worth a look. Chase Brice must be mentioned as the likely starting quarterback, but he was so bad for Duke in 2020 that I cannot endorse him as a fantasy starter.
Brice is on his third college team and has gotten worse each year in school. Maybe a step down to the G5 will see him regain confidence and perform at a high level.
---
Players to Avoid at ADP
None.
I don't have anyone for Appalachian State who I would avoid at ADP.
The entire roster is affordable with many players going undrafted in the first 20 rounds of college side drafts at campus2canton.com.
---
---
Fantasy-Relevant
Grayson McCall was the heart and soul of this team a year ago and will continue to be as the Chants build on their historic 2020.
McCall was the Sun Belt Player of the Year as a redshirt freshman, throwing for 2,488 yards and 26 touchdowns with only three interceptions. He also showed real dual-threat ability, rushing for an additional 569 yards and seven scores.
Truly emerging out of nowhere, McCall was the college QB11 in fantasy points per game.
McCall also completed almost 70% of his passes to go along with an impressive 10 yards per attempt, so there may be some future potential here.
I like McCall as a top-10 college fantasy quarterback this upcoming season.
While there's room for growth, my main question is whether or not McCall has an NFL arm. He shows touch and moxie, but the zip may not be there at the highest level.
Jaivon Heiligh, McCall's top target, achieved a weighted dominator rating of 35% during his 2020 breakout season. Weighted dominator calculates a player's market share of receiving yards and touchdowns, giving 80% weight to yards and 20% to touchdowns.
The 6-foot-2, 200-pound wideout enters his fourth year eyeing a 1,000-yard campaign and should be a startable WR2/3 in college fantasy football.
---
Roster-Fillers
Isaiah Likely fits here as a roster filler at the moment but could easily wind up a TE1 for fantasy purposes.
The 6-foot-4, 240-pound tight end is athletic and dangerous as a pass-catcher. Likely averaged a massive 20 yards per reception in 2020 and looks to improve on his 30-601-5 line from a year ago.
He is a value in the second half of C2C drafts.
---
Stashes
Reese White and Shermari Jones will battle to take over for NFL-bound bell cow CJ Marable. The do-it-all star accounted for nearly 3,400 total yards and 41 touchdowns over three years at Coastal Carolina.
There's plenty of potential for fantasy goodness here if one of these backs can earn the lion's share of touches.
I would take a flier on White as the smaller, more agile back who will likely be the bigger contributor in the passing game.
Max Balthazar is an incoming freshman from Florida and is the highest-rated running back Coastal has ever signed. He shows some change-of-direction and short-area quickness on tape.
Keep an eye out for him if he's earning reps early in the season.
---
Players to Avoid at ADP
McCall is the player I cannot endorse at his ADP. Despite his outstanding production and skills shown in 2020, his NFL potential is very limited.
As of May's campus2canton.com ADP, he's going ahead of fellow G5 quarterback Malik Willis, who is getting first-round buzz in many 2022 industry mocks.
He also has a higher ADP than the more established Desmond Ridder and potential future NFL prospects Drake Maye, J.J. McCarthy, and Ty Thompson.
As a college performer, I love McCall. When you have an eye on the NFL, it gets trickier for me.
---
---
McCall should not be going ahead of the names after him.
---
---
Fantasy-Relevant
None.
The triple-option does not lend itself to much fantasy excitement.
---
Roster-Fillers
None. See above.
---
Stashes
J.D. King is the leading returning rusher.
No single running back commands the majority of touches, but King did see 116 carries in 2020.
I felt like I needed to put one player here, but I still can't imagine rostering a Georgia Southern player this season.
---
Players to Avoid at ADP
None.
---
---
Fantasy-Relevant
Sam Pinckney will enter the 2021 season on the heels of a breakout campaign in which he registered a 36% weighted dominator rating.
He led the team in all three receiving categories and looks like a prototypical alpha-X wide receiver at 6-foot-4 and 210 pounds.
I don't see a ton of NFL potential, but he is a WR3 fantasy option on the college side.
---
Roster-Fillers
Cornelious Brown IV enjoyed a solid season in 2020, completing 58% of his passes for 2,278 yards and 17 touchdowns with 10 interceptions. He also added 301 yards on the ground and reached the end zone seven times.
I love to see that dual-threat in a fantasy quarterback, so Brown is one to watch.
At this time, I would not project him to be a fantasy starter on the college side, but there is potential if he can make a jump in his redshirt sophomore season.
Cornelius McCoy led the team in receiving as a true sophomore in 2019 with an impressive 28% weighted dominator rating. Smaller than Pinckney, McCoy operates more as a slot receiver.
The quarterback change, as well as an injury, led to a reduced role in 2020. He's a name to watch if this offense takes a step forward.
Destin Coates showed the ability to be a workhorse back, tallying over 20 carries in five of nine games. He also chipped in with 12 receptions and should lead the backfield once again.
He could be a decent last-round C2C pick and provide some stats in a pinch.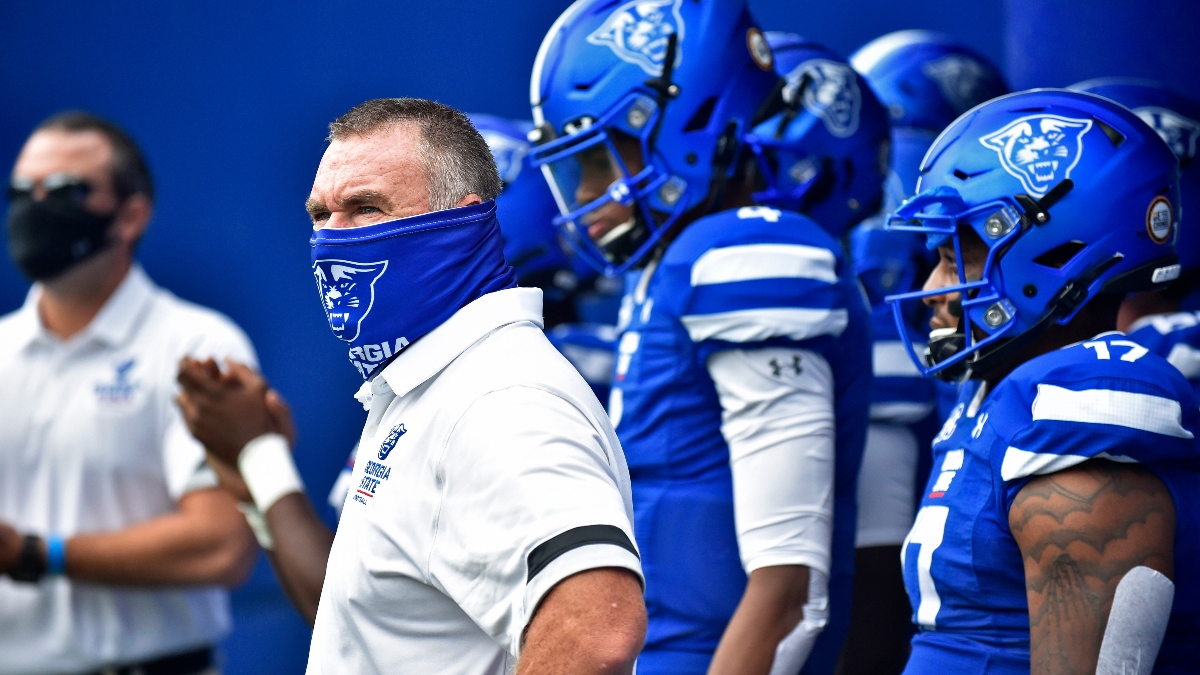 ---
Stashes
None.
All the relevant players should account for most of the fantasy production.
---
Players to Avoid at ADP
None.
I don't have an issue with where any of these players are being drafted.
---
---
Fantasy-Relevant
Kimani Vidal was fantastic as a true freshman last season.
He accounted for 40% of Troy's backfield production, which is remarkable for such a young player.
It's crazy to think he could become the most relevant player to come out of Marietta High School in a class that included Harrison Bailey and Arik Gilbert.
---
---
Vidal's production was well above the average for a future NFL fantasy RB1 as a freshman.
After a slow start, the stocky 5-foot-8, 215-pound Vidal showcased a fantasy-friendly profile with 56 carries and 20 receptions over his last four games.
B.J. Smith returns for a sixth year and Florida State-transfer La'Damian Webb will see touches, but I think Vidal will be a viable fantasy back in 2021.
He's a fine late-round pick in C2C drafts and can be a flex play if needed.
---
Roster-Fillers
There aren't a ton of other fantasy certainties on the squad.
Leading receiver Kaylon Geiger transferred out this offseason, leaving a void there.
An option may emerge as the season progresses, but none of their starters seem to be worth a roster spot at this point.
---
Stashes
Taylor Powell is a quarterback transfer from Missouri who played sparingly before heading to Troy. His stats are abysmal with a 46% completion percentage on 76 career attempts.
Troy incumbent Gunnar Watson has not been overly impressive for the Trojans, and the quarterback battle is open heading into the fall.
---
Players to Avoid at ADP
None.
No Troy players have an ADP high enough to warrant concern.
---
---
How would you rate this article?
This site contains commercial content. We may be compensated for the links provided on this page. The content on this page is for informational purposes only. Action Network makes no representation or warranty as to the accuracy of the information given or the outcome of any game or event.