Trickiest Schedule Spots for Every SEC Football Team in 2022
Credit:
James Gilbert/Getty Images. Pictured: The Florida Gators.
With less than 50 days to go until the start of college football, I know many of you are starting your preparation and taking a look at the win totals market.
After I update my offseason numbers and derive my own personal win total projections, I like to take a look at each team's schedule, which in some cases can swing me one way or the other on a decision to bet (or not bet) a specific win total I show betting value in from a pure numbers perspective.
I thought I'd share some insight into each SEC team by pointing out what I think is the trickiest spot on each schedule, which I'm sure absolutely none of the very unenthusiastic SEC fans will disagree with.
Some will be potential upset losses, while others might just be worth circling on your calendar as a potential fade spot against the spread (ultimately depending on the number, of course).
Hopefully, you find a valuable nugget or two and this whets your appetite for the rapidly approaching start of college football.
---

Alabama Crimson Tide
Win Total: Over 10.5 (-255)
Trickiest Schedule Spot: Oct. 1 at Arkansas
It's a revenge tour season for head coach Nick Saban. I'm sure he and the entire team can't wait for a piece of Jimbo Fisher and Texas A&M after the Aggies stunned them in College Station last year.
Both coaches exchanged verbal jabs this summer, so I can only imagine the buildup as we inch closer to their November meeting in Tuscaloosa.
However, the Crimson Tide can't get caught looking too far ahead with a trip to Arkansas the week prior. Don't forget that the Razorbacks took Alabama down to the wire in a 42-35 road loss last season.
Also, if Alabama does indeed take care of business against both Arkansas and Texas A&M, there will be no time to rest or feel satisfied with a showdown in Knoxville immediately following. Win all three, and the revenge tour train should pick up full steam for the remainder of the season.
---
Texas A&M Aggies
Win Total: Over 8.5 (-150)
Trickiest Schedule Spot: Oct. 1 at Mississippi State
It's only natural to now point out that Texas A&M better be careful on that same Saturday prior to its highly-anticipated matchup in Title Town. While Alabama travels to Fayetteville, Jimbo's bunch will head to the Magnolia State.
Last year on this same weekend, the Aggies lost at home to Mississippi State right after playing Arkansas in Arlington and the week before upsetting Alabama.
They face that exact same sequence of games this year but will now have to go hear cowbells in StarkVegas for a few hours instead of playing Mike Leach's group in the friendly confines.
Can Texas A&M learn from last year and avoid a flat effort in a prime sandwich spot, or will the Bulldogs bite them the week before 'Bama once again? Their season could unravel fast if they drop one or especially both games ahead of Alabama.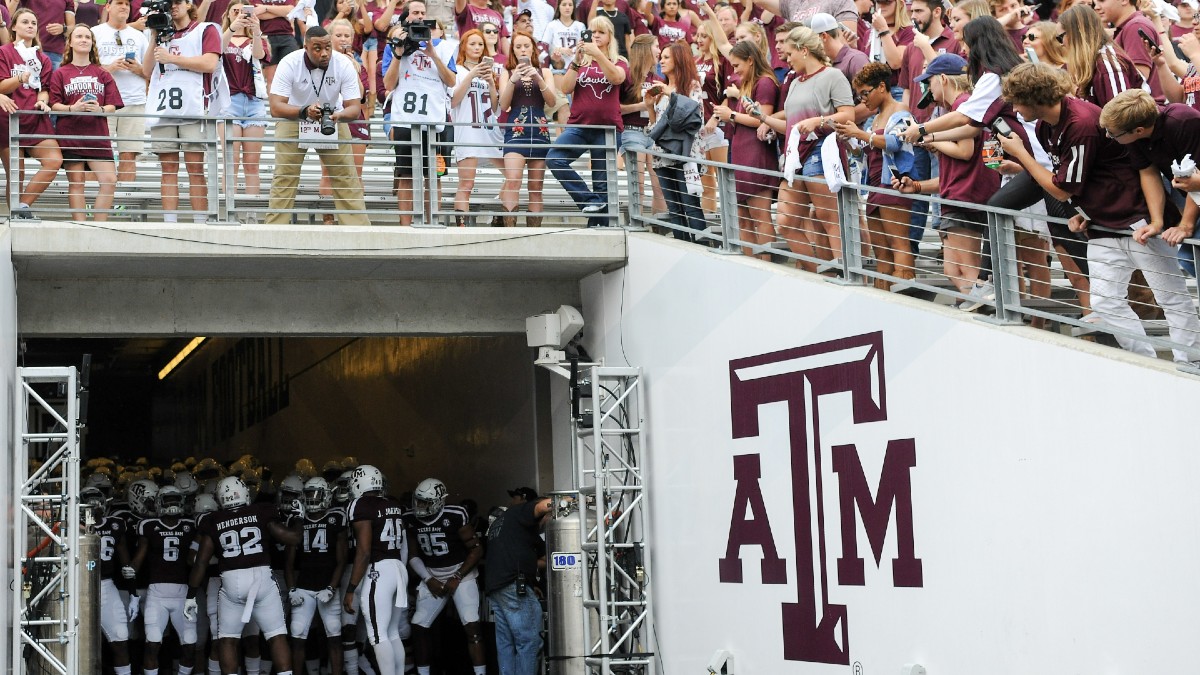 ---
Mississippi State Bulldogs
Win Total: Over 6.5 (-110)
Trickiest Schedule Spot: Sept. 10 at Arizona
Some expect big things from Mississippi State with head coach Mike Leach entering his third season in Starkville. He's had two full springs to implement his Air Raid with a returning quarterback in Will Rogers, who now has plenty of familiarity with the system.
Historically, Leach has fared very well with three-year starting quarterbacks, having won at least nine games in each of the three prior instances.
There's no shortage of experience with 17 returning starters and plenty of optimism surrounding the program. However, things could go south quickly if Mississippi State doesn't take care of business in Tucson in Week 2. Not only will the Bulldogs have to deal with the Arizona heat, but that game also comes in between a revenge date with Memphis and the SEC opener at LSU.
If Mississippi State stumbles against a potentially improved Arizona team, it could be a long season when you consider it has arguably the nation's toughest overall schedule. However, if the Bulldogs start out 2-0 against Memphis and Arizona, I think they go over their win total.
---

Georgia Bulldogs
Win Total: Over 10.5 (-210)
Trickiest Schedule Spot: Sept. 17 at South Carolina
Everybody is going to give the defending national champions their best shot each week.
That could be particularly problematic early in the season for a Georgia team dealing with an abundance of roster turnover after seeing a program-record 15 players get selected in the NFL Draft.
Overall, Georgia has a fairly favorable schedule for an SEC team, but it could run into trouble in its first true road game of the season at South Carolina when the Bulldogs may still be fitting new pieces together.
If they defeat Oregon in the opener, they will undoubtedly start 2-0 after playing Samford in Week 2, so the Dawgs must avoid over-confidently strolling into Columbia against a Gamecock team with a much rosier quarterback situation with the addition of Spencer Rattler.
Weird things can happen for SEC teams on that road trip. And it wasn't that long ago (2019) when a top-five Georgia team lost at home as a 24.5-point favorite to a South Carolina team that finished 4-8.
---
South Carolina Gamecocks
Win Total: Over 6.5 (+120)
Trickiest Schedule Spot: Nov. 5 at Vanderbilt
I actually don't see a glaringly tricky spot on the South Carolina schedule.
However, head coach Shane Beamer better have his team focused for an early November trip to Nashville to take on lowly Vanderbilt before a trip to Gainesville to face Florida.
This meeting might mark Vandy's best shot at an SEC win, especially since it has a bye week for extra time to prepare leading up it. Keep in mind the Commodores only lost by one in Columbia last year.
---
Vanderbilt Commodores
Win Total: Over 2.5 (+120)
Trickiest Schedule Spot: All of them
It's Vanderbilt. Every week is tricky for a team that has lost 21 straight SEC games.
If I had to pick one, it would obviously be a trip to take on defending MAC champion Northern Illinois — the week before heading to Alabama for its SEC opener.
---
Ole Miss Rebels
Win Total: Over 7.5 (-140)
Trickiest Schedule Spot: Nov. 19 at Arkansas
This one is fairly obvious. Ole Miss travels to Arkansas toward the end of a gauntlet conference schedule in between a home game vs. Alabama and the Egg Bowl.
I'm sure the Hogs have this one circled after losing, 52-51, in Oxford last year after failing to convert a game-winning two-point conversion attempt at the end of regulation.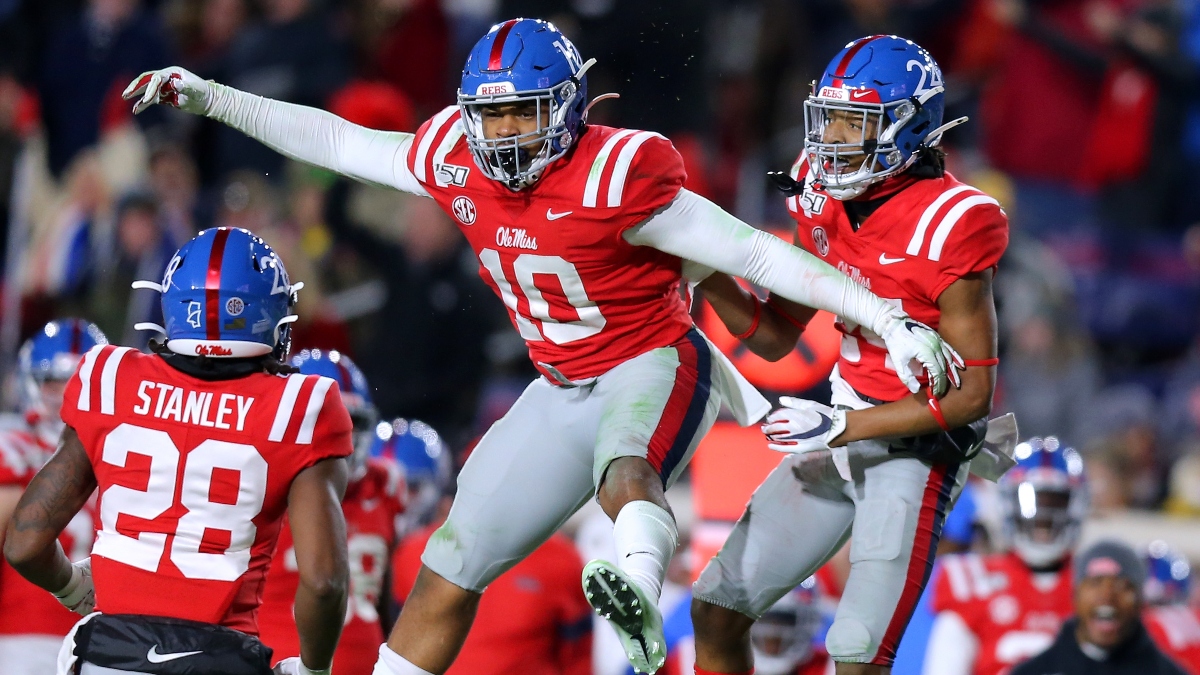 ---

Arkansas Razorbacks
Win Total: Over 7.5 (+140)
Trickiest Schedule Spot: Oct. 15 at BYU
You know Provo will be popping for this October homecoming game with an SEC team coming to LaVell Edwards Stadium.
Arkansas better be ready for a war against an extremely experienced BYU bunch that returns all 11 starters on defense. The Cougars' especially loaded linebackers corps should provide quite a test for the vaunted Razorback rushing attack, spearheaded by quarterback KJ Jefferson.
This nonconference road game for Arkansas also comes after the following three games in successive weeks:
vs. Texas A&M (Arlington)
vs. Alabama
at Mississippi State
That's an emotionally (and physically) exhausting stretch leading up to a vicious nonconference road spot.
---

Tennessee Volunteers
Win Total: Over 7.5 (-170)
Trickiest Schedule Spot: Oct. 8 at LSU
Led by returning quarterback Hendon Hooker, the Vols could easily start out 4-0, which could cause the hype machine to pick up a bit in Knoxville.
Can Josh Heupel keep his team focused for a trip to Baton Rouge with Alabama coming to Neyland Stadium the following week? Or will they get caught looking ahead and flop in the Big Easy?
I should also mention Tennessee's game against Kentucky in late October, which comes one week before a date with Georgia. The Wildcats will have revenge on their minds after a heartbreaking 45-42 home loss last year.
Kentucky also has a bye before the short trip down to Knoxville.
---

LSU Tigers
Win Total: Over 6.5 (-115)
Trickiest Schedule Spot: Nov. 19 vs. UAB
LSU's schedule is pretty straightforward, in my opinion, but a late-season home date against UAB looks a bit knotty. That game comes in the middle of a four-game stretch in which LSU also plays Alabama, Texas A&M and Arkansas.
The good news for pessimistic LSU fans worried about this game is that UAB has struggled when stepping up in class in recent years. Plus, Brian Kelly has historically excelled as a favorite against inferior competition.
Interestingly enough, UAB actually beat LSU, 13-10, way back in 2000 in a game also sandwiched in the middle of a trio of contests against ranked SEC opponents. The Tigers finished with a whopping six turnovers and 113 penalty yards. The coach of that squad? Nick Saban. The offensive coordinator? Jimbo Fisher.
In their only other meeting, LSU won, 56-17, at home in 2013, but that one doesn't fit my narrative as well.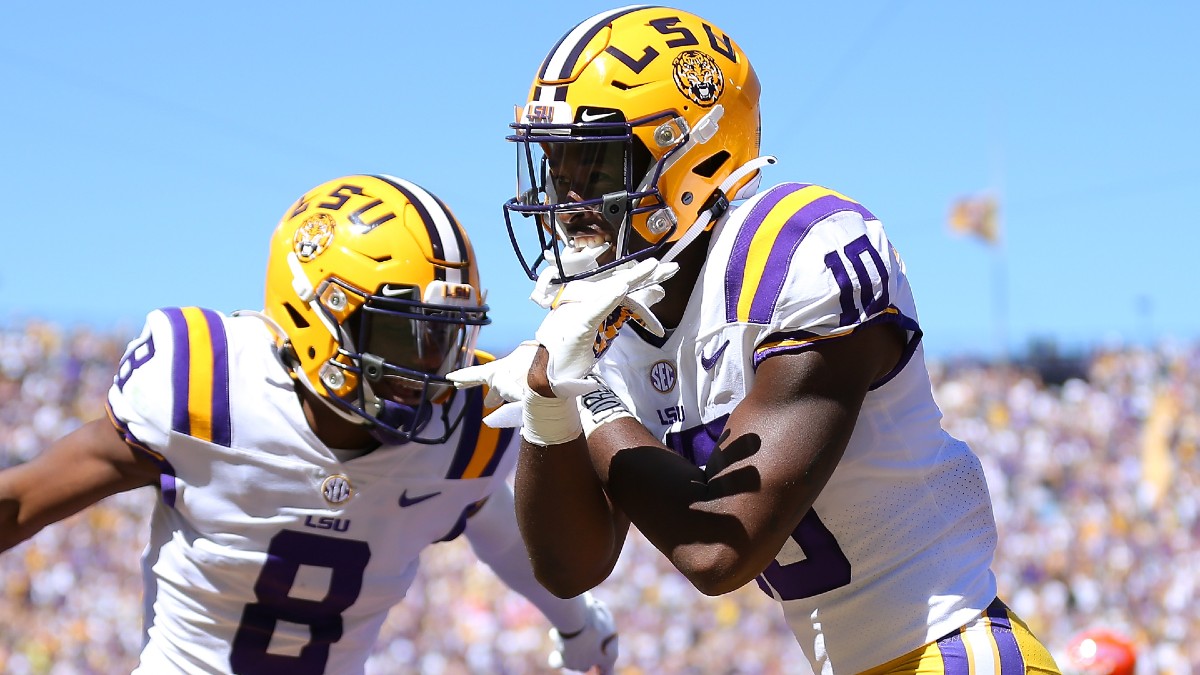 ---

Auburn Tigers
Win Total: Over 6 (-125)
Trickiest Schedule Spot: Sept. 24 vs. Missouri
Auburn once again has a relentless schedule that picks up immediately following two games to kick off the season against Mercer and San Jose State. (Although Arkansas fans will remind Auburn fans that the Spartans might not be a gimme at home.)
A potentially very tricky sandwich spot sticks out when Missouri comes to town on Sept. 24. Auburn will have just hosted Penn State with contests against LSU and Georgia thereafter.
Hosting Western Kentucky in between Texas A&M and Alabama also could lead to some complications on paper, but the Hilltoppers should be down a bit after losing Bailey Zappe and the Houston Baptist transfer parade from 2021.
---
Missouri Tigers
Win Total: Over 5.5 (+120)
Trickiest Schedule Spot: Oct. 8 at Florida
On paper, this is a winnable game for Missouri against a rebuilding Florida squad. However, it does not come in an ideal spot one week after hosting the defending champs.
Florida should also be ready to roll for this Homecoming game after hosting an FCS team the week before.
Plus, the Gators have mega revenge on their minds from a one-point overtime loss last year that ultimately led to Dan Mullen's departure a few days later.
If the Tigers can get out of the Swamp with a victory heading into their bye week, it's likely an extremely positive sign for the second half of the season.
---
Florida Gators
Win Total: Over 6.5 (-130)
Trickiest Schedule Spot: Nov. 19 at Vanderbilt
This is more of a potential against-the-spread spot for getting the Commodores with an inflated number at home.
Florida will travel to Nashville after a brutal three-game stretch that includes Georgia, Texas A&M and a revenge meeting against a South Carolina team that embarrassed the Gators last year. They also face in-state rival Florida State in the regular-season finale the following week.
I could easily see Florida coming out a bit flat for this one against a team it dispatched with ease last season by a score of 42-0.
---
Kentucky Wildcats
Win Total: Over 8 (-115)
Trickiest Schedule Spot: Sept. 3 vs. Miami (Ohio)
Let's go with the season opener for Kentucky. The Wildcats are going through a lot of change in the offseason (new offensive coordinator, offensive line turnover, etc.), which could lead to some early season growing pains, especially with the uncertainty surrounding the status of star running back Chris Rodriguez.
Plus, we've seen Kentucky struggle with inferior competition (see: Chattanooga last year) at home in recent seasons, and this opener happens to come the week before a road trip down to Gainesville to take on rival Florida.
Miami (Ohio) returns 14 starters, led by a very capable quarterback in Brett Gabbert. If Kentucky isn't fully ready to go, the RedHawks could pull off the upset and quickly turn newfound optimism surrounding the football program in Lexington into a countdown to the start of basketball.
I would be remiss if I didn't mention the late-season home game against Vanderbilt the week before the Cats host Georgia and in-state rival Louisville on back-to-back weekends to close out the season.
That feels like a spot where Kentucky sleepwalks through to a win but not a cover.
How would you rate this article?
This site contains commercial content. We may be compensated for the links provided on this page. The content on this page is for informational purposes only. Action Network makes no representation or warranty as to the accuracy of the information given or the outcome of any game or event.