Wilson: My Projected Odds for Every Week 10 College Football Game
Credit:
Dannie Walls/Icon Sportswire via Getty Images. Pictured: Clemson Tigers quarterback Trevor Lawrence.
The wildest weekend of college football has concluded.
Every minute a college-football consumer digests a player in COVID-19 protocol, another cluster is hitting another program. The biggest of news came when Clemson quarterback Trevor Lawrence came back with a positive test. The ACC rules differ than the Pac 12 when it comes to length of sitting out.
The ACC requires a 10-day isolation period once a test is positive., while the Big Ten is 21 days before a player may return to competition. Lawrence will miss the Notre Dame game in Week 10, while quarterback Graham Mertz will not play for Wisconsin for at least another two weeks.
Backup Clemson quarterback DJ Uiagalelei filled in admirably, throwing for 342 yards on 30 of 41 passing attempts. Uiagalelei had a 32% success rate in passing downs during the Boston College game, similar to Clemson's season long average. In eight trips past the Eagles' 40-yard line, the Tigers averaged just 3.3 points per trip.
In other action, Ohio State beat Penn State by 13, a number that was not widely available for the latter part of the week. The Buckeyes were spotted average starting field position at the 36, while the Nittany Lions could not capitalize. Justin Fields made his bid for the Heisman Trophy by throwing for more than 300 yards and collecting four touchdowns.
The College Football Playoff picture is incomplete until all conferences are underway. Both the MAC and Pac-12 start play this week. Clemson, Notre Dame, Marshall and Coastal Carolina all have undefeated seasons heading into Week 10.
As mentioned previously, two new conferences join FBS play. We first start with the Pac-12 using a chart to represent returning production and success rate. These number were compiled in early summer, as there are no updates for JUCO's or grad transfers.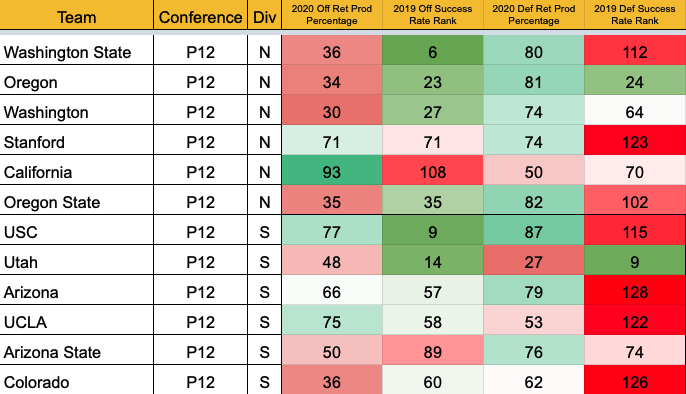 Oregon and USC do not face each other in conference play, but both sit nicely for returns to the Pac-12 championship game. Oregon returns more than 80% of a defense that was top 25 in success rate. USC returns even more on the defensive side, but will rely on the offensive unit that ranked ninth in success rate last year.
As for the MAC, play begins Wednesday night with an Ohio and Central Michigan game that could be a preview of the conference championship. Five defenses and four offenses finished outside of the top 100 in success rate during the 2019 season.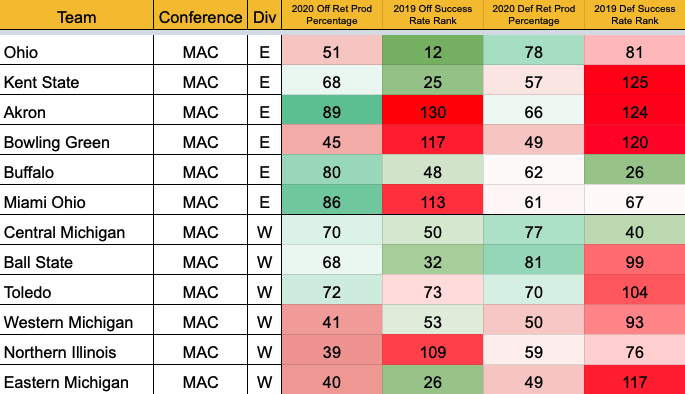 Week 10 is a full slate of college-football teams, with the exception of Old Dominion, UConn and New Mexico State. COVID-19 news will continue to roll in, with The Action Network  Power Ratings adjusted for circumstances like the Lawrence and Mertz situations. Week 9 will be tough to beat in terms of the craziness that ended the Indiana and Rutgers game.
Every Sunday, The Action Network publishes updated Power Ratings — now including all 127 teams playing FBS football this fall.
Look here to identify early betting value when opening lines are released, and follow me in The Action Network App to see when I bet those lines on Sunday afternoon.
Here are the projections for Week 10:
---
Check out our new NCAAF PRO Report, where we highlight factors that provide betting edges — like large wagers, historically profitable betting systems, model projections and expert picks — that when combined with sharp money can powerfully detail the smartest bets on a given slate.
---
Projected College Football Odds, Week 10
A negative number indicates the home team is favored by that many points; a positive number means the home team is an underdog.
---
Check out our free NCAAF odds page, which automatically surfaces the best line for every game.
---
Week 10 Notes
Florida International, Marshall, North Texas, UTEP,

 and Nebraska 

return from COVID-19 disruptions. 

Boise State is the No. 1 Offensive Success Rate unit.
Louisville and Nevada are the top explosive teams in the country.
Oklahoma State sits with Wisconsin ranked at the top of Defensive Success Rate.
Kentucky is the best defense in the nation at limiting explosive plays.
Wisconsin and Boise State are at the top in offensive finishing drives.
Week 10 Situational Spots to Play
Despite posting a 71% post game win expectancy, Boston College lost to Clemson after leading most of the game. The Tigers needed a fumble, interception and safety in the second half to survive.
UAB posted an 83% postgame win expectancy in a loss to Louisiana Tech. The Bulldogs were out gained by 289 yards on the ground, but a pick six of Bryson Lucero sealed the win.
Texas may be on hangover alert after a victory at Oklahoma State. The Longhorns host West Virginia.
Michigan State will look to stay hot in a trip to Kinnick Stadium to face Iowa.
Virginia will try to avoid hangover after defeating North Carolina. The Cavaliers host Louisville.
Week 10 Injury Report
Clemson QB Trevor Lawrence was announced out for Notre Dame due to a positive COVID-19 test result.
Wisconsin and its COVID-19 cluster extends to 22 players, including quarterback Graham Mertz. A decision on the Purdue game will be made Tuesday.
Air Force quarterback Haaziq Daniels was knocked out of the Boise State game. His status for Army is unknown.
Boise State quarterback Hank Bachmeier and safety JL Skinner did not make the trip to Air Force with an undisclosed illness.
Georgia Fourth-leading tackler linebacker Quay Walker exited the Kentucky game with an unspecified injury. Also, wide receiver George Pickens was not in the lineup with an upper body injury.
Houston wide receiver Marquez Stevenson departed the Central Florida game with an ankle injury.
Illinois missed several starters due to COVID-19, including center Dan Kramer, defensive back Christian Boback and defensive lineman Keith Randolph Jr. The Big Ten has a 21 day policy on returning to action.
Terms to Know
Postgame Win Expectancy is a calculation of all variables in a box score that dictate who would win the game if it was played a high number of times. Turnover luck, success rate and yards per play are notable components of this calculation and can influence a single game. But over a large sample, the team that moved the ball better would win more often than not.
There have been plenty of box scores in which a team wins as an underdog, but a negative value is applied to that team's power rating because the result was fluky rather than systematic.
Coach scheme changes can adjust a power rating quickly. For example, Oregon will undergo a change from Marcus Arroyo's conservative play-calling to new offensive coordinator Joe Moorhead's system. Moorhead's offense features a heavy dose of 11 personnel, west coast spread concepts and modern RPOs.
That offensive philosophy has led to more explosiveness and higher rates of success on standard downs at each of Moorhead's previous stops at Penn State and Mississippi State. In a situation like this, a power rating can be useful to quickly adjust a team's forecast for future games. In the case of Mike Leach, an adjustment of totals is coming with an increase in plays per game.
Success Rate, Finishing Drives and Explosiveness were first defined in Bill Connelly's Five Factors and are strong indicators for future box scores. While EPA (Expected Points Added) and IsoPPP (Isolated Points Per Play) can be highly variable from season to season, Success Rate is a stable data point for handicappers to use for projections.
Simply put, if a team consistently achieves the desired amount of yards — determined by down and distance — then this is a "play-on" team with your bankroll. Texas A&M ranked 17th in offensive success rate last season and returns 80% of its offensive production for 2020; that combination makes the Aggies a play-on team.
How would you rate this article?