The Sucker Ratings: 10 Worst College Football Teams to Bet This Season
Credit:
USA TODAY Sports. Pictured: Dabo Swinney and Willie Taggert
The Sucker Ratings are back!
Below, we'll analyze the 10 teams that have been the worst bets so far this college football season.
Back by popular demand … the Sucker Ratings! If you missed the preseason edition, here's a refresher on how it works:
We held a small army of Bet Labs nerds hostage and wouldn't let them free until they came up with a formula to show which teams cost people the most money.
There are three key numbers to know (the full chart can be found at the bottom of this article):
Total Bets: Simple. The total number of bets placed on that team this season.
ATS %: Team's win percentage against the spread
Net Losses: The difference between the number of bets won and number of bets lost on that team in 2018.
Put it all together and you have the teams that are the biggest sucker bets in college football.
I won't lie, a few of these teams have cost me some well-earned capital in September. I'll try to control my rage as I count them down from 10.
No promises.
10. Wake Forest
Do you people even like money? You must not if you're placing it on Wake Forest, which is 1-4 against the spread this season.
The Deacons' only cover of the season came last week against Rice. I actually like them to cover against Clemson as 20.5-point dogs this week.
Greg Dortch and Sage Surratt match up awful nicely against a weaker-than-you-think Tigers secondary.
There are nine teams to go and I'm already being suckered. This is fine.

9. UCLA
The GOAT of the Sucker Rankings might just be UCLA. The Bruins were No. 1 in the preseason rankings, which looked back at the past three seasons. Some idiot wrote, "It might not be long before the Bruins are off that list."
Welp, four games in and the Bruins are 1-3 against the spread while failing to cover by nearly two full touchdowns on average.
You know how they say good teams win, and great teams cover? I guess bad teams lose, and UCLA just loses you money.
8. Michigan State
I'm starting to think no one actually read the preseason edition of the Sucker Rankings, because everyone's still betting these teams and losing.
Sparty checked in at No. 6 in August, and now comes in eighth. Mark Dantonio's team was supposed to be a contender in the Big Ten East. Instead it lost outright as a 4.5-point favorite to Arizona State, beat Utah State by seven as a 23.5-point favorite, and downed Central Michigan by 11 despite giving away 27.5 on the line.
SPARTY NO isn't just a Twitter meme, it's a rock-solid financial plan.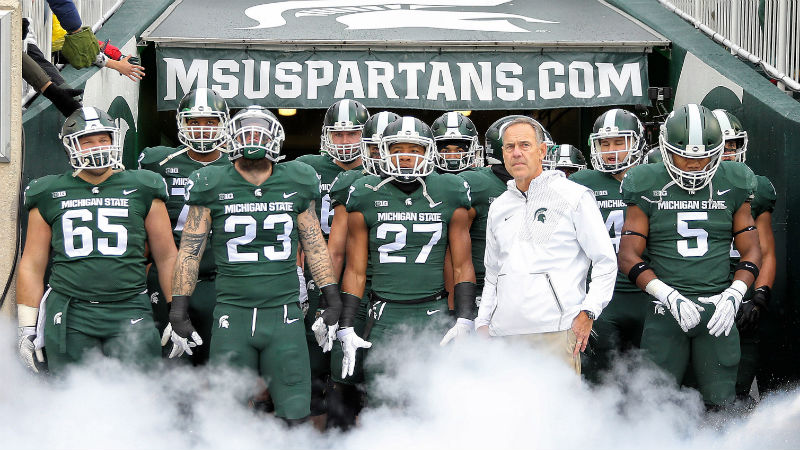 7. Clemson
Has anyone noticed that Clemson probably doesn't even belong in the top 10 right now? Kentucky has twice the resume of the Tigers, yet people still seem to believe in the three-time defending ACC champs while the Wildcats hover outside the top 10.
Who's ready for The Sucker Bowl on Saturday at Wake Forest? Loser has to wash Millman's private jet for a year.
6. Oregon
Yet another preseason Sucker Ranking power (No. 3) stays in the top 10, as Oregon moves to sixth one month into the season. I swear people still think Chip Kelly is in Eugene.
Newsflash to all you suckers out there: These ain't your daddy's Ducks. Stop betting on them to cover enormous spreads.
They're 0-3 ATS this season as 30+ point favorites.
5. Florida Atlantic
Remember when Lane Kiffin joked last year that he took a fourth quarter safety to avoid covering the spread? Well … the Owls are one of just two teams in FBS that has lost every game against the spread this season.
It's probably just a coincidence. Probably.
4. Wisconsin
The Badgers have taken more bets than any other team in the top 10, and at 1-3 against the spread they are costing backers mightily.
Their only cover so far came as a 3-point road favorite against Iowa. The other three games saw the Badgers fail to cover spreads of 23.5, 35.5, and 36.5.
Oh and it's already October, which means the good people of Wisconsin are now poor AND cold.
3. USC
This is a sad theme, but I feel obligated to point out the Trojans were No. 2 in the preseason rankings.
HEY GUYS MAYBE YOU SHOULDN'T BET ON ANYONE ON THIS LIST. … JUST A THOUGHT.
2. Florida State
It should surprise absolutely no one that the Seminoles stole everyone's money in September.
I've literally looked at the spread every week and convinced myself THIS is the week. Well, it turns out that when your offensive line basically lays down a road map to the quarterback, it's awfully hard to cover the spread.
After playing as a favorite in the first five games, the 'Noles are two-touchdown underdogs against Miami. Maybe an overcorrection from the market?
Yep, I'm being suckered again.

1. Nebraska
The only team other than FAU to fail to cover even once this season. I wouldn't fire Scott Frost, but I will fade him. The rebuilding project in Lincoln is going to be tougher than Frost realized.
I'll say this much: Only 13 Power 5 teams have won fewer than four games against the spread in an entire season since 2015.
There's a decent chance if you bet the Huskers the rest of the way, you'll at least break even.
Or maybe you'll just end up a sucker.
---
The 2018 College Football Sucker Ratings Through Week 5
How would you rate this article?