Who is the Real "WRU?": Evaluating Which College Football Programs Produce the Best Wide Receivers
Credit:
Christian Petersen/Getty Images. Pictured: Michael Thomas.
Every year around NFL Draft time, college football fans love to boast their school's success and argue which school consistently produces the better talent at certain positions.
What school is "Quarterback U" or "DBU?" As a Penn State alum, I think it's obvious that Penn State is "Linebacker U." Others might not be so sure.
The Action Network staff will be breaking down some of these position groups, including a position that has seen 11 first-round picks selected in the last two NFL Drafts. Which school has the best argument for "Wide Receiver U?"
Wide receiver is an interesting position, where up until recently, the big brand-name schools have not always produced the top-end NFL receivers.
When you look at some of the greatest receivers of all-time, you start with Jerry Rice, who attended FCS Mississippi Valley State. Terrell Owens went to Chattanooga, and Randy Moss played for Marshall.
In fact, not a single team currently in the SEC has sent a wide receiver to the Pro Football Hall of Fame. Now, of course, some blue blood schools can claim Hall of Famers, such as Notre Dame, Ohio State, Miami and USC.
So, is one of those programs the real WRU?
Alabama has dominated the recent NFL Drafts and has had four receivers drafted in the first round in the last two years. Is Alabama WRU?
Below, I'll dig into some of the top wide receiver-producing colleges, and for the sake of this argument, will not entertain players who played before color TV. Instead, I've decided to analyze the last 20 years to find the current Wide Receiver U through a combination of college production, draft position and NFL production.
Mississippi Valley State
When you produce the greatest wide receiver to ever play the game in Jerry Rice, you deserve to get mentioned in a Wide Receiver U article. So, shout out to the Delta Devils!
#5, USC Trojans
WRs Drafted Since 2000: 16
Notable Players: Mike Williams (1st Rd, 2005), Steve Smith (2nd Rd, 2007). Robert Woods (2nd Rd, 2013), Nelson Agholor (1st Rd, 2015), JuJu Smith-Schuster (2nd Rd, 2017)
USC is one of the blue blood programs that can claim a wide receiver in the NFL Hall of Fame with Steelers legend Lynn Swann. But this ranking doesn't even take into account Swann or Keyshawn Johnson.
Nothing has changed over the last 20 years, as the Trojans continue to pump out wide receiver talent, producing 16 NFL Draft picks since 2000, including three first-round picks (R. Jay Soward, Williams, Agholor) and seven second-rounders.
Dwayne Jarrett was a two-time All-American in college, and Mike Williams, Robert Woods and Marqise Lee each were named to the team once. Lee's 2012 season was one of the best single seasons in USC history, as he set school records with 118 catches and 1,721 yards. He finished his Trojan career as the all-time receiving yards leader with 3,655 yards in three years. Woods holds the school record with 252 receptions, and Jarrett is the receiving touchdowns record holder with 41.
The Trojans' NFL production has been hit-or-miss, though. Woods and JuJu Smith-Schuster are both really good pros with 1,000-yard seasons to their names. Steve Smith won a Super Bowl and was named to a Pro Bowl with the Giants.
After being selected 10th overall in 2005, Williams played just five total seasons in the NFL and recorded five career touchdowns. Jarrett and Lee both never lived up to expectations either and lasted just four and five seasons, respectively.
Most recently, Michael Pittman Jr. was selected in the second round in 2020 by the Colts, and Amon-Ra St. Brown was selected n the fourth round last week by Detroit.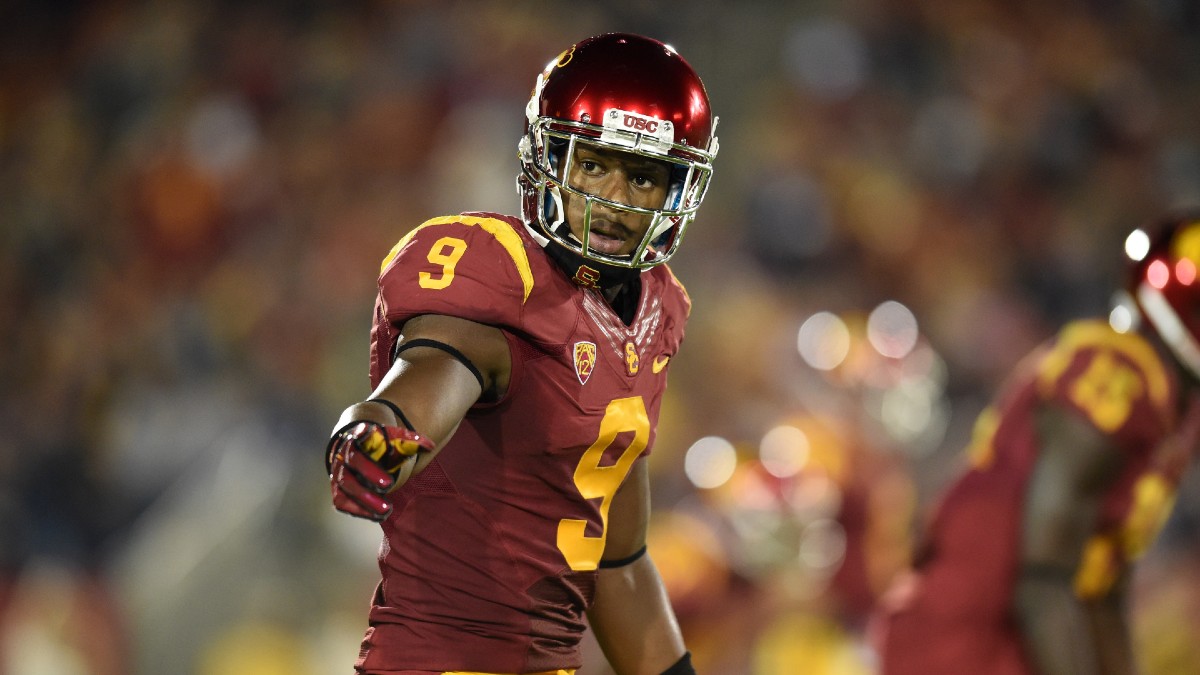 #4, Clemson Tigers
WRs Drafted Since 2000: 16
Notable Players: Rod Gardner (1st Rd, 2001), DeAndre Hopkins (1st Rd, 2013), Sammy Watkins (1st Rd, 2014), Mike Williams (1st, 2017), Tee Higgins (2nd, 2020)
Obviously, DeAndre Hopkins headlines the Clemson wide receiver room. After posting 3,020 yards and 27 touchdowns in three years at Clemson, Hopkins has gone on to become one of the best receivers in the NFL, with six 1,000-yard seasons in the last seven years to go along with five Pro Bowl selections.
Hopkins is tied for the Clemson touchdown record and sits second in career receiving yards behind former teammate Sammy Watkins. After 3,391 yards and 27 touchdowns, Watkins was the fourth overall pick in the 2014 Draft. Watkins isn't the superstar Hopkins is, but entering his seventh season, he is having a solid career and owns a Super Bowl ring.
Mike Williams was another former Tiger to go in the first round at seventh overall. He has started his career a little slowly due to injuries but is still just 26 years old and had 1,000 yards in 2019 and should continue to improve with Justin Herbert as his quarterback.
One of the underrated receivers to come out of Clemson has been Adam Humphries. After going undrafted in 2015, Humphries is entering his seventh season and has accumulated 2,931 yards and 13 career touchdowns.
2017 National Championship hero Hunter Renfrow was a fifth-round pick in 2019 and has had at least 600 receiving yards in each of his first two seasons with the Raiders. A second-round pick in 2020, Tee Higgins had a terrific rookie season, totaling 908 yards and six touchdowns for Cincinnati.
The Tigers show no signs of slowing down as Amari Rodgers (third round) and Cornell Powell (fifth round) were drafted in the 2021 Draft, while senior Justyn Ross will likely hear his name called next year.
#3, LSU Tigers
WRs Drafted Since 2000: 20
Notable Players: Dwayne Bowe (1st Rd, 2007), Michael Clayton (1st Rd, 2004) Odell Beckham Jr. (1st Rd, 2014), Jarvis Landry (2nd Rd, 2014), DJ Chark (2nd Rd, 2018), Justin Jefferson (1st Rd, 2020)
LSU is a weird team in the sense that it has cranked out wide receiver talent despite not exactly being known for prolific offense prior to the 2019 season.
You look back at the list of former Tiger receivers, and you recognize the names from their NFL days but completely forget they went to LSU. With names like Early Doucet, Brandon LaFell, Trindon Holliday, Rueben Randle, Russell Gage — odds are you're lying if you say you remember them playing in Baton Rouge.
Even the big names like Odell Beckham (2,340 yards, 12 touchdowns), Jarvis Landry (1,809 yards, 15 touchdowns) and D.J. Chark (1,351 yards, 6 touchdowns) didn't exactly have eye-popping numbers in their three-year careers. But in the NFL, those three players have combined for nine Pro Bowls already.
Dwayne Bowe has the LSU career record for touchdowns and went on to total 44 scores in his nine-year NFL career, including 15 in his 2010 Pro Bowl season with the Chiefs.
LaFell played nine seasons in the NFL and won a Super Bowl with New England in 2014-15. LaFell caught an 11-yard touchdown pass in the Super Bowl for the first score of the game. Michael Clayton won a Super Bowl with the Giants, while Devery Henderson won one with the Saints and ranks seventh on New Orleans' all-time receiving list.
After setting an LSU record with 111 receptions in 2019, Justin Jefferson was selected in the first round and set NFL rookie records for receptions (88) and receiving yards (1,400).
Even more impressive for the Tigers, Jefferson was the No. 2 receiver on the 2019 National Championship team. It was Ja'Marr Chase who set school records for touchdowns and receiving yards in a single season.
LSU had three receivers taken in 2021 NFL Draft, the most by any team. Chase was the first receiver off the board, going fifth overall to Cincinnati, Terrace Marshall turned out to be a second-round pick by Carolina, and Racey McMath went in the sixth round to Tennessee.
Sophomore Kayshon Boutte was a five-star recruit, and in limited action as a freshman, totaled 735 yards and five touchdowns. He looks well on his way to being another LSU wide receiver to play on Sunday.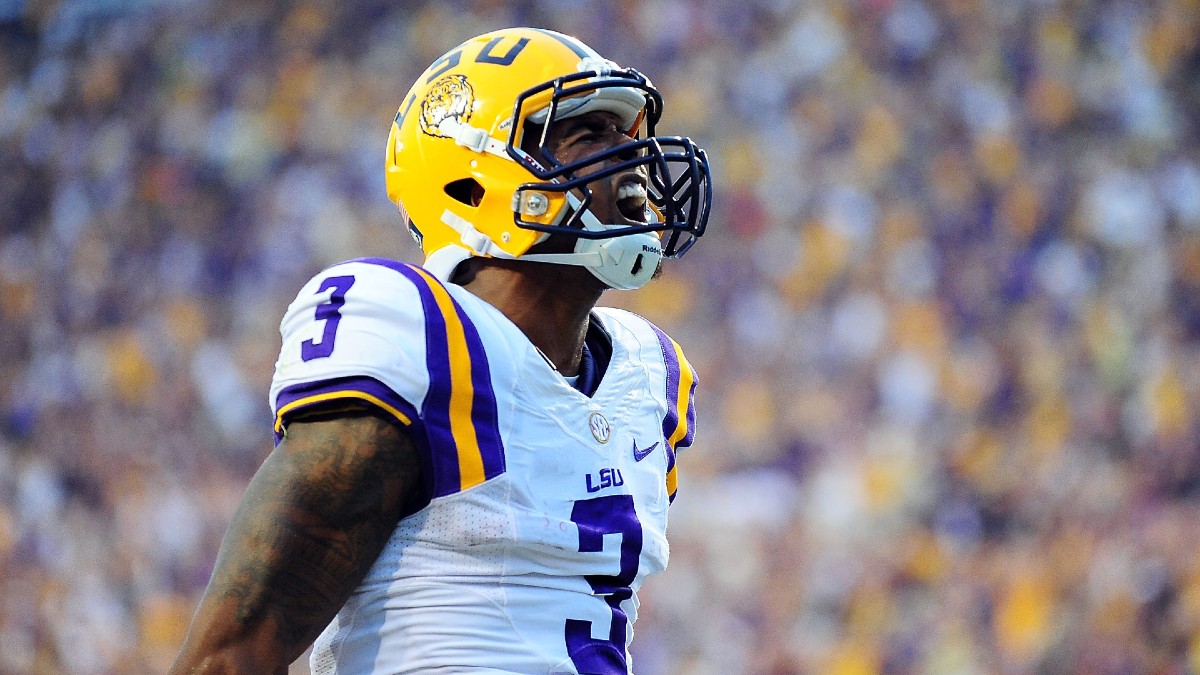 #2, Alabama Crimson Tide
WRs Drafted Since 2000: 11
Notable Players: Amari Cooper (1st Rd, 2015), Julio Jones (1st Rd, 2011), Calvin Ridley (1st Rd, 2018) Jerry Jeudy (1st Rd, 2020) Henry Ruggs (1st Rd, 2020)
Before Alabama fans get angry they aren't No. 1, this is basically the only list ever that Alabama doesn't take the top spot (plus they are RBU), so this isn't the worst thing.
Alabama certainly has a strong argument for quality over quantity. Of the 11 wideouts drafted since 2000, seven of them were first-round picks. They have certainly highlighted the last two draft classes.
The Crimson Tide have had back-to-back years with two wide receivers selected in the first round of the NFL Draft. Henry Ruggs III (12th overall) and Jerry Jeudy (15th overall) heard their name called on Day 1 last year, and Jaylen Waddle (6th overall) and DeVonta Smith (10th overall) each were top-10 picks in the 2021 Draft.
So, what about the four draft picks not selected in the first round?
Unfortunately, they are the reason Bama isn't No. 1, due to a boom-or-boost situation. Jason McAddley (5th round, 2002) has just 38 career catches in the NFL, Triandos Luke (6th round, 2004) played one season as a returner, Kevin Norwood (4th round, 2014) has nine career receptions, and ArDarius Stewart (3rd round, 2017) had six catches in just one year.
But Alabama needs to be included on this list with the star power it's produced.
Julio Jones is a seven-time Pro Bowler and building a case for the Hall of Fame as one of the best wide receivers in the last 10 years. Jones already ranks 18th on the NFL's all-time receiving list with 12,896 career yards. He was the fastest player in NFL history to reach 9,000, 10,000, 11,000 and 12,000 career receiving yards.
Amari Cooper won the Fred Biletnikoff Award as college football's top receiver in 2014 and ranks second in Alabama history in career receptions, receiving yards, and touchdowns. In the NFL, has earned four Pro Bowl selections in six seasons,and had five 1,000-yard seasons and 38 total touchdowns.
Jones' Falcons teammate, Calvin Ridley, is coming off a 1,374-yard season, the fifth-largest total in the NFL last season. He has put up 3,061 yards and 26 touchdowns in his three seasons with Atlanta.
The first two receivers drafted last season were both Crimson Tide players in Ruggs and Jeudy. Jeudy won the Biletnikoff Award in 2018 and finished 2018 and 2019 with back-to-back seasons of 1,000+ yards and 10+ touchdowns seasons.
Waddle and Smith made it two years in a row with a pair of first-round receivers for the Tide.
Smith is coming off one of the greatest seasons from a college wide receiver ever. He became just the fourth wide receiver to ever win the Heisman Trophy before finishing his career with the Alabama and SEC records for most career receptions, receiving yards and touchdowns.
So, with all that star power, why isn't Alabama "WRU?"
It's too soon to count Ruggs or Jeudy's NFL production, and both had underwhelming rookie campaigns. While I am confident Waddle and Smith will both be stars, they have yet to play an NFL game.
#1, Ohio State Buckeyes
WRs Drafted Since 2000: 20
Notable Players: Michael Jenkins (1st Rd, 2004), Santonio Holmes (1st Rd, 2006), Ted Ginn Jr. (1st Rd, 2007), Brian Hartline (4th Rd, 2009), Michael Thomas (2nd Rd, 2016), Terry McLaurin (3rd Rd, 2019)
The Ohio State Buckeyes earned the No. 1 spot as "Wide Receiver U" based on their combination of quality and quantity, as well as college and NFL production.
The Buckeyes have a long history of producing NFL talent at wide receiver, with Hall of Famer Cris Carter and All-Pros David Boston and Terry Glenn as well.
In recent years, they have had four first-round selections and five second-round picks. Michael Jenkins is Ohio State's all-time receiving yards leader at 2,898, and after being a first-round pick, played nine seasons and totaled 4,427 yards and 25 touchdowns.
Santonio Holmes finished his Buckeye career with 2,295 yards and 25 touchdowns before spending nine seasons in the NFL. He accumulated 6,030 yards and 36 touchdowns at the next level.
Holmes is also responsible for one of the greatest plays in NFL history when he made a tip-toe catch in the corner of the end zone with 35 seconds left to win Super Bowl XLIII for the Pittsburgh Steelers. He was just the sixth wide receiver to win Super Bowl MVP after he totaled nine catches for 131 yards and the game-winning touchdown.
Ted Ginn Jr. and Anthony Gonzalez were both taken in the first round in 2007. While Gonzalez lasted just five seasons and totaled 1,307 yards and seven touchdowns, Ginn Jr. has played 14 seasons and racked up 5,742 yards and 42 total touchdowns, including seven as a return man.
How good is Ohio State at producing NFL wide receivers? It's even had two quarterbacks play receiver in the NFL. Former Buckeye signal-callers Terrelle Pryor and Braxton Miller combined for 1,824 receiving yards and nine touchdowns catches at the pro level.
The best receiver to come out of Ohio State recently is three-time Pro Bowl selection Michael Thomas.
Thomas won a National Championship with the Buckeyes and posted 1,602 yards and 18 touchdowns in two seasons in Columbus. He was selected in the second round in 2016, and in his five NFL seasons, he has become one of the best receivers in the league, posting four straight 1,000-yard seasons before an injury-shortened 2020. He has totaled 510 catches and 32 touchdowns already.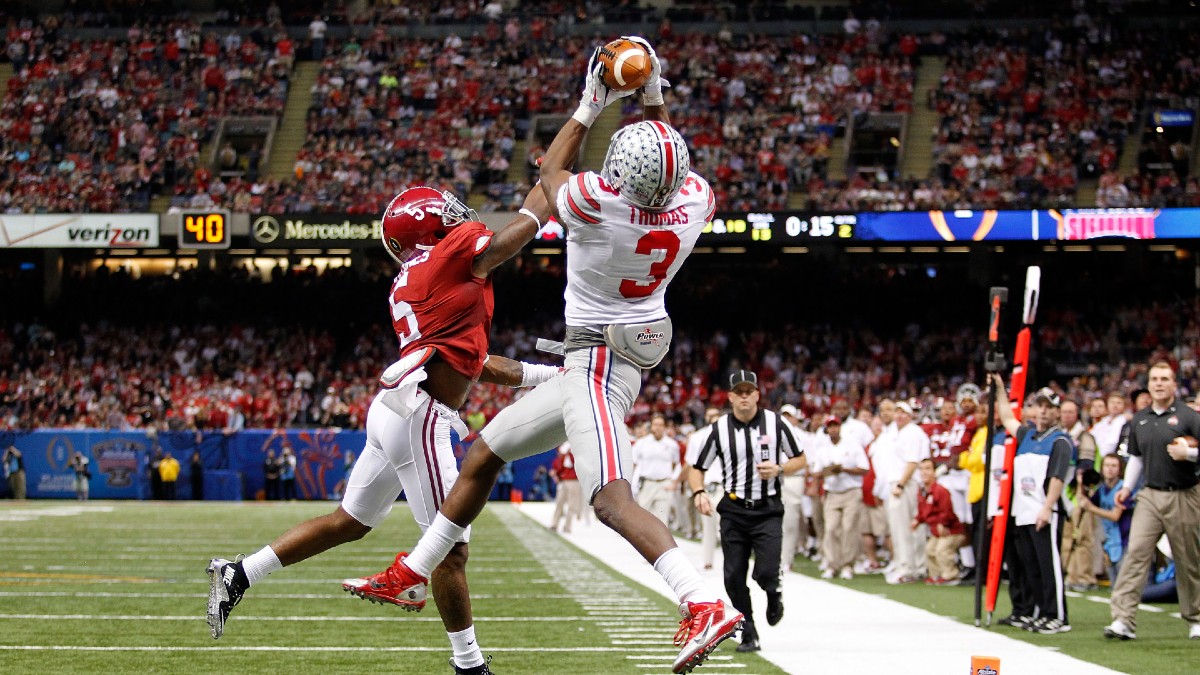 Thomas was named the 2019 NFL Offensive Player of the Year, the first wide receiver to win the award since Rice in 1993, after he set an NFL record with 149 catches and led the league with 1,725 yards. Thomas also set an NFL record for the most receptions and receiving yards by a player through their first four seasons.
In the last five years, the Buckeyes have seen Curtis Samuel (2nd Rd, 2017), Noah Brown (7th Rd, 2017), Parris Campbell (2nd Rd, 2019), Terry McLaurin (3rd Rd, 2019), and K.J. Hill (7th Rd, 2020) all get drafted.
Campbell played just two games last season before tearing his ACL, but Samuel was really solid in Carolina and now will reunite with college teammate McLaurin in Washington. McLaurin has totaled 2,037 yards and 11 touchdowns in two years and is turning into one of the better receivers in football.
With the help of former Buckeye and current Ohio State wide receivers coach Brian Hartline —who had a solid NFL career with multiple 1,000-yard seasons himself — the Ohio State receiving room is going to be stacked for the foreseeable future.
Ohio State will have the best receiving corps in the country next season, and I don't think it's really close.
Chris Olave is the best wideout in the nation and will likely be a first-round pick next season. Garrett Wilson, who was a five-star recruit, enters the season as the Buckeyes' second-best receiver and will likely be a very early draft pick as well.
Behind them sit the two highest-rated wide receivers in the 2020 recruiting class in five-stars Julian Fleming and Jaxon Smith-Njigba. Oh, and they also just signed the top receiver in the 2021 class in Emeka Egbuka and some kid named Marvin Harrison Jr.
How would you rate this article?
This site contains commercial content. We may be compensated for the links provided on this page. The content on this page is for informational purposes only. Action Network makes no representation or warranty as to the accuracy of the information given or the outcome of any game or event.