2021 NFL MVP Race, Predictions, Odds: Why Kyler Murray Is the Candidate Worth Betting Now
Credit:
Getty Images. Pictured: Cardinals QB Kyler Murray
Editor's note: The following story was written heading into Week 13 and NFL MVP odds are off the board as of Sunday evening with games underway.
---
We're hitting the home stretch of season, and we still have no idea who will win 2021 NFL MVP.
The young quarterbacks were everyone's fancy early, then Derrick Henry was the name du jour. But each time we've crowned a new favorite, they've crashed back to Earth. Henry and Kyler Murray suffered injuries. Aaron Rodgers got COVID. Matthew Stafford fell apart. Justin Herbert and Lamar Jackson fell off a cliff.
So who will win this award?
I've been tracking the NFL MVP race throughout the season. I made Tom Brady my all-in preseason bet at +1400 and backed him again mid-October at +800. He's the MVP favorite at every book now, as he should be, but there are still 10 names with +2000 odds or better at a point in the season we'd normally expect the race to be between two or three front runners. (Plus-2000 odds mean risking $100 to win $2,000; convert more odds here.)
Don't forget what we learned from our MVP study at the start of the season: History suggests we need a quarterback who wins 13-plus games and makes a run at his conference's 1-seed. They also probably need somewhere around 4,500 yards and 40 touchdowns.
That certainly sounds like Brady, so let's start there, then run through which of the remaining nine players with +2000 odds or better actually have a chance vs. which don't — and which candidate you should bet right now (click here to skip ahead to my pick).
Note: We've included the best odds for each candidate as of writing.
---
---
2021 NFL MVP Odds Favorite
Brady still checks all the boxes.
The numbers are there: Brady leads the league in completions (309), attempts (457) and touchdowns (30). He's also 11 yards shy of leading the NFL in yards (3,403), too. Even as his numbers have fallen back to Earth after a hot start, he's still on pace for 5,259 yards and 46 TDs — more than enough to fit our MVP criteria.
He has a good chance of leading the league in all four passing categories.
Old-man Brady has slowed down, though, and it's fair to wonder if the numbers could dip as the weather gets cold. He's also got a difficult schedule coming up against the tough defenses of the Bills, Saints and Panthers (twice). But the Bucs are 8-3 and will be favored in every remaining game, so they have an excellent chance at the NFC's 1-seed and could lead the league in wins.
If the defending champs lead the league in wins and their QB leads it in every passing category, we might get a unanimous MVP vote. And if it's close, Brady will win every narrative tiebreaker. Come on — one last MVP for the GOAT at age 44? You just know the media will be dying to give Brady one more, especially if there's no other clear candidate.
But the Bucs haven't looked themselves over the past month, losing two of their last four. Brady had six interceptions in those four and hasn't throw more than two TDs in a game since October. And the team's injuries are piling up right as Brady is slowing down.
Brady is the right favorite, but there's not much value at this number. And his play has left the door open for someone else to make a run.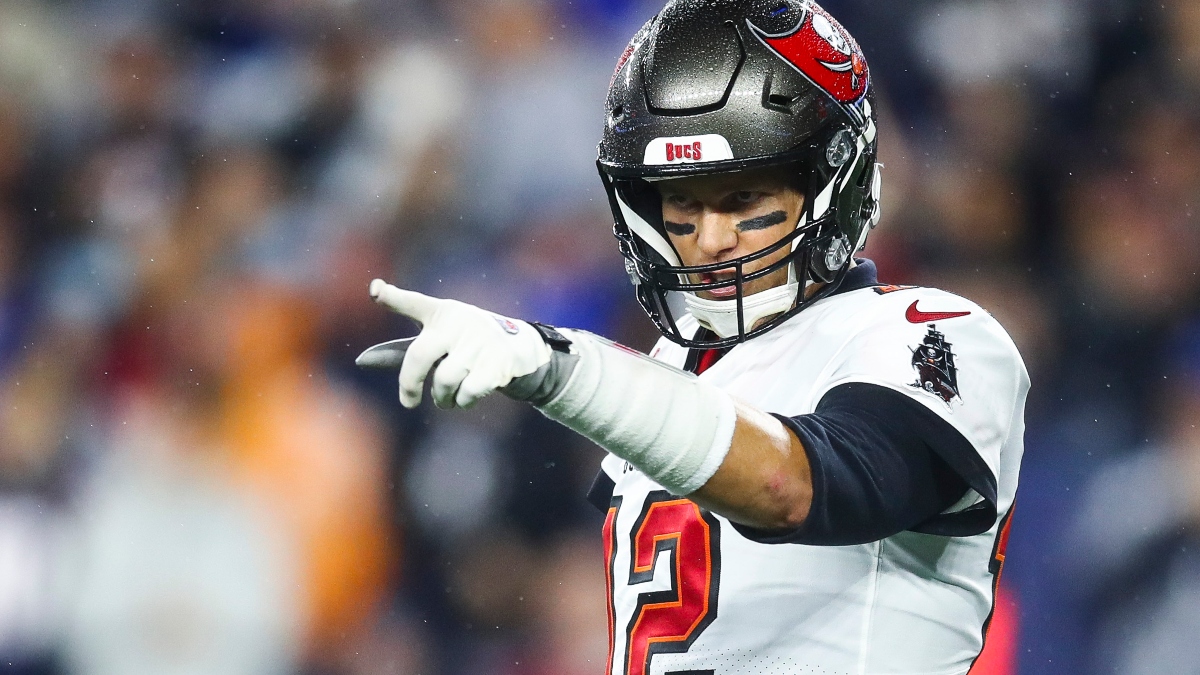 ---
5 NFL MVP Candidates I Don't Think Can Win
In a wide-open race, we'll consider all 10 candidates with +2000 odds or better — but we'll quickly rule out five. Anything can happen in a wonky season, but I certainly wouldn't bet these five at their current prices.
Aaron Rodgers: +700 at BetMGM
The race for the NFC's 1-seed could determine the MVP, which puts Rodgers in the mix with the 9-3 Packers owners of a tiebreaker over the current 1-seed Cardinals.
There are just too many problems with Rodgers' candidacy, though.
We've had only four ever back-to-back MVP winners, including just one this century. It doesn't feel like this Rodgers season belongs on that list. He's not even top 10 in passing yards, and Green Bay doesn't play this weekend, so he'll fall further behind. He might not be in the top 10 in TDs after Sunday, either.
Besides, it's not like Rodgers has a lot of friends in the media right now with the whole COVID mess. That may disqualify him from some voters' minds, at least for this season. It's a narrative award, and Rodgers' narrative is sour.
Dak Prescott: +1400 at DraftKings
The Cowboys are the fourth team in that race for the NFC 1-seed, but it's starting to feel like it may stay that way. Dallas is 8-4 after losing three of five. And over the past six weeks, Prescott missed one game and was terrible in two others. His numbers are mostly fine, but he hasn't looked like an MVP since mid-October.
Dallas likely needs to run the table for Prescott to win. The Cowboys do host the Cardinals in Week 17, so that's a spotlight moment and a potential chance to steal the 1-seed. But even then, Dallas may need some help. Prescott might have to settle for Comeback Player of the Year instead.
Matthew Stafford: +1600 at DraftKings
The Rams are 7-4 but reeling. They're effectively 2.5 games back in the division and haven't won since October, and Stafford was miserable in November. He's thrown three pick-sixes already this season.
Los Angeles still plays in Arizona, Minnesota and Baltimore, so Stafford will have his chances, but it feels like this ship has sailed. Even if the Rams turn it around, it'll be tough to win the division, let alone the 1-seed. And if they do get close, Sean McVay and Cooper Kupp could get as much credit as Stafford.
Justin Herbert: +2000 at BetRivers
Herbert has the numbers — he ranks top-five in yards, TDs and completions. He also leads the league with five comeback wins.
He's a hot young name who will probably win an MVP — someday. The Chargers are only 6-5, though. They've lost four of six and might need to run the table to get a top-two seed, even in the wide-open AFC. Do these Chargers strike you as a team that can do that? They have one win all season by more than one score.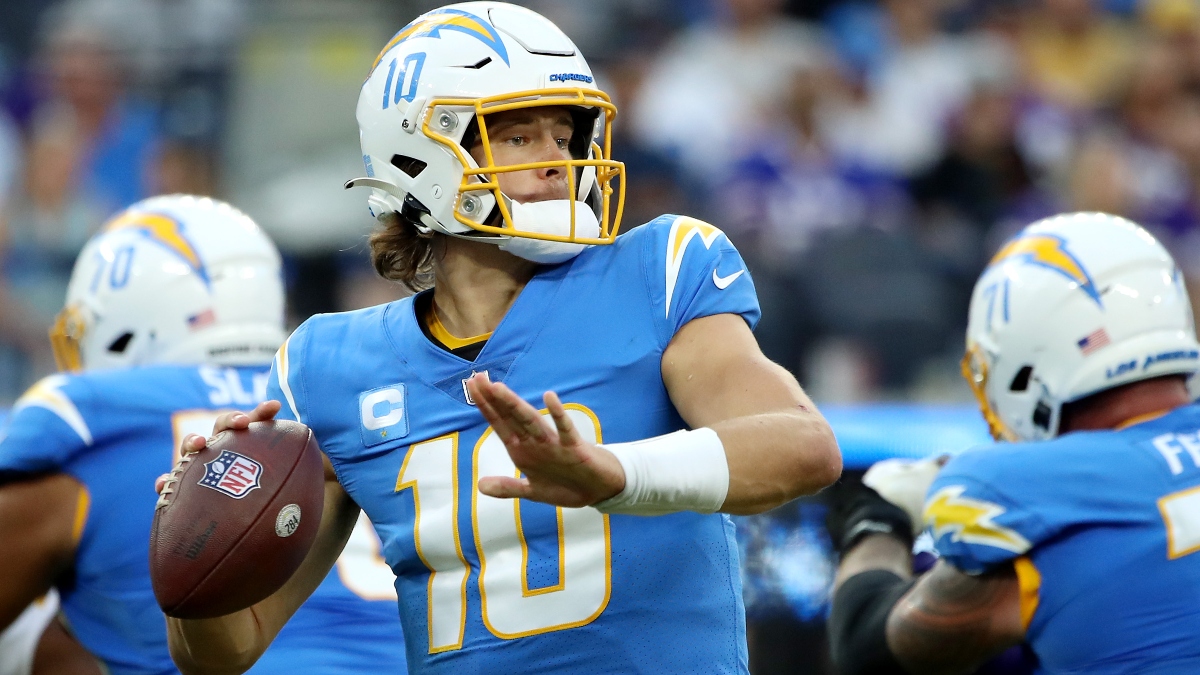 Jonathan Taylor: +2000 at BetRivers
With Derrick Henry out of the picture, Taylor is the top non-QB MVP candidate. But remember from our study, 13 of the last 14 MVPs were QBs. The one winner — Adrian Peterson — ran 348 times for 2,097 yards, only eight yards short of the all-time record. The two non-QB MVPs before that, Shaun Alexander and LaDainian Tomlinson, rushed for 27 and 28 TDs — both NFL records.
Taylor has had a fantastic season. He's on pace for 296 carries, 1,707 yards and 20 rushing TDs. Those are great numbers and he's running away with the rushing title, but they're a far cry from the sort of numbers that win MVP, let alone the many voters who will (rightfully) only vote for a QB.
---
3 NFL MVP Candidates Who Control Their Destiny
I won't bet these three players, either, but the MVP race feels open and there's a real path if any of these three get hot over the final month against a tough schedule.
But you might be better off just betting the team in their upcoming games.
Josh Allen: +500 at PointsBet
Allen has been near the top of the MVP leaderboard all season — and it's never made much sense to me. Like Buffalo's offense, he's been good-not-great. He's on pace for 4,746 yards and 39 TDs, which is nothing to sneeze at, but his rushing TDs are down and he's thrown 10 interceptions in 11 games.
Allen has never looked nearly as sharp as last season.
Buffalo is 7-4, one win out of the AFC 1-seed. The Bills control their destiny, and so might Allen. Check out their next four games: Patriots, Bucs, Panthers, then Pats again. That's four tough matchups, but if Buffalo runs the table, Allen will get — and deserve — a ton of the credit. He is this offense.
Right now, Allen as MVP is a tough sell because he's been clearly worse than last year. Still, he's been good enough to hang around and has a chance to build his case over this next month. But at +500, you're better off betting on Buffalo in these games.
Patrick Mahomes: +1000 at DraftKings
Don't look now, but the Chiefs have won four straight and are 7-4 coming out of the bye, only one game out of the race for the AFC's 1-seed. Mahomes as the QB of a 1-seed Chiefs team would make him a strong MVP candidate. He also ranks top-five in completions, yards and TDs.
There's a chance Mahomes could sweep all the stat categories with a big finish.
It's hard to deny that Mahomes has been worse this year, probably the worst of his career. But like Allen, Mahomes has done enough to hang around. We need a top-2 seed, so this is a bet on the Chiefs, too. Is this defensive improvement real? It better be.
All six remaining games are against teams at .500 or better. And with losses already to the Ravens, Bills, and Titans, the Chiefs lose almost any tiebreak for seeding. It's still too a steep hill at this price.
Lamar Jackson: +1600 at DraftKings
Notice a theme? One of these three guys will likely end up quarterbacking the AFC 1-seed, which puts them in strong contention near the top of the MVP ballot.
Jackson has probably been more valuable to his offense than any other player this year, but that's the problem. Baltimore's O-line is shoddy, and the running backs aren't doing much. The defense has been downright bad. It's all on Jackson's shoulders, and the Ravens still play the Steelers (twice), Browns, Packers, Bengals and Rams — all .500 or better.
If Baltimore secures the 1-seed, Jackson may well win MVP, but good luck. The Ravens have the statistical profile of a borderline playoff team. Jackson has led four comebacks, but it's not great that he keeps needing comebacks. He's one away from the league lead in interceptions and has only three games all season with more than one TD — yes, including rushing scores.
The only case Jackson has is being the be-all-end-all of the AFC's 1-seed. I can't get there.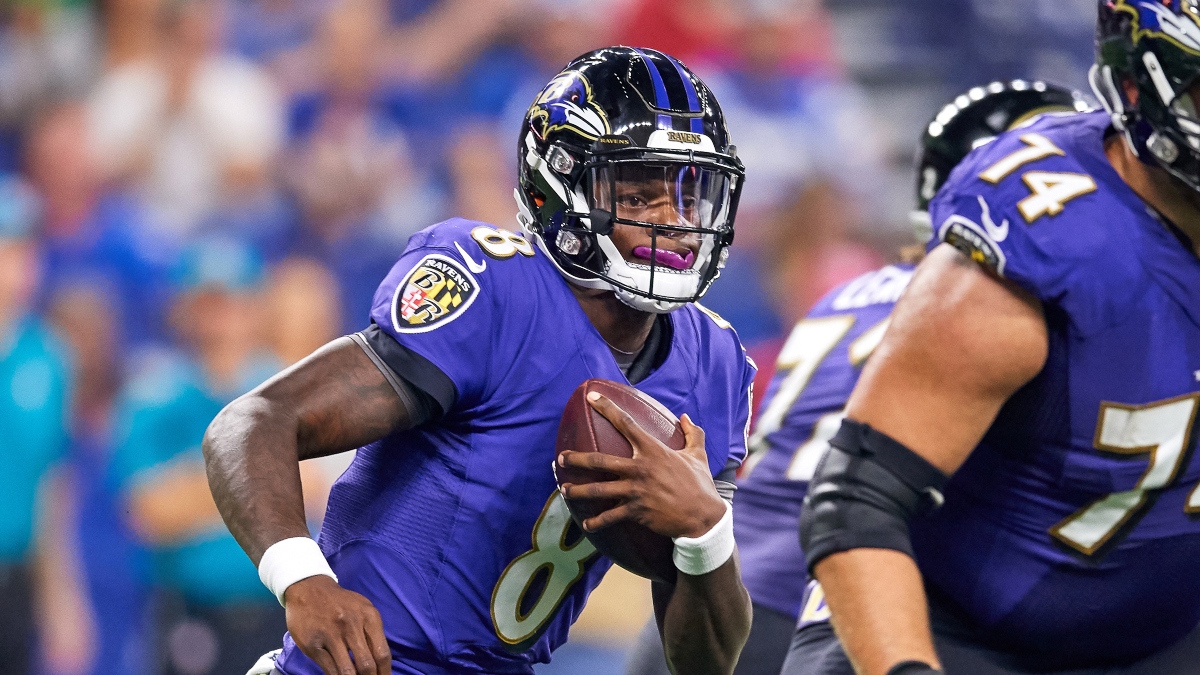 ---
NFL MVP Candidate To Bet Now
Kyler Murray: +1300 at BetRivers
Is it possible that we couldn't figure out who the MVP was all November because the actual MVP sat out the entire month?
When we last saw a healthy Kyler Murray, the Cardinals were 7-0 — the league's last unbeaten team. He was on pace for 4,862 passing yards and 49 touchdowns, counting his rushing scores. The Cards were — and still are — the 1-seed, with the best record in the league.
Isn't the perfect MVP candidate the best player on the league's best team?
Murray leads the league at 8.9 yards per attempt. No other QB is above 8.4. He's been electric as a runner and as a passer, spraying the ball all over the field without making dangerous plays. Murray leads the NFL at 72.7% completion percentage, third-highest of all time. His QB rating of 110.4 also tops the league.
Per RBSDM, Murray also leads the NFL in both Expected Points Added (EPA) and Completion Percentage Over Expectation (CPOE). Murray has been more valuable per play and more accurate than any quarterback in the league. Look at the past decade of MVPs — outside of outliers Adrian Peterson and Cam Newton, seven of the other eight MVPs led the league in EPA. All eight finished top-two in EPA+CPOE, and six were first. Murray leads the league in EPA+CPOE by a wide margin.
Virtually every available metric tells us Murray has been the best QB this season. Well … all the metrics other than the counting stats that usually come with an MVP season. Those 17-game pace stats are great, but they're not real. Murray missed three games and was poor against Green Bay when he got hurt. He didn't play the entire month of November. He's not going to lead the league in yards or completions or TDs. He won't come close.
There's not a ton of precedent for an MVP missing games. Carson Wentz finished top-three in 2017 despite missing three games. Tom Brady was runner-up the year before after sitting out the first four. Marshall Faulk and Emmitt Smith each missed two games and won MVP. The last QB to miss three games and win MVP was Joe Montana in 1989.
Then again, there's not a ton of precedent for this weird 2021 season.
One of our top MVP candidates is 44. Another got COVID despite being "immunized." The consensus best QB can't stop giving the ball to the other team. Jackson has been sick all season. Prescott missed a game and stunk for a month. It's a weird year, and guys are randomly missing games every week. If ever there was a season to overlook a few missed games, it's 2021.
Oddly enough, Colt McCoy might actually have saved Murray's MVP campaign. McCoy went 2-1 as a spot starter, and while you might think that shows Murray isn't the Most Valuable Player, the most important thing is that he helped keep the Cards atop the NFL standings.
Arizona is 9-2 and just gave a month off to its best two offensive players. Last season, Murray got hurt, rushed back and was never the same. When Murray suits up this Sunday, it will be 39 days since his last game. He should be fully healthy now, right as the rest of the league is staggering to the finish line. And he gets a healthy DeAndre Hopkins back in the lineup, too.
For all the fretting over all the good teams that aren't actually good, might the Cardinals have just been the best team all along? Arizona ranks fourth in DVOA at Football Outsiders. The defense is third-best while the offense is still top-10, even after a month without Kyler and Nuk. With Murray and Hopkins healthy, they rank top-three in both offensive and defensive EPA.
Whether you think the Cardinals are good, the numbers paint a clear picture: The Cardinals are big favorites in Chicago this weekend before hosting the Rams next Monday night, when a win would effectively clinch the division. The Cardinals close the season with games in Detroit and Dallas and at home against Indianapolis and Seattle. Arizona should be favored in all six remaining games, heavily in half of them.
The Cards are likely to clinch the NFC's 1-seed and the NFL's best record even with a loss over this final stretch, maybe even two.
Murray has a good chance to be the best player on the league's best team. And in a season crying out for an MVP candidate, doesn't it feel like the best player by far on the best team (by far?) makes a pretty fine MVP candidate, counting numbers be damned?
If you have a big Brady MVP position like me, you should feel good — but you should also hedge with Murray. If Brady's Bucs get the 1-seed, it's probably a wrap. Murray and the Cards are easily the biggest threat to that, so Murray is a must-hedge for Brady bettors.
Even if that's not you, Murray is the name to bet right now. When he left injured a month ago, his odds were half this long and he was the deserving favorite. Is it really so bad that he missed November when basically every other MVP candidate wished they had, too?
Make sure to shop around. Murray is only +750 at FanDuel but +1200 at DraftKings and +1300 at BetRivers. You can use our handy-dandy Futures Tool to shop for the best number. But don't wait around — if Murray comes back and looks healthy this Sunday, you'll lose a ton of value.
Now is the time to strike.
It's been a wonky NFL year and a wild MVP race. But doesn't it seem like we might just get to the end of the season and feel like Murray was actually the obvious MVP on the league's best team all along?
Kyler Murray is the one name you need to bet for MVP — before it's too late.
How would you rate this article?
This site contains commercial content. We may be compensated for the links provided on this page. The content on this page is for informational purposes only. Action Network makes no representation or warranty as to the accuracy of the information given or the outcome of any game or event.