2021 NFL MVP Race & Odds: Ranking Tom Brady, Patrick Mahomes, More Candidates By Betting Value
Credit:
Getty Images. Pictured: Bills QB Josh Allen, Bucs QB Tom Brady, Chiefs QB Patrick Mahomes
We're nearly one-third of the way through the 2021 NFL season, which means it's time to take stock of the NFL MVP race.
After examining NFL MVP odds, our analyst takes a closer look at 10 candidates, including two longshots to consider betting and his one favorite pick.
We're only five weeks into the 2021 NFL season, but the wide-open MVP race already feels whittled down to 10 names.
I wrote a mega-preview of the NFL MVP race heading into the season only one month ago. And in those wild, halcyon days, we legitimately considered cases for guys like Ryan Fitzpatrick, Ben Roethlisberger and Ryan Tannehill — imagine! But through five games, we already have a solid idea of which teams look good vs. which don't.
In the NFC, the Cardinals are our last unbeaten while the Rams, Bucs, Cowboys and Packers are the best of the rest. The AFC is led by the Bills, followed by the Chargers, Ravens, Browns … and maybe still the Chiefs.
Those are our 10 presumed Super Bowl contenders, and at this point, it would feel surprising to add any other team. Not surprisingly, the quarterback for each of those teams comprise what is essentially the top 10 MVP betting odds.
After those winning QBs, the race blows wide open with odds all over the map featuring names like Kirk Cousins, Derek Carr, Sam Darnold and Jalen Hurts next in line. In a word: No. I'd honestly rather take a long-shot flier on Russell Wilson at 250-to-1 on DraftKings and hope he heals quickly — at least I know he could actually win this thing if he gets back on the field.
Heading into the season, we ran through 20 possible MVPs. Now, we're looking at only 10. We also spent time reviewing the past 15 MVP winners and building a profile. It's important that we remember what we learned:
This may be an individual award, but it's a team accomplishment. We need a winning QB capable of a 13-win season and a run at the 1-seed, and they need to have a shot at something north of 4500 yards and in range of 40 touchdowns.
We dare not focus just on numbers. There's a reason the 10 MVP candidates are on the 10 contenders. We need a signal caller who can put up numbers and make a run at the 1-seed. Let's be sure to consider both angles.
The names below are in order of betting value, not necessarily most likely to win it, featuring the best odds available as of writing for each. Let's start with the names you definitely shouldn't bet.
---
2021 NFL MVP Odds
Click to see odds at DraftKings as of Oct. 14

Candidate
Odds
Josh Allen
+450
Kyler Murray
+500
Dak Prescott
+700
Justin Herbert
+700
Tom Brady
+800
Lamar Jackson
+1000
Matthew Stafford
+1000
Aaron Rodgers
+1200
Patrick Mahomes
+1800
Kirk Cousins
+5000
Davante Adams
+5000
Baker Mayfield
+6500
Joe Burrow
+6500
Nick Chubb
+6500
Derrick Henry
+6500
Teddy Bridgewater
+6500
Derek Carr
+6500
Jameis Winston
+8000
Sam Darnold
+8000
See the rest at DraftKings
---
2021 NFL MVP Race
Past MVPs But It's Not Their Year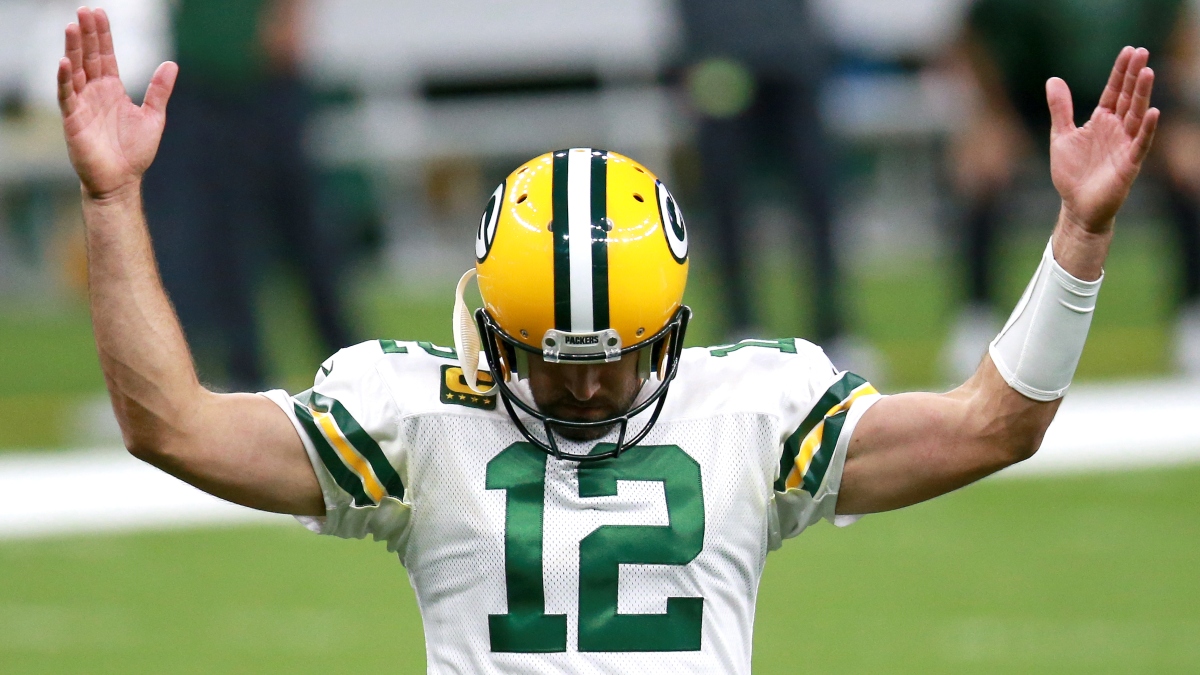 Remember our key factoid from our preseason research: Past MVPs often win again, but almost never in back-to-back seasons. Only four guys have won consecutive MVPs, and Peyton Manning is the only once since Brett Favre.
It was always going to be an uphill climb for Rodgers. He had huge outlier spikes in touchdown rate and yards per attempt in 2020 and has predictably regressed to his usual performance in 2021. His numbers are perfectly in line with his production from the previous two seasons.
It just doesn't feel like Green Bay's year.
The Packers are more good than great and still have to play at Arizona, Kansas City and Baltimore. Rodgers has been more good than great, too. Per Next Gen Stats, his 61.7% expected completion percentage tops only Justin Fields and Davis Mills, and Rodgers' -3.6 air yard differential is poor.
Rodgers is nowhere near as efficient as last season. We're seeing why it's so hard for MVPs to repeat.
---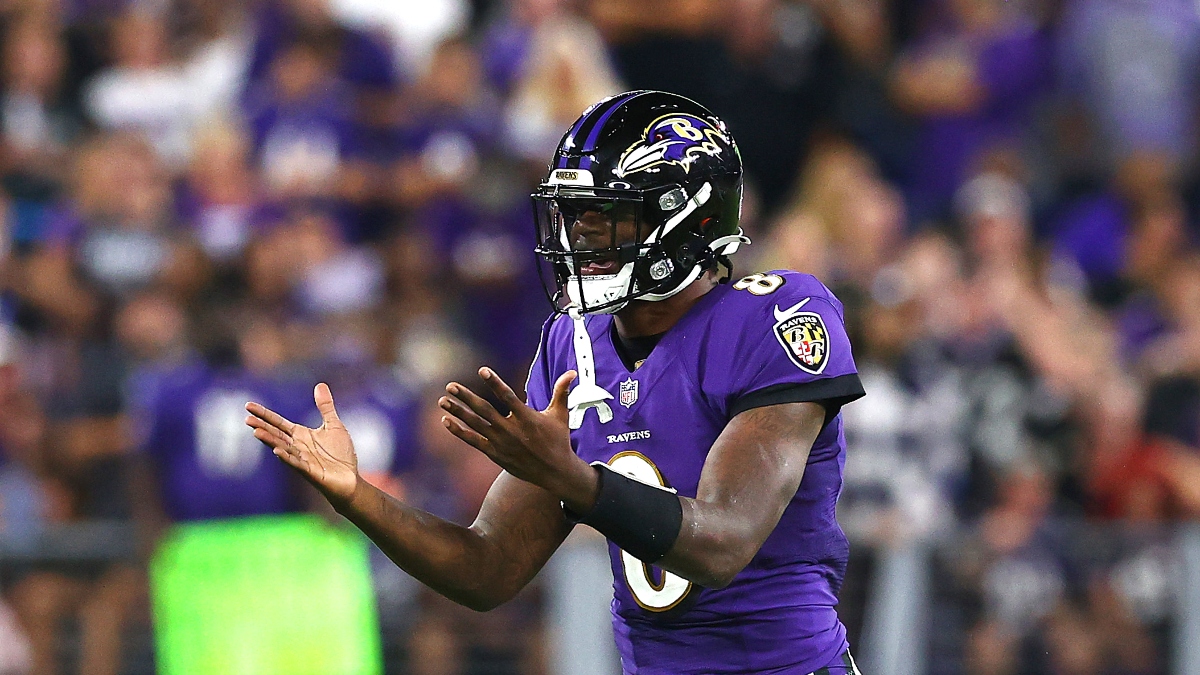 Lamar Jackson is getting some buzz after the big Monday night comeback win, but that feels like recency bias.
Yes, Jackson threw four TDs, but until the final 10 minutes of the game, he had just one — the same number he threw each of his first four games. He's on pace for 27 passing TDs, even with that closing stretch. The yards are way up, and he's had some primetime moments, but those will be long forgotten by the time voting comes around.
Like Green Bay, this doesn't feel like Baltimore's year. The trademark defense has been average at best, and the run game and offensive line have been nowhere near their usual elite.
Jackson may be more valuable than ever doing so much for his team, but the Ravens aren't good enough for him to win MVP. Baltimore still plays six games against teams on this list, and Jackson is trying to do a little too much, on pace for 44 sacks and 17 fumbles. He's still great but it doesn't feel like his season.
---
You Missed the Number — Don't Buy High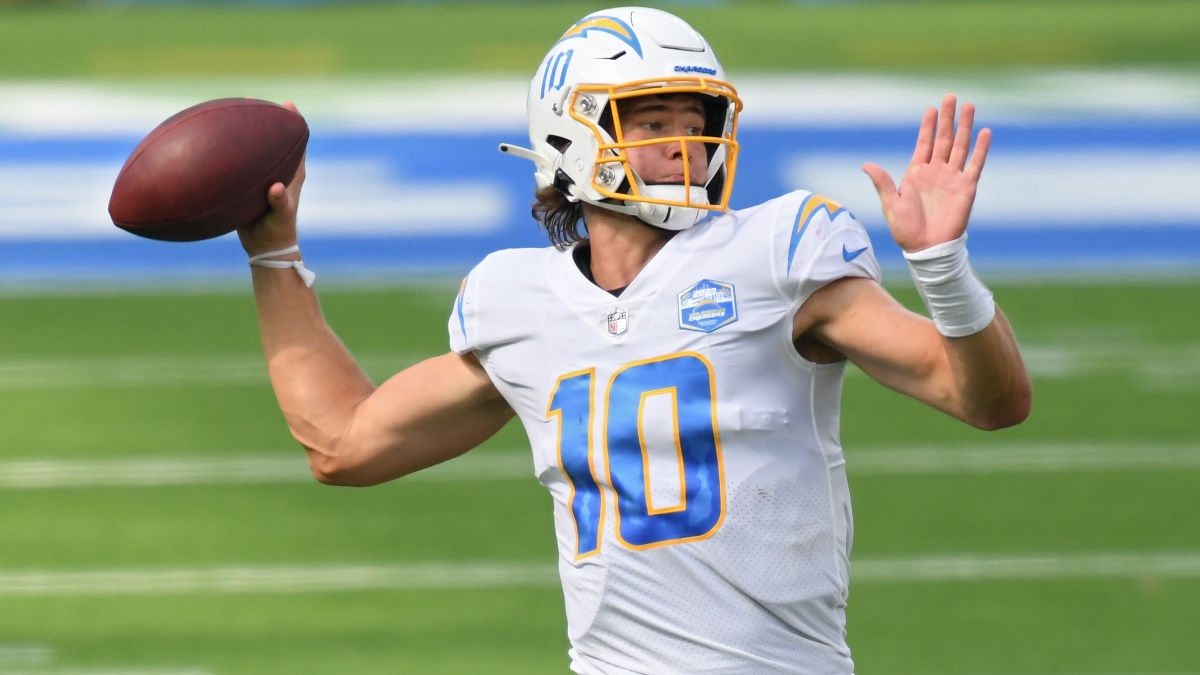 I'm not betting on any of the four favorites right now. We buy low and sell high around here. I was wrong to recommend against Herbert in preseason despite my Chargers love, but if you didn't bet him then, you missed the window.
Herbert has been terrific, but he's been unsustainably great on third and fourth down, and you're buying high after two huge LA wins and  11 TDs the last three weeks. Herbert might be the MVP if the season ended today, but that's not how this works.
Check out the Chargers' next seven opponents: Baltimore, New England, Philly, Minnesota, Pittsburgh, Denver and Cincinnati. That's seven tough games, all against average or better defenses that will make Herbert's life difficult.
Sophomore breakout candidates are hot MVP commodities, but you can't buy Herbert at his peak. If you want in, you're sure to get a downswing after a tough game or two this upcoming stretch.
---
If Herbert's not the MVP right now, Kyler Murray is. Has any player been more exciting? The Cardinals are undefeated, and Kyler has been pure magic.
I'm worried about the regression monster, though. Murray's TD rate is 45% higher than his career rate so far, so the TDs could dry up, and the numbers haven't been as great as you think. He's thrown only three TDs the last three weeks, and did you realize he's on pace to rush for only 102 yards all season? He's using his legs to create passing windows, not yardage.
Murray leads the league at 75.2% completion percentage but that's a whopping 9.3% over expectation, per RBSDM. Murray has the statistical profile of a player set to regress, especially with five tough road games remaining, and the Cards and Kliff Kingsbury have a history of fading down the stretch.
Murray feels like the 2021 version of 2020 Russell Wilson — a back-half fade candidate — and I worry that Murray looked a little off last game (with a reported shoulder injury). Remember, Murray was awesome early last season before the injuries piled up and derailed his second half.
Arizona is due to regress as a team, too. The Cards could easily have lost to the Vikings, Jaguars and 49ers already. Arizona still feels like an 11 or 12-win team. I'm fading Murray and the Cardinals.
---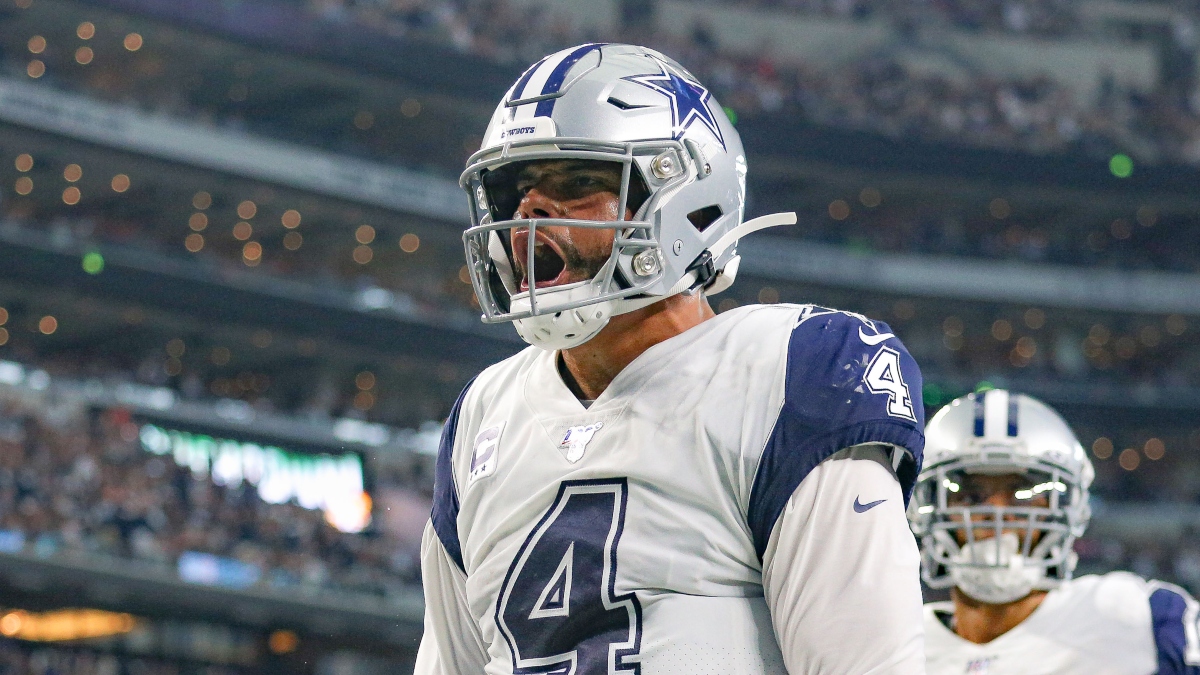 I actually believe in the Cowboys — I'm just not sure I believe in Dak Prescott as MVP.
Prescott has four three-TD games already, but his 7.9% TD rate is a huge outlier from his career 4.6% rate. We routinely see MVPs win in years when that TD rate spike stays up all season, but for now, we have to assume the TD rate fades as the offense slows down and some of these TDs go to the outstanding running game.
And really, the surprisingly awesome run game and the very good defense are the biggest reasons Prescott isn't as strong an MVP candidate. His passing attempts are way down because Dallas is almost too good. His numbers haven't been as high as expected when we though Ezekiel Elliott was washed and the defense was so bad Prescott would need to win shootouts.
Again, we're looking to buy at peak value. The Cowboys play in New England and Minnesota next, followed by Denver's elite pass D. It's a bad idea to buy right before that tough stretch of defenses. If the Cowboys stay this good and win 12 or 13, America's Team's QB will absolutely be in the running. He feels like a back-of-ballot guy, but if you do believe, wait for a better downswing to invest.
---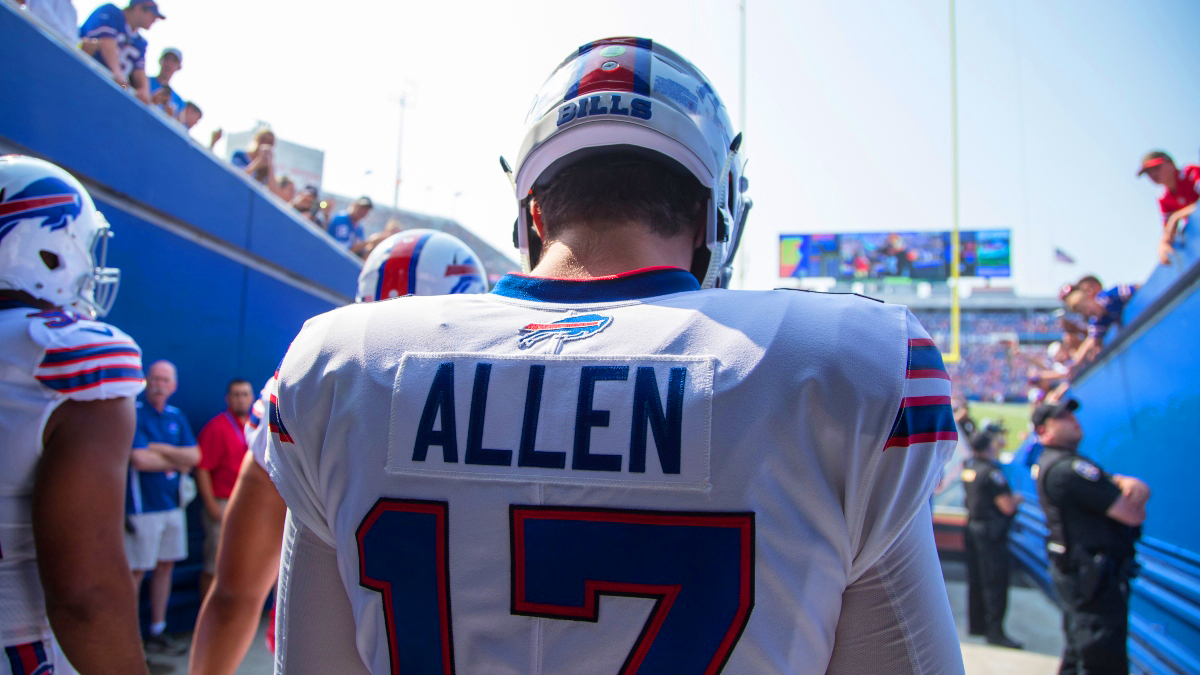 If you hadn't shown me the odds, I would've guessed that Josh Allen would be a nice MVP value.
The Bills look amazing and feel like a prohibitive favorite to get the AFC 1-seed. We know MVPs come mostly from 1-seeds — and Allen does everything for this offense — but Allen's numbers had been more fine than overwhelming until the Chiefs game, so I'd have thought there would be some sneaky value. No such luck; Allen is the betting favorite.
Even without a blistering start, Allen is on pace for 5,500 yards and 48 touchdowns once you add in his ground game. Allen is quietly a major producer on the ground, and Buffalo is still aggressively passing on early downs as much as any team, so he'll have his chances and some big lines.
It does feel like Allen still makes too many mistakes, though.
There are still a couple plays a game that just don't feel MVP-caliber. He has three fumbles already, always a problem, and should have more than two interceptions with a few of the ducks he's thrown. Allen still holds the ball too long, still tries to do a little too much, and the efficiency metrics are down. His YPA has dropped, and his 62% completion rate is a big drop and closer to his pre-breakout numbers.
Still, Buffalo is really good. They have the best defense in the NFL and a cake division, and they play only one team on this list the rest of the season. That's Dec. 12 in Tampa, and it could be a head-to-head battle for MVP at that point. The Bills have crushed everyone for four weeks, though they hadn't played anyone good until the Chiefs… who might also not be great.
I can't buy Allen right now, not right after that huge win over KC, not at this price. If you're building an MVP position, you probably need some Allen stock at some point. You may have to hope Buffalo stumbles Monday in Tennessee heading into the bye and that Allen's stock has a bit more value at that point.
---
Buy Now, Sell Later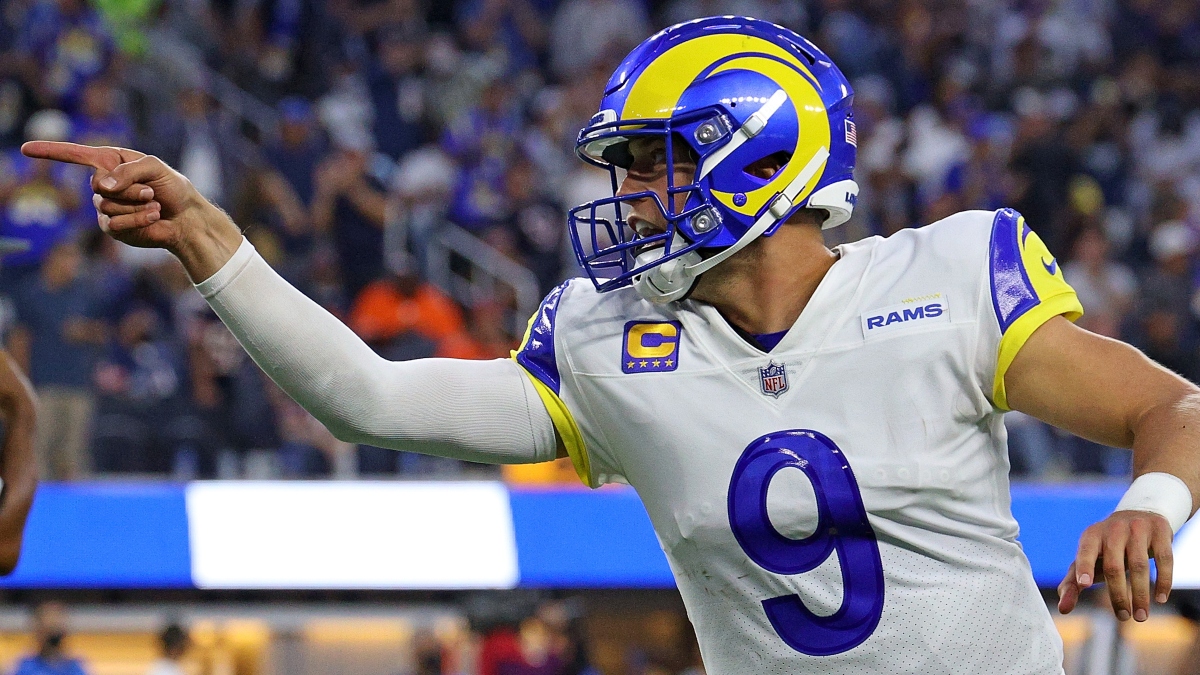 The Rams are a bit of an afterthought right now since they won last Thursday  and got crushed by the Cards before that. That's created a little value on Stafford, who had been an MVP favorite before those two games.
Stafford is quietly on pace for 5,400 yards and 41 TDs. He's also about to play the Giants, Lions, Texans and Titans the next four weeks. He should pile up big numbers against those Ds, and the Rams offense has been elite. LA could easily be 8-1 heading to San Francisco before the bye.
If you can play MVP at a book with a cash-out option, I'm buying some Stafford stock now and selling in a month. I won't be surprised if he's a top-three candidate a month from now, but down the stretch, the Rams play on the road against the Packers, Cards, Vikings and Ravens. I don't trust Stafford long-term against that schedule, but he's a great option to buy now and sell later.
---
A Couple 'Long Shots'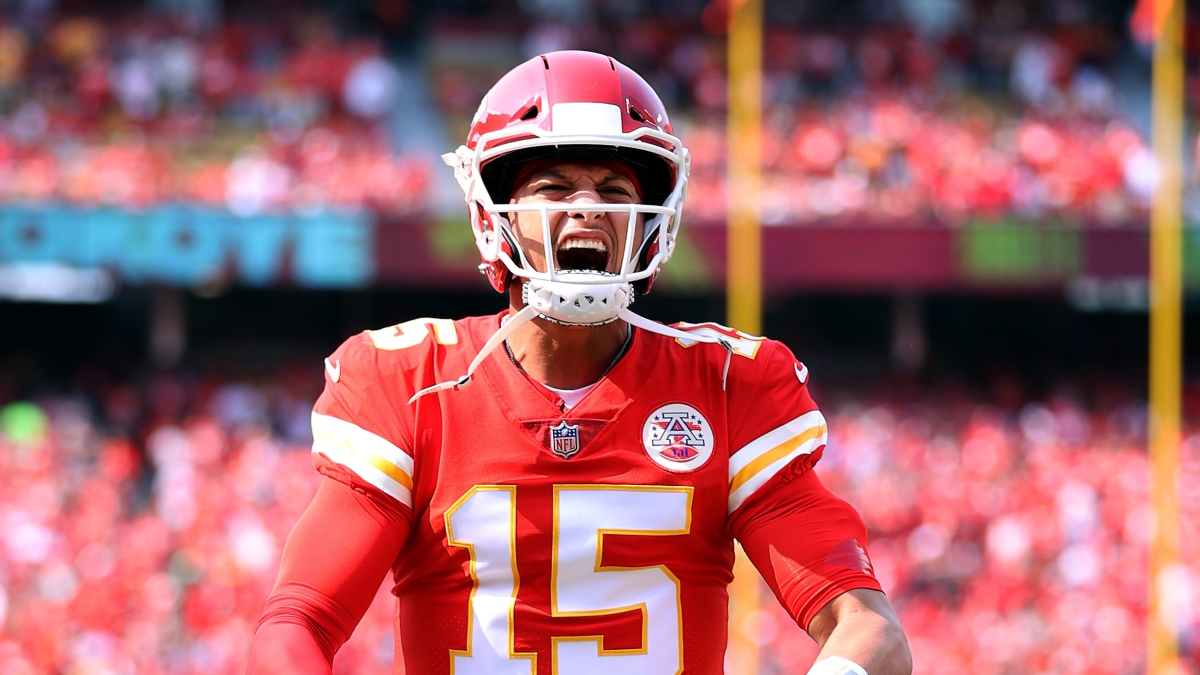 In some ways, Mahomes is playing even better than ever. He's leading the league in touchdown passes with 16 already, on pace for 54 TDs and more than 5,000 yards. He's creating new passing angles every week and keeping the Chiefs in every game, despite their horrendous defense that's one of the worst in league history through five games.
Mahomes is not going to fit our winning formula, though.
The Chiefs are 2-3 and have little shot at the 1-seed with this D. But sometimes the best players get their own rules.Peyton Manning and Tom Brady both won MVPs that didn't fit our formula. If Mahomes really puts up 5,000 yards and 50 TDs and drags this awful defense to 12-5 and a wildcard berth, he'll get some MVP consideration.
Careful, though. Mahomes has six interceptions, already second most in his career and third in the NFL. He's trying to do a little too much, and even Pat can't do everything.
Still, you'll never get a better price than 20-1. The Chiefs play the Football Team, Titans and the Giants next, so if you want Mahomes stock, now is the time to buy. He should have big numbers against three bad defenses, and then you can choose to cash out or tide it out. But buying low on Mahomes is always worth consideration.
---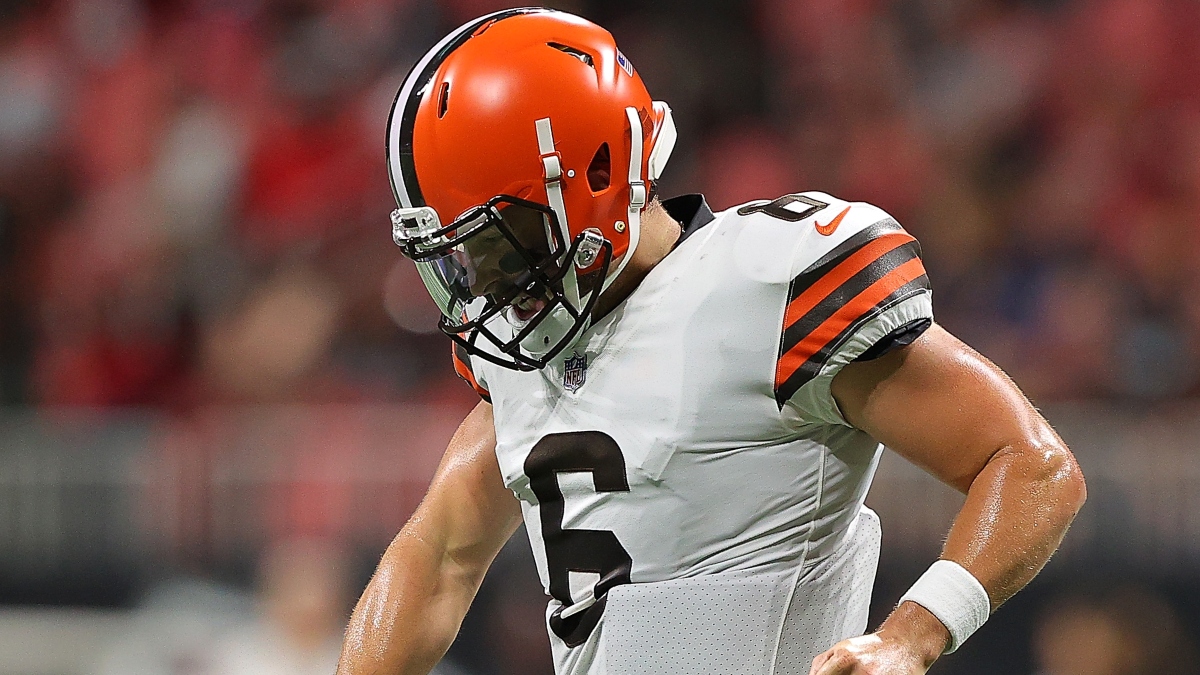 Remember how there are 10 clear NFL contenders? Only nine of their QBs are considered MVP candidates, and I think that's a mistake.
The Browns are really good. The defense is making the leap, the run game is outstanding, and Cleveland looks like a legit Super Bowl contender. The Browns are 3-2 but probably should've beaten both the Chiefs and the Chargers. This team is for real, and I'm buying Cleveland stock.
Still, there's a reason Baker's number is so long — he hasn't been very good. Mayfield has throw only four TDs in five games, so he probably needs at least 30 more over the final 12. Baker is on pace for 4,200 yards and only 14 TDs. That's not gonna cut it, but this line and receiving corps should get healthy, and Mayfield's numbers took a leap the back half of last season.
The Browns are really good and have a real shot at the AFC 1-seed. And if the Cleveland Browns win 13 games and sit atop the NFL, you better believe their fiery QB will get some MVP attention. The Browns still play the Ravens and Bengals twice, and they're in Green Bay on Christmas. Mayfield will have some big TV spots and that means key chances to create an MVP moment.
This is a narrative award, and if he hits in a couple key spots for the best Browns team of our lifetime, Mayfield will have a real shot at MVP. I have to at least nibble on the QB of a team this good at +6500.
---
Still My Favorite, Even If Odds Disagree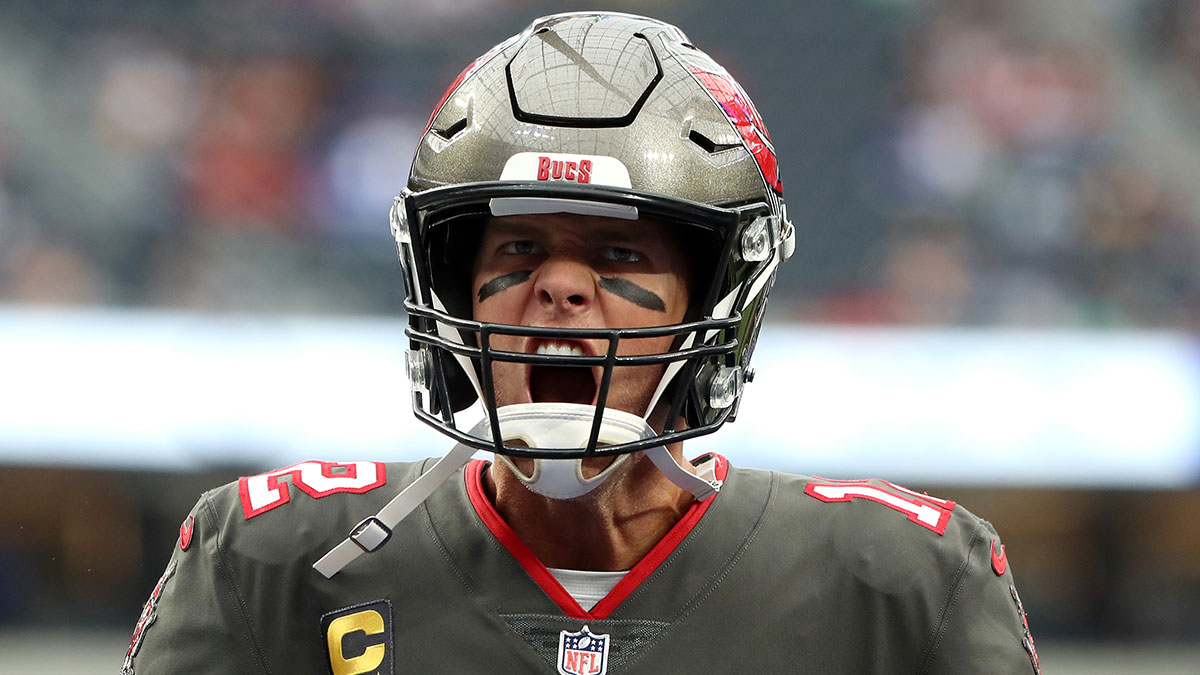 In the end, I'm still in the same spot I was before the season — I still think Tom Brady will win MVP, and I still believe there's value on the old man.
If you liked Brady coming into the year, there's no reason to like him any less now. He leads the league in completions, passing attempts and yards. At 1,767 through five games, he's on a pace for more than 6,000 yards, which would smash the all-time NFL record. Brady also has 15 TDs, just one off the lead and on pace for 51. He's had three four-TD games and would be even further ahead of the crowd if not for that zero-TD monsoon in New England.
Tampa's weapons have been un-coverable as expected.
Antonio Brown clearly has a connection with Brady, and Mike Evans and Chris Godwin have had great lines. Rob Gronkowski is a TD monster when on the field. Tampa has been lethal in the red zone with all those weapons. Even better, the Bucs secondary is in shambles, and that's only forcing Tampa to pass even more to make up for the leaky defense. This offense is good enough to win plenty of shootouts.
And have you seen the schedule? The Bucs play only one more game against a contending team on this list, and it's that game against the Bills in December. The Bucs are 4-1 and will be favored in every remaining game. The NFC 1-seed is theirs to lose. Is there any way this team finishes worse than like 13-4, barring some catastrophic injuries? The schedule is so soft.
Even if the Bucs lose a couple games unexpectedly, and even if Brady's awesome statistical pace falls off, he might drop back to "only" 5,000 yards and 40 TDs for a 13-win team. Guess what? If Tom Brady puts up 5,000/40 for the defending Super Bowl champs at age 44, he's probably going to win MVP.
There's still some value at +800 because we're benefiting from a crowded field with some of these exciting young names like Murray and Herbert showing out early. But those guys still need to prove it all season, and Brady has been proving it for two decades. Heck, even in Brady's two "bad" games, he had 432 passing yards and two scores in the loss and led a game-winning drive against Bill Belichick in the other.
The Eagles, Bears and Saints are up next before the bye. Those are tough defenses, and there's a decent chance the Bucs lose one of them. You might be able to wait and get slightly more value at some point. That bye is your last chance though with WFT, Giants, Colts and Falcons out of the bye. And if it does all come down to that December game against the Bills, don't you want the GOAT with the loaded roster playing at home?
Wait if you want, but I think you've already waited too long. If not for these exciting young QBs and the poor statistical line against the Pats, this sort of performance by Tom Brady on the defending champs would make him the favorite at this point of most seasons.
At +800, that implies an 11% probability of Brady winning MVP (convert more odds here). Do you really think the odds are anywhere near that low for a guy with all the narrative in the world on one of the league's best teams on pace for 6,000 yards and 50 TDs?
Yeah… me either.
How would you rate this article?
This site contains commercial content. We may be compensated for the links provided on this page. The content on this page is for informational purposes only. Action Network makes no representation or warranty as to the accuracy of the information given or the outcome of any game or event.