NFL Prop Bets: Which Head Coach Will Be Fired First in 2018?
The Highlights
Hue Jackson is the most likely coach to get fired (+366).
The second-most likely outcome is no coach getting fired (+403). 
Twelve coaches are given individual odds, and the field is set at +750.
---
Oddsmakers have blessed us with a chance to wager on which coach (if any) will be fired first during the 2018 regular season.
The Odds
Hue Jackson, Browns +366
No coach fired +403
Dirk Koetter, Buccaneers +474
Vance Joseph, Broncos +531
Adam Gase, Dolphins +640
Field +750
Todd Bowles, Jets +925
Marvin Lewis, Bengals +1104
Jay Gruden, Redskins +1104
John Harbaugh, Ravens +1729
Bill O'Brien, Texans +1729
Pete Carroll, Seahawks +1927
Jason Garrett, Cowboys +3572
Ron Rivera, Panthers +4500
Narrowing It Down
There are 14 options on the board, so let's narrow it down. It's unlikely that a coach gets fired who either (a) just signed a contract extension, (b) has won a Super Bowl, or (c) works for an owner who has never fired a coach in-season, so we'll cross those coaches off. We'll also remove a couple of options that are simply no fun to bet:
Just signed a contract extension: Bowles, Lewis, O'Brien, Rivera.
Won a Super Bowl: Harbaugh, Carroll.
Owner has never fired a coach in-season: Koetter, Joseph, Bowles, Harbaugh, Carroll.
Not fun: Field, no coach fired.
We'll also cross Jay Gruden off the list, considering he signed a two-year contract extension in March of 2017, and Redskins owner Dan Snyder hasn't fired a coach in-season since 2000.
After crossing those 11 options off the list, we're left with three coaches who offer value as the most likely to be canned before Week 17.
1. Hue "I Finally Jumped in Lake Erie" Jackson +366
New Browns general manager John Dorsey has clarified that Jackson will coach the Browns in 2018, but Dorsey also reportedly didn't notify our frontrunner of the team's first-overall selection until the day before the draft. Jackson's play-calling duties have already been stripped, and any more hiccups in game management — or the development of Baker Mayfield — could prove costly for his job status considering his egregious 1-31 record.
The Browns could be underdogs in nine of their first 10 games (excluding a Week 3 home matchup against the Jets). They haven't scored 30 or more points in a league-high 43 consecutive games.
2. Adam "Cutlure Over Talent" Gase +640
The Dolphins have overturned their roster by shipping out prominent starters like Ndamukong Suh, Lawrence Timmons, Mike Pouncey, and Jarvis Landry for the likes of Albert Wilson, Danny Amendola and Frank Gore. Expecting Gase to turn around the offense without Peyton Manning doesn't seem like a great bet:
Gase with Peyton Manning (2013-2014): 34.0 points per game, 315.8 passing yards per game, 114.3 rushing yards per game, 21 games with 30-plus points, 10 games with 40-plus points.
Gase in Chicago/Miami (2015-2017): 20.4 points per game, 222.9 passing yards per game, 105.5 rushing yards per game, 10 games with 30-plus points, zero games with 40-plus points.
Gase's future rests in the hands of Ryan Tannehill (zero snaps of competitive football since 2016) and Brock Osweiler (lol). Only the Browns currently have a lower over/under for wins in 2018.
3. Jason "The Clapper" Garrett +3572
Remember when the Eagles won a Super Bowl without their starting quarterback, left tackle, middle linebacker and third-down back?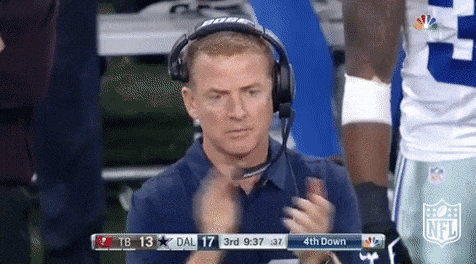 Meanwhile, the Cowboys defense has routinely fallen apart without Sean Lee over the past three seasons:
With Lee (40 games): 19.8 points per game, 230.2 passing yards per game, 97.8 rushing yards per game.
Without Lee (eight games): 27.5 points per game, 252.6 passing yards per game, 128.0 rushing yards per game.
On top of that, the offense failed to reach double-digit points in three consecutive weeks for the first time in franchise history during the immediate aftermath of Ezekiel Elliott's suspension last season. Let's not forget that notoriously impatient owner Jerry Jones fired Wade Phillips after a 1-7 start in 2010.
Pictured: Hue Jackson
Photo Credit: Kirby Lee – USA TODAY Sports