Fantasy Football Dynasty Trades, Adds and Drops to Make in Week 7: Buy Chad Kelly, Sell Patrick Mahomes
Credit:
Credit: Ron Chenoy-USA TODAY Sports. Pictured: Chad Kelly
Ryan McDowell breaks down fantasy football dynasty trades along with adds and drops to make in your league.
Broncos fans made one thing clear in Week 6: They're ready for Chad Kelly to take over. Add him now.
Meanwhile, Patrick Mahomes' trade value in one-quarterback leagues is too high to not capitalize on.
Each week of the NFL season I will highlight risers and fallers in dynasty leagues — one player to trade for, one to trade away, one to add and one to drop.
Dynasty Risers
Trade For: Amari Cooper, WR, Oakland Raiders
It has been a rough season for the 2015 first-round pick. Cooper has mixed in a pair of top-13 fantasy finishes with four other weeks outside of the top 80 fantasy wide receivers. And as if that wasn't bad enough, Cooper got knocked out of Oakland's Week 6 game in London with a concussion before he could even record a reception.
So why would you possibly want to trade for Cooper?
Well, before kickoff this past week, Fox Sports' Jay Glazer reported that the Raiders were shopping Cooper. NFL Network's Ian Rapoport later added that their asking price is a future first-round pick. And while that haul seems unlikely, we've already seen how aggressive head coach Jon Gruden and the Raiders can be when they're intent on moving on from a player. (See: Khalil Mack.)
Despite Cooper's struggles over the past two seasons, he was one of only nine players in NFL history to open his career with back-to-back 1,000-yard seasons. I don't think that talent has gone away.
A new situation is exactly what Cooper needs. He could easily regain all of his lost value with virtually any other team.
I'll be making offers for Cooper in my dynasty leagues, starting with a future first-round rookie pick — although I've seen a few instances in which he's been acquired for even less.
Add: Chad Kelly, QB, Denver Broncos
Just as he's done for most of the season, Case Keenum struggled in Week 6. While his stat lines have been solid over the past two weeks, they've been padded in garbage time. Keenum ranks as the QB20 in fantasy through six weeks despite playing with three very capable wideouts. He's the only one in that top 20 with more interceptions (8) than touchdowns (7).
If you caught the Rams-Broncos game this past Sunday, you might have noticed Denver fans calling for Kelly. And at this point, the switch seems inevitable.
Dynasty players typically don't focus heavily on acquiring quarterbacks — especially backups — but Swag Kelly could be different. He was dominant in the preseason, quickly leapfrogging former first-rounder Paxton Lynch to win a roster spot.
While it could be a few more weeks before Kelly gets his chance, I'll be aggressively adding him even in leagues that require only one starting quarterback.
Dynasty Fallers
Trade Away: Patrick Mahomes, QB, Kansas City Chiefs
Yes, I know this might sound crazy.
Mahomes is currently the QB1 and is on pace for one of the top fantasy seasons ever at his position. If the 23-year-old is on your dynasty roster, you've probably told yourself that you're set at the position for the next 10 seasons. And while that might be true, the absurd trade value of Mahomes in one-quarterback leagues is too high to ignore right now.
I recently found a few dynasty trades involving Mahomes. Among them, teams acquired players such as Odell Beckham Jr. and JuJu Smith-Schuster. With so many quality quarterbacks, I would easily take a young, elite wideout such as Beckham or Smith-Schuster instead of relying on a veteran signal-caller.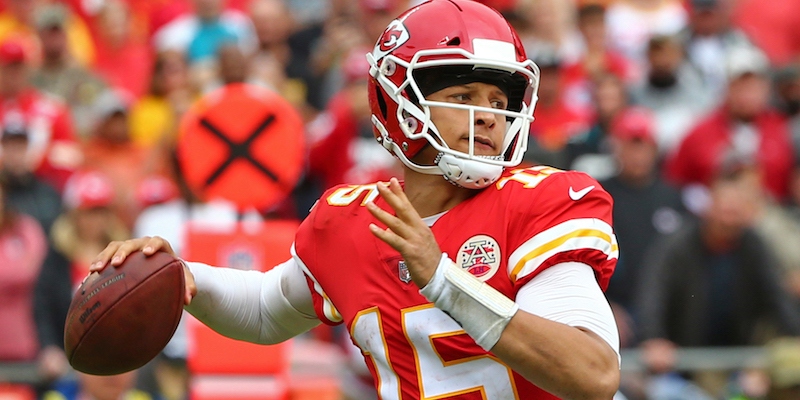 If you have Mahomes on your team, now is a great time to shop around and find out what the return might look like.
Drop: Dez Bryant, WR, Free Agent
It's time, gang.
Maybe you or someone else in your league has already pulled the trigger and dropped the former All-Pro receiver. But I haven't been able to … until now.
We know the story with Bryant, who reportedly turned down a multi-year contract offer from the Ravens after being released by the Cowboys. He's had other visits — including a well-publicized trip to Cleveland — but nothing has materialized, likely due to Bryant's asking price.
He continues to be vocal on Twitter, alternating between trashing the Cowboys and suggesting he'll sign somewhere soon. This was intriguing initially, but as time has gone by, it's become a little sad.
I'll finally be moving on from Bryant, just as the Cowboys did months ago.