Walsh: Losing to My Wife in Fantasy Football and Popping 3 a.m. (Baby) Bottles
Credit:
Jake Roth-USA TODAY Sports Pictured: New Orleans Saints running back Alvin Kamara
The Action Network's PJ Walsh has plenty of fantasy football side action with his wife, Christi, which includes the loser having to do 3 a.m. bottle feeds for their 2-month old daughter.
The person who scores the most fantasy football points over the course of the entire season also gets to pick and plan the couple's next vacation without kids.
Week 1 did not go well for PJ, so he's got some bottle feeding to take care of this week.
My wife, Christi Walsh, and I play in a fantasy football league with fellow parents that features 10 teams and standard scoring rules. As many of you already know, Christi is an accomplished fantasy football player, so I shouldn't be shocked that she ended up with a very formidable roster.
On a recent visit to The Action Network's Beverly, Mass. office, Deputy Editor Scott Miller suggested that Christi and I have a little side action on how we perform this season.

I don't know what I ever did to you, but thanks again for that, Scott.
Here's what we came up with:
Weekly side action
Christi and I recently welcomed the birth of our second child, and for any of you who have kids, you understand the lack of sleep that comes along with newborns for the first couple of months.
Luckily, our daughter is really coming around in the sleep department, but she still wakes up hungry once every night, meaning one of us has to get up to feed her.
We decided that whoever scores the fewest fantasy points each week gets the punishment of dealing with those 3 a.m. bottles each night of the following week. Keep getting outscored? Keep making those bottles.
Stuckey, please send me the official orientation packet for Team No Sleep. There's a good chance I'll be applying for full-time membership.
Full-season side action
Because of nearly 10 months of pregnancy and another six to 12 months of raising a new baby, vacations are basically put on hold for almost two years after having a child, especially if you're a couple of gambling lushes such as Christi and I.
Now that there's a finish line for us around the spring of 2019, we're already kicking around ideas for our next vacation sans children. The owner who ends up scoring the most fantasy points this season gets to choose the vacation, no questions asked.
I have a feeling I'm facing a long NFL season of 3 a.m. wake-ups followed by several days at The Wizarding World of Harry Potter…
Week 1 results
The good news: Behind Tyreek Hill, my team performed very well, earning the second-most points in the league in Week 1.
The bad news: Christi's Alvin Kamara-led team went absolutely bananas and ended up with the most Week 1 points.
Here's the final result: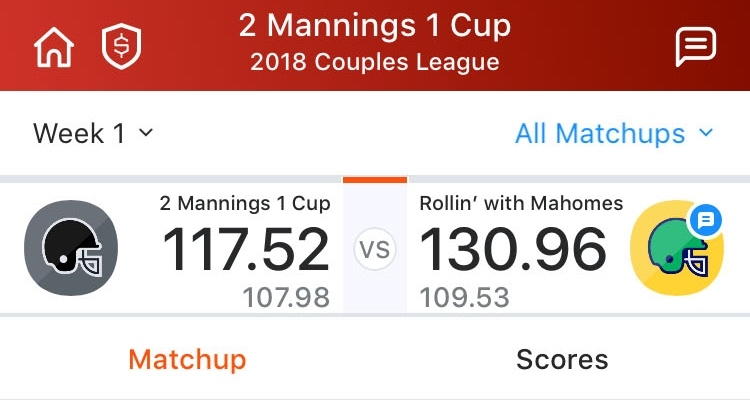 So, it's officially my week to manage late-night bottles.
Our daughter decided to push her normal 3 a.m. bottle to 5 a.m. Tuesday, so here's me verrrryy early this morning: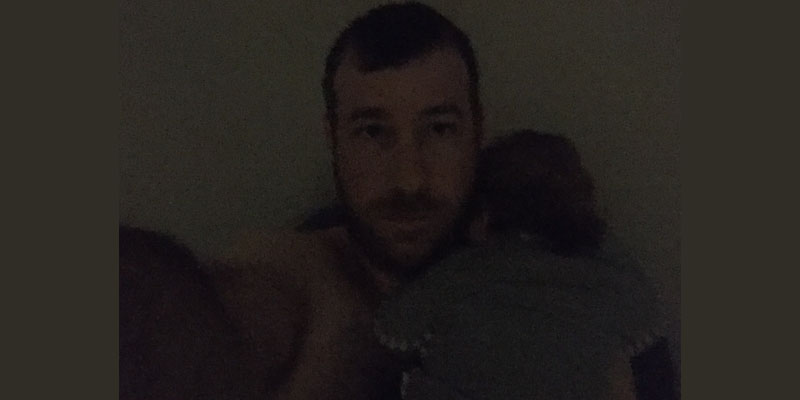 And here's a quick summary of what Christi looked like at the time: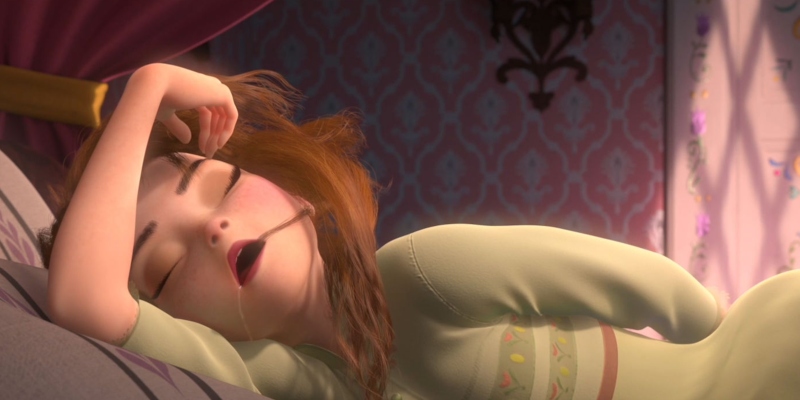 Note: I attempted to take a picture of Christi sleeping soundly at 5:30 a.m. to use above instead of the above image, but didn't realize she was facing me at the time. The flash on my phone went off, waking her up/scaring the s*** out of her.
That's what we refer to in the marriage game as "taking a bad situation and making it worse."
I'm going to try to kill three birds with one stone every morning and brush up on Harold Potter while feeding the baby with the strongest cup of coffee allowed under federal law. Again, it's going to be a long season.