How the Coin Toss Super Bowl Prop Was Invented
Credit:
Picture by Getty Images. Pictured: Brandon Graham, Fletcher Cox, Carson Wentz.
In the early 1990s, the Imperial Palace had to do what it had to do to market itself in the shadow of Caesars Palace, one of Las Vegas' premier places for lodging and entertainment, one that always seemed to innovate and stay relevant.
One of Imperial Palace's strategies was to draw people in through one-of-a-kind betting at its sportsbook, located on the second floor of its hotel, wedged on the strip in between names like Caesars, the Flamingo and the Mirage.
"It was a little sportsbook that wasn't exactly the most convenient place to get to," said Jay Kornegay, who now runs SuperBook Sports, but at the time was at the Imperial.
The Imperial tried to innovate at every level. They were the first book that allowed bettors to cash their horse racing bets at any window. They were the first book to do head-to-head matchups in golf. They were the first book to take bets on Little League Baseball, the rodeo and NASCAR. And if that wasn't enough, they also had a drive-thru.
But where they really made their name was in the Super Bowl prop market.
Kornegay had seen prop betting gain popularity ever since Caesars bookmaker Art Manteris offered a bet for Super Bowl XX on William "The Refrigerator" Perry to score a touchdown for the Bears in 1986. Perry did and the sportsbook lost $120,000 ($325,000 in today's dollars) on the prop.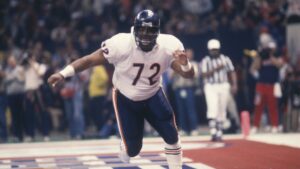 Five years later, Kornegay had so many prop bets for the Super Bowl, he and his team had to bring in more boards. A bettor would walk into the Imperial Palace in the week leading up to Super Bowl and find 300 prop options if they wanted to bet on something more than the spread.
"I remember a bettor drove from Los Angeles and said he had $20,000 to put on a bet and what did I suggest," Kornegay recalled. "I said I was on the other side of the counter for a reason. He landed on the coin toss and he actually won. I don't think he had another bet for the entire game. He was so thrilled."
The coin toss? How in the world did a legitimate sportsbook offer that prop?
Throughout the late 1980s, it was known that bookies were taking the prop, in part as a tongue-in-cheek joke for degenerate gamblers. But it was Kornegay and the Imperial Palace who made it famous.
The first year was believed to be 1994 when the Imperial Palace allowed bettors to wager on which team would win the coin toss. The Bills lost the coin toss and also, of course, lost the game.
The bet eventually shifted to heads or tails, but as the prop gained popularity, it didn't escape the eyes of the Nevada Gaming Control Board.
"They were concerned with whether it was happening on the field of play, which it was," Kornegay said. "And if it was being controlled by a human. The answer to that was yes, but the result was still random."
Over at Bally's, Johnny Avello, now director of trading at DraftKings, remembers the controversy.
"There were a couple of years we couldn't do it directly so we got around it by taking action on which team would run the first play," Avello said. "There was actually some knowledge needed because you had to consider what coaches could win a coin toss and defer versus take the ball first."
"I remember we had to build Belichick into the line," Kornegay said. "Because he would defer no matter what."
So what is the appeal of betting on the coin toss? Avello says there's actually some rationality.
"Now it's even odds on the coin toss," Avello said. "So there are some guys who reason that if the spread is refined at this point and you are paying the juice, a good bet is to bet on something that is 50/50 and pay the least money to bet it."
Long time oddsmaker Danny Sheridan likens betting the coin toss to filling out a bracket without having watched a single college basketball game all season.
"People who don't follow football are at a Super Bowl party and they want to have some action," Sheridan said. "They don't need to know anything to bet the coin toss."
This season, about 54% of the public's money is on tails, according to DraftKings. 46% is on heads.
In Super Bowl history, tails has won 29 times (52%) while heads has won 27 times (48%).
For what it's worth, there actually is an edge on the coin toss, at least according to a study conducted by Stanford professors in 2007.
The issue is, you won't be able to act on it as a bettor.
The professors concluded that when a coin is naturally flipped, it produces a bias of .01 to the side that it starts on.
That suggests that if a coin starts on heads, it has a 51% chance of hitting heads if it is naturally, not vigorously, flipped with standard rotation.
The NFL does not stipulate that a referee should start on either heads or tails, so the side to which the coin starts is completely random.
But, given the delay between real-time actions and when you can live bet them, it would be virtually impossible to see which side was upright, then be quick enough to get a live bet in.
How would you rate this article?
This site contains commercial content. We may be compensated for the links provided on this page. The content on this page is for informational purposes only. Action Network makes no representation or warranty as to the accuracy of the information given or the outcome of any game or event.