Raybon: After Watching Week 1, I Can't Help But Wonder …
Credit:
Gary A. Vasquez-USA TODAY Sports. Pictured: Patrick Mahomes
Is Patrick Mahomes Gonna Pull a Deshaun Watson?
Will the Cleveland Browns ever get out of their own way?
How worried should we be with Deshaun Watson's Week 1 struggles?
The NFL is the ultimate small-sample sport, and we all know a team or player can look completely different from one week to the next. But every week, there are just a few things you can't help but wonder about.
Here are mine for Week 1.
How Long Are the Browns Gon' Brown?
The Browns are +5 in takeaways today. Since the Browns returned to the NFL, teams with a turnover margin of +5 or better in a game are 132-4-1. The Browns are responsible for two of those losses and the tie.

— Bill Barnwell (@billbarnwell) September 9, 2018
The Browns simply couldn't gain yardage through the air. We all remember Josh Gordon's TD, but Tyrod Taylor completed only 15 of 40 passes for 197 yards and took seven sacks for 47 yards, so Cleveland's average pass play gained 3.2 yards.
ESPN's final box score about sums it up.
The Browns are an improved team and should eventually break through, but this is the Browns, so you gotta ask.
What Are the Chances the Browns Go 0-0-16?
Heading into Monday night, there have been 270 regular-season games played with the new 10-minute overtime rules in effect, and Browns-Steelers was the first tie.
Assuming a 1-in-270 (0.37%) chance to tie, the Browns' chances of going winless and lossless for the entire season is …. :
0.00000000000000000338488203290945%
So converted into Browns odds, about 50/50.
What Would be Worth More to the Steelers: Le'Veon Bell or a Platoon QB for Road Games?
It would never happen, but is still interesting to think about. Given the success the Steelers have had finding backs who can replicate Bell's production when he's not in the lineup and Big Ben's struggles on the road, would getting Home Ben for eight road games instead of Bell make them a better team?
And what is it with Ben on the road? Yes, his home splits spoil us to some degree, and, yes, it was windy, but he's good for a couple of these every year — and so are the Steelers in general.
Mike Tomlin seems to think if he scowls hard enough the problem will go away, but it keeps resurfacing.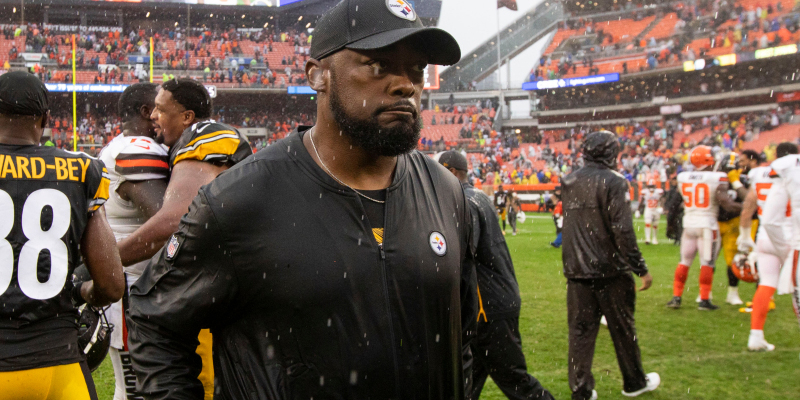 The more games the Steelers lose like this, the harder it is for them to secure home-field advantage throughout the playoffs
If Deshaun Watson Is the the Next RGIII, When Would We Know?
While most quarterbacks have returned just fine from ACL injuries, Griffin never seemed to be quite the same. But you wouldn't have known it early on from looking at his numbers: He threw for 320+ in each of his first three games back.
RGIII's decline wasn't just due to his ACL — he also knew just how to get himself rocked.
But even though Watson was bound to regress, seeing him look human has to put that thought in the back of your mind, especially since this was not his first torn ACL.
Is Patrick Mahomes Gonna Pull a Deshaun Watson?
Watson was essentially the Michael Jordan of fantasy football last season before he tore his ACL. Mahomes has the same ingredients, right down to the shaky defense. Let's just hope we get a full 16 [[knocks on wood]].
I also can't help but wonder: Even though he's probably learned a lot between now and then, if Mahomes was the quarterback in the second half against Tennessee in the playoffs, would the Chiefs have been able to score at least once and escape with a win?
What's Worse: Giving Up 47 Points to Joe Flacco or 48 to Ryan Fitzpatrick?
Baltimore's strategy of importing veteran receivers had hit a lull, but the Bills were so kind as to let each one of the 2018 class have an introductory press conference in the end zone — Michael Crabtree, John Brown and Willie Snead all scored.
Meanwhile, the Saints played like not taking out their own man again was the only thing they worked on on defense.
The Saints have tricked us before: We thought they were good in 2013, when they finished top-five in points allowed under Rob Ryan, and then they came back in 2014 and finished bottom-five in points allowed with the same group.
In the sense that the Saints were supposed to be Super Bowl contenders, they should be more worried, but if they can just hold opponents under 40, Alvin Kamara will probably do the rest.
Which offense scores more points? Nathan Peterman or Josh Allen quarterbacking this Bills offense for 60 plays, or Alvin Kamara running the wildcat for 20 and the Saints kneeling three times and punting for the other 40?