Is Julian Edelman Poised for the Best Fantasy Football Season of His Career?
Credit:
Photo credit: Christopher Hanewinckel-USA TODAY Sports. Pictured: Julian Edelman
Julian Edelman has been one of the Patriots' top pass-game weapons for years, but 2019 will be different without Rob Gronkowski. What should we expect from Edelman?
It's officially time to start fantasy football prep. I'll be answering the biggest questions heading into the 2019 season; this is part of that series.
---
The Patriots have consistently established themselves as one of the league's highest-scoring offenses for the better part of the 21st century. The constant factors have been Tom Brady and Bill Belichick, and the results have been nothing short of remarkable.
The Patriots have fielded a top-10 scoring offense in 15 consecutive seasons:

2004: 4th
2005: 10th
2006: 7th
2007: 1st
2008: 8th
2009: 6th
2010: 1st
2011: 3rd
2012: 1st
2013: 3rd
2014: 4th
2015: 3rd
2016: 3rd
2017: 2nd
2018: 4th

— Ian Hartitz (@Ihartitz) June 5, 2019
2019 will present a new challenge of replacing one of the most matchup-proof weapons the game of football has ever seen. No single tight end on the Patriots roster has anything close to the ability to replace the GOAT, Rob Gronkowski, so they'll instead need to rely on a cast of characters to pick up the slack and win in numbers.
Enter: Julian Edelman.
Last season's Super Bowl MVP has been one of Brady's most-trusted targets for a long time, and he'll be needed more than ever in 2019 without Gronk to consistently draw away the attention of the defense.
What follows is a breakdown on what to expect from Edelman next season, as well as what to make of his fantasy football value.
Edelman has aged well
Edelman's sterling stretch during last season's playoffs was a reminder that he's far from the downturn of his career. He balled out against each of the Chargers (9-151-0), Chiefs (7-96-0) and Rams (10-141-0), regularly proving too slippery from the slot to even think about covering with a single man.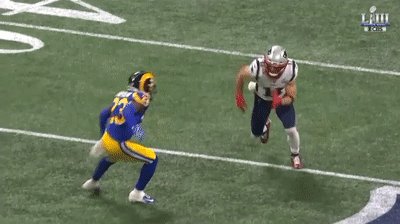 There have (coincidentally) been 33 instances of a 33-year-old wide receiver racking up at least 1,000 yards in a season since 2000, so Edelman doesn't need to overcome massive historical odds in order to ball out in 2019.
In fact, there's reason to believe Edelman is aging like a fine wine. There hasn't been a discernible difference in his efficiency since becoming a full-time starter in 2013:
2018: 1.95 yards per route run (No. 22 among all wide receivers with at least 50 targets, per Pro Football Focus)
2017: Missed the season with a torn ACL
2016: 1.98 (No. 16)
2015: 2.02 (No. 23)
2014: 1.91 (No. 23)
2013: 1.78 (No. 29)
Edelman set career-high marks in yards per reception (11.5) and yards per target (7.9) last season despite working alongside the worst version of Gronk the Patriots had ever seen.
The million-dollar question entering the 2019 season is whether or not we can expect the Patriots to continue to thrive without their beastly tight end.
Brady hasn't been great without Gronk
Brady has never exactly had a prolonged down period during his long and illustrious career, but he was particularly dominant when targeting his trusty tight end.
Rob Gronkowski (and Josh Gordon!) have easily been the most-efficient targets of Tom Brady's career.

For reference, the top-three rates among QBs and WR1s …
Russ Wilson – Tyler Lockett (10.95)
Patrick Mahomes – Tyreek Hill (10.58)
Jared Goff – Brandin Cooks (10.47) pic.twitter.com/CWNf0RzFzM

— Ian Hartitz (@Ihartitz) March 24, 2019
Kings stay kings, although Brady has always been a bit more vulnerable without Gronk on the field since the Patriots drafted him with the 42nd overall selection of the 2010 draft.
Brady with Gronk (112 games): 25.2 fantasy PPG | 2.2 TDs | 0.5 INTs | 8.01 Y/A | 66% cmp | 289 yards per game
Brady without Gronk (28 games): 21.4 fantasy PPG | 1.8 TDs | 0.6 INTs | 6.89 Y/A | 60% cmp | 260 yards per game
It's not as if Gronk benefited from an abundance of talented wide receivers during his career, either. Gronk led the Patriots in receptions (521), yards (7,861) and touchdowns (79) from 2010-2018.
The good news for Edelman's future fantasy investors is that he's managed to overcome the absence of Gronk thanks to enhanced volume:
Edelman with Gronk since 2013 (55 games): 17.7 PPR PPG | 11.4 targets| 7.3 rec | 85 yards | 0.32 TDs
Edelman without Gronk since 2013 (25 games): 15.8 PPR PPG | 9.4 targets | 6.4 rec | 70.7 yards | 0.38 TDs
The Patriots typically reload vs. rebuild, and Edelman's ability to be great amidst unproven pieces throughout the rest of the offense will be crucial for them to not miss a beat in the early parts of the season.
Add it all together and…
Edelman has one of the higher floors among all wide receivers
Edelman has worked as an upper-tier fantasy football producer for the better part of his five seasons as one of Brady's top targets:
2018: WR12 in PPR points per game (minimum eight games)
2017: Missed the season with a torn ACL
2016: WR17
2015: WR7
2014: WR14
2013: WR15
Edelman's current average draft position pits the Patriots' featured pass-game option as the PPR WR15. He's consistently met or exceeded that valuation over the past five years as long as he's managed to stay on the field.
It'd be surprising if Edelman receives 182 targets, which is what his per-game marks without Gronk would equal out to over the course of a 16-game season.
The only real threat to targets in the Patriots offense is recently-reinstated stud wide receiver Josh Gordon. Edelman did suffer a decline in production when "Flash" was on the field last season.
Edelman with Gordon (10 games): 15.8 PPR PPG | 9.2 targets| 6.3 rec | 71 yards | 0.4 TDs
Edelman without Gordon (5 games): 20.3 PPR PPG | 10.2 targets | 7.4 rec | 105 yards | 0.4 TDs
The good news for the projected workload of both Edelman and Gordon is that the retirement of Gronkowski (72 targets in 2018), along with free agent subtractions Chris Hogan (55) and Cordarrelle Patterson (28), has the Patriots heading into this season down 155 targets from 2018.
There's more than enough room in the offense for both Edelman and Gordon to eat in the passing game. Both are intriguing fantasy football assets in what figures to again be one of the league's highest-scoring offenses. Edelman's absurd floor would be a great addition for drafters who focus on running backs in the early rounds.
How would you rate this article?