Millman: Your Late-Season Guide to Betting Terrible NFL Teams
Credit:
Brad Penner-USA TODAY Sports. Pictured: New York Jets quarterback Sam Darnold (14).
It's rarely fun betting on bad NFL teams, but it can be profitable if done the right way.
Chad Millman explains how he's capitalizing on an NFL bottom dweller in Week 12.
The results started pouring between 4:00 and 4:30 p.m. on Sunday. They looked like election results scrolling across my NFL RedZone screen. So many losers!
I was bewildered, befuddled, bewitched. I knew this was coming, I had been checking the Action Network app incessantly during the game for live updates. I had more red dots on my screen than a kid who hadn't been vaccinated.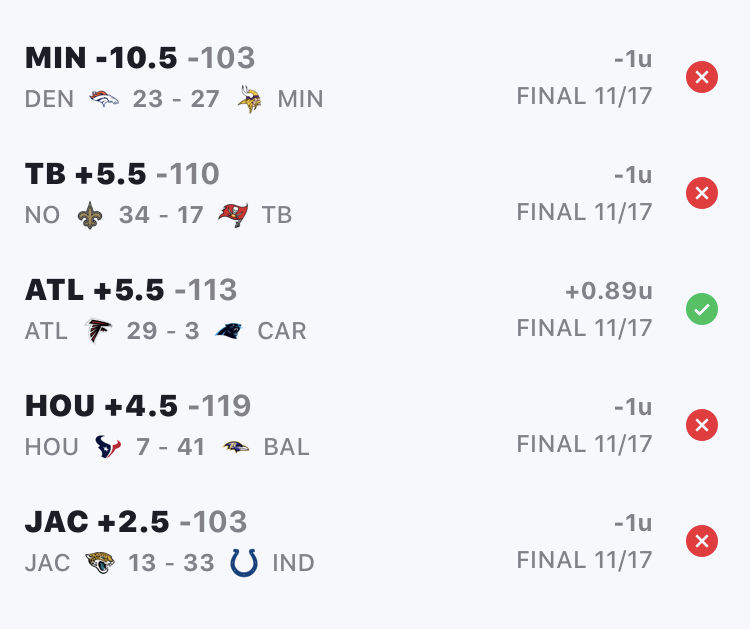 Betting the NFL means betting on bad teams. That's the facts, folks. An underdog at home? Sign me up. A double-digit dog on the road? Absolutely.
And this past weekend, well, the biggest publicly bet teams on the board laid waste to the win-with-bad-teams theory.
The Cowboys, Pats, Chiefs and Jets (don't forget, they played the Redskins) covered with relative ease, sending bookmakers into a tizzy and contrarian players like me to bed early.
🧹 🧹 🧹

NFL Week 11 Biggest Public Sides:

79%: Cowboys (-7) at DET ✅

74%: Patriots (-4) at PHI ✅

71%: Chiefs (-6) vs. LAC ✅

69%: Jets (+1.5) at WSH ✅ pic.twitter.com/AYjcvGTzKH

— The Action Network (@ActionNetworkHQ) November 19, 2019
I've been picking every game against the spread this season, and I'm doing remarkably well. My record is a very bloated 93-68 (that's nearly 58%, and if you don't believe me, follow me in the Action Network app at myaction.app/256orbust).
My strategy is pretty simple: look for short home dogs or short home faves, fade public perception, bet on the Patriots, always, and throw darts when it comes to the Bengals. I normally lock in my picks on Friday and Saturday.
What worries me most, as kickoff nears, is seeing the betting percentages for the teams I love creep higher and higher. The more I bet on a team, the less I want other people to love it.
There were some flukes on Sunday, though. The Niners picking up a loose ball with seconds left against Arizona and turning an easy Cards cover into a 10-point win for San Fran (a game that opened Zona +13.5 and closed 9.5; get the best of the number kiddos).
The Bucs loss to the Saints was particularly painful. On the Action Network betting podcast last week, our legendary analyst Stuckey made the convincing argument to Chris Raybon that the Bucs were the right side, and given their bad breaks this season (missed kicks, missed calls), they could easily have their losing record reversed. Then New Orleans took advantage of Jameis Winston's inability to tell the difference between pewter and gold and closed the deal with a pick six, just as the Bucs might have walked through the backdoor.
I'm a veteran bettor, so I'm not going to change my ways. By Sunday night I was scanning our app looking for lines that offered some advantage.
Which teams were blown out that bookmakers might think the public is going to fade? Which teams dominated that bookmakers wanted to shade?
I had my hunches (a perfect buy-low; sell-high scenario is the Texans as four-point favorites against the Colts on Thursday Night), but I wanted something more substantial.
I raised this question on our Monday morning, Action Network content call: At what point in the season should my instincts about a bad team being better than its record be substantiated with facts? Or vice versa: How do I substantiate my instincts to fade teams with winning records?
The editorial crew here is analytically inclined and decidedly better at betting than me. Normally my ideas get a brief, polite one-sentence consideration. But this time, the response was unanimous: Facts should be considered immediately. Next.
But I persisted, and eventually Stuckey, God love him, agreed with me. I think he even assigned me this story, even though I was angling for him to do it.
Rather than just prattle on about my instincts, the group decided I should base it on the Pythagorean wins theory. If you're not familiar, this is an old concept originally created by baseball analytics pioneer Bill James.
The theory was relatively simple: Using the number of runs a team scored and the number of runs it allowed, you could deduce how many wins a team should have. The delta between that number and their actual wins is an indicator of whether or not they exceeded expectations.
Get it?
Good. Because the same principles can be applied to any sport, including the NFL. Lucky for me, it gives my "instincts" a name, and something grounded in reality.
Also lucky for me, our genius BetLabs tool, which is a collection of millions of data points from the past 20 years distilled into betting systems (subscribe!), has a Pythag wins data set. This is what it looks like when you fade teams with winning records but negative point differentials (in Millman terms, teams that the public perceives as being good but I know better).
When I spin the wheel I get this as an answer for Week 12:
The Oakland Raiders on the road as three-point favorites against the New York Jets. The math adds up in multiple ways. The Raiders have scored 225 points and allowed 250 (eee gad).
Do I worry that I'll be betting on a bad team? I sure do. Am I worried that my hard-earned money will be in the hands of Sam Darnold? You betcha!
But am I going to do it? With confidence, not just because my instincts say so, but because the numbers do, too.
How would you rate this article?