NFL Injuries: How Much Jimmy Garoppolo, Saquon Barkley, More Injured Stars Are Worth To the Spread
Credit:
Getty Images. Pictured: Jimmy Garoppolo, Saquon Barkley, Christian McCaffrey
The NFL looks a lot different than it did less than seven days ago.
Two quarterbacks suffered injuries that will sideline them for at least one week, two premier running backs are out for at least three weeks, and the reigning Defensive Rookie of the Year is out for the season — and that's just scratching the surface of the league-wide carnage we saw in Week 2.
Three of the four experts whose projections help power our PRO Report run through how the biggest injuries — Saquon Barkley, Christian McCaffrey, Drew Lock, Jimmy Garoppolo and all the other 49ers — are impacting their betting power ratings (i.e. how much each injured player is worth to their team's spread).

Let's dive right in.
SKIP TO: Saquon Barkley | Christian McCaffrey | Drew Lock | 49ers
49ers Injuries
| Player | Injury | Status |
| --- | --- | --- |
| QB Jimmy Garoppolo | Ankle | Out for Week 3 |
| RB Raheem Mostert | Knee | Out for Week 3 |
| RB Tevin Coleman | Knee | Out for Week 3 |
| TE George Kittle | Knee | Out for Week 3 |
| DL Nick Bosa | Torn ACL | Out for season |
| DL Solomon Thomas | Torn ACL | Out for season |
| DL Dee Ford | Back | Out for Week 3 |
| CB Richard Sherman | Calf | Injured Reserve |
Sean Koerner
Sean is our Director of Predictive Analytics and has a 221-160-4 (58.0%) record on NFL bets he's tracked in the Action app.
Garoppolo is worth about 2.5-3 points to the 49ers' power rating.
Nick Mullens filled in for Jimmy G back in 2018 and was surprisingly adequate. That's likely due to Kyle Shanahan being a great coach and having a scheme in which a below-average talent can "fake it" in to a certain extent. During his eight starts in 2018, Mullens ranked 18th (out of 36 quarterbacks) in Expected Points Added per attempt and 24th (of 36) in QB rating.
If it were only Garoppolo who was hurt, the 49ers would be able to survive. But it's the cluster of injuries on both sides of the ball that has me worried. These are just some of the players they'll be without in Week 3 or longer:
Defense: Nick Bosa, Solomon Thomas, Richard Sherman, Dee Ford
Offense: George Kittle, Raheem Mostert, Tevin Coleman
That's nearly every key offensive and defensive player for the 49ers — you only ever see this occur in Week 17, when a team rests its starters because they have a playoff seed locked up already. Bosa alone is worth 0.5-1.5 points and his loss for the season will only be exacerbated by the cluster of injuries.
I would consider this a code red emergency, and I'm lowering the 49ers' power rating by 5-6 points overall.
Chris Raybon
Chris is a senior analyst and has a 269-206-16 (56.6%) record on NFL bets he's tracked in the Action app.
By far, quarterbacks will be the most impactful individual players as far as the spread is concerned, and it's extremely rare that we have a situation like this week, when the 49ers' rash of injuries is so extensive that I bumped them almost just as much for the injury onslaught.
I have Jimmy G worth 3 points more than Mullens.
Even though Garoppolo takes a lot of criticism — much of it warranted — the bottom line is that he's 20-6 as a starter for the 49ers with a cool 8.4 yard per attempt (YPA) average. Mullens has actually posted a strong 8.2 YPA, but over a much smaller sample size (285 attempts), and it comes with just a 3-5 record as well as an alarmingly-high interception rate (3.9%).
My adjusted power rating for San Francisco (+2.5) reflects the loss of Garoppolo and Bosa. But I'm also knocking them down another 2.5 points for all of their non-QB and non-season ending injuries … and the fact that they're playing their second straight game across the country .. and doing so on turf that they're understandably wary about.
I'd have a healthy 49ers team around -7 against the Giants, but after adjusting both the rating and spread, I'm down to 49ers -2.5.
Bosa alone is worth about 1.5 points, which is massive for a defense player.
Why such a big number?
The most surefire way to decrease a quarterback's passing efficiency is to pressure him, and pressure is maximized when achieved without blitzing, which allows the defense to dedicate extra defenders in coverage and leave the quarterback with nowhere to go with the ball.
The 49ers did this better than any team in 2019, pressuring passers at the second-highest rate (28.4%) despite blitzing at the fourth-lowest (20.9%), according to Pro Football Reference. And Bosa was at the forefront of it all, leading the team with 80 pressures, sixth-most in the league. Anytime you have a player who can directly impact passing efficiency for either his team or the opponent, that player will have a tangible effect on the point spread.
Bosa's ability to create havoc up front has a synergistic effect on all three levels of the defense, and his absence will surely be felt just as much — if not more — than Christian McCaffrey's in Carolina or Saquon Barkley's in New York.
It's fair to say Bosa warrants "heart and soul of the defense" status at this point, so the 49ers appear to be destined to suffer in the intangibles category as well. Especially having to play across the country for the second week in a row on the same exact MetLife Stadium turf that is to blame for part of the carnage, Kyle Shanahan will be faced with a tough task in getting his team to channel its emotions productively instead of entering regroup mode and overlooking the opponent.
In fact, their matchup against the Giants is a classic letdown spot for Shanahan's bunch: In games that the 49ers have been favored in after covering the spread the previous week, Shanahan is 1-8 (12%) against the spread, with the underdog pulling off the outright upset four times.
Stuckey
Stuckey is a senior analyst and has a 348-302-10 (53.5%) record on NFL bets he's tracked in the Action app.
Nick Mullens is a 2-point downgrade from Garoppolo. I'm not as high on Jimmy G as others, and the 49ers' style of play means that they can survive an injury to their starting QB more so than other teams.
However, the injuries don't stop there for San Francisco's offense.
The wide receiving corps has and interior offensive line have been hit. Oh and the 49ers will be without Kittle, Mostert and Coleman on Sunday.
We're still not done with San Francisco as the injuries on defense have been even more devastating. The 49ers lost Bosa and Thomas for the season. Meanwhile, Ford and Dre Greenlaw (quadricep) are out this week. The defensive line injuries, particularly Bosa, hurt so much for a defense that can generate as much pressure as any team in the NFL without blitzing. That sets the tone for the entire unit, which could be without 70% of its total pressures from 2019. Now that 70% includes the departure of DeForest Buckner, and while his replacement Javon Kinlaw has had a promising start as a rookie, the point remains the same.
San Fran also must make do without Sherman locking down one boundary for the next few weeks. Currently, this defense is simply a shell of the one we saw dominate all last season.

All in all, the 49ers could be down as many as nine starters on Sunday. Yes, nine! If fully healthy, I'd make the 49ers about a touchdown favorite against the Giants. Adjusted for injuries — including Saquon Barkley who I have worth about 0.75 points — I now make this line under a field goal, which makes the Giants a play at +4 (compare real-time lines here).
---
Return to the table of contents.
---
Broncos QB Drew Lock
Injury: Shoulder | Timetable: Out 2-6 weeks
Sean Koerner
Lock is worth about 2.5 points to the Broncos' power rating.
Jeff Driskel always seems to perform well whenever he's thrown into the fire. In Week 2, he played 83% of the snaps after Lock went down and nearly led the Broncos to a win against an elite Steelers defense. The combined loss of Lock and Courtland Sutton (season-ending ACL tear) lowers my Broncos' rating a total of 3-3.5 points.
Chris Raybon
I'm not as high on Lock as most and have been fading Denver hard all offseason, so Lock himself is worth only about 1.5 points for me. However, losing Lock combined with Sutton does bring the dock up to the 2-2.5 point range.
Lock is a quarterback whose rating I was anticipating increasing as the season wore on, as I do think his aggressiveness and ability to extend plays gives him some upside when coupled with explosive playmakers like Sutton, Noah Fant, Jerry Jeudy and K.J. Hamler, so it's a shame Lock won't get to play with those guys healthy at the same time as Sutton.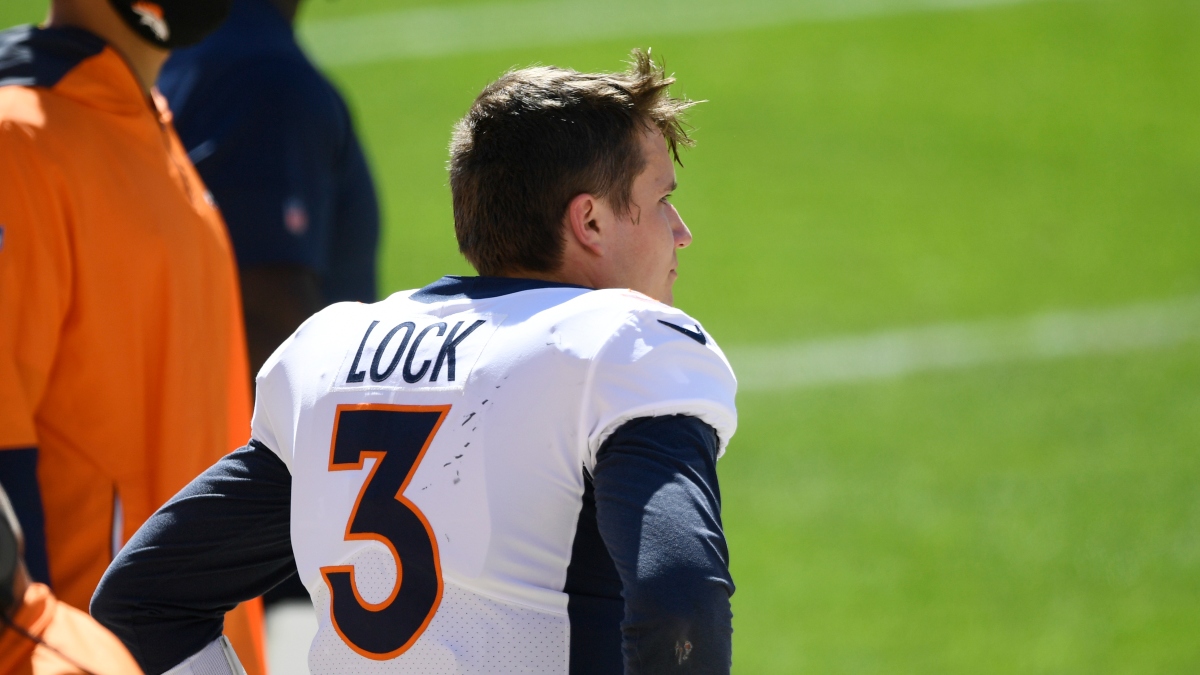 Lock still struggles with decision-making (and difference-making), and I worry that this injury and the loss of his top wide receiver will hinder Lock's development and delay the leap that many were expecting.
Lock hasn't shown much in his career to warrant as much of a shift as some like Garoppolo, but the biggest hit the Broncos take with Driskel at quarterback comes by way of sacks. Behind a shaky offensive line, Lock has been adept at avoiding sacks, taking only six sacks on 200 career dropbacks — good for a stellar 3.0% sack rate — which would have led the league in 2019 if extrapolated over a full season.
Driskel, on the other hand, has been sacked 33 times in 348 career dropbacks, resulting in a whopping 9.8% sack rate. Driskel is only 0.3 career yards per attempt worse than Lock (6.2 vs. 6.5) and trails Lock by only 0.3% in career passing touchdown rate (3.8% vs. 4.1%), but the difference in sack rate will directly impact that yard-per-play efficiency of an increasingly banged-up, inexperienced offense with a shrinking margin for error.
That being said, it appears that the market has over-adjusted, as the line for their Week 3 home matchup against the Buccaneers sits at Broncos +6 while I make them a +4.5 underdog after adjustment. Moving the spread 2.5 points against Denver while adjusting the total down only one point has had the effect of giving Tampa Bay's offense an undue boost in a tough spot on the road in what has been the most profitable under stadium over the past half-decade: Mile High Unders are 25-15-1 (60%) since 2015 — including 12-3 when the visitor enters with an over streak of any length (both Bucs overs have hit so far this season) — according to our Bet Labs data. I have the total at 41, about two points below the market as of Friday (find real-time odds here).
Stuckey

I've adjusted the Broncos down more than a field goal from their initial power rating as a result of injuries, including No. 1 cornerback AJ Bouye (shoulder/IR) as well as their best overall defensive player in Von Miller before the year even started, although I accounted for Miller's loss prior to Week 1.
---
Return to the table of contents.
---
Giants RB Saquon Barkley
Injury: Torn ACL (IR) | Timetable: Out for season
Sean Koerner
When the Giants spent the second overall pick to draft Barkley in 2018, it sparked the #RunningBacksDon'tMatter debate. While it is true (to an extent) that individual running backs can only impact the game so much, the more apt way of putting it would be "only QBs matter."
Barkley is one of the few backs that can impact the spread, however, and I would value his worth around 1 point. The Giants brought in Devonta Freeman, who should form a competent duo with Dion Lewis that can help prevent too much of a drop-off.
---
Check out our NFL PRO Report, where we highlight betting edges based on large wagers, historically profitable betting systems, model projections and expert picks.
---
Chris Raybon
I have Barkley worth 1 point — which is pretty high for a running back.
The bottom line is that rushing doesn't impact the game nearly as much as passing, as the difference between elite and replacement-level is less than 36 inches per attempt.
Barkley is a feast-or-famine runner who makes big plays but doesn't consistently give the Giants a sustained rushing attack, and he even offsets some of his receiving value by being a liability in pass protection: He cracked the top 15 running backs in pressures allowed (6) last season despite missing three games, according to Pro Football Focus' charting.
Still, Barkley's big plays — while unreliable and not bankable from a predictive standpoint — still do carry value when they occur.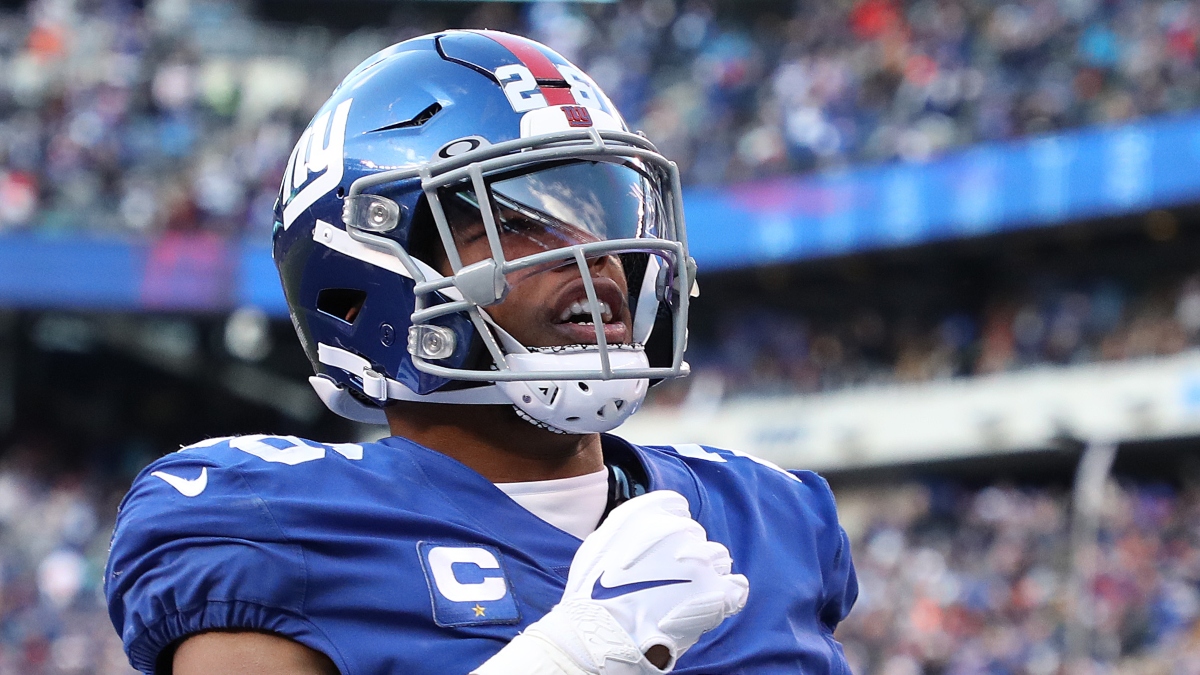 That said, I believe Barkley's absence will be most strongly felt in the manner in which defenses game plan. Barkley would always be the No. 1 priority for the opponent, which opens things up for players like wide receiver Darius Slayton, who would arguably be a bigger loss for quarterback Daniel Jones than Barkley at this point.

In fact, when I say Barkley is worth 1 point, what I'm really saying is that I expect the lack of his presence to lead to a slight decrease in efficiency for Jones as defenses dedicate more resources to stopping Slayton and Evan Engram. Long-term, though, this may be good for Jones, as he will finally be able to run an offense built around him rather than one built around a running back (which is obviously not a good idea if you don't have the offensive line for it).
---
Return to the table of contents.
---
Panthers RB Christian McCaffrey
Injury: High ankle sprain (IR) | Timetable: At least three weeks
Sean Koerner
CMC is the most valuable running back in the league and is worth right around 1.5 points.
Mike Davis will try his best to fill-in for CMC in the meantime, but is nowhere near as talented. This could be the turning point of the Panthers season: If they start 0-6, they won't try to rush CMC back and could instead tank for Trevor Lawrence.
Chris Raybon
Unlike Barkley, McCaffrey rarely has an unproductive game, and he accounts for an even bigger chunk of volume in both facets than Barkley, so I have McCaffrey worth 1.5-1.75 points.
Anytime you have a back who not only carried 287 times for 1, 387 yards and 15 touchdowns, but also added another 1,005 yards on 116 catches as a receiver, it's almost like losing two players — not one.
With that being said, McCaffrey still averaged a pedestrian 7.1 yards per target, which perfectly illustrates why running backs will never carry the same value as quarterbacks. While 7.1 is very good for a running back — collectively averaged 6.0 last season — it still still below the league average yards per pass attempt as a whole (7.2 last season), as well as the per-target yardage expectations for wide receivers (8.1) and tight ends (7.4).
Still, McCaffrey separates himself with Barkley (and the rest of the NFL) by making his touches count: While Barkley has produced a first down on 143-of-646 career touches (22.1%), McCaffrey has moved the chains on 281-of-974 career touches, good for a rate of 28.9% — more than six percentage points higher than Barkley.
After adjustment, my number for the Panthers' Week 3 matchup on the road against the Chargers is Los Angeles -6.5, which is line with the market. There could be value on this total, though, as McCaffrey's absence decreases Carolina's scoring expectation in a game that also features an L.A. squad leading the NFL with 41.5 rushing attempts per game, with a head coach in Anthony Lynn who has led the Chargers to an 18-7 under record at home since taking over in 2017.
---
Return to the table of contents.
---
How would you rate this article?