NFL Betting Picks: Breaking Down the NFL's Best Buy-Low & Sell-High Spots for Week 3
Credit:
Rob Carr/Getty Images. Pictured: Carson Wentz.
Week 3 offers plenty of buy-low and sell-high opportunities across the NFL betting board.
One of our senior analysts, Stuckey, outlines his full betting card for Sunday's action below.
Find out why the 0-2 Eagles and Vikings are among his favorite picks of the slate.
'Twas a great Week 2, but you're only as good as your next Sunday, so it's on to Week 3. Similar to last week — and frankly most weeks of the NFL season, especially over the first month — there will be spots to buy low on certain teams and sell high on others.
These Week 3 ATS stats since 2003 back up that sentiment (h/t Bet Labs):
Teams that fail to cover in both Weeks 1 and 2: 76-55 ATS (58%)
Teams that didn't cover in the first two weeks and lost both outright: 56-36 ATS (60.9%)
Both apply this week to the Vikings, Jets, Panthers, Texans, Lions and Eagles. Not surprisingly, most people likely want no part of betting any of those six teams after the first two weeks.
For what it's worth, the Browns, Titans and Cowboys fit the criteria of the first bullet but not the second.
The secret sauce is obviously finding the winners from that group based on scheme matchups, injuries, situational spots, and ultimately, the discrepancy between my number and the spread.
Let's take a closer look at which of those six teams intrigue me this weekend and then dive into the rest of Sunday's slate.
Week 3 Buy-Lows
Bengals at Eagles -4.5
It pains me to put money down on the dumpster fire formally known as the Philadelphia Eagles, but the hate has gone too far in the betting market relative to my numbers.
Look, I hated this Eagles team coming into the season and loaded up on their season win total under and bets to miss the playoffs. Adding an aging Darius Slay was not going to solve any problems for a defense that has a pitiful linebacker and safety group. The offensive line injuries haven't helped (the Eagles will have a third different starting combo in three games on Sunday) and neither has Carson Wentz, who's unquestionably been the worst quarterback in the NFL so far this season. He has the worst Football Outsiders' DYAR over any two-game stretch by any quarterback over the past 10 years.
That said, I was just as low on the Bengals coming into the year. I think the Bengals found their franchise quarterback in Joe Burrow, but it will take time. Cincy still has a horrendous defense and the worst offensive line in the NFL.
Again, I'm not happy about it, but I have to play the Eagles here under six based on my number. Philly is a little healthier, and Wentz could simply hand it off and lob it to his tight ends to move the ball against this welcoming Bengal defense. On the other side of the ball, Philadelphia's elite defensive line should dominate the line of scrimmage and bother Burrow all afternoon.
Let's just hope Joe doesn't backdoor us again.
[Bet the Eagles now at Parx and get a 20% profit boost + a $500 risk-free bet on your first wager.]
Link your Parx and Action accounts so your Eagles-Bengals bets automatically sync over to the app.
Titans at Vikings +2.5
I went into Week 2 as low as anybody on the Vikings. The offense just doesn't have the same pop without Stefon Diggs on the other side of Adam Thielen. And Mike Zimmer just doesn't have his usual stout defense with a very raw group of corners and a decimated defensive line. Losing linebacker Anthony Barr to injury this past week also doesn't help.
However, it may be time to jump back on board as the market has seemingly oversold SKOL.
The Titans moved to 2-0 for the first time since 2008 but it hasn't been pretty. They have wins over Jacksonville and Denver by a combined five points on two game-winning field goals by the recently maligned Stephen Gostkowski. They lost the yards per play battle in both games.
The pass rush still isn't there (29th in Adjusted Sack Rate), and the secondary has been hit hard by injuries. That has forced seventh-round draft pick rookie Chris Jackson into a lot of work at corner. It has not gone well. Jackson has arguably been the worst-performing corner in the NFL through two weeks.
AJ Brown does scare me a bit against the Vikings secondary, but Kirk Cousins should have time to go to work and rebound against an undermanned Tennessee secondary.
Even then, Brown and tight end Jonnu Smith might be held out of action this weekend, as neither player practiced on Wednesday.
I bought the Titans -2.5 earlier in the week, thinking this line would get to three or higher. My plan was to then buy back for a bigger position on the Vikings +3. A three-point win would just be a cherry on top.
If we never get +3, I may buy the hook (if -125 or less) or use them as an ideal Wong teaser piece.
After the Friday injury reports, I think the teaser is the way to go. Yes, AJ Brown is out but the Vikings situation at cornerback is dire.
[Bet the Vikings now at DraftKings and get a $1,000 bonus, including a $500 risk-free bet]
Panthers +6.5 at Chargers
I wasn't very high on Carolina coming into the year, but the brand-new coaching staff has done an outstanding job given the circumstances with a roster full of turnover after not having a preseason. The Panthers remained competitive in each of their first two games.
Now, Matt Rhule and company will have to make it work without Christian McCaffrey. Not ideal, but I think the Panthers have enough weapons to stay close with a Los Angeles team that isn't really built to cover as a large favorite with their style. It's also fair to expect some rookie mistakes from likely starter Justin Herbert.
I also wouldn't be shocked if the Chargers came out a little flat against an inferior opponent in an empty stadium after a heartbreaking overtime loss to the Chiefs, with a road trip to take on the Bucs and Saints on deck.
I make the Chargers a tad shy of seven-point favorites, so I would only get involved if you can get Carolina at a touchdown or greater.
If you're new to betting NFL, check out my tips for beginners on when and when you should and shouldn't buy points in the NFL.
[Bet the Panthers now at DraftKings and get a $1,000 bonus, including a $500 risk-free bet]
Texans +4 at Steelers
Coming into this week, I was ready to fire on the Texans in the ultimate buy low spot after starting out 0-2 against the two best teams in the NFL. Just a brutal early-season schedule for Houston, which now has to play another top team in the conference, this time on the road.
But the early movement on this line just didn't cooperate. I make this Steelers -5.5, so I can't take Houston at lower than that. This is a prime example of why the value in the number will always reign supreme.
Despite a 2-0 start, the Steelers haven't necessarily looked sharp in their first two games against overmatched Giants and Broncos teams. The offensive line has dealt with a few injuries, and Ben Roethlisberger has looked rusty at times. However, this just isn't a great matchup on paper for Houston. Deshaun Watson holds onto the ball for so long, which spells doom against a Steelers defensive front that can generate pressure at an elite level.
I also haven't been overly impressed with anything that Houston's new defensive coordinator Anthony Weaver is doing scheme-wise to compensate for a subpar secondary.
I'm still intrigued by a Texans team in a good spot with an elite quarterback, but I'll simply be on the outlook for something live to pop based on what I'm seeing. Getting +7 or better would be my target.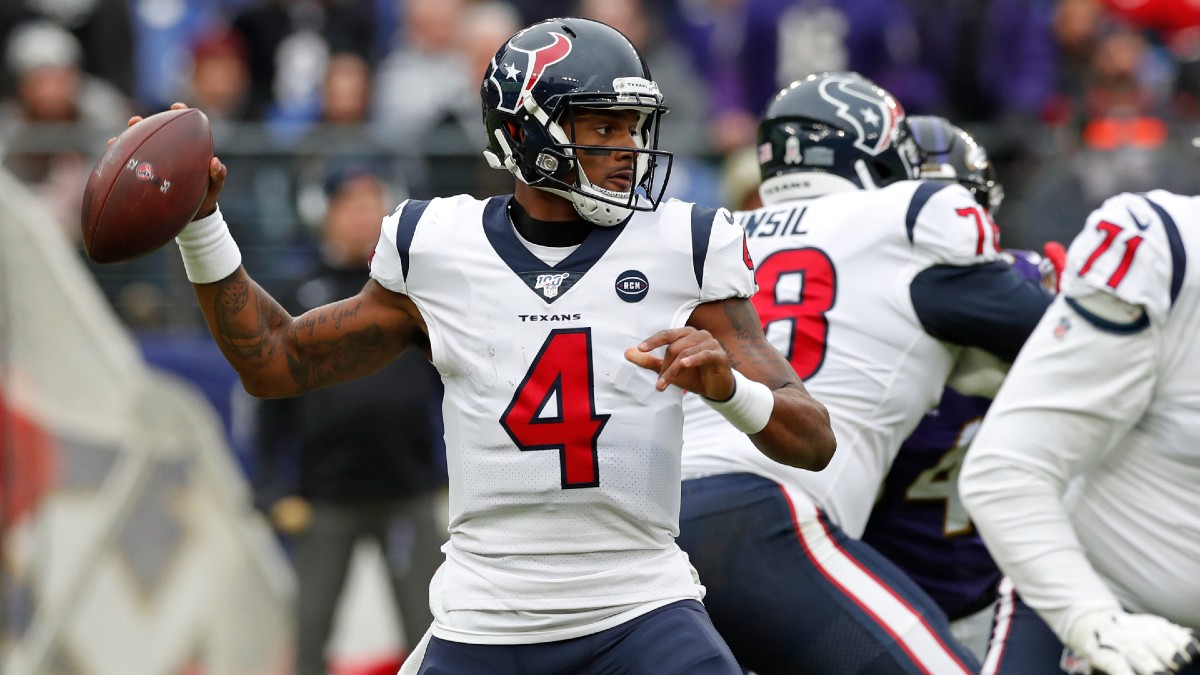 [Bet the Texans now at Parx and get a 20% profit boost + a $500 risk-free bet on your first wager.]
Link your Parx and Action accounts so your Steelers-Texans bets automatically sync over to the app.
Lions +6 at Cardinals
Kyler Murray is obviously a difference-maker and looks more comfortable in his sophomore campaign. I've also been impressed with the Cardinals in a few different facets on defense so far this year. (Although it's likely too soon to jump to any real conclusions.)
On Sunday, they'll try to improve to 3-0 in a home game against the winless Lions.
On paper, this is an ideal buy low spot on the Lions, who blew a huge lead against the Bears in Week 1 and then got crushed by the Packers in Week 2. In true Lions fashion, they actually became the first team in NFL history to lose four straight games in which they led by double digits.
I honestly don't take too much from either one of those losses. Detroit just needs to get healthy. Without losing three starters on defense in the opener, the Lions in all likelihood hold on against Chicago. And they just didn't have a shot in Week 2 without two starting offensive linemen, their No. 1 receiver, starting defensive tackle and two starting corners with rookie Jeff Okudah suiting up for the first time in the NFL.
I likely can't put any money down on this game with all of the injury uncertainty on Detroit's side. Plus, I project this game right around where it currently sits. As of now, this looks like a pass pregame. If it gets to +7, I'd bite. If not, Detroit will be on my Sunday live radar.
[Bet the Lions at FanDuel completely risk-free for $1,000]
Jets +10.5 at Colts
This is the ultimate buy low spot on the Jets after two blowout losses. For reference, 0-2 ATS teams that have failed to cover by an average of at least five points in their first two games have gone 50-26 (65.8%) ATS since 2003.
However, some teams are just worth avoiding at all costs. Think back to some of the worst Browns teams that failed to cover week after week (usually costing me money). The Jets might be one of those teams in 2020. Plus, I make this line Indianapolis -10.7 after adjusting for the Jets extreme injuries at wide receiver, so this spread looks about right to me.
I do think the Colts are a safe survivor pick and viable moneyline parlay piece. I personally paired the Colts with the Ravens in a moneyline parlay.
(Check out our Monday morning podcast episode for all of my thoughts on that AFC Monday night showdown.)
[Bet the Jets now at BetMGM and get a $500 INSTANT deposit match]
Week 3 Sell-Highs
On the other end of the spectrum, we have a number of 2-0 teams that I think come in with inflated market perception that I'm looking to take on.
Cowboys +5 at Seahawks
In true Seahawks fashion, even with Russell Wilson playing a near-perfect game, they won another one-possession game last week after the Patriots failed to run a QB sneak for the win. For the second straight game, Seattle was outgained by its opponent and has now allowed the third-highest average yards per play rate in the league at 6.7. It's a tiny sample size against two solid offenses, but the defense undoubtedly has holes for Dallas to exploit.
Jamal Adams and Quinton Dunbar were major upgrades for the defense, but it will take some time for that secondary to gel. Losing Marquise Blair doesn't help matters, either. Plus, Seattle still has an awful defensive line that doesn't really generate pressure and now won't have Bruce Irvin (ACL).
The injuries for Dallas are concerning and worth monitoring, but the Boys still shouldn't be a five-point underdog here. Coming into the season, I made the Cowboys -1.5 in this spot. I've since adjusted both teams for personnel and production but still don't even get to Seattle -3.
Even with all of their injuries, the Cowboys had a chance to beat the Rams in Week 1 if not for a curious fourth-down play call and questionable penalty late in the game. Yes, they had a miraculous comeback against the Falcons, but let's not act like they didn't dominate that game. Dallas finished with 200 more total yards and almost a full 2.0 yards per play advantage. Atlanta benefited from extremely good fortune on fourth downs and early fumbles.
Yes, Russ will cook, but the Cowboys should also eat. This one should come down to the wire like most Seattle games, so I'll gladly take this generous price. If Dallas gets some key pieces back healthy, that will just be an added bonus.
Interesting pace clash here between the speedy Cowboys and slow Seahawks.
[Bet the Cowboys now at BetMGM and get a $500 INSTANT deposit match]
Packers at Saints -3
The Packers offense has hummed through two weeks.
They became just the third team in NFL history to score 40 points in each of their first two games of a season.
They also joined the 1991 Bills as the only two teams to ever eclipse 85 points and 1,000 yards in their first two games.
Still, it's been humorous to watch the Packers perception shift after just two weeks. First, we only heard about how much they over-performed last season. Then, the conversation shifted to jokes about their 2020 draft. Two logical sentiments.
Well, the public narrative has already done a complete 180. The Packers are apparently now ready to win the Super Bowl.
What exactly happened? They beat the Vikings and Lions — two winless teams with raw secondaries. You've got to love the extreme weekly perception swings in this league.
Meanwhile, everybody just watched the Saints lay an egg on Monday Night Football in a loss against the Raiders. I faded the Saints in that game but this over-reaction is severe. New Orleans also wasn't very crisp in its season-opening win against Tampa in a very misleading box score thanks to special teams and turnovers.
However, I do expect the Saints to rebound at home this Sunday night in a good buy low spot.
For the trend players out there, history suggests Sean Payton will have his guys ready. Payton is 30-18 ATS (62.5%) after a loss for an impressive 22.4% ROI, covering by an average of 3.57 points. He's the third-most profitable coach out of 128 in our Bet Labs database since 2003.
Things won't be as easy this week for Aaron Rodgers, who will face a real NFL secondary — not one full of rookies — for the first time this season. The Saints actually have corners capable of hanging with Devante Adams, but he likely won't even suit up on Sunday night with a hamstring injury.
Even after giving a small bump to the Packers (although not much based on opponents), accounting for Brees' issues and assuming no Michael Thomas, I still make this line New Orleans -4.9 at home after a short week.
In regards to Brees, his slow start definitely should cause concern in the Big Easy. The aging QB has displayed worrying signs in recent seasons but primarily later in the year. Struggling this early raises even more red flags.
Everybody can see the arm strength has deteriorated, but that isn't super important in New Orleans' short-passing attack offense. However, accuracy is critical, and that simply hasn't been there for Brees through two games. Maybe it's more rust than age, but I think he's going downhill quicker than most realize.
Even with a less effective Brees, the Saints still boast one of the NFL's most talented and deepest rosters. They just played an awful game full of sloppy mistakes in Vegas. Those happen.
The short passing attack — and especially the running game — should excel with ease against a Packers defense that can still be gashed on the ground. Green Bay's poor run defense has gotten off the hook in the first two weeks as a result of big leads throughout, which plays right into its defense's hands.
I don't envision the Packers ever running away with this game. If they do, I'll tip my cap.
I bet Saints -3 (-110) earlier in the week and would bet anything under -4. Don't be surprised if the Saints run wild on Sunday night.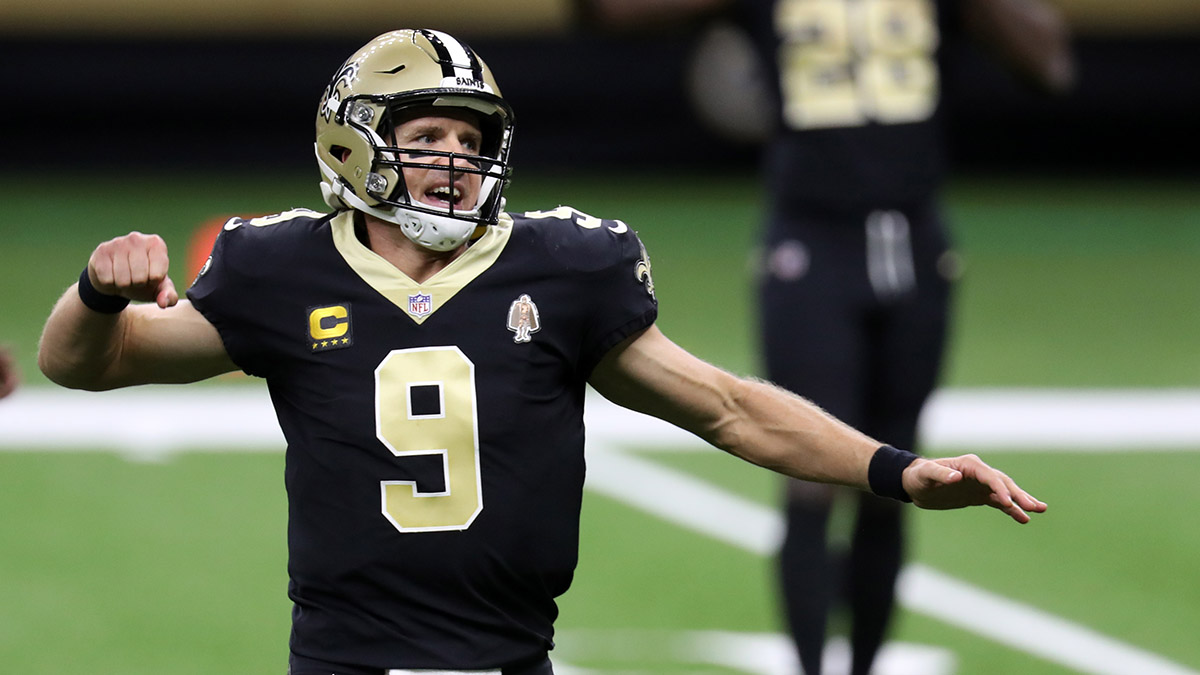 [Bet the Saints now at DraftKings and get a $1,000 bonus, including a $500 risk-free bet]
Bears at Falcons -3
Chicago has to be one of the most fraudulent 2-0 teams we've seen in quite some time. It had a miracle win against the Lions after multiple key Detroit defensive starters left the game before the fourth quarter. And the Bears still had to dodge a dropped wide-open pass on the potential game-winning touchdown in the final seconds.
In Week 2, the Bears also had to hold on for dear life for a home win over the Giants. New York also had a shot at a game-winning touchdown in the final seconds.
The fortunate 2-0 start did not change my outlook on the Bears one bit. I'm still extremely low on the offense and think the defense is a bit overrated.
This is still an offense with Mitch "Bortles" Trubisky at the helm. He did nothing against the healthy Detroit secondary for three quarters and then went 5-of–10 for 26 yards with two interceptions in the second half against the shaky New York secondary. And one of those completions went to an offensive lineman on a tipped ball into double coverage on fourth down.
Luckily for Trubisky, he'll get to face another quarterback-friendly defensive backfield in Atlanta. In fairness, he has had some success in the past against bad defenses. However, I just don't think he can keep up with Matt Ryan and the much more potent Falcons offense.
The Falcons are off to an 0-2 start but played two very good NFC teams and just couldn't get a bounce when they needed one in either game — whether it be on fourth downs, turnovers or an onside kick.
Since I make this line Atlanta -4.5,  I'd play the Falcons at a flat -3 or better. If not, they may serve as a worthy moneyline parlay piece. However, I'd wait to see if Julio Jones gives it a go. If he can't this drifts closer to a pass.
[Bet the Falcons at FanDuel completely risk-free for $1,000]
Raiders at Patriots -6
What a superb spot to fade the 2-0 Raiders after an emotional upset victory on Monday night. Now on a short week, they must travel across the country for an early kick against a Patriots team coming off of a loss.
Even if you ignore the early start and cross-country trip, the short week especially hurts the Raiders with the overall coaching mismatch in this one. It's also just generally tougher for the inferior team to head out on the road with one less day of preparation. Since 2003, road underdogs of six or more points in this spot have gone 16-27-1 ATS (37.2%).
Plus, it's the perfect setup to bet a bitter Bill Belichick, who owns a ridiculous 34-13 (72.3%) ATS mark for a cool 43.6% ROI after a straight-up loss since 2003. He's covered those games by a silly 5.73 points on average.
Imagine not betting on bitter bill the week after a loss. This man has already watched film of every Darren Waller snap since middle school three times in slow motion. pic.twitter.com/ok5CqxhlWe

— Stuckey (@Stuckey2) September 23, 2020
You also might imagine Belichick has exceeded oddsmaker's expectations at a high frequency in Foxboro. He's 79-52-6 ATS (60.3%) at home, covering by 3.37 points on average.
In both scenarios, he's been the most profitable coach to back of the 128 coaches in our Bet Labs database since 2003.
I also love the matchup on the field. Check out more insight on that front in my game preview.
I actually wouldn't have bet this game if I based the decision solely off of my raw power ratings. However, after adjusting for the matchup and spot, I saw enough value to bet the Patriots -6 (-110).
I'd play anything under seven. I also used the Patriots as my survivor pick in this ideal matchup and situational spot for New England.
The injury to center David Andrews does concern me some. He's great in the middle of that offensive line and the re-shuffling could cause some issues. That said, the injury report looks much worse for the Raiders, who will be without their starting left guard and right tackle in addition to wide receiver Henry Ruggs. Darren Waller and Josh Jacobs are also listed as questionable — but I do expect both to suit up.
[Bet the Patriots now at DraftKings and get a $1,000 bonus, including a $500 risk-free bet]
The Rest
Bills at Rams -2.5
The Rams have no doubt been very impressive to start the year, but they could've easily lost to the Cowboys before beating up on an Eagles team in disarray. I've made some positive adjustments to their power rating, but let's slow our roll on the Rams love.
I still make this a hair under Buffalo -4, so I obviously fancy anything under a field goal. Josh Allen is playing at a very high level to start the year and starting linebackers Tremaine Edmunds and Matt Milano both practiced on Wednesday after missing last week. That's a great sign for this week against the Los Angeles tight ends. The Bills obviously have the corners and safeties to match up with LA's receivers.
The pass rush could also decide this game. Buffalo not only has the better offensive line, but its defense also boasts the No. 1 overall Pass Rush Win Rate, while the Rams come in at No. 30 despite facing two unhealthy offensive lines.
I know McVay is 5-0 in the 1 p.m. ET time slot (meaningless sample size), but the Rams had to travel back to Los Angeles after their game in Philadelphia. Not an ideal travel situation as they normally would've stayed on the east coast.
[Bet the Rams now at DraftKings and get a $1,000 bonus, including a $500 risk-free bet]
49ers at Giants +4
I played the Giants +4 and Under 41 here.
I know New York lost Saquon Barkley, but the run game was nonexistent against Chicago last week. The Giants can at least now play someone who can pass block in the backfield.
I don't love the Giants for any particular reason other than this is too many points against a completely decimated 49ers team that has lost key pieces on both sides of the ball. On defense, the 49ers have lost over 70% of their pressures from last season.
On offense, the 49ers have lost their starting QB, two top backs and multiple receivers. They also have issues in the interior of the offensive line and may not have George Kittle available. This should be an ugly slugfest with a heavy dose of the running game from San Fran. That bodes well for a Giants defense that's much stronger against the run.
It's worth noting the 49ers stayed in West Virginia in between their two games in East Rutherford. I think they'll be cautious with all of their questionable players on this field.
[Bet the Giants now at DraftKings and get a $1,000 bonus, including a $500 risk-free bet]
Washington at Cleveland -7
Make sure you monitor the injury news for the beat-up Cleveland squad, especially along its offensive line, which will have to contain an elite Washington defensive front. Ultimately, this is a pure pass from me, as I think the line is spot on. Cleveland does have extra prep for this second straight home contest after a Thursday night game. Meanwhile, the Washington Football Team will travel from Arizona for its second straight roadie.
[Bet the Browns now at DraftKings and get a $1,000 bonus, including a $500 risk-free bet]
Favorite Week 3 Over/Under
Buccaneers-Broncos Under 43.5 is my favorite total of the week.
Even without Von Miller and AJ Bouye, the Denver defense has held its own against two of the better teams in the AFC. You can see the effect of Year 2 in Vic Fangio's scheme.
The Bucs offense is still a work in progress with Tom Brady. I'm sure they'll exploit the mismatches on the outside against the bend-but-don't-break Broncos defense, but they may struggle to finish drives with touchdowns. I envision a few drive-killing bad throws from Brady, who needs more reps in this Bruce Arians scheme.
On the other side of the ball, the Broncos lost starting quarterback Drew Lock and star wide receiver Courtland Sutton to injuries last week. This is an extremely undermanned group going up against a legitimate top-10 Todd Bowles defense.
Neither team wants to play particularly fast, which should help the under in a game where I think we see a plethora of punts and field goals. I also played some under 21.5 for the 1H. I'd also love to get Denver +7 or better in a game in which I think points will come at a premium, making the home pup even more valuable.
[Bet the Broncos-Buccaneers under now at BetMGM and get a $500 INSTANT deposit match]
Week 3 Betting Targets
Vikings +3 or better
Eagles -6.5 or better
Broncos +6 or better
Patriots -6 or better
Bills -2.5 or better
Panthers +7 or better
Cowboys +4 or better
Falcons -3 or better
Giants +4 or better
Texans +7 or better live
Lions +7 or better live
Broncos-Buccaneers Under 43 or better
Giants-49ers Under 41 or better
---
NFL Week 3 Sportsbook Promos
How would you rate this article?