The NFL's Most Marketable Stars
With the NFL season well underway, all eyes are on the early Super Bowl favorites, the Tampa Bay Buccaneers, who aim to claim the championship for the second year running. But which individuals are stealing the show between games?
Analyzing 20 different factors across three core metrics (social media performance, audience performance, and overall likability), we've been able to determine which stars are the most marketable across the NFL, along with which hold the most influence on social media.
Who makes the top-five?
We've outlined the top-five most influential NFL players based on social performance, audience rating, and overall likability.
1. Tom Brady, Tampa Bay Buccaneers QB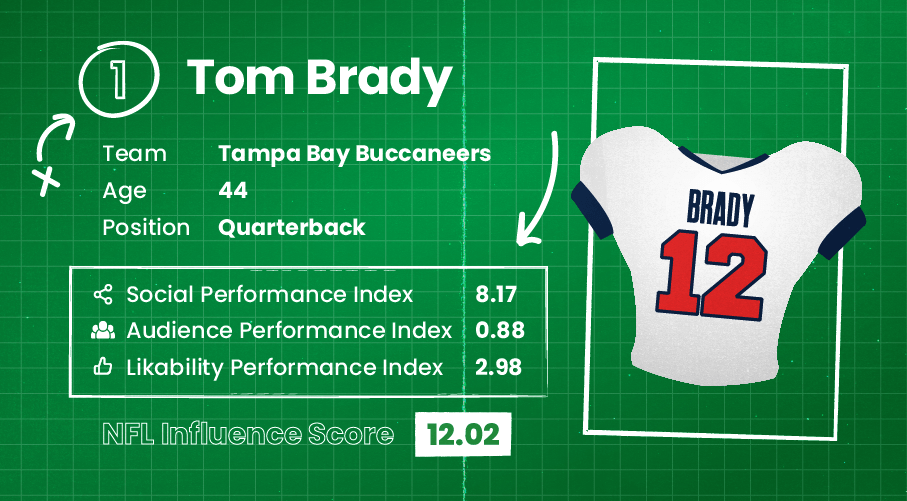 Unsurprisingly, the most marketable NFL superstar is the GOAT Tom Brady, who holds the record for most Super Bowl appearances (10) and Super Bowl MVP performances (5). The veteran quarterback tops the charts across our index for both social performance (8.17) and likability (2.98) and comes away with a total influencer score of 12.02 out of 20.
2. Odell Beckham Jr., Cleveland Browns WR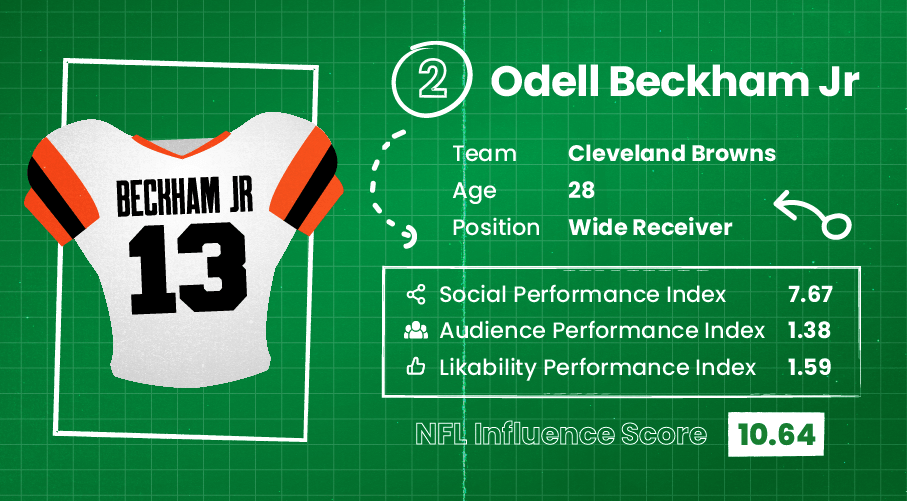 Ranked the second most marketable player in the NFL, Odell Beckham Jr. has an overall influencer index score of 10.64, thanks in part to his record-breaking sponsorship deals and popularity in and beyond the game. Supporting this, the Cleveland Browns wide receiver picks up a social performance score (7.67), second only to Tom Brady, and also ranks highly for likability (1.59).
3. Russell Wilson, Seattle Seahawks QB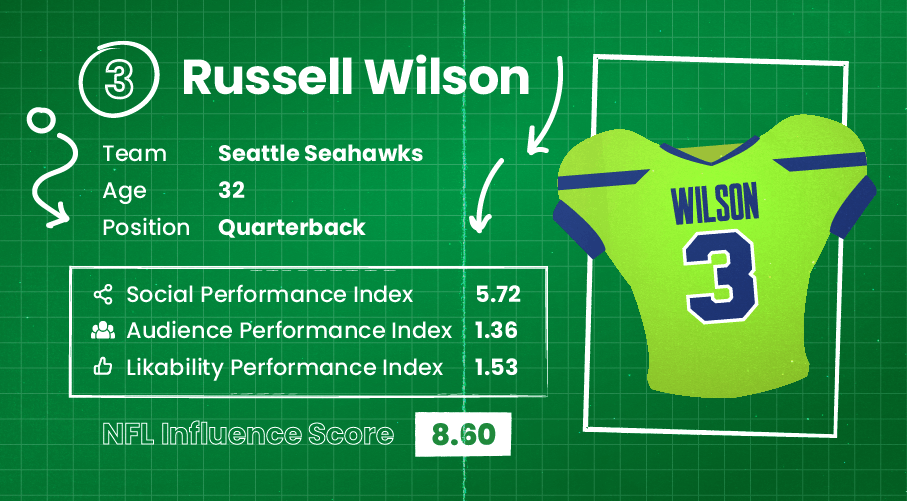 Highly regarded as one of the greats, Super Bowl XLVIII champ Russell Wilson earns a place in the top-three most influential NFL players with a score of 8.60. Breaking this down, the iconic QB scores highly for both social performance (5.72) and likability (1.53). His activity beyond football has also put him on the map in the world of soccer as part-owner of the 2019 MLS Cup champions Seattle Sounders.
4. Aaron Rodgers, Green Bay Packers QB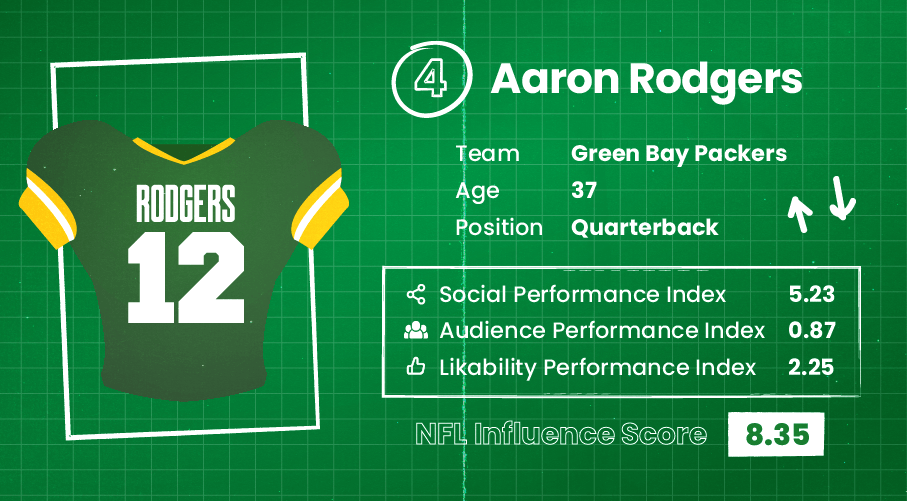 Green Bay Packers QB Aaron Rodgers is ranked as the fourth-most marketable player in the NFL with an influencer total of 8.35. The three-time NFL MVP and Super Bowl XLV champ earns a social performance rating of 5.23 and likability score of 2.25. Outside of football, Rodgers is also recognized by NBA fans as a part-owner of the 2021 championship winners Milwaukee Bucks.
5. Myles Garrett, Cleveland Browns DE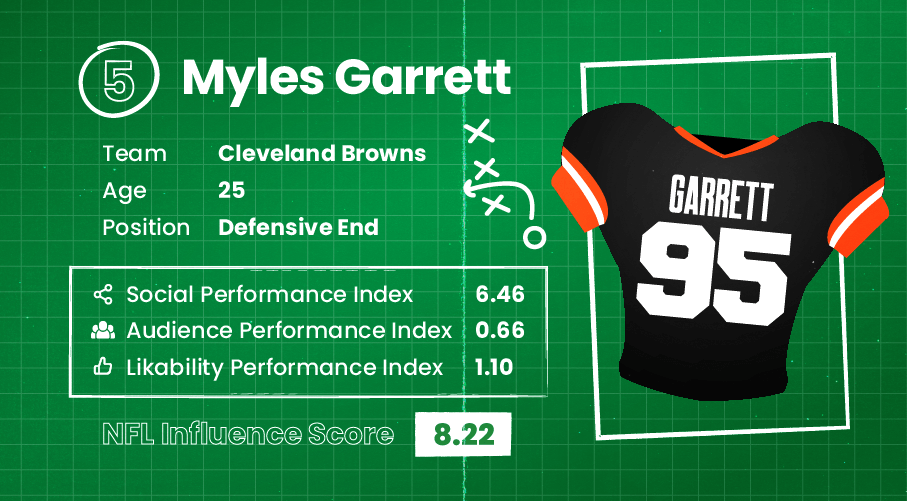 Claiming the final spot in the five most marketable NFL stars, Myles Garrett picks up an influencer rating of 8.22. The Cleveland Browns defensive end earned the high ranking thanks to an impressive social performance index score of 6.46 (third behind just Tom Brady and OBJ).
Which teams have the most marketable players?
Looking at the top-30 most marketable NFL players, it's interesting to note where they play their football. Four feature for the most recent Super Bowl winners in the Bucs, including two of the all-time greats in Tom Brady and Rob Gronkowski. Meanwhile, the Seattle Seahawks feature three times in Russell Wilson, DK Metcalf, and Bobby Wagner.
With two players apiece, the Buffalo Bills (Josh Allen and Stefon Diggs), Cleveland Browns (Odell Beckham Jr. and Myles Garrett), Kansas City Chiefs (Patrick Mahomes and Travis Kelce), Dallas Cowboys (Jason Witten and Ezekiel Elliott), and Green Bay Packers (Aaron Rodgers and Davante Adams) are all also well-represented.
Curiously, no current Patriots players feature in the top-30, despite the team boasting more Super Bowl wins than any other in history and featuring in back-to-back-to-back appearances between 2016-18. When juxtaposed with the Bucs' performance, this potentially highlights the short-lasting influence past glory has on social media audiences.
Methodology
To determine the most influential and marketable NFL players, we analyzed 20 different metrics across three different areas: 
Social performance: 14 metrics, including number of followers, number of posts and engagement rate, audience quality scores, average likes and comments, and yearly social growth.
Audience performance: 2 metrics, including audience demographics and economics.
Interest and likability performance: 4 metrics, including Google search volume, online buzz, positive sentiment, and negative sentiment.
Each analyzed NFL player was scored and ranked for each metric and assigned a relative score between 0-1 for each (with 1 being the best). This gave each player a total influencer score between 0-20 (with 20 being the best).
With the latest NFL season underway, it's interesting to see which stars replicate their off-field performance on game day. Check out all the latest picks and odds for your favorite team now. 
Be sure to check out odds pricing at Caesars Sportsbook for upcoming NFL games. They feature the best average odds pricing across major sportsbooks.
How would you rate this article?
This site contains commercial content. We may be compensated for the links provided on this page. The content on this page is for informational purposes only. Action Network makes no representation or warranty as to the accuracy of the information given or the outcome of any game or event.