Bills vs. Dolphins Odds & Picks: How To Bet This With Uncertainty Around Buffalo Starters Resting
Credit:
Joel Auerbach/Getty Images. Pictured: Tua Tagovailoa
Editor's note: NFL Network's Michael Giardi reported on Sunday morning that Bills backup quarterback Matt Barkley is expected to see "meaningful snaps" on Sunday, meaning Josh Allen could be benched for rest at some point.
---
Bills vs. Dolphins Odds
Bills Odds

-2.5 [BET NOW]

Dolphins Odds

+2.5 [BET NOW]

Over/Under

41.5 [BET NOW]

Time

1 p.m. ET

TV

CBS

Odds as of Saturday and via PointsBet, where you can bet $20 on the spread or moneyline to win $125 if the team you pick scores.
The Dolphins can punch their ticket to the playoffs with a win against the Bills in Buffalo this Sunday. The Dolphins can also get in with losses from either the Ravens, Browns or the Colts. But the Bills also have something to play for — they can clinch the AFC's 2-seed with a win over the Dolphins or a Steelers loss to the Browns.
It's unclear whether the Bills see much value in being the second seed since this season's addition of a seventh playoff team eliminates the automatic bye for a No. 2 seed. During his weekly interview with WGR Radio in Buffalo, head coach Sean McDermott kept things close to his vest by saying that the Bills would do what's best for the team and their players.
While this makes it difficult to devise a betting strategy heading into the game, we might need to decide between first-half or full-game wagers — or, in my case, which teams to take in either case. Let's take a closer look.
Miami Dolphins
Judging by the analytics, it's been quite an interesting season for the Dolphins — with a 10-5 record straight-up but a 11-4 record against the spread, they seem to fit the profile of a team worth backing, but the stats tell a different story.
There's no question that the Dolphins have benefited from the highest turnover differential in the NFL at +11. Turnovers have more to do with luck and are not indicators of future performance, though, so when you look at their overall performance, the Dolphins have been fortunate to have plenty of breaks go their way this season.
For one, the Dolphins had third-easiest strength of schedule according to TeamRankings. They've taken advantage of a softer schedule and outscored their opponents by 96 points thus far. However, a closer look reveals that this number is skewed due to four double-digit wins over the Jets (twice), Niners and Jaguars, who have a combined record of nine wins and 36 losses.
The most damning stat is that the Dolphins have actually been out-gained by 0.5 net yards per play. Their success has really been an anomaly from the perspective of analytics, and somehow, they've been able to stave off regression for much of the season.
Ryan Fitzpatrick won't be around to bail the Dolphins out of any slow starts this Sunday: The former Harvard quarterback tested positive for COVID-19 on Thursday and will be out.
Apart from Fitzpatrick, the Dolphins' injury report is fairly tame as every player who is listed practiced on Thursday and Friday. Wide receivers DeVante Parker (hamstring) and Jakeem Grant Sr. (ankle) are listed as questionable while guard Solomon Kindley is also questionable with a knee and foot injury. On the defensive side, lineman Shaq Lawson is questionable with a shoulder injury.
---
Buffalo Bills
Buffalo has been red-hot this season. In addition to a 12-3 record, the Bills have also covered their last seven games.
The key to their success has clearly been the play of the quarterback Josh Allen: The former first-round pick has improved his completion percentage from 59% in 2019 to 69% in 2020, and his 34 touchdowns are 14 more than his output last season.
Unlike Miami, Buffalo's positive 0.6 net yards per play is more correlated with the team's success on the field. Over their last three games, the Bills have actually out-gained opponents by 2.4 net yards per play. For an idea of how dominant Allen has been, his 81.6 mark in ESPN's Total QBR is third to only Aaron Rodgers and Patrick Mahomes.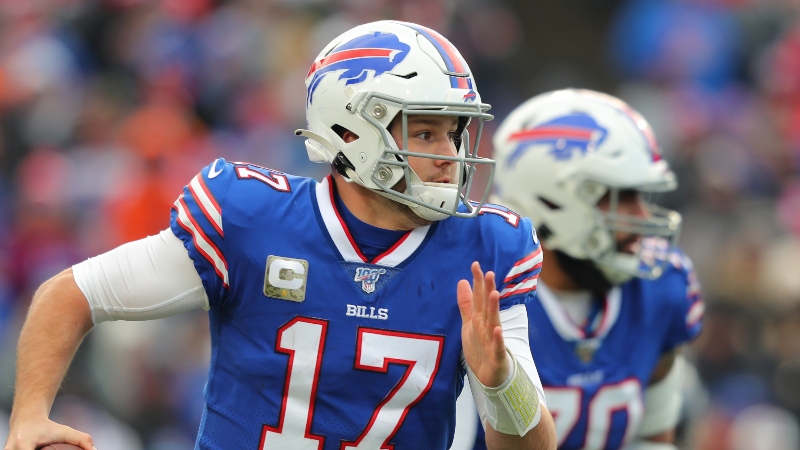 The Bills are a money train that I wouldn't dare want to step in front of. However, it's difficult to do a thorough handicap on them in this game without knowing how much value they place on being the second seed vs. the third. Good luck trying to read between the tea leaves of McDermott's comments, too — I'm reminded of the adage that says: "Watch what they do and not what they say."
The Bills have a short injury report with Cole Beasley ruled out with a knee injury. However, John Brown's return should help the wide receiver group — I wouldn't be surprised if Allen targets Brown early on to work him back into the offense before the playoffs.
Dolphins-Bills Pick
Buffalo was a 5.5-point home favorite in lookahead lines. The Bills throttled the Patriots, 38-9, last week. Now Buffalo is only favored by 2 to 2.5 points as of Saturday (compare real-time odds here).
So what has changed? The answer is not a whole lot.
The line suggests that this game doesn't have the same level of importance for the Bills as it did almost two weeks ago when the lookahead lines were posted. There's no question to me that the Bills are the better side with all things being equal. However, I would still be reluctant to play them for the full game.
This game comes down to whether the Bills decide to rest their starters. There's also a chance that McDermott pulls his players early if the Browns are dominating the Steelers, which would actually give Buffalo the 2-seed without having to defeat Miami.
Since this is somewhat of a correlated decision, it makes sense to try to get ahead of the market and play the Bills on the first half line at -1.5 at PointsBet. I would then come right back and play the Dolphins on the full-game moneyline — BetMGM has the best price on the board right now at +120.
I would feel comfortable playing the Bills up to -2 in the first half and the Dolphins down to +110.
Pick: Bills 1H -1.5 (or better)
Pick: Dolphins ML +120 (down to +110)
How would you rate this article?