Stuckey: My 5 Favorite Week 11 NFL Bets
Credit:
David Butler II-USA TODAY Sports. Pictured: Tom Brady
Stuckey reveals his favorite Week 11 NFL picks, featuring five spread and over/under picks.
Stuckey highlights his five favorite NFL picks for Week 11 below.
Let's run through how he's betting Bills-Dolphins, Falcons-Panthers, Patriots-Eagles, Bengals Raiders and Bears-Rams.
---
Odds as of Sunday morning and via PointsBet, where Action Network users can access an exclusive promotion to get a 200% deposit match (deposit $50, bet with $150). No strings attached. No rollover required.
---
Bills -3 1H/-6 Game Split at Dolphins
Listeners of our podcast know I haven't been a fan of the Bills lately. I've thought they've been overvalued in the market in recent weeks after racking up wins against subpar competition. And that sentiment paid off against the Eagles then the Browns.
Well, I've done a 180 — I think the Bills actually have value at anything under a touchdown this week.
I'm not sure where this Dolphins love is coming from. This is still one of the worst rosters we've seen in the NFL in quite some time. I didn't drastically change my view of them after wins over the Colts' third-string QB and the dumpster fire that is the Jets.
If you recall, just a few weeks back, the Bills were 17-point home favorites against Miami. Even if we assume three points for home-field advantage for both teams (I have Miami's as less), that would imply this line should be about Bills -11. Now, the market has soured on the Bills a little and has seen some effort out of a Dolphins team many thought wouldn't win a game, so I get adjustments were made. But going under a TD here is too much in my opinion.
Plus, this is actually a great matchup for the Bills, whose pass defense allows only 5.6 yards per pass attempt (third in the NFL) and doesn't allow anything deep through the air.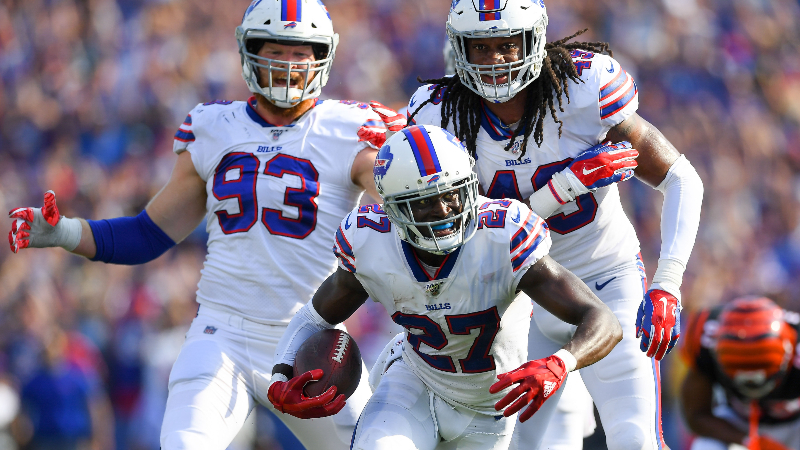 The Bills are vulnerable on the ground: They're allowing 4.5 yards per carry (21st in league). But Miami isn't capable of exploiting that weakness with a horrendous offensive line and a rushing attack that averages a league-worst 3.1 yards per carry. Just how bad is that mark? In order to find a team that averaged fewer than that, you'd have to go all the way back to the year 2000, when the Chargers averaged a flat 3.0 yards per pop. Terrell Fletcher led the Chargers in rushing that season with 384 yards on the ground for a team that had Ryan Leaf and Jim Harbaugh start games at QB.
Yes, that long ago. And only two teams have finished a season at exactly 3.1 since.
Miami has also lost its two best backs from the start of the season with the trade of Kenyan Drake to the Cardinals and the suspension of Mark Walton.
In the first meeting in Buffalo, the Dolphins did actually put up 21 points and 381 yards in a 10-point loss. But let's take a look at who did the damage:
Leading rusher: Mark Walton
Second-leading rusher: Kenyan Drake
Leading receiver: Preston Williams
All three will not be available on Sunday.
Buffalo is just so much better in the trenches and significantly more talented on both sides of the ball. That should ultimately be the difference in what sets up as a good matchup for the Bills defense. Josh Allen can do just enough to cover this number, which I like at anything below a touchdown for the full game.
[In New Jersey? Bet now at PointsBet]
Falcons +4.5 at Panthers
Out of 32 centers who have played at least 300 snaps this season, Matt Paradis ranks dead last with a 27.2 pass blocking grade from Pro Football Focus. The guard performance in Carolina has also been subpar. Really, in total, the Panthers offensive line has done a very poor job in pass protection, ranking 26th as a unit in pass-blocking efficiency.
Well, where is the strength of the Falcons defense? Up the middle, specifically in the interior defensive line and at middle linebacker. Just ask Drew Brees and the Saints, who saw the pocket get blown up consistently all last week.
Grady Jarrett and the rest of the Atlanta interior could make life miserable for Kyle Allen, who already has more turnovers than touchdown this season. He's due for some regression if you dig a little deeper into some of his advanced metrics.
The Falcons run defense is pretty solid while their pass defense is very leaky. However, I think their front can generate enough pressure up the middle to slow down the run game and disrupt the passing game, forcing Allen into a key turnover or two.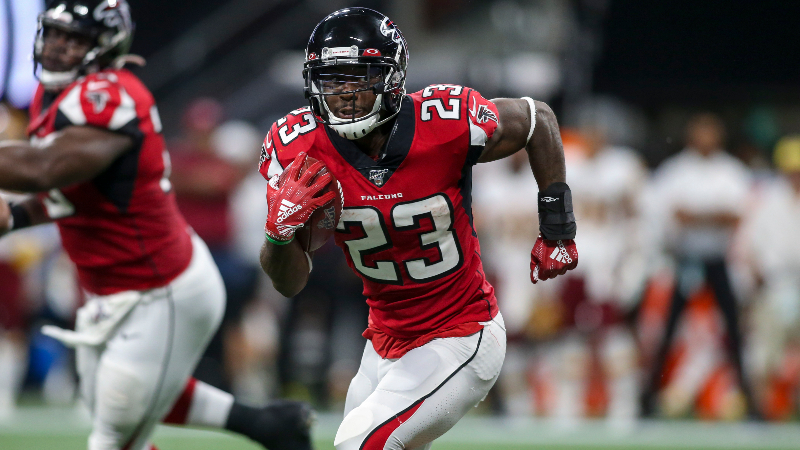 I think the Falcons can establish the run like they did last week with Brian Hill, and that was against a much better run defense than Carolina's, which is allowing a league-high 5.2 yards per rush. The Panthers transitioned from a 4-3 base to more 3-4 this season in order to generate more of a pass rush. They have achieved that goal, but the run defense has suffered as a result.
The Panthers secondary has been great all season, but they're dealing with a number of key injuries and may be undermanned and/or banged up against a talented wide receiving corps with Ridley and Jones.
The Falcons will miss Austin Hooper, especially in the red zone, but I think Matt Ryan and the running game can get it done inside the 20 against a Panthers defense that has a 70% red-zone TD percentage allowed, last in the NFL.
Bottom line: The Panthers are an average team like the Falcons, who finally showed us life again last week. To illustrate just how mediocre the Panthers are, look no further than their negative point differential — Carolina has allowed 228 points and scored 225.
I rate these teams close to even, so give me the better quarterback in Carolina.
[In New Jersey? Bet now at PointsBet]
Patriots-Eagles Under 44.5
I think the Eagles have figured out they need to be a rush-first offense that controls the clock and keeps opposing offenses off the field, especially ones with competent quarterbacks who can exploit their vulnerable secondary. (Philly has been one of the slowest teams in pace over the past two seasons.)
The Eagles' rushing offense hasn't been flashy by any stretch, but they have an excellent offensive line that can run block as well as any unit in the league. Per Pro Football Focus, the Eagles have the highest run-blocking grade in the NFL while the Patriots' run defense ranks 24th in the league.
The Eagles should generate a push up front and convert on most short-yardage situations on the ground against the weakest part of the Patriots team. That should keep the clock moving. However, even when they put some long drives together, I don't see them having much success in the red zone.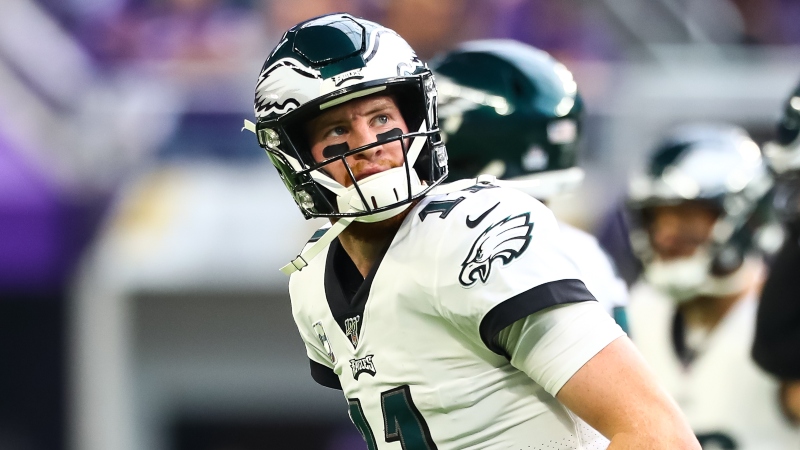 Now, when the Patriots have the ball, I know they are always going to be one of the fastest teams in the league from a pace perspective with Tom Brady at the helm but this offense just isn't right currently. They've dealt with an insane amount of turnover at tight end and receiver, which has thrown off the timing of the offense. And injuries along the offensive line and at fullback have slowed the running game down.
Brady will get his, as always, especially against a poor set of Eagles corners but this isn't as explosive of a Patriots offense as we're used to seeing. Can it be? Sure and it probably will once it gets the timing down and the offensive line comes together even more, which you can bank on with one of the best O-line coaches in the biz.
But for now, I think the Eagles' dominant defensive line can completely kill the run game and get pressure on Brady, which is the only way you can really contain him.
I also think the Patriots win this game, which means I think they'll have a lead in the second half. And while they always play fast in the first half, they tend to slow it way down in the second half with leads.
I don't see much value in the spread, but the situation just screams Pats. Bill Belichick has obviously been money against the spread off a bye. No surprise there. And no surprise that Brady has been awesome ATS after a loss. But what might surprise you is how dominant Tom Terrific has been against the number after suffering a rare loss.
As a favorite of a TD or less (or an underdog), Brady is a ridiculous 28-3 ATS in his career. That's better than 90%, covering by an absolutely absurd average margin of over 10 points per game. Be very afraid of the Patriots off a loss (and bye) with memories of the Super Bowl loss still on their minds (as Brady mentioned on his radio show this week).
As I said, I don't see much value in the spread, so I can't bet it pregame out of principle but will be looking for a good live Pats spot if they give up an early score first.
I will, however, be taking a piece of the under pregame but I'm going to wait to see where the market goes as I'd like to have 45 or better if possible.
[In New Jersey? Bet now at PointsBet]
Bengals-Raiders Over 48.5
I've been screaming about Raiders overs for the past month-plus and they've continued to cash.
I still don't think the market has fully adjusted to Raiders totals as I consistently have them a point or two higher. They're my favorite over team in the NFL right now. Why? Well, they have a really good offense — maybe the most underrated in the NFL.
It all starts with their excellent offensive line, which is giving Derek Carr plenty of time in the pocket. Of the 30 NFL quarterbacks with a minimum of 200 dropbacks this season, Carr has been under pressure at the lowest rate (just north of 25%).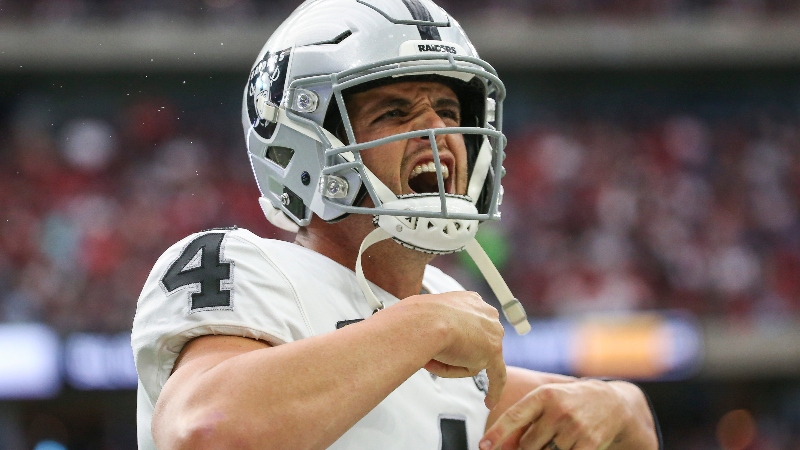 And he hasn't got enough credit for how well he's been playing. When he's been under pressure, he's been uber-efficient. Carr ranks first among all 30 of those qualified quarterbacks when under pressure in the following categories:
Completion percentage: 62.5%
Adjusted completion percentage: 82.4%
Passer Rating: 109.2
And the only one even in the same ballpark of that superb passer rating number when under pressure is Russell Wilson.
The Raiders also have a top rushing attack with Josh Jacobs, who I already rate as one of the best backs in the NFL. And Carr has weapons to work with on the outside, including tight end Darren Waller.
Waller and Jacobs could have huge days against a horrendous Bengals defense that's particularly weak at the linebacker and safety positions. Cincy ranks 31st in defending backs and tight ends in the passing game. And the Bengals' run defense has been a sieve as they've allowed opposing offenses to average 5.2 yards per rush, which is tied with the Panthers for the worst mark in the league.
By many metrics, the Raiders have a top-five offense. Per Football Outsiders, the Raiders offense ranks fifth overall DVOA, which includes top-six ranks in passing and rushing. It's potent, efficient and balanced.
Now, that's only one part of why I'm loving Raiders overs. The other is their defense is putrid. They get absolutely no pressure on opposing quarterbacks and their secondary struggles in coverage. That's not a formula for success in today's NFL, even against a rookie QB like Finley.
Unlike last week against the heavy-blitzing Ravens and their elite corners, Finley should have plenty of time to throw and his receivers should get open with relative ease against the Raiders.
I'd look at over anything 49 or below in a matchup of the NFL's two worst defenses in terms of yards per play allowed (Bengals 6.8; Raiders 6.3).
[In New Jersey? Bet now at PointsBet]
Bears-Rams First-Half Under 20.5
In a matchup of two top-five overall defenses in DVOA, I'm rolling with the first-half under of 20.5 in a game I think will be dominated by each defensive front. I prefer the first-half under vs. the fill game in case one team gets a lead and the trailing team has to abandon what I anticipate will be a run-heavy game script.
With these questionable offensive lines and vulnerable quarterbacks, trying to throw from behind could get messy with turnovers.
When these teams met last season in Chicago, the Rams pulled out a 15-6 win. That was the first game their offense started to struggle as Vic Fangio showed the league the script for slowing down the Rams with a six-man defensive front and zone in the back. Sean McVay has struggled to adapt to the NFL's adjustments since (although the poor offensive line play and Goff's contract haven't helped matters to be fair.)
I don't think it will be that ugly, but the first half should be a run-heavy punt fest as both coaches worry about their quarterbacks turning it over in front of porous offensive lines in a critical game for both teams.
Get ready to hear the names Khalil Mack and Aaron Donald all night — let's just hope neither score a touchdown in the first half.
How would you rate this article?