Koerner: The 12 Best NFL Player Props Based on My Projections
Credit:
USA Today Sports. Pictured: Adam Thielen, Kyler Murray, Le'Veon Bell
Sean Koerner reveals the 12 best NFL player props based on his projections for the 2019 season.
See how he recommends betting a variety of passing, rushing and receiving season-long props.
Season-long player props can be a fun way to invest in a player's ceiling (or floor).
I've outlined my 12 favorite based on my projections below, featuring a few overs (!) as well as select stat leader and player vs. player props.
Let's dig in.
Note: All odds as of Aug. 28 and available at either FanDuel or DraftKings (indicated throughout).
---
Go To: Passing | Rushing | Receiving
---
PASSING
Most Passing TDs: Jared Goff 26-1 (FD)
My Projection: 29
This was a prop I highlighted on our player props podcast with ESPN's Mike Clay.
I like the idea of investing in Goff's ceiling. The Rams have typically ran the ball at a high rate inside the 5-yard line with Todd Gurley over Sean McVay's two-year tenure, but I'm thinking with Gurley's knee concerns, they may decide to limit him somewhat, and that could be near the goal line.
If the Rams regress more toward league average for attempts inside the opponents' 5-yard line, that will only help elevate Goff's pass TD production.
Goff will also get a boost from Cooper Kupp's return from his ACL injury that cost him the second half of 2018. The Rams look to use rookie Darrell Henderson as a weapon in the passing game a la the Chris Thompson/Alvin Kamara-type role. All of these factors just add to Goff's upside, which is essentially all we care about in a market such as this.
It's also a bit odd that, despite Andrew Luck's retirement, books haven't lowered Goff's odds here. It just makes me like this price that much more.
Kyler Murray: Over 3,400.5 Passing Yards (-110) (FD)
My Projection: 3,733
This is currently the lowest yardage line available to bet on Murray.
The hype for Murray has grown over the summer, which has caused the line for this particular prop to rise a ton. I believe most books opened this up around 3,200 yards and have moved him up closer to the 3,600-yard range now. I'm currently projecting him for 3,733 passing yards, so there's quite a bit of value at this number.
When it comes to the TD markets for Murray, though, I'm a bit more skeptical. He'll actually have to be #good to hit the overs in those.
For the yardage prop, he simply needs to play 14 or more games, and the offense should not only provide enough opportunity for him to surpass this number, but the defense should be below average again, which will force the Cardinals to throw even more than they would like.
If he plays, say, 15 games (about where I have him projected), he would need to average more than 227 yards a game to clear this number. Give me the over.
Philip Rivers: Over 28.5 Pass TDs (-110) (DK)
My Projection: 30
One of the reasons I'm more comfortable betting overs at the QB position is because they are A) more likely to play all 16 games versus other positions and B) a bit more in control of their outcome than other positions. Both are true for Rivers.
He is arguably the least likely QB to miss a game this season (knock on wood), which makes it a safe bet he'll clear this number.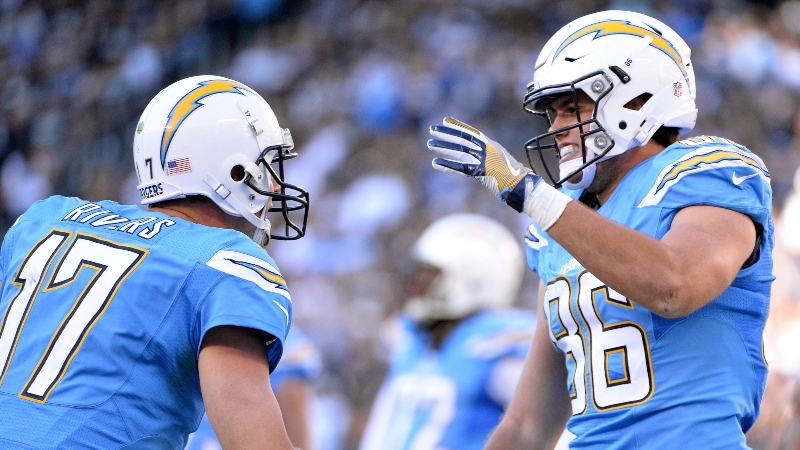 He's getting Hunter Henry back, who is a huge red-zone threat, along with Mike Williams, who used his 6-foot-4, 218-pound frame to break out in his second season with 10 TDs. Not to mention that with Melvin Gordon's holdout likely spilling over into the season, it'll force the Chargers to use the pass-catching Austin Ekeler as their feature back.
All of that should only help River's odds to clear this number. I would set this number closer to 29.5, or even 30.5.
Dak Prescott: Under 25.5 Pass TDs (-110) (DK)
My Projection: 25
Much like the Rivers prop, I don't think this number is way off, but I think Dak is fairly predictable at this point. I have this closer to 24.5, which would mean that I'm expecting him to set a career-high in TDs this season (he's never had more than 23).
I still love Dak for fantasy because one thing we have to realize is that he tends to rely on his rushing ability near the end zone. (He's had six rushing TDs each of his first three seasons.) I am expecting that to shift a bit more toward his passing TD total this season, however, I'm also anticipating some positive TD regression for Ezekiel Elliott.
If Zeke's holdout lasts into the season, it could actually help Dak in passing TDs, as the Cowboys would be leaning on the pass-catching Tony Pollard as their interim lead back. But I'm expecting Zeke to sign before the season starts, although might wait until he does before pulling the trigger here.
Lamar Jackson: Under 3,200.5 Pass Yards (-125) (DK)
My Projection: 2,950
This line is way too high and the -125 juice is not nearly enough to scare me away. It would likely have to be -300 or so in order to back off of 3,200.5.
I expect Lamar to become a much better passer in his second season as new offensive coordinator Greg Roman is able to set up the entire offense to build around Jackson's strengths and weaknesses. Despite letting him throw a bit more this season, they'll still rely on his rushing ability as well as lean on RBs Mark Ingram and Justice Hill.
The Ravens will be one of the most run-heavy teams of this era, so being able to get the under here is a no-brainer.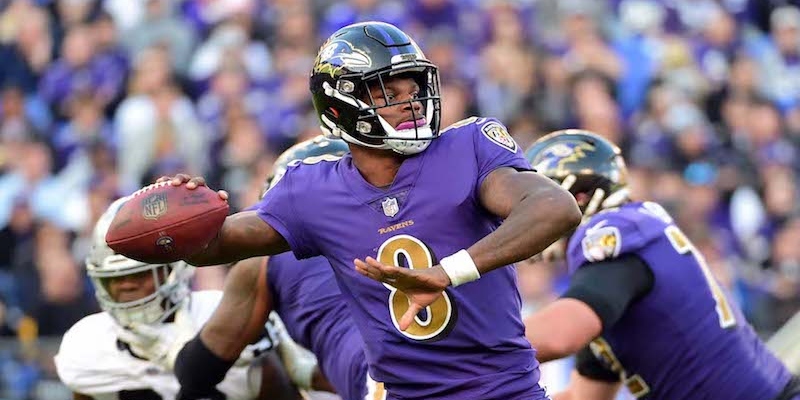 I have him closer to 3,000 yards and feel like that projection is a bit aggressive to begin with. There's still the elevated odds of an injury to a QB who runs as much as Jackson does, so any missed time will only make the under more likely to hit here.
---
RUSHING
Most Rushing Yards: Nick Chubb 18-1 (DK)
My Projection: 1,151
Chubb has my third-highest rushing yard projection as of writing. He also has the upside needed to win a market like this.
The Browns could very well win 10 or more games, which would allow for more positive game scripts that will involve running at a higher rate in the second half of games to preserve the lead. It's going to be tough for defenses to focus on trying to stop Baker Mayfield, Odell Beckham Jr., Jarvis Landry, David Njoku and Chubb.
There's some potential downside for Chubb's outlook once Kareem Hunt returns from his eight-game suspension, but Hunt could mostly eat into Chubb's passing game work, which doesn't impact this market.
Add in the fact Ezekiel Elliott's ongoing holdout could spill into the season, and that would boost Chubb's chances a ton in this market.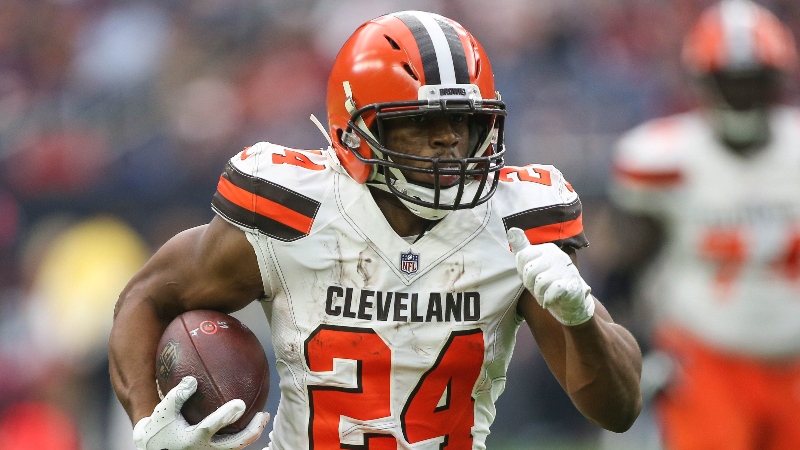 Not a better time or place to buy into Chubb's 2019 outlook than this market at this price.
More Rushing Yards: Nick Chubb (-110) vs. Le'Veon Bell (DK)
My Projection: 1,151 for Chubb vs. 1,059 for Bell
I have Chubb projected for just shy of 100 more rushing yards than Bell, but when you factor in floor (which is critical to do with a prop like this), the value for Chubb is even higher.
Bell is on a new team after taking a year off from football. He's always been a volatile player in terms of being able to play all 16 games, and it's not like lack of volume has ever been a concern for him. I'm not sure why more people aren't concerned about Bell's downside in this scenario, but we can take advantage of that it in a market like this.
Chubb is the easy pick for a prop like this.
Dalvin Cook: Under 1,125.5 Rushing Yards (-110) (DK)
My Projection: 999
Cook's fantasy stock has been rising ever since his Preseason Week 3 performance, when he broke off an impressive 85-yard TD run. The offense should be more balanced under coordinator Kevin Stefanski (along with Gary Kubiak as an offensive advisor).
I've been saying that Cook could be in for a big season if he can stay healthy. And he likely will have to be healthy all 16 games to make this number a true coin flip. But we can never bank on that from a workhorse RB, let alone an injury-prone one such as Cook.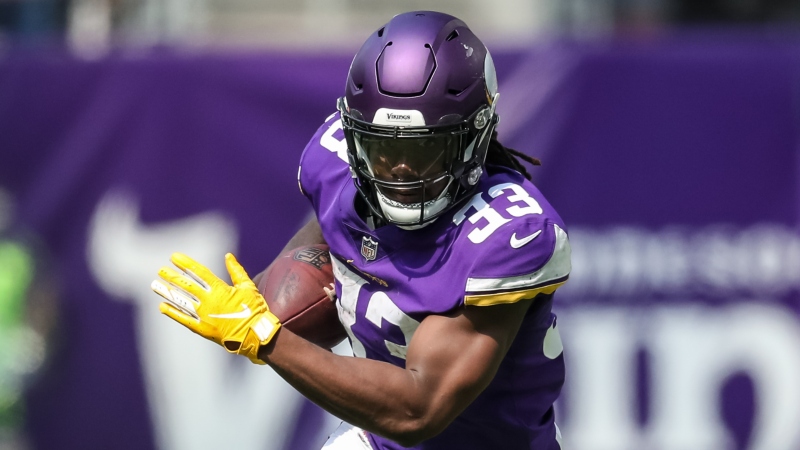 Take the under on this number while you can.
Le'Veon Bell: Under 8.5 Rush TDs (-134) (FD)
My Projection: 8
I mentioned above that there is quite a bit of downside to Bell's outlook. Season-long player props are a great way to take advantage of all the outs we are afforded in a prop like this.
Bell should be the workhorse back for the Jets and is one of the more talented backs in the NFL. But he'll be playing behind an offensive line that's not as good as the one he played behind in Pittsburgh, which could be an issue given his patient running style that requires his line to create a lane for him that he then attacks.
Adam Gase typically plays at a much slower pace and is less committed to having one back carry the entire load, too. He's even hinted that Ty Montgomery could be used a bit early in the season while Bell shakes off the rust after sitting out the entire 2018 season.
Even while getting a massive workload in Pittsburgh on a high scoring offense, Bell has only gone over this total once in his career. Why would we bet on him tying his career-high in a worse situation? Take the under.
Mark Ingram: Under 7.5 Rush TDs (-110) (DK)
My Projection: 6
This is another prop that offers a ton of outs that lend to the under.
Ingram was the Ravens' big free-agent signing. He'll become their work horse back, and I have every reason to believe that he'll maintain that role all season as long as he stays healthy. However, he'll be competing with his own QB near the goal line: Jackson would have ranked fifth in rush attempts inside the 10-yard line last season if he had played the entire season. That alone is going to have a negative impact on Ingram, who would likely have to score most of his TDs in that area of the field.
We always have the potential out of Ingram missing time due to injury, but we also have an extremely talented rookie RB in Hill who can turn this into a more even committee that would also threaten Ingram's TD production.
Take the under.
---
>> Get Sean Koerner's latest player projections with our Fantasy Draft Kit.
---
RECEIVING
Adam Thielen: Under 8 Receiving TDs (-110) (DK)
My Projection: 7
Thielen has always been more of a yardage monster as opposed to a red-zone threat. He set his career-high last season with nine TDs, which I think needs to be considered as pretty close to his ceiling.
It's worth noting that after new coordinator Stefanski took over in Week 15, Thielen had zero TDs and his production dipped due to the Vikings having a more balanced offense.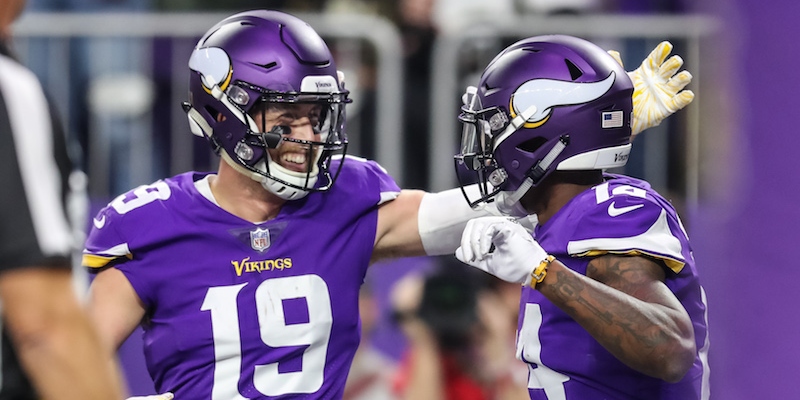 I'm expecting Stefon Diggs to be Kirk Cousins' top target in the red zone along with Kyle Rudolph and even rookie TE Irv Smith.
Thielen is going to face too much competition for targets in the red zone and it's possible he's more of a decoy to allow others to get open, so I have this closer to seven.
Take the under here and I think worst case scenario is this ends in a push.
D.J. Moore: Over 3.5 Receiving TDs (-110) (DK)
My Projection: 5
This number immediately stuck out to me. Moore flashed a ton of potential in his rookie season. Despite only catching two TDs in 16 games, it's important to remember that he wasn't a full-time player until the second half of the season, which also happened to be when Cam Newton's shoulder became such an issue it ended his season early.
Newton has never really been one to throw a ton of TDs. Before last season, the longest streak of games with two or more TDs was four games. But last season, Newton threw for two or more TDs in 11 straight games. Some of this could be due to him choosing to run less near the goal line to preserve his body, while a lot of it is due to the wealth of talent surrounding him with WRs such as Moore.
I have this number being closer to 4.9, so give me the over.
How would you rate this article?