Walsh: COVID-19, Parenting and the Much-Needed Hope of a Tom Brady MVP Ticket
Credit:
Maddie Meyer/Getty Images. Pictured: Tom Brady
Parenting is hard.
It's no secret that kids are exhausting, expensive and drastically alter what once was a selfish and thriving social life in the case of me and my wife, Christi.
But the point of that statement isn't to complain. When deciding whether the time is right to make that jump into parenthood, we knew of those consequences.
However, nobody could foresee a looming global pandemic due to the COVID-19 virus, which has thrown parents a very unexpected and difficult curveball.
No more preschool, daycare, babysitting, date nights or free time whatsoever.
A little background on Christi and myself: For all intents and purposes, we consider ourselves southern.
While I was born in New Jersey, I moved to North Carolina at the age of 12 and lived there until I moved to Massachusetts just after turning 30.
Christi's family relocated to North Carolina when she was just a toddler, so the large majority of her life was spent down south as well. This means that our entire family remains there, too.
Because of this, we don't have the luxury of going to the bullpen for an aunt, uncle or grandparent to come give us a weekend, a night or even an hour to simply take a deep a breath and remember that we're more than just parents.
Whenever quizzed by family, friends or some poor soul I overhear at a bar discussing or questioning whether they're ready to become parents, my go-to advice is something like this:
"Before having kids, you and your spouse/partner are 100% spouse/partner. But after that little monster (or monsters) arrive, you are instantly 99% parents and just 1% spouse/partner. If you're cool with that, then take the plunge."
In our case, we're out of the newborn phase, so our ratio has moved closer to 90/10 … well "had" moved before the pandemic.
Now, with no preschool, daycare, babysitting or vacationing grandparents to relieve us with a much needed seafood and dirty martini reprieve, we're 100% parents. That's not easy, especially when my wife and I have a relationship built on enjoying each other's company — alone.
So where does Tom Brady come into this equation?
Part of our robust (lol) social lives includes an annual trip to Las Vegas. This gives us the opportunity to get away in a town we love, while inviting friends and family from around the country to join.
Plus, it offers something to look forward to, which provides a sort of "parenting placebo effect" even if the trip is months away.
The 2020 version was a smaller excursion in size, with Christi's cousin and his wife joining, as well as The Action Network's data nerd/pontoon boat aficionado Travis Reed.
This trip we hit the desert in February to do some Daytona 500 betting along with our typical shenanigans.
Christi and I were the first the arrive, so we dropped our bags off at the hotel bell hop, jumped on the monorail and headed directly to Westgate to grab a couple of NASCAR bets for the Great American Race.
While sitting at the sportsbook bar taking full advantage of the drink tickets said Daytona bets afforded us, Christi grabbed a couple of sheets with 2020 NFL futures.
In just a few minutes, we had a lively discussion raging about Brady's chances to win the NFL MVP award. Remember, back in February Brady was still a member of the Patriots, but everyone knew that his days in New England were numbered.
Ironically, I was pro-Brady, making the case (emphatically with my hands as I typically do once the beverages are flowing) that he would likely end up with the Chargers — considering Philip Rivers was on his way out — and that situation was perfect for Tom with a great pass-catching running back in Austin Ekeler, an extremely talented tight end in Hunter Henry and Keenan Allen, one of the best wide receivers in the league.
Plus, Brady is from California so case closed! (Christi disagreed and per usual was correct).
But at the moment, I finished pleading my case with pride, put another drink ticket to use and headed to the men's room.
Upon returning, I noticed Christi walking back from the sportsbook counter, tickets in hand.
She flipped said tickets down on the bar and right on top was Tom Brady to win MVP at 30-1.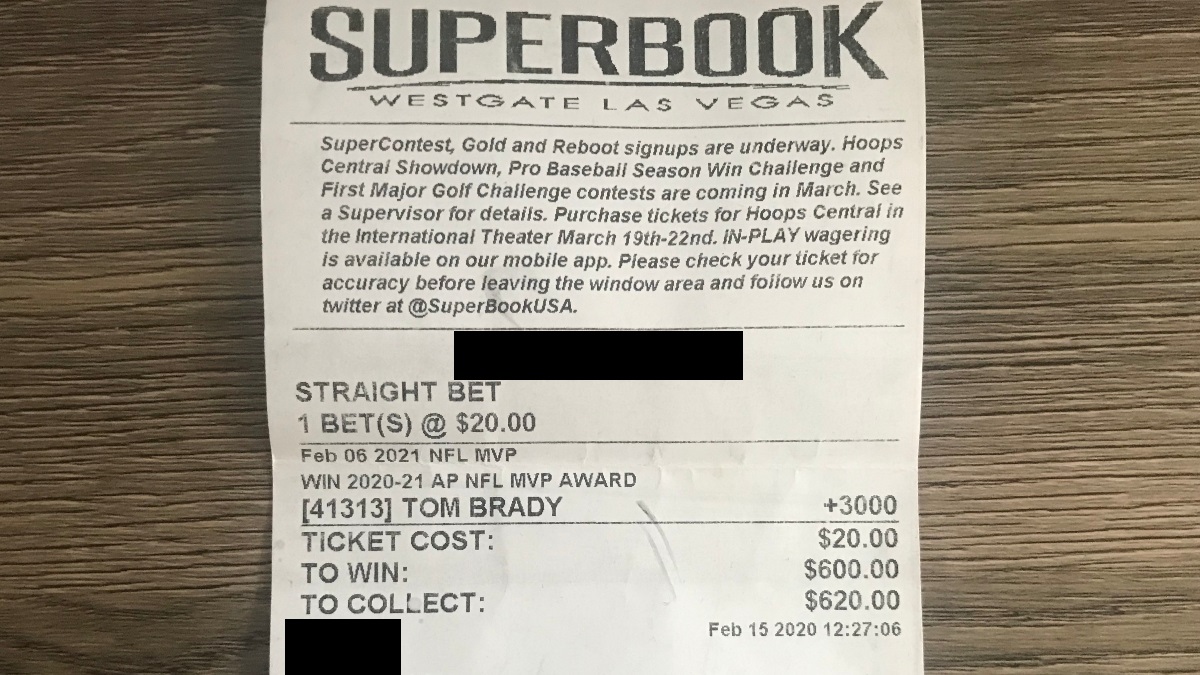 Immediately I turned anti-Brady and asked her if she was nuts since we didn't even know where he was going to play (I flip-flop like that).
Christi simply shrugged and said, "Well, you convinced me."
And, as I mentioned above, she was right once again considering Brady is now 16-1 at the SuperBook as of July 14. Hello, closing line value!
Jokes aside, the $20 bet isn't anything crazy (I mean, I'd rather have $620 than not have $620), but this wager represents something even more valuable … hope.
At a time when there is very little to look forward to while sentenced to the daily grind of social-distanced parenting, this is a lifeline, even if just a small one.
My 40th birthday is next year and assuming the United States can get the COVID pandemic under control by early 2021, there's a decent chance that our next Vegas trip will send me off into middle age in Sin City.
Will that include cashing a 30-1 Tom Brady MVP ticket in person? Who knows.
But there is hope, and that's all we can ask for right now.
How would you rate this article?