NFL Week 3 Dynasty Fantasy Football Risers & Fallers: Buy Mason Rudolph After Big Ben Injury?
Credit:
Photo credit: Charles LeClaire-USA TODAY Sports. Pictured: Mason Rudolph
Matthew Freedman highlights the players he's buying and selling in dynasty fantasy football leagues after the first two weeks of the season.
Periodically throughout the NFL season I will highlight dynasty fantasy football risers and fallers.
Entering Week 3, the following players have caught my eye as potential assets to buy or sell.
Dynasty Risers
Quarterbacks: Josh Allen (Bills) & Mason Rudolph (Steelers)
Allen was an exquisitely inaccurate passer in college (54.2% completion rate) and his rookie season (52.8%), but after returning from a mid-season elbow injury last year, he was the No. 1 quarterback over the final six weeks of the season, averaging 24.2 fantasy points per game.
In Weeks 1-2, Allen completed 64.2% of his passes and displayed his Konami Code rushing ability with a combined 59 yards and two touchdowns on 17 carries. He's showing that his strong rookie-year finish was no fluke.
As for Rudolph, the 2018 third-rounder didn't play a snap last year, but in Week 2 he stepped up as an in-game substitute for injured starter Ben Roethlisberger (elbow), and he handled himself well, completing 12 of 19 passes for 112 yards, two touchdowns and an interception.
As a senior at Oklahoma State, Rudolph completed 65.0% of his passes for 4,904 yards and 37 touchdowns. He has real talent and an established connection with wide receiver James Washington, his teammate in college and now with the Steelers. His future as a full-time player could be closer than we think.
Running Backs: Raheem Mostert (49ers) & David Montgomery (Bears)
Entering the season, Mostert was an utter afterthought, even though he emerged as a solid backfield complement to Matt Breida last year, putting up 269 yards and a touchdown on 28 carries and five targets in Weeks 6-9 before a broken arm sent him to the injured reserve.
But a Week 1 injury to starter Tevin Coleman (ankle) put Mostert back on the field, where over the past two weeks he has turned 23 carries and five targets into 191 yards and one touchdown (and another nullified touchdown). Coleman's high-ankle sprain could keep him off the field till the end of November, and by then Mostert could be a locked-in contributor to the backfield.
Montgomery disappointed in Week 1, splitting snaps with Mike Davis and Tarik Cohen and getting just seven touches in total. But in Week 2 he easily led the Bears backs in usage, turning his 18 carries and three targets into 68 yards and a touchdown. He wasn't highly efficient, but it's a good sign that head coach Matt Nagy entrusted the rookie with so many touches.
The Bears traded up in the third round to select Montgomery, and he had a strong career at Iowa State with 515-2,362-24 rushing and 58-453-0 receiving lines in his two seasons as a starter. If he maintains a workload of 16-22 touches moving forward, he could finish the season as a top-10 fantasy back.
Wide Receivers: Demarcus Robinson (Chiefs) & John Ross III (Bengals)
When All-Pro wide receiver Tyreek Hill (clavicle) suffered an in-game injury in Week 1, it's not as if Robinson did anything to fill the void. He had just one reception for zero yards on two targets. Hardly the stuff of legends. But in Week 2, he was the No. 1 fantasy receiver on the slate with a 6-172-2 receiving smackdown on six targets.
A four-star recruit entering college, Robinson clearly has talent, but he was suspended four times in three years at Florida and fell to the fourth round of the 2016 draft because of his off-the-field issues. Tyreek is a wild card because of his own issues, the Chiefs can part ways with Sammy Watkins after this season and Robinson himself is a free agent next year: Whether he stays with the Chiefs or signs with another franchise, Robinson has the upside to be the No. 1 receiver on a team as early as next season.
Regarding Ross: For back-to-back weeks, he's had at least 100 yards and a touchdown on eight-plus targets. One week is a fluke. Two weeks is a trend. Ross struggled for the first two years of his career, but he's the fastest player in the NFL (record-breaking 4.22-second 40-yard dash), and he was selected with a top-10 pick just two years ago.
Ross was a talented, explosive player in college who put up 1,252 yards from scrimmage and 19 all-purpose touchdowns in his final season at Washington, so it's not as if he can't be a Tyreek-esque NFL player, and under new HC Zac Taylor and offensive coordinator Brian Callahan, he perhaps finally has a role and offensive system that suit him.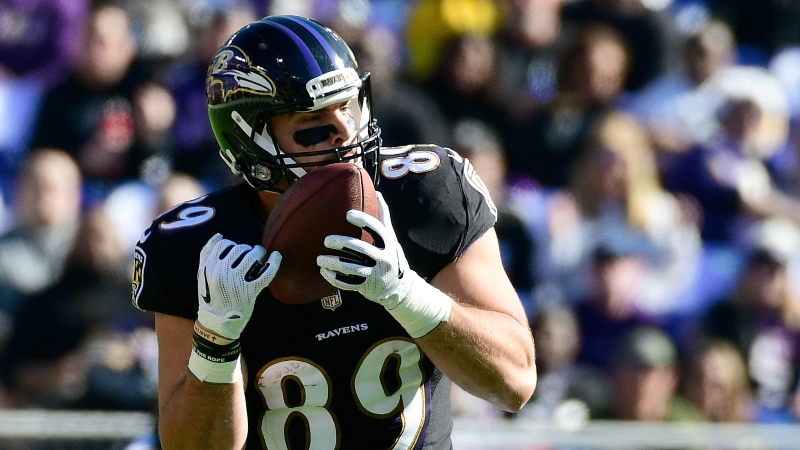 Tight Ends: Mark Andrews (Ravens) & Will Dissly (Seahawks)
Over the past two weeks, Andrews has popped as a daily fantasy play in the FantasyLabs Models, and throughout the offseason, he was the late-round tight end I talked about the most on The Action Network Podcast. After he put up 552 yards last year as a rookie, his 2019 breakout wasn't unexpected.
But he has exceeded all expectations with back-to-back 100-yard, one-touchdown performances in Weeks 1-2. After Travis Kelce, George Kittle and Zach Ertz, it's hard to say that any tight end should have more dynasty value than Andrews.
Dissly's recovery from the torn patellar tendon he suffered last year has been remarkable. Although that's one of the most debilitating injuries a football player can have, Dissly opened the season in Seattle's starting lineup. He didn't do much in Week 1 — he exited the game with a knee injury — but in Week 2 he had a 5-50-2 receiving line on five targets.
I was extremely dismissive of the slow-moving old-seeming fourth-rounder last year, but before his injury, he had a solid 8-156-2 receiving performance on 14 targets in his first four NFL games. If he truly recovers from his patella injury, he could emerge as the No. 2 receiving option in Seattle.
Dynasty Fallers
Quarterbacks: Aaron Rodgers (Packers) & Ben Roethlisberger (Steelers)
Rodgers and Roethlisberger are in similar situations — except Big Ben is older and injured.
Rodgers has consecutive weeks with around 200 yards passing, and although the Packers are 2-0, their offense has underwhelmed to start the season. In HC Matt LaFleur's offense, Rodgers simply looks like a quarterback who used to be good. I'd look to trade him on name value alone after his next big game. There's a real chance his value will be significantly lower a year from now.
Roethlisberger passed for 276 scoreless yards and an interception in Week 1 and just 97 yards with a pick in Week 2 before exiting the game with an elbow injury. He seems every bit of 37 years old, and the Steelers offense has looked dysfunctional and lethargic with him in the game. Like Rodgers, he could be worth significantly less in a year — and he honestly could ruin your season through underperformance if you rely on him as a starter. Sell soon.
Running Backs: Joe Mixon (Bengals) & James Conner (Steelers)
Big-bodied three-down lead backs selected with top-100 picks in the 2017 draft, Mixon and Conner entered the season as locked-in top-12 backs in dynasty. I'd look to trade them now for assets of similar value.
Mixon has dealt with injuries each year of his career — he has an ankle sprain now — and the Bengals recently re-signed teammate Giovani Bernard to a contract extension, suggesting that they don't see Mixon as a true every-down back. Over the past two weeks, he has sludged his way to 44 scoreless yards on 17 carries and eight targets. As an injury-impacted back who's losing snaps behind a poor offensive line in a pass-heavy system, he should be divested.
Like Mixon, Conner has disappointed over the past two weeks, totaling just 110 yards on 21 carries and eight targets. If not for a one-yard touchdown in Week 2, he would have been an outright catastrophe to start the year. The Steelers offense could enter a post-Roethlisberger era soon, and backups Jaylen Samuels and Benny Snell are talented enough to steal snaps from him eventually. He's a concern right now.
Wide Receivers: Tyreek Hill (Chiefs) & Julian Edelman (Patriots)
Hill has missed most of the past two weeks with injury, but the Chiefs offense has continued to thrive without him. He comes with major off-the-field concerns, and the Chiefs have an out in his contract after the 2020 season. Given how expensive he is and how well the offense has functioned in his absence, Tyreek's odds of not being on the Chiefs within the next couple of years have increased.
As for Edelman, we're talking about a 33-year-old slot man who over the past couple of months has gone from the locked-in No. 1 pass-catching option to maybe the No. 3 wide receiver behind Antonio Brown and Josh Gordon. In Week 2 — the trio's first game together — Edelman (4) trailed Brown (8) and Gordon (5) in targets. He still has an important role in the offense, but his best days are in the past.
Tight Ends: Eric Ebron (Colts) & Irv Smith Jr. (Vikings)
Last year, Ebron was one of the most dominant players at his position, but he was a touchdown-driven producer, and this year the Colts aren't scoring as often. Additionally, he's the No. 2 receiving option on the team — at least he should be — but he has just seven targets through two weeks. Thankfully, he just scored a three-yard touchdown on a tricky misdirection play this past weekend. I'd try to sell him now before his market value plummets.
Smith is a good long-term prospect, but for his rookie season, he likely has no value, so if you were hoping to get production right away, he's someone to sell. In Week 1, the 21-year-old project played 49.1% of the offensive snaps, but he wasn't targeted at all. And in Week 2, he turned his two targets into one reception for minus-one yard. Playing behind No. 1 tight end Kyle Rudolph and stuck in a run-heavy offense, Smith is at least a year away.
How would you rate this article?