NFL Week 4 Reactions: Observations for Bettors on the Titans, Packers, Rams, More
Credit:
Photo by Thearon W. Henderson/Getty Images. Pictured: Matthew Stafford.
We're a month into the NFL season and the best teams in the league are beginning to separate themselves a bit from the pack. Week 4 marked a resurgence of offense around the league, notably Kansas City, Tampa Bay, Detroit and Seattle.
Unders were profitable in Weeks 1 and 2, but this past week featured eight overs and eight unders. A few of those unders were a bit fortunate to get to the window — Colts vs. Titans and Browns vs. Falcons — based on how they played out.
As the weather gets colder and offensive injuries pile up, scoring tends to dip as the season progresses. I don't have a real overarching take based on what we've seen thus far, but don't overreact to a two-week sample of anything in the NFL.
Tennessee's offense dips after the scripted portion.
Looking at the underlying offensive data, the Titans stand out.
No team has a bigger discrepancy between first and second half offensive splits. The Titans are first in the league in both EPA/play and success rate in the first quarter.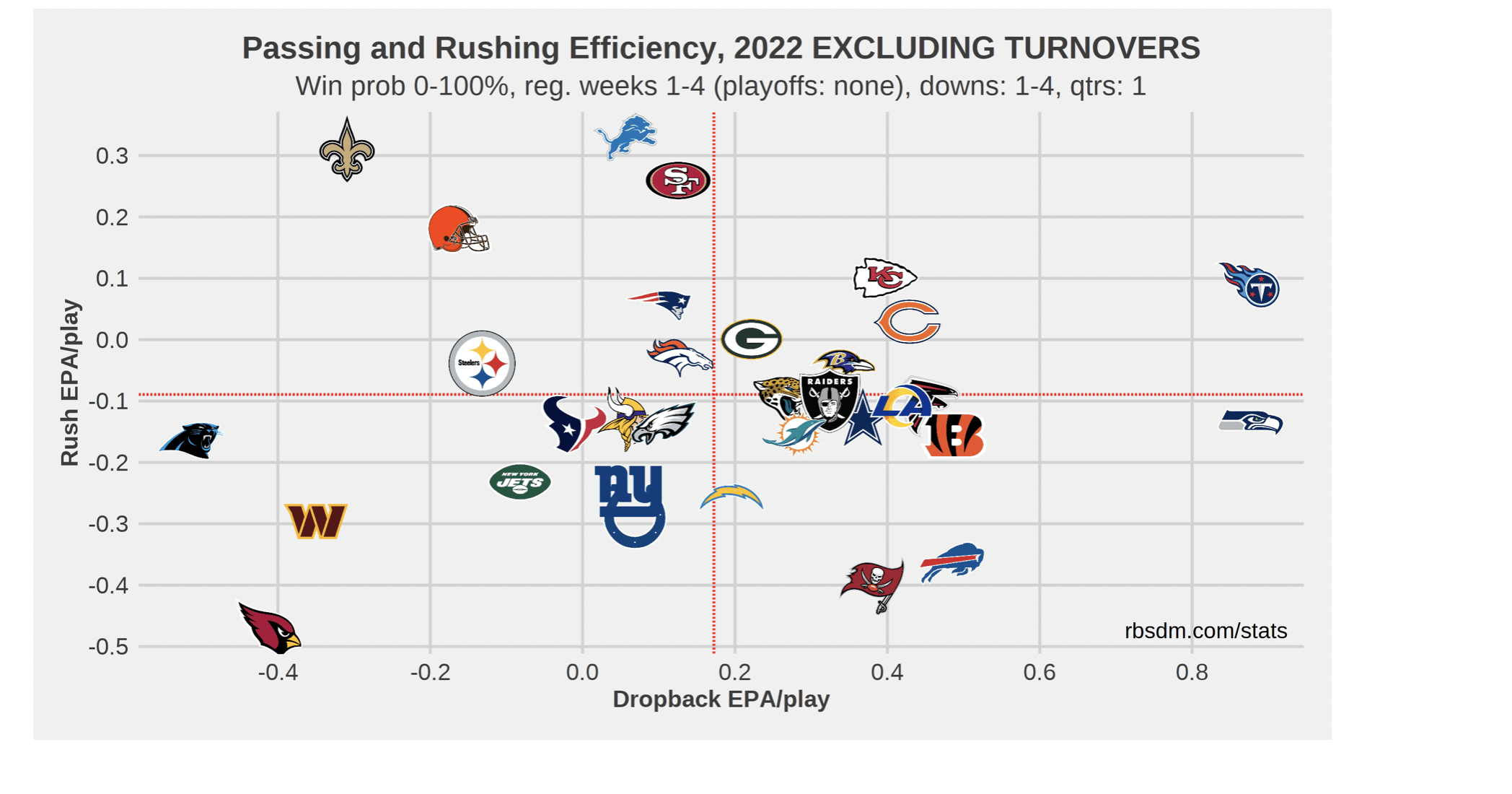 Tennessee's first four opening drives in 2022:
Week 1: 5 plays, 45 yards, touchdown vs. the Giants (finished with 20 points)
Week 2: 9 plays, 75 yards, touchdown vs. the Bills (finished with 7 points)
Week 3: 12 plays, 75 yards, touchdown vs. the Raiders (finished with 24 points)
Week 4: 5 plays, 32 yards, touchdown vs. the Colts (finished with 24 points)
It goes beyond the first drive for the Titans, too.
Tennessee followed up its opening drive touchdown the last two weeks with scores on the next two series. The Titans scored 24 points early on Las Vegas and then didn't score in the second half. They again scored 24 early on Indianapolis and then didn't score in the second half.
The Titans haven't scored any points in the second half since Week 1.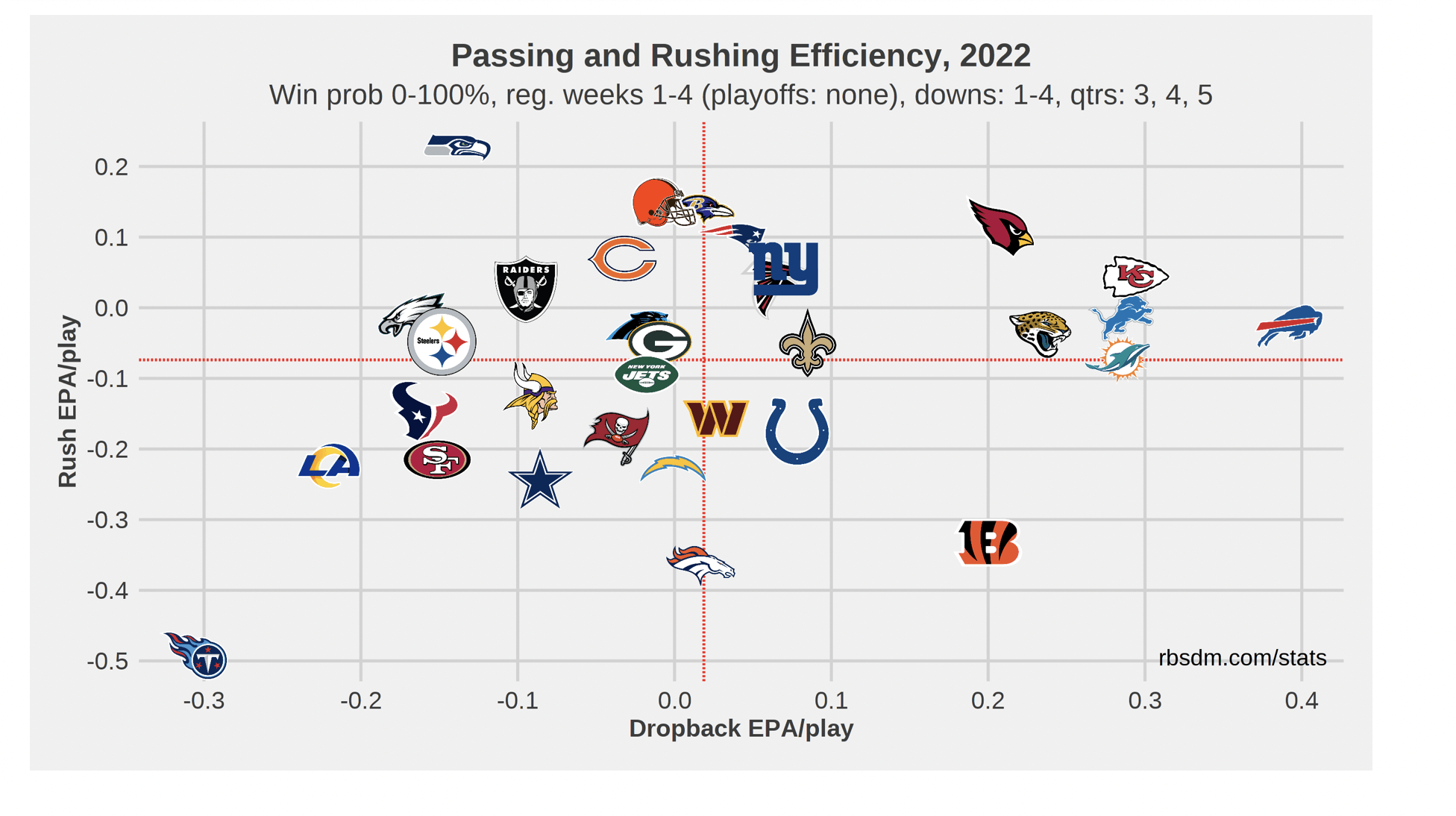 Their run and pass offense both rank 32nd in the league in EPA/play by a wide, wide margin. 
The Titans have done a great job in the scripted portion of their offense, but they are an extremely flawed unit over the full four quarters. Now with Treylon Burks injured, it's hard to see their offense improving much through the air going forward. 
Bet: The Titans are overvalued in Washington on Sunday, but I'm going to wait to bet the Commanders live at a better number after the first quarter or after a potential scripted Titans early score.
The Packers' offense remains flawed.
Green Bay escaped at home on Sunday with a win against Bailey Zappe and the Pats, but you have to downgrade them off of that showing. I know Bill Belichick is a supposed defensive mastermind, but the Packers' aerial attack has been completely lacking through four weeks.
You could excuse it after one week because the Packers have done that before. And they do keep the chains moving at an above average rate based on series success rate overall. A lot of that, however, is centered around the run game, not the pass.
Green Bay had 34 sets of series against New England. The ones that began with a run were 10% more successful than the ones that began with a pass. Alarming and unheard of for an Aaron Rodgers offense.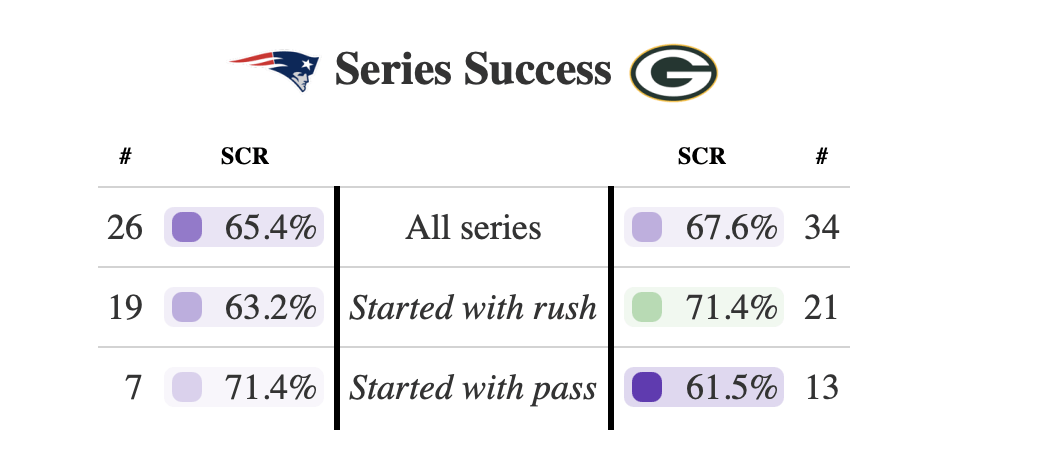 Rodgers is throwing the ball behind the line of scrimmage more than any quarterback in the league (Baker Mayfield is second). His average depth of target (aDOT) did tick up on Sunday, but the median throw didn't based on his pass map.
Green Bay's pass offense is extremely horizontal and not very efficient. Rodgers is just 12th in EPA + CPOE composite and his aDOT is third lowest in football.
Bet: The Packers should be able to have success on the ground against the Giants in London, which makes me like the under (41.5) even more.
Green Bay plays a conservative game script with the lead while New York is trying out quarterbacks due to injuries to both Daniel Jones and Tyrod Taylor. I have both short and longer term concerns about this pass offense.
The Bucs are a cautionary tale in trusting a defense to be elite all season.
The most stable predictor of future success in the NFL is offense — specifically, passing offense. Defenses are subject to much more variance because they are a reactionary element and often a reflection of the opposing offense faced.
That's not to say defense doesn't matter or is entirely random. It most certainly does, but banking on an elite defense to maintain and sustain itself over the course of the year is extremely difficult. 
If you pull up the top five DVOA defenses from the last five years, 17 teams show up at one point on the list. Just 13 offenses appear. The list is even more disparate if you scale it to top three, but the sample becomes smaller. 
Tampa Bay was healthy on defense and had just dominated three straight opponents — Dallas, New Orleans and Green Bay. How did the league's best defense allow 41 points to Kansas City? Well, Patrick Mahomes is pretty good, and great offensive execution will beat great defense almost every time in the modern NFL. 
I came away from that game more optimistic about the Buccaneers than I was going into it. If Tampa had lost 24-14, the exact same margin as the actual final score (41-31), I'd be even more concerned. 
The Buccaneers are only Super Bowl contenders if the offense is healthy and firing. The defense is a nice added bonus, but Tom Brady looked like Tom Brady normally does and that's the most important takeaway. 
If the offensive skill players get healthy and the defense maintains its level, Tampa Bay is still the best team in the NFC for my money. The Buccaneers' defense just won't dominate every week because no defense does that anymore. 
Bet: Tampa Bay +500 to win the NFC.
It's time to worry about the Rams.
Russell Wilson and Matt Ryan are the aging quarterbacks who have plenty of people wondering if they are washed. But why does Matthew Stafford get a pass?
I get it. The Rams just won the Super Bowl. But both the Broncos and the Rams are 2-2. Both have had embarrassing showings on national television. And through four games, Wilson is one spot higher in the EPA + CPOE composite rankings than Stafford.
It doesn't seem like the Rams have addressed their offensive line issues. Allen Robinson still isn't generating separation. 49ers defensive coordinator DeMeco Ryans took Sean McVay to school on Monday night.
Los Angeles' offense is 25th in rushing success rate and they've played Buffalo, Atlanta and Arizona in three of its four games. None of those teams have what would be considered an elite run defense — and the Falcons and Cardinals are borderline bad. 
The aDOT for Stafford is getting lower and lower year over year. In fact, he's now in the bottom five in the league in aDOT. I don't expect the huge delta between passing success rate (seventh) and EPA/play (27th) to persist, but it might if Stafford keeps throwing to the other team. 
Even if you take out turnovers entirely, the Rams are 15th in passing efficiency. 
Stafford is up to seven turnover-worthy plays and six interceptions in four games. What's most concerning is that his PFF grade from clean pockets is 24 points worse than his grade under pressure. Ability in clean pockets has been proven to be more predictive going forward. 
How would you rate this article?
This site contains commercial content. We may be compensated for the links provided on this page. The content on this page is for informational purposes only. Action Network makes no representation or warranty as to the accuracy of the information given or the outcome of any game or event.