WR/CB Matchups to Know for Week 13 NFL Fantasy Football: Will Stephon Gilmore Shut Down DeAndre Hopkins?
Credit:
David Butler II-USA TODAY Sports. Pictured: Stephon Gilmore and DeAndre Hopkins
Wide receiver-cornerback showdowns might be the most important individual matchups in football.
In this piece, I leverage snap data from Pro Football Focus to project NFL Week 12 WR/CB matchups.
For more, see the FantasyLabs Matchups page, where we provide basic and advanced data — including fantasy and red-zone performance — for each offensive skill-position player based on his matchup.
Also consult our Week 12 injury report for status updates on receivers and corners. I will update this piece over the weekend.
Let's start with this week's featured matchup and then run through all the potential shadow matchups and sort through my matrix featuring every matchup.
---
WR/CB Matchup of the Week
Texans WR DeAndre Hopkins vs. Patriots CB Stephon Gilmore
By his usual lofty standard, Hopkins is having something of a down year. After averaging 1,475 yards and 12 touchdowns in his 2017-18 All-Pro campaigns, Nuk is pacing for 1,220.4 yards and 8.7 touchdowns this year.
In other words, he's still great.
And he's in good form: Over the past six weeks, he's averaged 87.4 yards and 0.8 touchdowns per game.
But his matchup is tough.
The Patriots defense leads the league with 2.3 adjusted net yards per play and a 34% pass play success rate (per Sharp Football Stats).
Gilmore has routinely shadowed opposing No. 1 receivers, and I expect him to be on Hopkins for most of the game. Gilmore was inconsistent in 2017, his first year with the Pats, but in 2018 he was an All-Pro lockdown defender, and he's been even better this year. Since last season, Gilmore has held receivers to a 44.7% catch rate, and this year he's yet to allow a touchdown.
Gilmore is in great form: In Week 12, he held Amari Cooper to zero receptions on two targets. And in Week 1 last year, Gilmore tailed Hopkins on 77.3% of his routes and held him to a 4-50-0 receiving line on six targets.
As good as Hopkins is, right now Gilmore is better. On a 10-1 team with a mediocre offense, Gilmore is a legitimate candidate for Defensive Player of the Year.
Potential Week 13 Shadow Matchups
Here are the other shadow matchups I'm projecting.
Thanksgiving Day
Bears WR Allen Robinson vs. Lions CB Darius Slay: In Week 10 last year, Slay was out, and A-Rob punished the Bears with a 133-yard, two-touchdown receiving performance, but in the Week 12 divisional rematch, Slay shadowed Robinson and held him to a 2-37-0 stat line on four targets.
In Week 10 this year, the Lions surprisingly had Slay play mainly at right corner, and A-Rob had a solid 6-86-0 receiving on nine targets. Given A-Rob's recent performance, the Lions might decide once again to have Slay shadow him in the rematch.
Cowboys WR Amari Cooper vs. Bills CB Tre'Davious White: For the first six games of the season, the Bills used White almost exclusively at left corner, but since then he has shadowed opposing No. 1 receivers.
Cooper has averaged 81 yards and 0.64 touchdowns receiving in his 22 games with the Cowboys (including playoffs), but he's dealing with a nagging injury and coming off a catch-less Week 12 performance, and White has allowed a catch rate of just 54.5% for his career.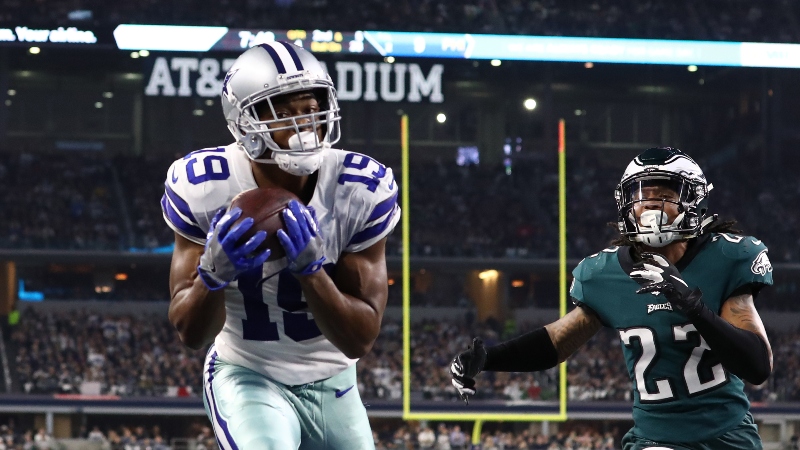 Falcons WR Julio Jones vs. Saints CB Marshon Lattimore: Both guys in this matchup are dealing with injuries. Jones (shoulder) missed part of Week 12, and Lattimore (hamstring) was inactive the past two games after suffering an injury against the Falcons in Week 10.
Given that Jones returned to action after suffering his injury and that Lattimore got in a limited practice on Friday, I expect that both will play in Week 13.
Lattimore was a total liability early in the season. In Weeks 1-3, he allowed 20-341-2 receiving with a 74.1% catch rate. But for Weeks 4-10, he played like an All-Pro cover corner, allowing just 13-140-0 receiving with a 44.8% catch rate.
While Jones had a 3-79-0 performance on nine targets against the Saints in Week 10, it wasn't till after Lattimore left the game that Julio got most of his production.
If Lattimore suits up, Jones will warrant a significant downgrade.
If Lattimore is out, Jones will likely see shadow coverage from No. 2 cornerback Eli Apple, whom he's more than capable of beating. Against Apple in Week 12 last year, Jones had a 7-86-0 performance on 10 targets.
Sunday, 1 p.m. ET
Colts WR T.Y. Hilton vs. Titans CB Adoree' Jackson: Hilton (calf) played through an injury on Thursday Night Football in Week 12 and had a horrible, scoreless 18-yard drop-filled performance. With four missed games and just 378 yards receiving, Hilton is having the worst season of his career.
Still, Hilton is probably a top-12 receiver when healthy, and with 10 days between games, he could enter Week 13 in good physical form.
In their two games since losing No. 1 cornerback Malcolm Butler (wrist, IR) for the season in Week 9, the Titans have deployed Jackson in shadow coverage against No. 1 receivers.
While Jackson has talent, Hilton should win this matchup (if healthy). In Week 2, the Titans used Butler on Hilton, but in Week 13 last year, Jackson tried to shadow Hilton, who went off with an 8-146-2 masterpiece on eight targets in his coverage.
UPDATE (Nov. 30): Hilton (calf) is out. If Jackson shadows any Colts wide receiver, it will likely be Zach Pascal.
Redskins WR Terry McLaurin vs. Panthers CB James Bradberry: In Weeks 1-6, McLaurin looked like a legitimate candidate for Offensive Rookie of the Year, averaging 181.6 yards and one touchdown on 7.6 targets and 4.6 receptions per game. Since then, though, he has just 230 scoreless yards.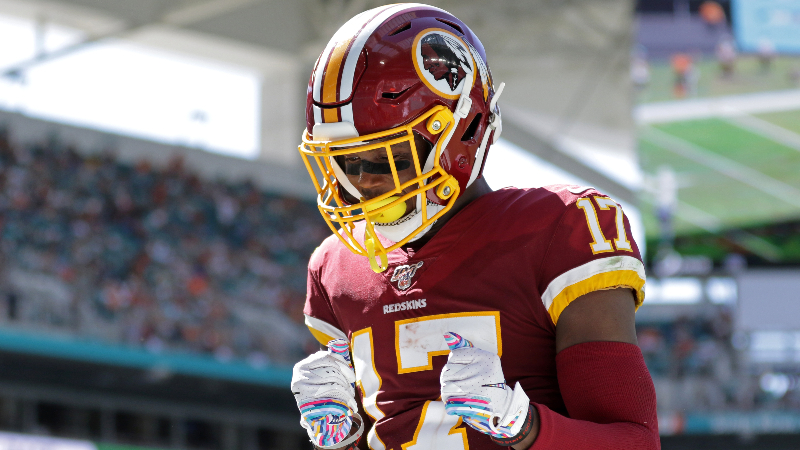 But last week he did have five receptions and 72 yards on a season-high 12 targets, and as rookie quarterback and college teammate Dwayne Haskins continues to develop, McLaurin could benefit.
The Panthers don't always use Bradberry in shadow coverage, but he tends to tail big-bodied No. 1 receivers (Mike Evans twice, DeAndre Hopkins, Julio Jones). McLaurin fits the mold.
For his career, Bradberry has allowed a catch rate of just 58.9% and presents a tough matchup.
Sunday, 4:05 p.m. ET
Rams WR Brandin Cooks vs. Cardinals CB Patrick Peterson: In Week 16 last year, Peterson shadowed Cooks on 80.8% of his routes and held him to just 18 yards on one target.
Peterson is a different guy this year. Since returning from suspension, he has allowed a 73.3% catch rate, 315 yards and two touchdowns in five games. He has played so poorly that the Cardinals didn't even use him in shadow coverage in Week 11.
But coming off the bye, I expect the Cardinals to give Peterson another chance to face off against the opposing No. 1 receiver.
If, however, the Cardinals choose to play sides, Peterson will probably line up at left corner (that's where he was in Week 11), which would put him against Robert Woods for a majority of his snaps.
Either way, the Rams have two good perimeter receivers, and one of them is likely to face Peterson on every snap.
Cardinals WR Christian Kirk vs. Rams CB Jalen Ramsey: Since returning from injury in Week 8, Kirk leads the team with 35 targets, 22 receptions, 266 yards and three touchdowns. He's now the clear No. 1 receiver for the Cardinals.
Since the Rams acquired Ramsey in Week 7, they have used him in heavy shadow coverage against opposing No. 1 receivers. Although he's allowed a 72% catch rate with the Rams, he's faced a tough slate of receivers.
For his career, Ramsey has allowed a catch rate of just 55.6%.
Sunday, 4:25 p.m. ET
Chargers WR Mike Williams vs. Broncos CB Chris Harris Jr.: This is something of a circumstantial shadow situation. In previous seasons, Harris would de facto shadow Keenan Allen because they both played primarily in the slot.
This year, though, Harris is on the perimeter, venturing into the slot only on occasion. But Allen is still playing most of his snaps in the slot. When Allen lines up out wide, I expect that he will draw Harris, but when Allen is inside, Harris will likely be covering someone else.
I think that will be Williams. In Week 5 against the Broncos, Williams had 74 yards on a season-high 13 targets and six receptions. In fact, although Williams has largely disappointed this year — after scoring 11 touchdowns last year, he has zero through 12 weeks — he's pacing for close to a 1,000-yard season. He's bumped his yardage per target up to 10.5 from 10.1 in 2018.
All year, the Broncos have been using Harris in shadow coverage. If he's not on Allen, Williams is the clear candidate for his attention.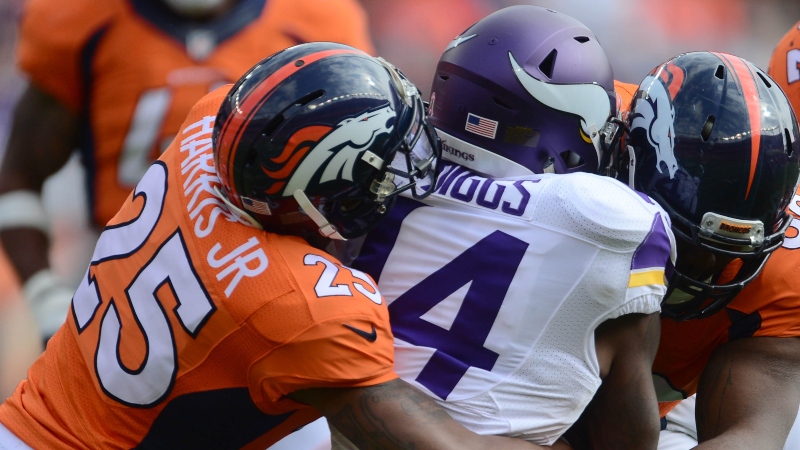 Broncos WR Courtland Sutton vs. Chargers CB Casey Hayward Jr.: The Chargers have used Hayward in shadow coverage for most of the year, and I expect he will tail Sutton this week.
The second-year receiver has flashed this season and is pacing for a 1,200-yard campaign, but he has struggled against Hayward. Sutton had a 4-92-1 performance against the Chargers in Week 5, but almost all of that production came against other players. Hayward shadowed Sutton on 83.3% of his routes and held him to just six yards on two targets.
And last year, Hayward limited him to three receptions and 94 scoreless yards in two games.
Given Hayward's neutralizing performance against Sutton in the past and how productive Sutton was outside of his coverage in Week 5, I expect Hayward to defend Sutton as much as possible. Since joining the Chargers in 2016, Hayward has held opposing receivers to a 52.2% catch rate.
Sunday Night Football
Texans WRs Will Fuller & Kenny Stills vs. Patriots CBs Jason McCourty & Jonathan Jones: The Pats are the league's most shadow-heavy team. While Gilmore focuses on Hopkins, McCourty and Jones will be tailing Fuller and Stills all over the field.
As good as the Pats are in pass defense, I don't mind these matchups for Fuller and Stills.
McCourty is a consistently good cover man, but he's 32 years old and starting to slow. He's a technician and savvy veteran, but I doubt he has the speed to hang with Fuller and his elite speed. In his return from injury last week, Fuller had a 7-140-0 performance on a team-high 11 targets. If Gilmore is able to lock down Hopkins, that could funnel targets to Fuller, which actually might be to the Texans' advantage.
Jones has been one of the best slot defenders in the league this year, and he has the speed to keep up with Stills. But before this season, Jones was merely average in coverage, and he probably benefits from the scheme and the strength of the players around him. Still probably has the athleticism and skills to get by Jones for a couple of long plays.
UPDATE (Nov. 30): McCourty (groin) is out. Fuller will have a significantly easier matchup against fill-in corner J.C. Jackson.
Monday Night Football
Seahawks WR D.K. Metcalf vs. Vikings CB Xavier Rhodes: Last year, the Vikings regularly used Rhodes in shadow coverage, but this year he has struggled mightily, allowing an 85.5% catch rate. After Weeks 1-2, the Vikings used Rhodes almost exclusively at right corner.
But in Week 11, they reverted to their prior practice and let Rhodes defend Courtland Sutton for 88.1% of his routes. Coming out of the bye, the Vikings might once again let him shadow, and given that he doesn't play in the slot, I think he will focus on Metcalf instead of No. 1 receiver Tyler Lockett.
And based on where they've tended to line up this year, even if Rhodes doesn't shadow Metcalf, they're still likely to face each other for most of their snaps.
Playing in a run-heavy offense, Metcalf has just 6.4 targets per game and only one 100-yard performance on the year, but the rookie has a league-high 13 end-zone targets and is a big-play machine.
If Rhodes plays as poorly this week as he has for the rest of the year, Metcalf could have a 100-yard, multi-touchdown prime-time breakout.
NFL Week 13 WR/CB Matrix
I take a cautious approach to injured players I expect to be questionable or out. If by the weekend it seems likely that they will play, I will include them in my updates.
Pos = left, right or slot WR or CB
Projected shadow matchups are CAPITALIZED
WR Exp = Wide Receiver Expectation: I rank from 3 to -3 how much I think we should adjust expectations for wide receivers based on matchups. 3: Large upgrade. 2: Medium upgrade. 1: Small upgrade. 0: No change. -1: Small downgrade. -2: Medium downgrade. -3: Large downgrade.
Thanks to Scott Barrett for providing me with some of PFF's historical data.
How would you rate this article?