Week 14 NFL WR/CB Matchups: Tyreek Hill vs. Stephon Gilmore
Credit:
USA TODAY Sports. Pictured: Patriots CB Stephon Gilmore (24), Chiefs WR Tyreek Hill (10).
Wide receiver-cornerback showdowns might be the most important individual matchups in football.
In this piece, I leverage snap data from Pro Football Focus to project NFL Week 14 WR/CB matchups.
For more, see the FantasyLabs Matchups page, where we provide basic and advanced data — including fantasy and red-zone performance — for each offensive skill-position player based on his matchup.
Also consult our Week 14 injury report for status updates on receivers and corners. I will update my WR/CB projections over the weekend.
Let's start with this week's featured matchup and then run through all the potential shadow matchups and sort through my matrix featuring every matchup.
WR/CB Matchup of the Week
Chiefs WR Tyreek Hill vs. Patriots CB Stephon Gilmore
This is a great matchup. It's the one I've maybe been the most excited about all season.
In last year's Week 6 Patriots-Chiefs game, the Pats decided to have Gilmore shadow wide receiver Sammy Watkins instead of Hill.
That decision made some sense. Hill plays a fair number of his snaps in the slot, and Gilmore tends to play on the perimeter. Plus, he matches up better with Watkins in terms of size and speed.
Naturally, Hill destroyed the Pats with seven receptions, 142 yards and three touchdowns on 12 targets.
When the two teams met again in the AFC Championship Game, the Pats were determined to take Hill out of the offense, so they used bracket coverage with safety help. Cornerback Jonathan Jones played against Hill most, but Gilmore also saw action against him.
In that game, they held him to a 1-42-0 performance on just three targets.
This week, the Pats will almost certainly plan to neutralize Hill once again, and I expect they will have Gilmore shadow him.
Hill is one of the league's most dynamic receivers. In his three full games with quarterback Patrick Mahomes this year, he has averaged 97.3 yards and one touchdown on 12.3 targets and seven receptions per game.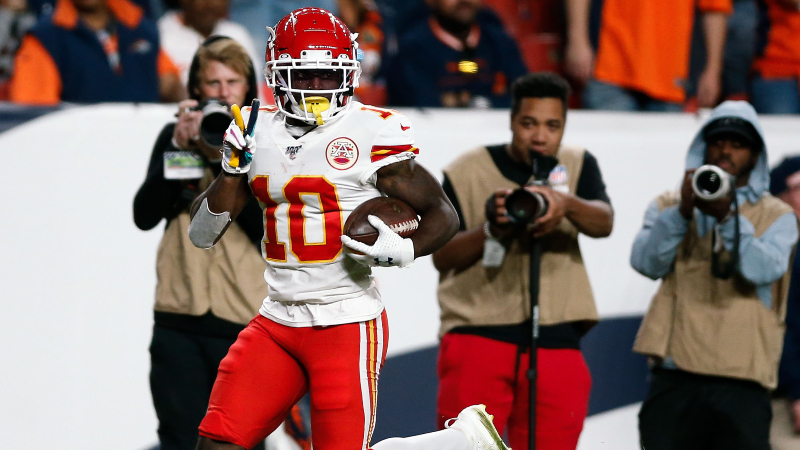 Hill is capable of putting up big performances against anyone. Just last season, Hill was an All-Pro receiver.
But Gilmore isn't just anyone: He, too, was an All-Pro last season. Regardless of where guys line up or what kind of players they are, Gilmore has blanketed No. 1 wide receivers all season long. Why should this week be any different?
In Week 1, Gilmore played 30 snaps in the slot against JuJu Smith-Schuster, so the Pats are probably comfortable letting him tail Hill into the interior. And this year, he has manned up against small-and-fast receivers comparable to Hill in John Brown and Marquise Brown.
In all probability, the Patriots will put Gilmore on Hill and trust him to lock him down. Gilmore was inconsistent in 2017, his first season with the Pats, but since last season, he has held receivers to a 45.8% catch rate, and this year he has yet to allow a touchdown.
Right now, Gilmore looks like the Defensive Player of the Year. This will be an epic matchup.
Potential Week 14 Shadow Matchups
Here are the other shadow matchups I'm projecting.
Sunday, 1 p.m. ET
Falcons WR Julio Jones vs. Panthers CB James Bradberry: Jones (shoulder) missed Week 13, but he is tentatively expected to play this week. Bradberry didn't shadow last week, but he tends to tail big-bodied dominant No. 1 receivers. In their three divisional matchups since last year, Jones had diminished numbers with 7.3 targets, five receptions, 61 yards and 0.33 touchdowns.
Ravens WR Marquise Brown vs. Bills CB Tre'Davious White: Hollywood Brown is capable of scoring multiple touchdowns in any game, but he's coming off a 1-1-0 performance against a tough 49ers pass defense, and the Bills are No. 3 in PFF coverage grade. For the first six games of the season, the Bills used White almost exclusively at left corner, but since then he has shadowed opposing No. 1 receivers, and he's becoming one of the league's best cover men. Since entering the league in 2017, White has allowed a catch rate of just 52.7%.
Browns WR Odell Beckham Jr. vs. Bengals CB Willie Jackson III: For most of the year, the Bengals have played sides, but without No. 1 corner Dre Kirkpatrick (knee, IR), they have used Jackson in shadow coverage in two of the past three weeks. Beckham is having the worst season of his career, but just last week Jackson yielded 10-107-0 receiving on 11 targets. This could be a bounce back spot for OBJ.
Lions WR Kenny Golladay vs. Vikings CB Xavier Rhodes: Pacing for 1,250 yards and leading the league with nine receiving touchdowns, Golladay is becoming a star. In his three divisional games against the Vikings since last year, Golladay has underwhelmed with seven targets, 3.3 receptions, 41.7 yards and no touchdowns, but Rhodes has struggled mightily this year, allowing an 85.5% catch rate.
In fact, the Vikings have rarely used him in shadow coverage since Week 3. But Golladay and Rhodes tend to line up on the same side of the field anyway, so one way or another, they're going to see a lot of each other. It's hard to trust Golladay with third-string quarterback David Blough, but he could have a big game against Rhodes.
Vikings WR Stefon Diggs vs. Lions CB Darius Slay: In their Week 7 matchup, Slay aggravated a hamstring injury and left the game early, and Diggs missed their Week 9 showdown last year, but in Week 16, Slay tailed Diggs on 72.4% of his routes and held him to zero receptions on four targets. A volatile producer, Diggs has the potential to go off, but against Slay, he also has the downside of a week-ruining performance.
49ers WR Emmanuel Sanders vs. Saints CB Marshon Lattimore: After putting up 137 yards and two touchdowns in his first two games with the 49ers, Sanders has a scoreless 113 yards over the past month. By performance and snaps played, rookie Deebo Samuel actually looks like the No. 1 wide receiver. But I tentatively expect that Sanders will get the veteran shadow treatment from Lattimore. After a horrible first three weeks to the season, Lattimore has held opposing receivers to a catch rate of just 48.6%.
Buccaneers WR Mike Evans vs. Colts CB Rock Ya-Sin: Since their Week 6 bye, the Colts have relied much more on shadow coverage, and when healthy, Ya-Sin has recently been tasked with defending larger receivers. Evans has a manageable 254 yards but no touchdowns over the past month, and last week he disappointed with just 53 yards on 11 targets. Ya-Sin isn't a pushover, but he is a rookie, and Evans could see a lot of volume in a get-right spot.
Texans WR DeAndre Hopkins vs. Broncos CB Chris Harris Jr.: In Week 9 last year, Hopkins had a big 10-105-1 performance on 12 targets against the Broncos, but that was with Harris playing primarily in the slot. Now a shadow defender who plays almost exclusively on the perimeter, Harris will likely tail Hopkins for most of his snaps. Despite allowing a 65.9% catch rate this season, Harris has held receivers to just 36.3 yards and 0.17 touchdowns per game in his coverage.
Sunday, 4:05 p.m. ET
Chargers WR Mike Williams vs. Jaguars CB A.J. Bouye: This is something of a circumstantial shadow situation. In the post-Jalen Ramsey era, the Jags have used Bouye against No. 1 receivers, but Keenan Allen plays primarily in the slot for the Chargers. When he's on the perimeter, he could see Bouye, but otherwise I expect Bouye will cover Williams.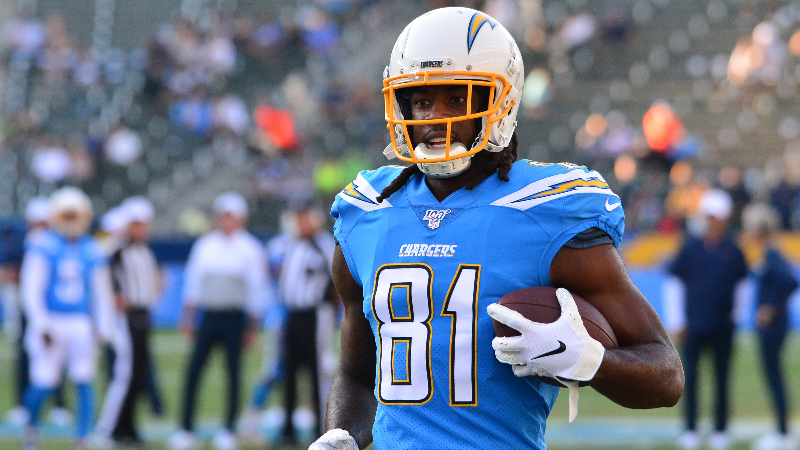 He has largely disappointed this season with zero touchdowns after scoring 11  last year, but he's pacing for a 1,000-yard season, and he's bumped his yardage per target up to 11.3 from 10.1 in 2018. If Bouye isn't on Allen, then Williams is the clear candidate for his attention.
Jaguars WR D.J. Chark Jr. vs. Chargers CB Casey Hayward Jr.: Quarterback Gardner Minshew is slated to replace Nick Foles in the starting lineup, which will likely benefit Chark, who has a near-elite 881-8 receiving line. Hayward doesn't always shadow, but he and Chark tend to line up on the same side anyway. Hayward gave up a touchdown last week, but he's still one of the league's best shadow corners. Since joining the Chargers in 2016, Hayward has held opposing receivers to a 52.7% catch rate.
Sunday, 4:25 p.m. ET
Chiefs WRs Sammy Watkins & Demarcus Robinson vs. Patriots CBs Jonathan Jones & J.C. Jackson: No. 2 cornerback Jason McCourty (groin) has missed the past two games, but Jackson is a competent fill-in. The Pats are the league's most shadow-heavy team and have held opponents to a league-low 3.8 adjusted yards per attempt. While Stephon Gilmore focuses on Tyreek Hill, Jones and Jackson will tail Watkins and Robinson.
I expect little from Robinson, who has zero catches over the past two games, but Watkins is intriguing. Jones normally plays in the slot, but the Pats used him on the perimeter in Week 1 when Gilmore shadowed Smith-Schuster.
Against Watkins outside of the slot, Jones could struggle, especially if the Pats shift a safety toward Hill.  In the AFC Championship last season, Watkins had a 4-114-0 receiving line on eight targets.
Sunday Night Football
Seahawks WR Tyler Lockett vs. Rams CB Jalen Ramsey: Since the Rams acquired Ramsey in Week 7, they have used him in heavy shadow coverage against opposing No. 1 receivers.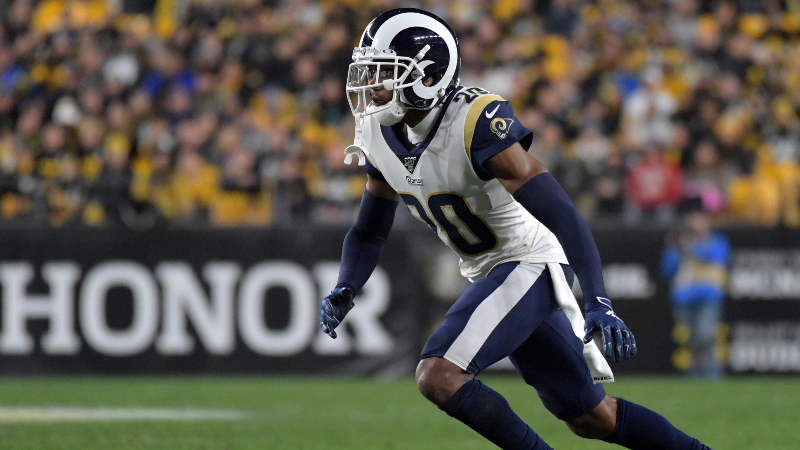 A perimeter corner, Ramsey ventured into the slot in Week 10 against JuJu Smith-Schuster, so I expect the Rams won't hesitate to put him in the interior against Lockett.
In his three divisional games against the Rams since last season, Lockett has averaged 72 yards and a touchdown, but this game could be different: Although he's allowed a 71.4% catch rate with the Rams, Ramsey is yet to yield a touchdown, and for his career, Ramsey has allowed a catch rate of just 55.7%.
NFL Week 14 WR/CB Matrix
I take a cautious approach to injured players I expect to be questionable or out. If by the weekend it seems likely that they will play, I will include them in my updates.
Pos = left, right or slot WR or CB
Projected shadow matchups are CAPITALIZED
WR Exp = Wide Receiver Expectation: I rank from 3 to -3 how much I think we should adjust expectations for wide receivers based on matchups. 3: Large upgrade. 2: Medium upgrade. 1: Small upgrade. 0: No change. -1: Small downgrade. -2: Medium downgrade. -3: Large downgrade.
Thanks to Scott Barrett for providing me with some of PFF's historical data.
How would you rate this article?