Betting Angles for All 11 NHL Games
Credit:
Philip G. Pavely-USA TODAY Sports
We're in the portion of the NHL schedule where the words "dogfight" and "jockeying" are bandied about ad nauseum, which is to say we've hit the home stretch and the trade deadline is on the horizon.
Thursday's slate features a slew of tasty matchups, including a tilt in Pittsburgh between teams heading in opposite directions, a four-pointer in New Jersey and a Vegas Flu scenario in the Sin City.
We dive into the stats, trends, matchups and personnel to break down each of the 11 games on the ice on Thursday, which is our way of telling you that we aren't judging anyone for putting hard-earned money on the Sabres-Senators game, because we will be right there with you. — Michael Leboff
All info as of Thursday morning. Check back during the day and keep an eye on our Twitter handle for any updates.
If there's a specific matchup you want to jump to, click the quick links below. For live spreads and bet percentages, check out this page. To get access to our premium betting tools, subscribe here.
LAK-PIT | CAR-NJD | WAS-MIN | CAL-NAS | EDM-VGK | Rest of Slate
---
LOS ANGELES KINGS (+160) @ PITTSBURGH PENGUINS (-185)
7 p.m. ET
Betting Market: Despite Pittsburgh receiving 67% of bets, the line has steadily been moving towards Los Angeles. This can be attributed to sharps hitting the Kings, causing the market to adjust the line from +160 to +145. — Mike Marsh
Key metric: Even though they are firmly in a playoff spot with 68 points and 32 wins, the Penguins hold a minus-26 goal differential when playing at even strength this season and have allowed the third-most (129) goals on equal footing. On the flip side, the Kings are plus-13 at even strength, which ranks ninth in the league. — Evan Abrams
Puck luck: Using PDO (save percentage + shot percentage where 100 is the average) as a barometer, the Penguins are the unluckiest team in the entire NHL at 97.33. The Kings are among the more fortunate teams in the league with a PDO of 101.09.  — Michael Leboff
Netminder news: After a stellar first-half of the season, Jonathan Quick has seen his game plummet of late for Los Angeles. The 32-year-old was never going to keep up the .929 save percentage he posted over his first 32 games, but things have hit the skids big time for the two-time Stanley Cup winner. Over his last 11 starts, Quick has posted an .884 save percentage and has allowed at least four goals seven times — including in his last start when he allowed four goals on 20 shots before being pulled in a loss against Carolina on Tuesday.
The Pittsburgh Penguins seem to have hit their stride and Matt Murray is also starting to round into some sort of form for the two-time defending champs, as well. Over his last six starts, the 23-year-old has a .916 save percentage, which is a marked improvement after a dismal first-half of the season. – Michael Leboff
Personnel updates: Dustin Brown will return from his one-game suspension for Los Angeles. The 33-year-old is in the middle of a surprising career revival with LA; he has 16 goals, 22 assists, and a 4.3 Relative Corsi For in 55 games this year. Los Angeles is expected to be without Trevor Lewis, and Jeff Carter is still out indefinitely.
Pittsburgh won't have top-sixer Patric Hornqvist and checking line forward Tomas Kuhnhackl. With Hornqvist out, the Pens have been rolling with Dominik Simon on Sidney Crosby's left wing, while Carl Hagelin has seen time riding shotgun with Evgeni Malkin and Phil Kessel. —  Michael Leboff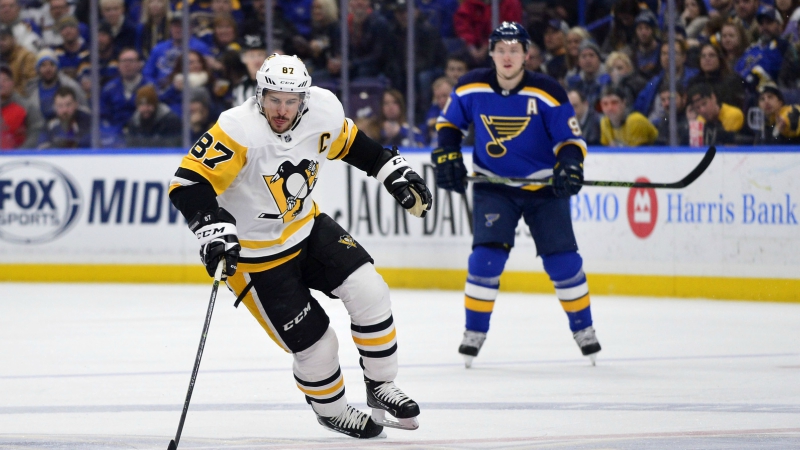 DFS angle: Kris Letang has been a solid peripheral stat option over his past eight games. He has ranked in the 95th percentile in shots+blocks and exceeded his salary-based expectations by 1.46 points on FanDuel with a 62.5 percent Consistency Rating. His team-leading 20.33 Corsi For over the past month ranks among the top-10 on the slate, but the Kings present a tough matchup from a Corsi Against perspective, allowing the third-fewest shot attempts over the past month. Letang could still end up being a bargain today, as he's been much more consistent at home this season (3.75 additional fantasy points per game). He is the seventh- and fifth-highest priced defensemen on DraftKings and FanDuel, respectively. — Joe Holka
Matchup to watch: The Penguins' power play is operating at 26.7% this year, tops in the entire NHL. But that unit will face a stern test against Los Angeles and its fourth-ranked penalty kill (83.4%). —  Michael Leboff
Puckline play: The Pens have been great at home against above .500 teams over the past two seasons (22-7), but on the puckline, Pittsburgh is 9-20 overall and 7-20 as a favorite. However, the Penguins have covered the puckline in four of their past five in that situation. (And they've won eight consecutive games straight up in that spot.) — John Ewing/Evan Abrams
Debutante Dion: The Kings and Senators completed a four-player trade on Tuesday night, with Los Angeles receiving past-his-prime rearguard Dion Phaneuf and fourth-line grinder Nate Thompson in exchange for Marian Gaborik and Nick Shore. Phaneuf has been a possession black hole for quite some time, so it's a bit of an odd move for Los Angeles. — Michael Leboff
Trend to know: At 12-10 on the moneyline as an underdog, the Kings are the third-most profitable team when listed as dogs this season. — Evan Abrams
---
CAROLINA HURRICANES (-110) @ NEW JERSEY DEVILS (-110) 
7 p.m. ET 
Betting Market: What's sticking out in this showdown is the sharp action on the over. Earlier in the day we tracked a steam move on over 5.5 triggered at Pinnacle. The total hasn't moved off 5.5, but about a minute after the steam move was triggered, the juice on the over at Bookmaker quickly moved from -110 to -128.  — Mike Marsh
Metrics to know: New Jersey and Carolina have ranked among the league's best at creating scoring chances at 5-on-5 this year. Both teams create 2.59 expected goals (xGF) per 60 minutes of 5-on-5 play, which is the fourth-best mark in the NHL. — Michael Leboff
Four-point game: The Devils and Hurricanes currently hold the two wild-card spots in the Eastern Conference. New Jersey has a one-point edge over the Canes with one fewer game played. — Michael Leboff
DFS angle: Taylor Hall's 5.55 shot attempts per game over the past month lead all forwards, and trail only Brent Burns (6.13) for the slate lead today. The problem with attacking this game for offense is that it's likely to be played at a slower pace with both teams in the bottom-four in Corsi Against. Hall has been able to exceed salary-based expectations games with similarly mediocre implied goal totals when playing at home this season (DraftKings Plus/Minus of 0.53). — Joe Holka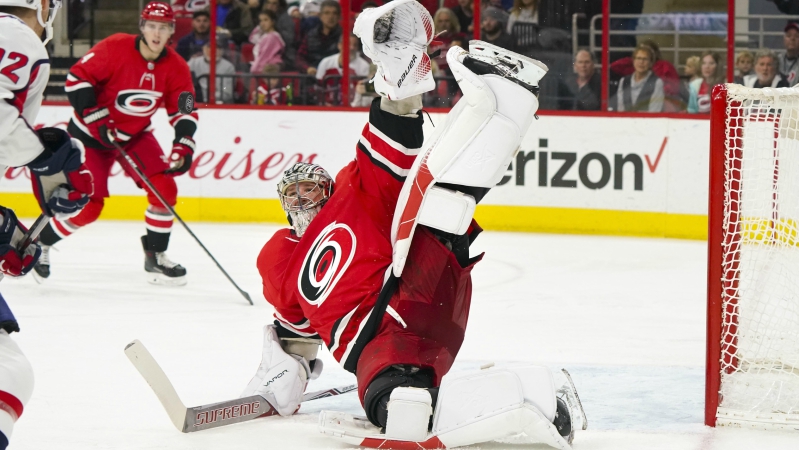 Netminder news: Cory Schneider will be out another week for the Devils with a groin injury, meaning the Devils will look to Keith Kinkaid to pick up two crucial points against the Hurricanes. The Long Island native has been bad this season, but he and his .891 save percentage are the lesser of two evils for the Devils considering their other option at the moment is Eddie Lack.
UPDATE: The Hurricanes will turn to Scott Darling on Thursday. The 29-year-old goaltender has struggled mightily this season, posting a save percentage less than .900. Darling has also only picked up three victories in his last 14 starts. — Michael Leboff/Mike Marsh
Past vs. present: The Hurricanes' 53.42 road Corsi For (a measure of shot differential) leads the league, but over the last decade, Carolina has won just 29.4% of its games away from home against a team .500 or better. The Hurricanes have been the least profitable team in the NHL in that situation over that span. — Evan Abrams
Scheduling quirk: Both Carolina and New Jersey are on normal rest … BUT keep in mind that the Hurricanes are playing their first road game since Jan. 25 (they had an eight-game homestand), while New Jersey has been bouncing around, alternating home and away games since Feb. 3, a span of seven contests. — Evan Abrams
---
WASHINGTON CAPITALS (+105) @ MINNESOTA WILD (-125)
8 p.m. ET
Betting Market: This matchup is setting up as a perfect "fade the trendy dog" spot. 62% of public bettors are on the Caps as +130 underdogs. Even though the majority of the bets have been coming in on Washington, 69% of the money is on the Wild, which has resulted in sportsbooks across the market moving the line in Minnesota's favor. Since opening at -130, the Wild are now down to -150.  — Mike Marsh
Key metric: Minnesota's 45.89 Corsi For (a measure of shot differential) and 46.04 Corsi For at even strength are both the lowest in the league this season. The Capitals aren't much better, sitting at 47.79 Corsi For at 5-on-5. — Evan Abrams
Netminder news: Devan Dubnyk is the league's in-form goaltender at the moment. The former first-round pick has stopped nearly 95% of the shots he's faced over the past four games and is one game removed from a 44-save shutout over Chicago. Part of Dubnyk's success has to be attributed to the Wild's solid defensive play. Minnesota has allowed the fewest amount of expected goals (xGA) at 5-on-5 this season.
In a bit of a surprise move, the Caps will hand a start to Philipp Grubauer in goal against the Wild. The German-born netminder hasn't played since February 4th but is among the best backups in the league with a 10.32 GSAA at 5v5 this season.  — Michael Leboff
DFS angle: With the third-highest Corsi Against on the slate over the past month, the Wild have been leaning heavily on Dubnyk lately. He has been up to the task, exceeding his salary-based expectation in eight of his past 10 starts. That said, his save floor could be lower today against a Capitals team that has the fourth-fewest shot attempts over the past month. Dubnyk's save prediction of 28.2 is the second-lowest of any Vegas favorite today. — Joe Holka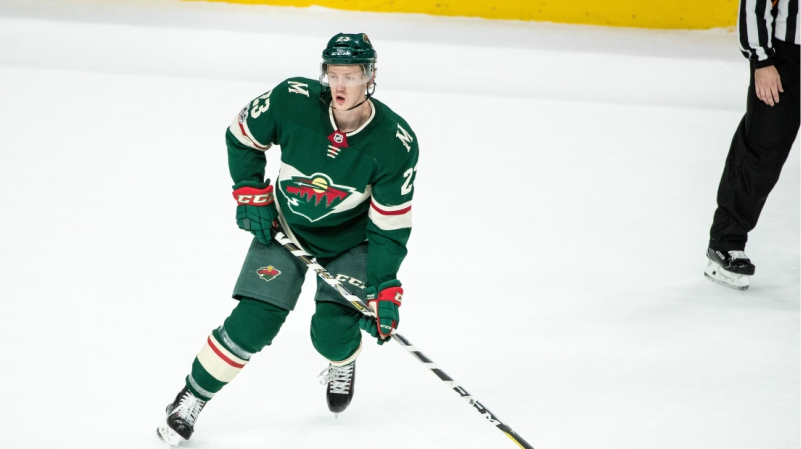 Personnel updates: The Wild are still without top-four defenseman Jonas Brodin. With Brodin out, Bruce Boudreau has inserted 2013 second-round pick Gustav Olofsson into the second pair with Mathew Dumba. — Michael Leboff
Alex the Gr8: The Capitals have won each of their past six meetings against the Wild. Over the course of those six tilts, Alexander Ovechkin has 14 points (10 G, 4 A), including five multi-point games. — Evan Abrams
Trend to know: The Wild may be coming off back-to-back home victories over the Rangers and Blackhawks, but Minnesota is 4-10 on the moneyline coming off a two-plus-game winning streak this season. — Evan Abrams
---
CALGARY FLAMES (+160) @ NASHVILLE PREDATORS (-185)
8 p.m. ET
Betting Market: Bettors have been loading up on the heavily-favored Predators. In one of the more lopsided games of the night, the majority of the action is on Nashville (76%). This is also one of the only sides of the slate where a team is generating more than 70% of bets and 70% of money at the time of publication. However, there has been considerable reverse line movement towards the Flames, who are now down to +145.  — Mike Marsh
Personnel updates: The big news for this one is that the Flames will be without starting goaltender/fountain of youth discoverer Mike Smith. Although Smith's groin injury is not considered too severe, he will not play against the Preds, who come into this one at 100% health. — Michael Leboff
Netminder news: With Smith on the shelf, Calgary will hand the keys to David Rittich. The 25-year-old Czech Republic native allowed four goals on 39 shots against the Bruins in his last start and has a 3.85 Goals Saved Above Average (GSAA) in all situations this year.
According to GSAA, no goaltender has been better than Nashville's Pekka Rinne this season. The 35-year-old has a legitimate shot at the Vezina Trophy and has only helped his case with his form lately. Over his last 14 games, Rinne has a .935 save percentage, and the Preds have dropped only one point in Rinne's last 11 starts. — Michael Leboff
DFS angle: Roman Josi leads the slate with 11 Pro Trends on both DraftKings and FanDuel, as one of only three skaters today who ranks the 99th percentile in shots+blocks over the past month. — Joe Holka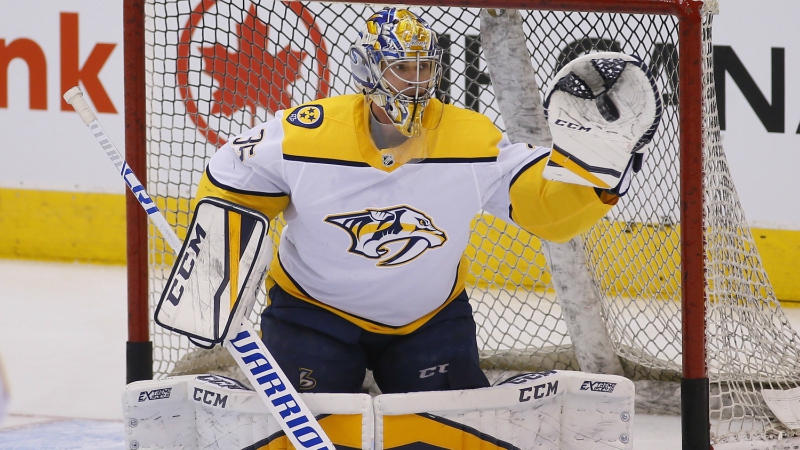 Puckline play: Nashville beat St. Louis 4-3 Tuesday night. Over the past three seasons, the Predators have played 69 games at home following a game they either lost or won by just one goal (not covering the puckline as a favorite). Nashville is 32-37 (+$2,271 profit for a $100 bettor) on the puckline in that subsequent game, the most profitable team in the NHL. They've been listed as the favorite in 67 of those 69 home games. — Evan Abrams
Trend to know: Calgary is playing a sixth consecutive game on the road. Teams on extended road trips (six or more games) late in the season (February-April) are 85-63 on the moneyline since 2005. A $100 bettor would be up $4,243 wagering on these teams. — John Ewing
Predator power: There is nothing more dangerous than Nashville at home on a power play: The Predators' 93.12 Corsi For at home in that situation leads the NHL by over 1.50 CF%. Plus, Nashville has only allowed 19 total Corsi Against in that spot, five fewer than any other team in the league. — Evan Abrams
---
EDMONTON OILERS (+180) @ VEGAS GOLDEN KNIGHTS (-215)
10 p.m. ET
Betting Market:  This clash between the Oilers and Golden Knights is shaping up to be one of the most heavily bet games of the evening. It's not surprising to see the public jumping all over Vegas (74% of bets) considering how dominant they have been at home. — Mike Marsh
Hypothetical goals abound: Despite being well outside of the playoff picture, the Oilers actually have been one of the league's best teams in terms of expected goals margin when playing 5-on-5. Edmonton's +13.51 xG differential is third-best in the NHL. The Golden Knights have also been terrific at creating hypothetical goals, ranking sixth overall with 10.89 more xGF than xGA this season. — Michael Leboff
Netminder news: Cam Talbot's trying year has continued into February, as he's posted an .891 save percentage over his past six starts. The 30-year-old has been one of the league's worst goaltenders this year with a -6.88 GSAA and .901 save percentage in 43 games.
Meanwhile, Vegas' Marc-Andre Fleury has been one of the best shot-stoppers in the league this season; he owns an 11.58 GSAA over his 25 starts this year. He has been in a little slump of late, however, stopping only 89% of the shots he's faced in his past five games. — Michael Leboff
DFS angle: Vegas is just the second team all season to be implied to score four or more goals in a game. Historically, power-play skaters with comparably massive implied totals have averaged 2.50 FanDuel points above their salary-based expectation with a 55.0 percent Consistency Rating and double-digit ownership. — Joe Holka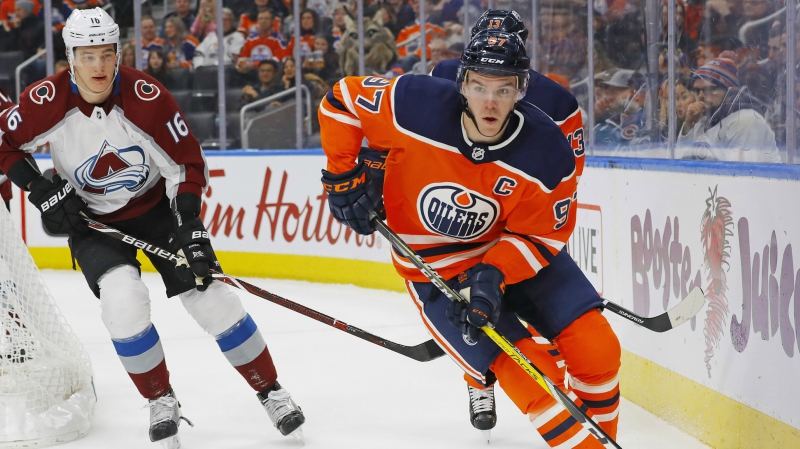 Personnel updates: Edmonton is set to be without Andrej Sekera and Ryan Nugent-Hopkins again. Top-four defenseman Adam Larsson remains questionable after the passing of his father earlier this month.
Vegas will likely be without Will Carrier, who's been an effective bottom-six forward for the Knights this season, and defenseman Luca Sbisa. — Michael Leboff
Well-behaved hosts: In 26 home games this season, Vegas has been shorthanded only 71 times and has racked up just 173 penalty minutes. Both are the lowest in the NHL. They don't figure to add much to those totals tonight given that the Oilers are last in the NHL in road power-play opportunities and tied for last in road power-play goals. If Edmonton is going to find a way to score in Vegas, it probably won't be with the man advantage. — Evan Abrams
Trend No. 1 to know: Vegas flu? Road teams with an extra day between games playing in Las Vegas have gone 2-14 straight-up this season. — John Ewing
Trend No. 2 to know: Vegas is the second-most profitable team at home this season, behind just the Colorado Avalanche. But Vegas has had a bit of an issue playing down to its competition at T-Mobile Arena: The Golden Knights are 14-2 on the moneyline against teams that are .500 or better but only 6-4 on the moneyline against teams below .500, losing four of their past six. — Evan Abrams
Something to keep in mind for live-betting: Edmonton is 11-1 on the moneyline this season when leading after the first period, which is the second-best record in that spot in the NHL behind Washington. — Evan Abrams
---
Quick Hits on the Rest of the Slate
New York Rangers (+120) @ New York Islanders (-140)
7 p.m. ET
Runaway rivals: The Rangers have dropped nine of their past 10 against the Islanders, including four straight on the road. Rangers goaltender Henrik Lundqvist has lost his past five road starts against the Islanders, allowing 2.8 GAA. — Evan Abrams
Pelted: The Islanders have allowed 40 or more shots on goal 15 times this season and have allowed 49 or more in three of their past seven games. No team in the NHL has allowed allowed more shot attempts when playing 5-on-5 than the Isles. — Michael Leboff
Buffalo Sabres (+120) @ Ottawa Senators (-140)
7:30 p.m. ET
So bad, it's good: When bad division teams (that win 35% or fewer of their games) play each other, the home team is 62-43. The Sabres and Senators were the last bad division teams to meet; Buffalo was at home and beat Ottawa 3-2. — Evan Abrams
Personnel updates: The Sabres will be without their best player, Jack Eichel, for an indefinite period of time after the former No. 2 overall pick sprained his ankle in a win over Boston on Feb. 10. — Michael Leboff
Buffa-roll: The Sabres are 3-1 and have scored 17 total goals (4.3 G/game) over their past four. Buffalo, which is 30th in goals scored over the entire season, is looking to continue its recent scoring success without Eichel against the Senators, who have allowed the third-most goals this season. Despite missing Eichel for their past two games, Buffalo actually out-shot its opponent in both. — Evan Abrams
Detroit Red Wings (+203) @ Tampa Bay Lightning (-245)
7:30 p.m. ET
Betting Market: Tampa is getting a whopping 83% of bets in this divisional tilt. However, our Bet Signals recorded steam and reverse line movement indicators at Pinnacle in the Red Wings' favor, which caused the market to move from +215 to +200. It's also important to note that only 14% of bettors are taking the under, but the percentage of money is much more even (58%).  — Mike Marsh
Trend No. 1 know: Tampa Bay is averaging 3.6 goals per game this season. Meanwhile, Detroit is conceding 3.0 goals per game. Easy win for the Lightning, right? Actually, since 2010, the high scoring team in this scenario has gone 188-191-1 straight-up, and the puckline favorite is 98-236 (29.3%). — John Ewing
Trend No. 2 to know: Tampa Bay has scored 53 goals in the first period this season, sixth-most in the NHL. Detroit is one of six teams this season with a win percentage below 25% when their opponent scores first. That's a bad combination for the Red Wings. —  Evan Abrams
Anaheim Ducks (-115) @ Chicago Blackhawks (-105)
8:30 p.m. ET
Can't stop the bleeding: This is the first time since February 2012 that the Blackhawks are on a seven-plus-game losing streak. Under coach Joel Quenneville, Chicago is just 3-6 on the moneyline when on a five-plus-game losing streak, being out-scored by 11 total goals in the nine games. —  Evan Abrams
Home woes: Since January 1, the Blackhawks are 6-13 on the moneyline (-$673 loss for $100 bettors) and 2-8 on the moneyline at home (-$625), both the least profitable marks in the NHL. For a little perspective, Chicago won 63.3% of its home games from 2007 to 2016. —  Evan Abrams
Montreal Canadiens @ Arizona Coyotes
9 p.m. ET
Betting Market: This matchup between the lowly Coyotes and Canadiens features more lopsided percentages in terms of bets and money on the total. Only 53% of bets are on the under, but the same side is receiving 77% of the cash. — Mike Marsh
Home dogs: The Coyotes beat the Blackhawks in Arizona Monday night for their seventh home win of the season. Arizona has not won consecutive home games since April of last season (0-6 on the moneyline in 2017-18), losing its subsequent home game by 2.3 goals/game this year. —  Evan Abrams
Vancouver Canucks @ San Jose Sharks
10:30 p.m. ET
Personnel updates: The Sharks' forward corps, already depleted with Joe Thornton and Joel Ward on the shelf, could be without Tomas Hertl after he left Tuesday's game early.
The Canucks will likely be without Sam Gagner, Brendan Gaunce and Markus Granlund up front, while Chris Tanev will be missing from their rearguard. —  Michael Leboff
Similar, but different: While the Canucks (-20) and the Sharks (-17) have similar 5-on-5 goal differentials, the two teams are miles apart in terms of expected goals. Vancouver is near the bottom of the league with a -15.51 xG differential, while San Jose has created 6.43 more expected goals than it has allowed this season. —  Michael Leboff
Schedule note: The Canucks are on the second night of a back-to-back after hosting Florida last night. San Jose last played on Tuesday night, losing 2-1 to Arizona. — Michael Leboff
---
Top photo: Alex Ovechkin and T.J. Oshie via Philip G. Pavely-USA TODAY Sports