How Injuries Impact Betting on Thursday's Bruins-Penguins Showdown
The Bruins and Penguins catch each other at an interesting time. The two Eastern Conference powers have been rising steadily since the holidays, but they are both dealing with major injury concerns.
With that as a backdrop, we leave no stone unturned exploring betting and DFS angles in advance of this heavyweight showdown.
Information is current as of Wednesday evening. Check back during the day and keep an eye on our Twitter handle for any updates.
For live spreads and bet percentages, check out this page. To get access to our premium betting tools, subscribe here.
---
Pittsburgh Penguins (+105) @ Boston Bruins (-125) 
7 p.m. ET, NBC Sports
Injuries: Patrice Bergeron will be out of the Bruins' lineup for the next two weeks with a fractured foot. The first-line center is the best possession driver in the league, and his absence leaves a huge hole. Since the beginning of the 2015-16 season, the 32-year-old Bergeron is a 58% Corsi player at 5-on-5, which is the best in the NHL in that situation. That's even more impressive when you consider that Bergeron often draws the toughest matchup every night. The injury is a huge blow for Boston, particularly given his ability to play against Sidney Crosby.
Pittsburgh will also be dealing with a big injury, as starting goaltender Matt Murray is out with a concussion. Casey DeSmith (.924 5-on-5 save percentage) and Tristan Jarry (.914) will carry the load in Murray's absence. DeSmith's 2.13 Goals Saved Above Average (GSAA) is a lot easier on the eyes than Jarry's -3.01, but the sample size for both is quite small. (Jarry has 19 career NHL stars, DeSmith six.) — Michael Leboff
Strength vs. Strength: Boston and Pittsburgh are two of the top five possession teams in the league. The Bruins rank second with a 53.82 Corsi For %, and Pittsburgh ranks fifth at 52.03. The difference between them has been the Bruins' ability to suppress shot attempts. Boston allows 52.06 shot attempts per 60 minutes, which is 2.3 shots fewer than the next closest team and almost five shots fewer than the Penguins (who rank eighth) allow. Pittsburgh also ranks fifth in creating high-danger scoring chances this year, but Boston is the fourth-best team at preventing them. — Michael Leboff
Productive Patric: In DFS hockey, targeting peripheral stats is key when searching for both a high floor and ceiling. Patric Hornqvist's 4.75 shots+blocks per game over the past month lead all wingers among players in action on the schedule today. The Penguins winger also holds a 97% Bargain Rating on FanDuel, and Pittsburgh has the second-highest goal expectation on the slate despite opening as a road underdog. — Joe Holka
Steel Reserve: The Pens have lost two straight. Should bettors expect them to bounce back? Yes, if history is any indication. Pittsburgh is the most profitable moneyline team after back-to-back losses, going 68-39 SU, +$2,637 for a $100 bettor, since 2005. — John Ewing
Get Out of Beantown: Since 2010, the Penguins have been on a roller coaster playing in Boston. From March 2010 to April 2013, Pittsburgh won six straight in Beantown before being swept by the Bruins in the 2013 conference finals. Including that series, Pittsburgh is 1-8 on the moneyline in its last nine games at TD Garden. — Evan Abrams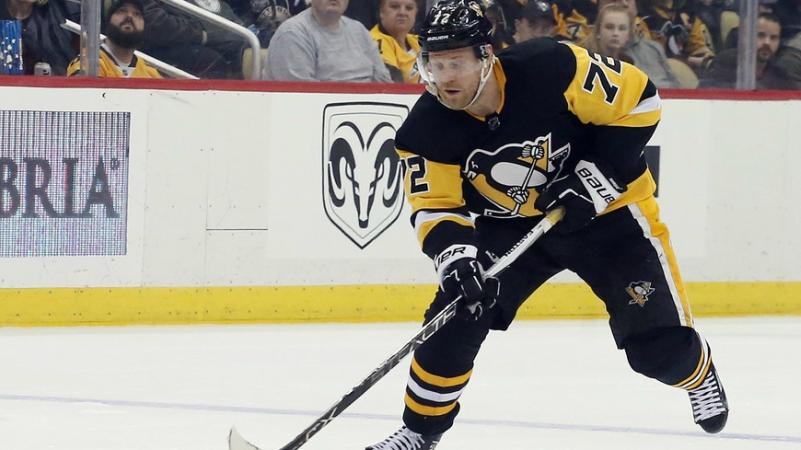 The New Guy: No Bruins player is in a higher shots percentile over the past month (97th) than their newest member, Rick Nash, and he could provide leverage off skaters like Brad Marchand and David Pastrnak, who are significantly higher-priced on DraftKings. Historically, power-play skaters on teams with comparable Vegas implied totals and peripheral stats as Nash have performed above their salary-based expectation (+0.38 DraftKings Plus/Minus) with a 49.0% Consistency Rating. — Joe Holka
Behind Brodeur: Over the last decade, including the playoffs, Tuukka Rask's GAA of 2.08 against Pittsburgh is the second-lowest among 37 goaltenders with a minimum of 10 games played against the Pens (behind only Martin Brodeur). Rask is 7-1 on the moneyline in his last eight home games against Pittsburgh, allowing just 1.6 GAA in that span. — Evan Abrams
Unlucky and Good: The Penguins have spent the entire year fighting off bad bounces, yet they are still contending for the Metro Division title. Using PDO (a statistical measure of luck that is based on shooting percentage + save percentage where 100 is the average) as a gauge, only the Hurricanes have had worse fortune than Pittsburgh this season. —  Michael Leboff
Finding Value: I actually think the wrong team is favored here. Without Bergeron, the Bruins go down quite a bit in my rankings. Grab Pittsburgh at plus-money and hope for the best. –Michael Leboff
---
Top Photo: Charlie McAvoy
Credit: Kevin Hoffman, USA Today Sports
Stats in betting analysis are at 5-on-5 unless otherwise noted. Stats in DFS analysis consider all skating situations unless otherwise noted.