Top NHL Prop Bets for Wednesday: Oshie Over/Under 2.5 Total Shots on Goal?
Credit:
Amber Searls-USA TODAY Sports. Pictured: T.J. Oshie (77) and Nicklas Backstrom (19)
Tonight is Game 2 of the Stanley Cup Final, so we have the opportunity to look for exploitable prop bets by leveraging our NHL Models and Trends tool as well as the Bet Labs database.
Here are two props I'm eyeing for the Capitals-Golden Knights game, which starts at 8 p.m. ET.
Golden Knights W Jonathan Marchessault over 3.5 shots on goal (-110)
8 p.m. ET
In addition to having a Golden Knights-themed Lamborghini, Marchessault offers value in the props market.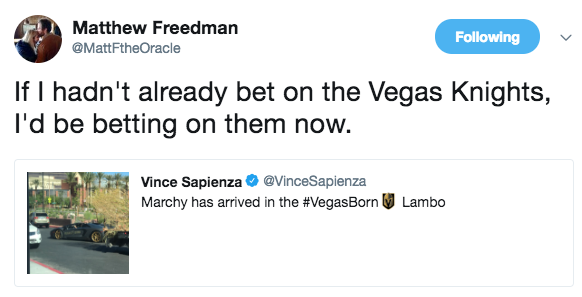 Marchessault has averaged 4.1 shots per game over the past month (99th percentile), and the Capitals are in the 81st percentile in shot attempts allowed over that same time period. Marchy's willingness to shoot at a high frequency isn't exactly new: Over the past year he's averaged 3.58 shots per game (97th percentile). He's logged four or more shots in five straight games and in seven of his last 10.
Capitals W T.J. Oshie over 2.5 shots on goal (+105)
8 p.m. ET
Oshie is known more for his shootout heroics in the 2014 Olympics than for being a prolific scorer, but over his last five games he's averaged 3.2 shots per game. It's possible that his recent shooting spike will regress back to his long-term mean (1.82 shots per game over the past year), but Oshie is a playmaker at his core, and Washington's current line combinations work to his advantage. With Alex Ovechkin now skating with man-rocket Tom Wilson and fellow Russian Evgeny Kuznetsov, it's not surprising that Oshie is getting a lot of passes from Nicklas Backstrom.  Vegas offers a decent matchup for shooters, placing in the 82nd percentile in shot attempts allowed per game over the past month.