Stanley Cup Final Odds, Preview & Pick: How to Bet Canadiens vs Lightning Game 1 (June 27)
Credit:
Minas Panagiotakis/Getty Images. Pictured: Tyler Toffoli.
The puck finally drops on Monday night for Game 1 of the Stanley Cup Final between Montreal and Tampa Bay.
The Lightning once again are heavy favorites to win their series, but the Canadiens have continued to pull upset after upset.
Matt Russell explains below why he thinks the Montreal magic will carry on.
Canadiens vs. Lightning Game 1 Odds
Canadiens Odds
+170
Lightning Odds
-195
Over/Under
5
Time
Monday, 8 p.m. ET
TV
NBCSN
Odds as of Sunday and via DraftKings
Quentin Tarantino's 1994 masterpiece Pulp Fiction changed movie-making and the necessity of telling a story in a linear fashion. The writer-director took pieces of a story and gave the audience chunks of information that they would eventually piece together to get to the final conclusion of the movie.
The start wasn't necessarily the finish, the last scene not the end, and it was up to the viewer to decide what scene they liked best and who the main character actually was. It was more about the journey than the destination.
That's been the case for us in this space throughout not just the playoffs but the regular season as well, as we've taken pieces of the story for both the Montreal Canadiens and the Tampa Bay Lightning to determine what to make of each team.
We took a jolt of adrenaline like Mia Wallace, when we were on the Montreal Canadiens to knock off the Toronto Maple Leafs, here, and watched them come back from the dead.
Then we won the "Super Bowl of Hockey Handicapping Strategy" with the Habs to take care of the Winnipeg Jets, as dominant a performance as when Jules walked into the apartment and took a big bite out of a tasty burger.
We followed that up by being undeterred after Game 1 against the Vegas Golden Knights, walking out of that series more victorious than Butch on Zedd's chopper. So it would be pretty strange if all of a sudden we just jumped ship on the Canadiens with one last round to go, one last job to do. Maybe it ends in a mess that even Winston Wolf can't clean up, but let's start with the finish first. We're betting on Montreal again.
We are going to need a reason to make a bet though, and with a more sensible series price of TB -275/MTL +225, than what we saw when Vegas was a -500 favorite over the Canadiens in the semifinal, it's certainly less obvious of a bet to make than when bookmakers and the market temporarily lost their minds in disrespecting the Canadiens (and the entire North Division).
As we breakdown both teams as they get ready to vie for the Stanley Cup, there's some surprising revelations when we dig into their predictive metrics.
Canadiens Have Been On Cinderella Run
Uncertainty has been our best friend when it comes to the Montreal Canadiens in the role of underdogs. We've discussed in this space before about how uncertainty leads to variance which is what we look for in backing a team at a big plus-money price.
The Habs were the perfect example of that team after a tumultuous regular season rendered us wondering how we could possibly come up with an accurate rating for them. My "Let's Do That Hockey" Model, as heard on THE WINDOW: Sports Betting Podcast, saw the biggest fluctuation of any team, on the Habs this season.
They started out the season stingy as possible defensively and more than adequate in their offensive creation. However, that creation wasn't equaled by production, and it cost Claude Julien his job as head coach. Weeks later, a COVID-related pause resulted in a condensed latter third of the schedule that robbed Montreal of any rest days, and the injuries piled up. The losses weren't far behind, and the Canadiens ended up fourth in the North.
So how did Montreal turn it around come playoff time? The answer is actually rather simple: It was never that bad, and the same reason they had their schedule condensed also resulted in an abundance of rest and added to the Habs' depth before the playoffs began.
Let's address the latter first. Due to a month-long COVID break, Vancouver had to finish their regular season after the other three divisions started the playoffs. Luckily for Montreal, they weren't on the Canucks' schedule and thus had a chance to sit at home and get key pieces like Carey Price, Shea Weber and Brendan Gallagher back to full health.
Now with all their players to choose from, the first hint that Montreal might be a problem for their Canadian compatriots in the first couple of rounds was when Cole Caufield and Jesperi Kotkaniemi were sat out for Game 1 of the playoffs, and when you reviewed the starting lineup, it wasn't the most insane decision of all time.
That's how sneaky deep the Canadiens were and are. Now an offensive force that has onlookers gawking slack-jawed at his skill, Caufield spent the season trying to find a place in the Canadiens various line combinations. Getting an opportunity to play in a handful of regular season games, due to the Habs' depth being tested, allowed him to gain comfort and confidence by the time May sprung playoff hockey on Montreal.
All it took was Caufield to prove himself worthy of a top-six forward role, to put everything else into place. Gallagher could return to the team in a checking role, rounding out a shutdown line centered by Philip Danault. The power play got an explosive addition on the wing, to go with net-front nightmare Corey Perry, and Gallagher could take that crease-crasher role on the second-unit.
Defensively, Weber's absence showed others they could step up and play big minutes, and even in his return, Ben Chiarot leads the team in ice-time. Add in a (shortened) season's worth of results that were built either without Price in the net, or with him not in top form when he was, and it becomes more clear that if you're still betting against Montreal based on what their regular season was, then you're doing it wrong.
However, there's a twist, when it comes to our hypothesis of "It was never that bad." For as bad as the Habs looked at the end of the season, their even-strength rating in my model for the full season was 54.8%, meaning that on a neutral site, against an average team, the Canadiens would win that percentage of the time.
This is because their early-season metrics were so good (often rating higher than 60%), and their late-season metrics so bad. So you would think that Montreal has found that form from the start of the season, and maybe then some with Caufield (4 goals vs. VGK) added into the mix. That actually has not been the case. Through 17 games and three series victories, the Habs' rating in my model is 55.4% — not much more than a half-percent better than the totality of the regular season.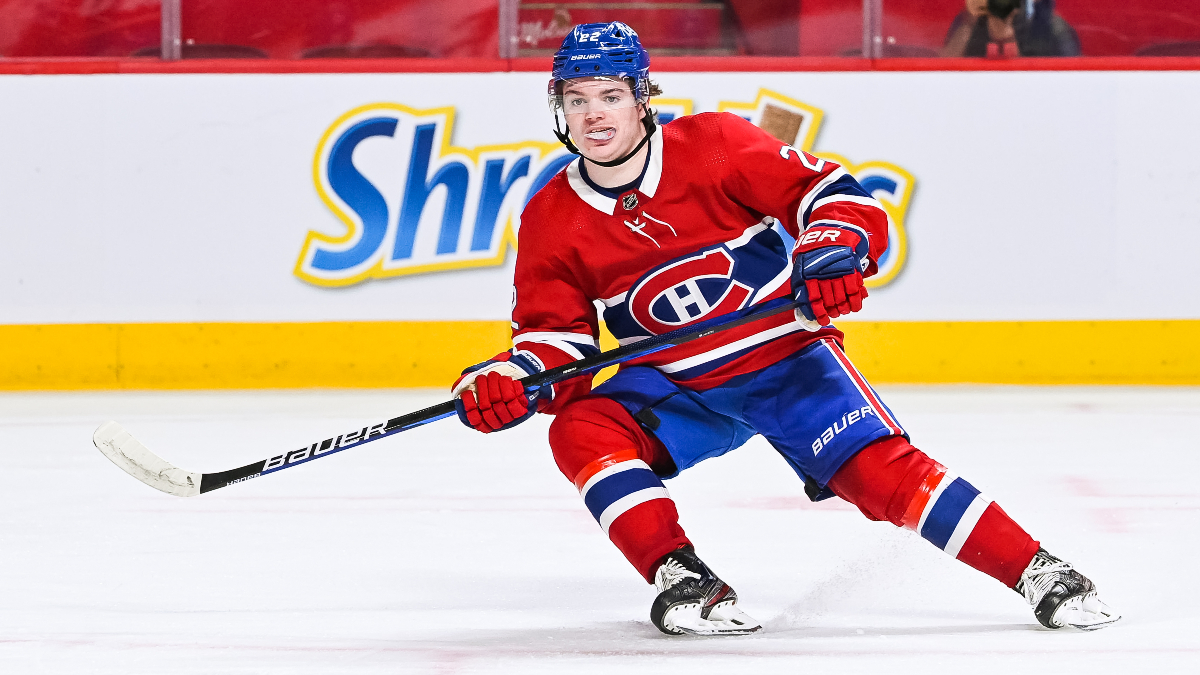 How have they made this Cinderella-style run then? On top of playing at better-than-average quality at even-strength, they've ceased giving up goals. This is obviously easier said than done. As we know, there's two really good ways to score goals.
The first is by creating as many High-Danger Chances as possible at even-strength. So in turn, preventing them and stopping your opponent when they get them is how to shut teams down. Well, since escaping Game 6 against Toronto with a win, and shutting the Leafs down in Game 7, Montreal has given up just seven even-strength, High-Danger Chances (HDC) per game. Meanwhile, Habs opponents have converted on just 8% of their HDC during 5-on-5 play (league average is 14%), thanks almost entirely to Carey Price and his 7.93 Goals Saved Above Average (GSAA).
The other main method of scoring, is of course, the power play. Like High-Danger Chances during 5-on-5 play, the key is to not allow power play opportunities, and when you do, kill them off. Well, the Habs have killed 30 straight penalties, the longest streak in Stanley Cup Playoff history. T
he Canadiens have left three cities wondering what happened to their team's vaunted offensive stars. In each case, the answer isn't the failure of those high-priced, high-profile stars, as much as it is the Habs being worthy of credit.
Power play efficiency, and in turn, penalty kill percentages are notoriously sketchy tools to predict goals on a game-to-game basis, unless you have some outlier numbers for one or the other. The Habs are clearly sporting some outlier statistics in this department, which makes this matchup so interesting, as their opponent has succeeded this playoff season thanks to a historic run of their own.
Do Lightning Need Kucherov?
The defending Stanley Cup Champions survived the New York Islanders on Friday night, just like the Isles home arena survived the local fans two to three times per week for the last month. The Lightning are still standing in defense of their title after taking all they could handle from New York.
One specific member of the team is doing so just barely, which is of special significance given how the Lightning managed their way back to hockey's biggest stage.
Whether it was the day before the playoffs started, or the day of Game 7 of their semifinal series, Nikita Kucherov has been the big topic of conversation. We need not re-hash the conversation about salary cap circumvention here, instead, like the Canadiens but in a different way, we have to compare and contrast the playoffs to the regular season for the Lightning.
Kucherov missed the entire regular season, rehabbing from offseason surgery. In his absence, the Lightning did what they've done this month. They survived. Tampa finished in third place, amongst a loaded upper echelon of the Central Division.
Despite not getting home-ice advantage in the first round, their even-strength rating in my "Let's Do That Hockey" Model was still excellent at 59.5%. This wasn't due to outrageously high Expected Goal Share (XG%), as they owned just 53% of those at even-strength.
Nor was it a High-Danger Chance rate that gave them this rating, as they only created a half-chance more per game than their opponents. No, the key to the Bolts' good rating was a high conversion rate, above the 14% league average, and a low conversion rate for their opponents, well-below the 14% league average (an incredible 10.4%).
Having high-end scoring talent even without Kucherov and the best goaltender in the NHL  will help with both of those categories. A modest twist here as well, as despite Kucherov bolstering the lineup, the Lightning's even-strength rating was virtually identical at 59.57%.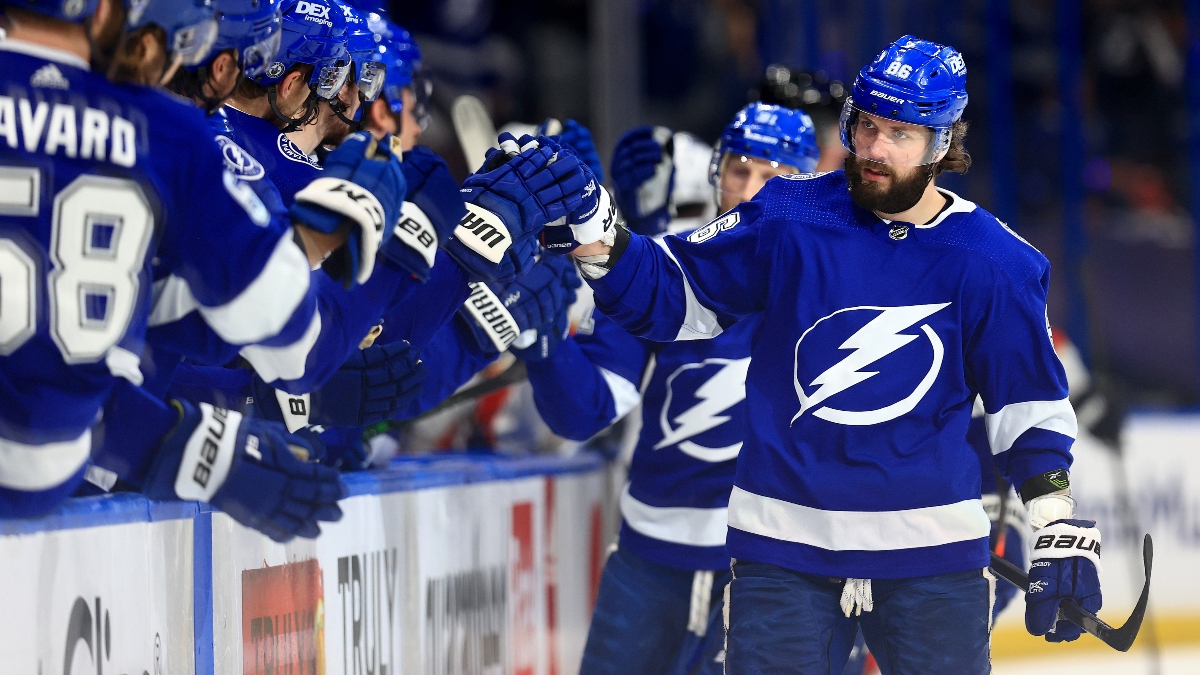 That might come as a surprise, as when Kucherov returned for the first game of the playoffs it immediately made an impact that struck a nerve with the entire NHL. The Lightning struck over and over … and over again on the man-advantage against the Panthers in the first round, and they haven't stopped doing so on the power play on their way to the semifinal.
That is until Kucherov took a crosscheck to the rib cage early in Game 6 against the Islanders. At that moment, the Lightning had scored 20 (20!) power play goals in 16 playoff games, for an outrageous 39% conversion rate — nearly as crazy as the Canadiens' 6.5% conversion rate against.
Kucherov couldn't return in Game 6, and the Lightning had just two power plays that night, looking much more like the modest 22.2% efficiency man-advantage of a team with a payroll within the leagues' limit.
While the playoffs' leading scorer returned for the do-or-die Game 7, he looked to peruse the outside of the action instead of being his usual self — a player not afraid to put his nose in the middle of things in those aforementioned high danger areas.
Perhaps, he was waiting for a chance to take his place on the right side of the powerplay and menace in his usual way. That chance never came as the Lightning never got a chance with the man-advantage. There was one penalty called the entire game, and the game's lone goal was scored on the Islanders power play, short-handed by the Lightning.
What's Kucherov's level of health for the Stanley Cup Final? Of course, we'll likely never know even throughout the series. However, if he's compromised, or re-aggravated, and the Lightning power play reverts back to its regular-season form, it's going to be a sudden struggle against the Habs' penalty kill.
The Lightning will also be forced to revert to their regular-season form, a team that relied mostly on star goaltender Andrei Vasilevskiy to keep games low-scoring and allow for the remaining offensive talent to shine through. As many headlines as Price has generated this postseason, Vasilevskiy has back-stopped the Lightning to a point where they too have allowed just 8% of their opponents' High-Danger Chances to go in the net. The colt the Bolts have been riding actually has a better GSAA than Price, at a playoff-best 9.28.
Betting Analysis & Pick
As we look at how to bet this series, let's get a quick refresher on the important playoff numbers coming into the series.
| | | |
| --- | --- | --- |
| Stat | Canadiens | Lightning |
| High-Danger Chances For 5v5 | 8.82 | 8.94 |
| High-Danger Chances Against 5v5 | 7.97 | 7.55 |
| High-Danger Conversion Rate 5v5 | 12.0% | 14.3% |
| Expected Goals 5v5 (per game) | 1.91 | 1.8 |
| Expected Goals Share 5v5 | .496 | .493 |
| Power Play % | 20.9 | 37.7 |
| Penalty Kill % | 83.0 | 62.5 |
| Starting Goaltender GSAA/60 min. | .456 | .512 |
Both of these teams have distinct brands. The Lightning have the jagged bolt, but more importantly the title of Stanley Cup champs. They have earned belief amongst the betting market, as they've been favored the whole way, in each of their three series.
The Canadiens are the most storied franchise in the history of hockey, a jersey and logo that will never change. However, it took a win in the semifinal over a team in the desert to earn them any regard amongst hockey fans.
While the path has been different in the betting markets, you can see above that the numbers are very similar. Everything at even-strength has been near-identical. The Lightning with the lethal power play, and the Canadiens with the historically stout penalty kill, are the only discrepancy.
So whether it's the emotional investment from cashing repeatedly with the Canadiens this month, or the metrics that back up a bet on Montreal, our decision on which side to back given that the Lightning are deemed heavy favorites isn't that hard.
The Bolts deserved to be favored, as we've noted above with their rating at 59%, to the Habs' 55%. Those numbers equate to a fair series price of MTL +150/TB -150, or a 60% win probability for the Lightning. The market price of MTL +225/TB -275 suggests that Montreal wins 31% of the time and Tampa Bay wins 73% of the time. Therefore, the value is on the Habs, while the probability still lies in Tampa.
There's many ways to bet on the Stanley Cup Final though, like any series. Along with overdoing it on the series price, the market also makes the most likely outcome to be the Lightning winning in five games at +300. That suggests a 25% likelihood, and I have this at 15.8% probability.
My numbers make the most likely result to be the Lightning to win in 6 games at 18% of the time. However, that's not nearly enough for me to bet the exact result, and it suggests more that I should be betting with an eye on this series to reach six games.
If I'm going to do so, there's a list of bets I can make that provide value under that premise:
Series: Over 5.5 games -140 (1.4 units to win 1 unit)
Correct Score After 4 games: 2-2 +150 (.66 unit to win 1 unit)
Series Handicap: MTL +1.5 +100 (1 unit to win 1 unit)
Series Handicap: MTL -1.5 +400 (0.5 units to win 2 units)
We'd be remiss if we didn't mention that despite not having it for the first two rounds, the Lightning again have home-ice advantage in this series, and they have maybe the best closer in the game between the pipes. Vasilevskiy has five straight shutouts in series finales, and the Lightning have won 12 straight playoff games after a loss. So should Montreal win Game 6 in this series to force a Game 7, they'd have quite the hill to climb for the season's final match.
On top of that, since the Habs last won the Cup in 1993, no Canadian franchise has won one since. The Canucks have been to twice, and the Flames, Oilers and Senators once each. With the exception of Ottawa's trip to the Final, the other four series were lost in seven games. So the plan above puts us in the black should the series go seven games, with a possibility to bet on the Canadiens at +170 if the prices stay the same throughout the series.
Finally, there's the matter of Game 1. Just as for Game 1 against the Islanders, Tampa Bay opens -200 at home. From a pricing standpoint, my model makes a fair price here at -137/+137, which suggests 5% of value in Montreal at +170.
From a metrics standpoint, the Lightning have been better at home than on the road, but an XG% of 52% isn't terrifying to their opponents. Perhaps more interesting, the Lightning have been well below their 1.8 Expected Goals For (XGF) per game average in series openers, with just 1.57 XGF compared to 1.78 Expected Goals Against (XGA) from their opponents.
Meanwhile, Montreal has acquitted themselves well in Game 1's with two wins and their one loss coming in Vegas — a game in which they had 50% of the Expected Goals at even-strength.
With Kucherov likely still a question mark towards 100%, and the Habs' only lineup issue Joel Armia being replaced by Jake Evans, there's no reason not to back the Canadiens in Game 1 at the big underdog price.
They haven't let us down yet, so maybe this magical run in Montreal can result in us dancing like Travolta and Thurman in Jack Rabbit Slims.
Game 1 Pick: Canadiens ML (+170)
Series Picks: Over 5.5 games (-140) / Canadiens Series Handicap -1.5 (+400)
How would you rate this article?