NHL Betting Preview 2019-20: Plenty of Mid-Tier Teams Are Being Overrated
Credit:
Ed Mulholland, USA Today Sports. Pictured: Taylor Hall
Eleven teams are listed between 25-1 and 50-1 to win the 2020 Stanley Cup.
Below you'll find a breakdown of each mid-tier team as well as a few suggested value bets.
Over the past few seasons the mid-tier range has been my favorite area of the board to target before Opening Night.
There's usually a team or two that has slipped through the cracks that could give you a good run for your money at long odds.
The landscape of the betting board is a little different heading into this season, however. Even though my favorite future left on the board is on a team in this range, most of these teams are overrated. That may seem like a reason to just gloss over these groups, but there's plenty of value to be had in fading some over-hyped teams heading into October.
There are currently 11 teams listed with odds between 25-1 and 50-1. A few of these prices jump off the page as bananas:
Columbus Blue Jackets 50-1
Minnesota Wild 50-1
Vancouver Canucks 45-1
Edmonton Oilers 40-1
Chicago Blackhawks 40-1
Arizona Coyotes 40-1
Philadelphia Flyers 35-1
New York Rangers 35-1
Montreal Canadiens 35-1
New York Islanders 30-1
New Jersey Devils 25-1
---
Odds as of Monday at 5 p.m. ET and via PointsBet, where Action Network users get an exclusive 200% deposit match (deposit $50, bet with $150).
---
Columbus Blue Jackets
Stanley Cup Odds: 50-1
Season Point Total: 85.5
Odds to Make the Playoffs: +210, No -286
I don't think there's much value on Columbus in the preseason market, but I do think they will be underrated on a game-to-game basis, especially in the early part of the season as I expect bettors will be looking to fade the Blue Jackets from the get-go.
Part of growing as a bettor is learning to parse through information and ignore the noise. It seems like casual hockey fans and the media have given the Blue Jackets a death sentence after they lost Artemi Panarin, Sergei Bobrovksy and Matt Duchene to free agency.
If you look at the season from a big-picture point of view, then yes, the Jackets will likely take a step back in '19-20. But they aren't as bad as the sentiment — and betting market — seems to be treating them.
Columbus lacks elite talent up front, but there's no reason to panic about this group of forwards. Cam Atkinson and Pierre-Luc Dubois may be asked to do more than they are capable of, but Columbus is three-lines deep and any of Gustav Nyquist, Josh Anderson and Oliver Bjorkstrand can provide some scoring pop.
But the reason I am a little more bullish than most on Columbus is its defense. Seth Jones, Zach Werenski, Ryan Murray and David Savard will gobble the minutes on the blue line, but the third pairing of Dean Kukan and Markus Nutivaara shouldn't sink the ship, either. This group grades out to be a top-10 unit in the league and that should help provide some cover for the team's biggest issue: goaltending.
Things may look desperate on the other end of the ice as the Jackets decided not to bring in a replacement for Bobrovsky, rather opting to hand the keys to Joonas Korpisalo, who has not set the world on fire in 90 NHL games, and Elvis Merzlikins, a 2014 third-round pick who has spent the last six seasons playing in the Swiss National League. The 25-year-old Latvian has posted encouraging numbers in Switzerland, but there's no way anybody can be confident projecting how well he'll play in the NHL.
Goaltending is extremely hard to project (you'll hear me say that a lot over the next six months), so it's entirely possible that Korpisalo or Merzlikins put up good results, but like with the Wild, just average goaltending could be good enough for a team that figures to be among the stingiest in the NHL.
Last season, the Blue Jackets ranked in the top 10 in limiting high-quality scoring chances and with their goaltending situation being what it is, I would expect head coach John Tortorella — already a conservative coach — to double down on his defense-first style. A conservative approach and a strong defense should turn a lot of Blue Jackets games into coin flips.
I'm not saying you should bet the Blue Jackets every game to start the season — everything comes down to price in betting — but the current state of the market leads me to believe that Columbus will be undervalued on a game-to-game basis in the early going.
Minnesota Wild
Stanley Cup Odds: 50-1
Season Point Total: 88.5
Odds to Make the Playoffs: Yes +185, No -251
The Wild are coming off a disappointing season and the narrative around the team is that they will be near the basement of the Central in 2019-20. That's fine — off-ice hoopla often drives up betting value and I think that is what's happening here.
In fact, I was talking about this bet with a few hockey fans and bettors earlier in the offseason and they began to poke holes in it. The Central is a brutal division. There's no star power. Devan Dubnyk hasn't been great in goal. The Wild averaged 2.12 goals per 60 minutes at 5-on-5 in 2018-19, the fifth-worst mark in the league. The list is long, but so are the odds.
If you're betting a longshot, you should be well aware that the bet will almost certainly lose. In fact, at 50-1 you just need the Wild to have above a 2% chance of winning the Central to see value in this bet.
The Wild aren't dripping with name-brand talent, but Minnesota has depth up front and on the blue line. Eric Staal, Mikko Koivu, Zach Parise, Jason Zucker, Kevin Fiala and Mats Zuccarello won't set the world on fire, but they are positive-impact players who can carry a scoring load.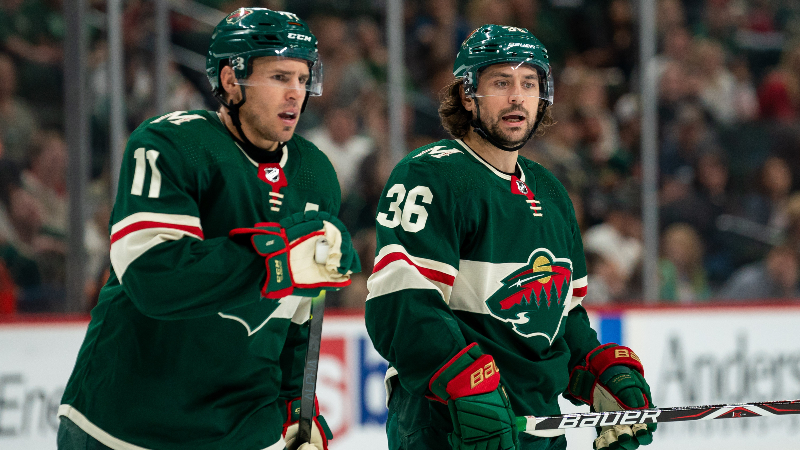 It will certainly be a production-by-committee approach for the Wild, but that strategy can work especially with the group Minnesota has on the back-end. Ryan Suter, Matt Dumba, Jared Spurgeon and Jonas Brodin give the Wild two of the strongest defense pairs in the league and that, in theory, should help lighten the load on the offense. I say "in theory" because we need to talk about the goaltending.
Despite playing behind one of the best defenses in the league, Devan Dubnyk has been pretty poor for Minnesota over the past two seasons. The 33-year-old has -26.7 Goals Saved Above Average since the beginning of the 2017-18 season and his backup, Alex Stalock, hasn't shown he can handle the load if Dubnyk falters.
Dubnyk had the highest expected save perecentage (xSV%) at 5-on-5 last season, so the Wild made life easy on him. If the veteran goaltender can produce at an average level, the Wild are live.
In fact, backing Minnesota to win the Central Division at 50-1 is my favorite future still in the market heading into the season.
It's also worth noting that the price on the Wild varies from sportsbook to sportsbook, so please shop around. There are some shops that have the Wild as low as 14-1 (FanDuel) to win the Central. Others (PointsBet, William Hill) have them as high as 50-1. I'd be comfortable betting this prop at any number better than 40-1 (2.5% implied probability).
Vancouver Canucks
Stanley Cup Odds: 45-1
Season Point Total: 85.5
Odds to Make the Playoffs: Yes +185, No -251
There's plenty to be excited about in Vancouver, but 45-1 is way too short for a team with this many holes. There is a lot of young talent, but there are just as many question marks.
Oftentimes, teams with emerging, young stars are overhyped. Casual bettors and media narratives tend to hyper-focus on the individual players rather than the big picture. Vancouver can definitely overachieve and make a surprising playoff run — the Canucks are in the right division for that and it happens every season in the NHL — but it's not likely. There's a big difference between could make the playoffs and should make the playoffs.
Vancouver has missed the postseason the past four seasons and hasn't won a playoff series since its run to the Stanley Cup Final in 2010-11.
Elias Petterson was a revelation in his rookie season. The 20-year-old Swede looks every part a franchise-changing talent and he'll center a legitimate No. 1 line, flanked by Brock Boeser.
Importantly, the Canucks surrounded Petterson and Boeser with some proven positive-impact players. J.T. Miller and Micheal Ferland aren't first-line players on great teams, but they will do the trick on a team looking to improve on a season that saw them finish dead last in xGF per 60 minutes.
Petterson, Boeser, Ferland, Miller and Bo Horvat will need to stay healthy and produce consistently because there's very little depth behind them.
The Canucks do have an emerging young star on defense, as well. Quinn Hughes looks like he's about to step into a big role for Travis Green. Hughes was sensational throughout his college career and looked like he belonged in his five-game stint at the end of last season.
Hughes will be the talisman on a new-look defense for the Canucks. Vancouver brought in Tyler Myers and Jordie Benn in the offseason and while neither of them are top-pair rearguards, they are effective in the right role.
Like with the forwards, depth is the issue on defense and if Hughes isn't able to grab his role with two hands, there could be issues on the back end.
The good news is that the Canucks can be confident in their goaltender, Jacob Markstrom. The 29-year-old Swede has quietly emerged as an effective goaltender and posted a +13.3 Goals Saved Above Average on a bad team in '18-19. If Markstrom gives the Canucks that kind of dependability in goal again this season, they could make things interesting.
At a longer price, the Canucks would be a lot more enticing. Unfortunately, there's no reason to get involved in this team at these prices.
Edmonton Oilers
Stanley Cup Odds: 40-1
Season Point Total: 82.5
Odds to Make the Playoffs: Yes +275, No -400
If the NHL had a little more NBA in its DNA, Connor McDavid would be long gone from Edmonton. But alas, McDavid is still doing his thing in The Big E.
The fact that the team with the league's best player has an over/under set at 82.5 is frighteningly bad. Just think about Sidney Crosby in Pittsburgh. It didn't take long for the Penguins to surround Crosby with the tools to succeed and he's repaid them to the tune of three Stanley Cups.
Edmonton had the opportunity to reach similar heights, but instead squandered away Taylor Hall and Jordan Eberle amidst a storm of other horrible personnel moves.
Even though he plays with one of the best players in the league in Leon Draisatl, there's very little support for McDavid on this roster. Sure, Ryan Nugent-Hopkins is an effective second-line center, but outside of McDavid, Draisaitl and Nugent-Hopkins there are, quite literally, no more top-six caliber players. It's mesmerizing, actually.
As barren as the forward group is, the defense is worse because there's no real shining light. Darnell Nurse and Oscar Klefbom are fine, but neither are top-pair defenseman. The rest of the unit leaves a lot to be desired, as well.
Mikko Koskinen and Mike Smith will split the duties in goal and that tandem doesn't inspire much confidence. For the Oilers to have an outside chance at the playoffs, one of — or likely both — goalies will need to outperform expectations.
All in all, the Oilers' Stanley Cup price is buoyed by 'The McDavid Effect' and I'd argue they should be much, much closer to 100-1 than 40-1.
Chicago Blackhawks
Stanley Cup Odds: 40-1
Season Point Total: 91.5
Odds to Make the Playoffs: Yes +210, No -286
The Chicago Blackhawks were a funky bunch in '18-19. Patrick Kane put up a career-high 110 points, Jonathan Toews did his thing and Alex DeBrincat emerged as the next star at the MadHouse on Madison.
Dylan Strome will slot in behind Toews and could latch on with Brandon Saad and Andrew Shaw to create a decent, but unspectacular second line. It goes off a cliff from there, though, as Chicago lacks anything in the form of bottom-six depth.
Most importantly the Blackhawks will need to improve in their own end of the ice. The Hawks had the worst defense in the NHL in terms of xG in 2018-19, allowing 2.68 xGA per 60 minutes at 5-on-5. 
The arrival of Calvin de Haan and Olli Maata should negate some defensive deficiencies, but this looks like a bottom-10 defense on paper.
That could be fine if the goaltending plays up to its potential, though. When he was healthy, Corey Crawford was one of the best goaltenders in the NHL and Robin Lehner was nominated for the Vezina Trophy for his play with the Islanders last season, so there's a chance these two netminders combine to carry this team beyond expectations.
The more likely scenario is that the Blackhawks hang around for most of the season before giving way in the league's deepest division.
Be sure to look around, but under 91.5 points seems like a sound investment on a mediocre team in a brutal division.
Arizona Coyotes
Stanley Cup Odds: 40-1
Season Point Total: 87.5
Odds to Make the Playoffs: Yes +113, No -152
I invested in the Coyotes at 100-1 in 2018-19 and it was a fun ride. Arizona was quietly one of the league's pleasant surprises, staying in the playoff race all season long despite a rash of injuries. In the end, the 'Yotes finished with 86 points, four tallies shy of the postseason. It was their best season in a half a decade.
Quiet surprises rarely go unnoticed by bookmakers and the adjustment on the Coyotes from last season to this year is pretty drastic and I must admit I'm a little perplexed by these odds.
Even with the addition of Phil Kessel, the Coyotes lineup reads like a bunch of second- and third-line players. There's not much to hate about it, but where's the glamour?
The reason I was so bullish on Arizona last season was that I hold goaltender Antti Raanta in pretty high regard. Unfortunately, Raanta was hurt for much of the season. That opened the door for Darcy Kuemper to come in and the 29-year-old took advantage by posting a .925 save percentage to go along with a +11.5 Goals Saved Above Average.
Kuemper had a pretty easy workload — he had the eighth-highest expected save percentage in the NHL — but he was solid and kept Arizona relevant.
Even with solid goaltending and good team defense, this is a massive adjustment for a team that projects to be mediocre. That being said, because they play in the Pacific Division, I don't see much value in fading the Coyotes.
Philadelphia Flyers
Stanley Cup Odds: 35-1
Season Point Total:  90.5
Odds to Make the Playoffs: Yes +105, No -136
The Flyers have a bit of boom-or-bust to them in 2019-20 because of their situation in goal.
Philadelphia committed to the Carter Hart Experience midway through last season and the rookie netminder looked decent, although he didn't face a difficult workload in terms of expected save percentage. Still, a rookie goaltender putting up a .917 save percentage is pretty impressive.
Goaltending is probably the most combustible position in sports and it's anybody's guess whether or not the 21-year-old Hart is ready to be a No. 1 goalie in Philadelphia. He will almost certainly need to be the guy, too, since Brian Elliott doesn't project to provide much cover for the youngster.
The good news is that the Flyers still have firepower up front and the addition of Kevin Hayes as a second-line center should provide balance to the top of the lineup.
Philadelphia's defense also has a bit of risk-reward to it, too. Philadelphia will expect — and need — big seasons out of Ivan Provorov and Travis Sanheim, two defensemen about to enter their prime, as well as Shayne Gostisbehere. Gostisbehere's career has been all over the place as he's shown glimpses of a future Norris Trophy winner and glimpses of a defenseman chasing the game.
There's no way I am investing in a team handing the keys over to a rookie goaltender. Moving on.
New York Rangers
Stanley Cup Odds: 35-1
Season Point Total: 89.5
Odds to Make the Playoffs: Yes +140, No -182
The Rangers are putting the finishing touches on a remarkably fast rebuild and are a step closer to returning to contender status thanks to a boisterous summer that saw them acquire top-pair defenseman Jacob Trouba, draft blue-chip forward Kaapo Kakko and then sign the biggest prize in free agency, Artemi Panarin.
That being said, the hype is a little too high on the Rangers heading into the new season.
Despite the arrival of Kakko and Panarin, the Rangers lack depth up front. The high-end talent is certainly jaw-dropping, but outside of the two new faces, Mika Zibanejad and Chris Kreider, there's a lot of unproven or unimpressive players up and down this lineup.
The defense is a similar story, although there are no elite players on the blue line in Manhattan. Trouba is a top-pair player, but he's got very little help and could be in for a bumpy ride this season as he tries to shoulder the load.
This group likely won't make life easy on the goaltenders, either. Last season the Rangers finished with the sixth-worst xGA per 60 minutes at 5-on-5, so it won't be all lemonade and popsicles for Henrik Lundvist and Alexandar Georgiev in goal.
There's a lot to be excited about at Madison Square Garden and that's fine, especially because high-profile offseason moves often inflate prices, which is what's happened here.
I'll be on the under 89.5.
Montreal Canadiens
Stanley Cup Odds: 35-1
Season Point Total: 90.5
Odds to Make the Playoffs: Yes -106, No -130
Carey Price and the Canadiens exceeded expectations in 2018-19, posting 96 points and falling two points shy of the last seed. Usually 96 points is good enough to get into the dance and its unfortunate the Habs didn't get in last season, because a replication of that effort will be unlikely. Not impossible, of course, but unlikely.
Montreal boasts a well-balanced, yet unspectacular group of forwards headlined by the buzzsaw that is Brendan Gallagher. Gallagher isn't without help as Phillip Danault has turned himself into an effective playmaker, Max Domi has embraced a top-six role, Tomas Tatar has blossomed and 19-year-old Jesperi Kotkaniemi already looks like a complete player.
The defense may not be dripping with houshold names, but it's a solid unit and the Habs had the fourth-best xGA/60 in 2018-19. That makes sense considering that they are coached by Claude Julien, who turned the Bruins into a defensive powerhouse earlier in the decade.
After a horrible season in 2017-18, Carey Price looked more like his former self last season. If he continues to trend up, he can steal the Habs a playoff spot almost on his own. That's especially true considering that the Canadiens should post strong underlying numbers.
There's definitely reason for optimism and Montreal has an outside chance to be a contender, but the Habs have the misfortune is playing in the Atlantic Division, which features the three Stanley Cup favorites and the trendy Florida Panthers.
I don't like to tie money down on too many season-long futures with short odds, but I'd say that the price on the Canadiens to miss the playoffs looks like a +EV play as I'd put their chances at 37-40%.
New York Islanders
Stanley Cup Odds: 30-1
Season Point Total: 89.5
Odds to Make the Playoffs: Yes +121, No -159
The New York Islanders were a polarizing team in 2018-19. They came into the season with low expectations and turned those odds upside down, tallying 103 points and sweeping the Penguins in Round 1 of the postseason.
The Isles went from being the worst defensive team in a generation in '17-18 to being the league's stingiest team — in terms of goals allowed — last season. The Barry Trotz Effect was immense and a lot of analysts were waiting for the Islanders to come back down to earth, but they never really did. Trotz turned the Isles into one a tricky puzzle and teams couldn't figure them out.
Once again the Isles come into a season with quiet expectations, though their Cup odds are much shorter than they were last summer and have very little value.
Even though the Islanders don't have much star power outside of Mat Barzal, they do boast more scoring depth than meets the eye. Jordan Eberle, Anders Lee, Brock Nelson and Josh Bailey are all effective producers and there's some high upside with players like Anthony Beauvillier.
The Islanders' defense is solid top-to-bottom and the organization has plenty of depth to lean on. The more encouraging news for the Islanders is that most of the defensemen, save for Johnny Boychuk and Nick Leddy, are just about to enter their prime.
The defense may even get better this season with blue-chip prospect, Noah Dobson, joining a crew that already boasts Ryan Pulock and Devon Toews.
On the surface it looked like Trotz and his goaltending coach, Mitch Korn, seemed to work a minor miracle with goaltenders Robin Lehner — who left for the Blackhawks — and Thomas Greiss, but the defense did such a terrific job at easing the burden on the goaltenders that seeing another terrific season from Greiss and Semyon Varlamov is not as big of an unknown as pundits are suggesting.
As an Islander fan, this may come off biased, but I think the Isles are better than they've been given credit for again this season. The team is largely unchanged, though Vezina-nominated goaltender Lehner has moved on, and that means they have a host of players entering season two in Trotz's system.
People clamoring for regression on Long Island may be overlooking a couple things. The power play was god awful last season and should get better, and two of the players who were prime regression candidates, Valtteri Filppula and Lehner, are no longer on the team.
Most projections have the Islanders around 90 points and money came in on their season win total almost as soon as the market opened, but I'd suggest the market may be off a little bit again.
I'd have bet the Islanders to win the Stanley Cup at anything north of 40-1 and given the market reaction this summer, I think they may be underpriced, on a game-to-game basis, as the season gets started.
New Jersey Devils
Stanley Cup Odds: 25-1
Season Point Total: 91.5
Odds to Make the Playoffs: Yes -115, No -115
The New Jersey Devils had themselves one helluva summer.
Not only did the Devils win the draft lottery and select Jack Hughes No. 1 overall, but they acquired P.K. Subban from the Predators and made a savvy gamble by acquiring Nikita Gusev from the Vegas Golden Knights.
The new faces join a talented group that already had an abundance of high-end talent, specifically Taylor Hall, Nico Hischier and Kyle Pamieri.
Subban's arrival jolts the defense from bad to above average but there is a big red flag at the Prudential Center and it's in the blue paint.
A few seasons ago, Cory Schneider seemed well on his way to becoming one of the league's best goaltenders. Things have not gone according to plan for Schneider as he's battled injury issues since arriving in Newark. He's the de facto No. 1 goalie heading into this season but MacKenzie Blackwood will likely be leaned on heavily as the season progresses. The 22-year-old looked impressive and a posted a .918 raw save percentage in 23 games last year, but relying on a young goalie with a small sample is worrisome.
As usual, the market seemed to overreact to New Jersey's shiny offseason moves and has driven this price out of control. There's no great way to fade the Devils in the futures market, but there's definitely a strategy I'll be looking to exploit when the season starts.
Once again, it all comes down to price in betting, but my best guess is New Jersey will be overrated in the early part of the season and make for great fade material.
How would you rate this article?