NHL Betting Notebook: The Lightning Look Ready To Run, the Oilers Are Floundering
Credit:
James Guillory, USA Today Sports. Pictured: Nikita Kucherov
The Tampa Bay Lightning set all sorts of records in 2018-19 but they will ultimately be remembered for their historic collapse in the first round of the postseason. It's unfair that a team that won 62 games will be remembered for four losses, but that's life in the big city.
A slow start to 2019-20 didn't help matters.
On Nov. 20, the Bolts were 9-7-2 and falling behind the division-leading Bruins. It wasn't a disastrous start, but the Lightning have set the bar pretty damn high over the past few seasons. Some pundits kicked around the idea that the Bolts were not ramping up until the stretch, pacing themselves for a playoff run. That is a dangerous game to play, especially in a league with the NHL's parity (and points system).
Despite the sputtering start and a deeper-than-expected Atlantic Division, the betting market remains very high on Tampa Bay. The Lightning were the consensus Stanley Cup favorite heading into the season and they haven't fallen very far, if at all. The Lightning are between 9-1 and 12-1 across the market as of Dec. 16. Sportsbooks are obviously weary of adjusting the Bolts too much and for good reason.
Maybe the Lightning didn't come out of the gates flying, but their underlying metrics suggest they have been just as good as they were last year in nearly every part of the game.
Through 31 games this season, Tampa has a 53.2% expected goal share (xG%) and is creating 0.3 more expected goals per hour than it is allowing. Those numbers are pretty much on par with where the Bolts were in 2018-19 when they finished with a 52.9 xG%.
The Lightning are heading in the right direction, too. Over their last 16 games, the Bolts have controlled 54.7 percent of the expected goals at 5-on-5. Things are starting to come together for Tampa, but the cruel reality of playing in the NHL is that, no matter how good you are, you will only go as far as your goaltending takes you.
Last season, Andrei Vasilevskiy helped carry the Lightning to a Presidents Trophy with a +7.02 Goals Saved Above Expectations (GSAx) and a .924 save percentage in 53 games. He was rewarded with his first Vezina Trophy for his efforts.
The Russian netminder has fallen out of form this season. Vasilevskiy has a -9.7 Goals Saved Above Expected (GSAx) and his backup, Curtis McElhinney, has not been much better. Tampa's goaltending is costing the team wins right now, but if Vailsevskiy can get it together, the Lightning will climb.
After another mediocre week, including a pair of unlucky losses against the Islanders and Capitals, there could be some value on Tampa from a game-to-game basis.
The results have been different this season, but the Lightning are just as much a contender as they were during their historic season. — Michael Leboff
---
Check out PointsBet, where Action Network users can access an exclusive promotion to get a 200% deposit match (deposit $50, bet with $150). No strings attached. No rollover required.
---
Trending Up
Los Angeles Kings: For a last-place team, the Los Angeles Kings sure are fascinating.
The Kings may have the third-worst record in the league, but there are some numbers that suggest LA is better than it appears.
On the season, Los Angeles ranks ninth in the league with a 52.7 expected goals share (xG%) and fourth in the league with an average of 2.54 expected goals per 60 minutes (5-on-5, score + venue adjusted). Over the last month (16 games), Los Angeles has controlled 54.5% of the expected goals and is averaging 2.63 xGF/60.
Those are really strong numbers for a bad team, so what gives? As is so often the case in these situations, the Kings are being let down by struggling goaltenders and terrible special teams, but they also just don't have the scoring talent to make good on the opportunities they are creating.
The good news for bettors is that teams that fit this profile — good underlying metrics, bad record — are often underrated in the market. And with a record this bad, the Kings figure to be a live underdog at some good prices in the coming weeks. — Michael Leboff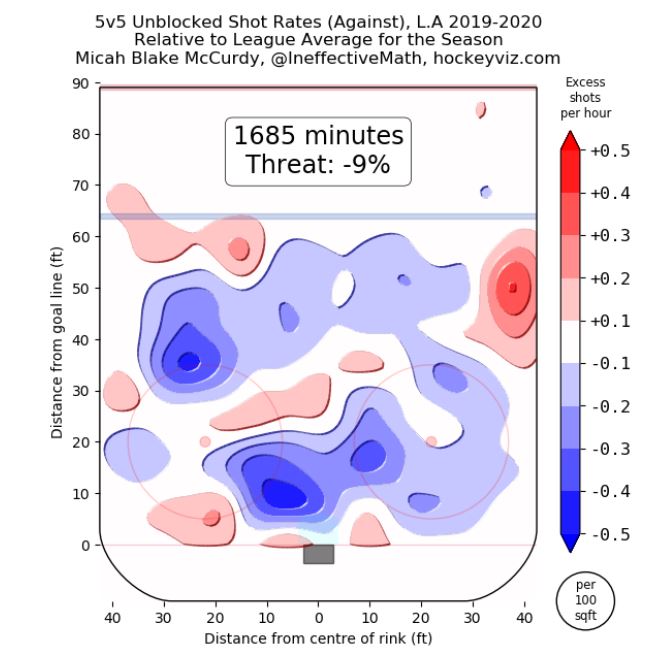 In December, the Kings lead the NHL in expected goal share (57.6%) at even strength, and they are 3-0-1 in their past four games after beginning the month on a four-game losing streak.
They have dominated possession- ranking third in Corsi and second in Fenwick over their past eight games – but have only scored three goals on 21 power-play opportunities (14.2%) compared to a rate of seven goals on 22 tries (31.8%) for their opponents.
For the season, the Kings rank third in the NHL in expected goal share at even strength (53.9%), but they rank 30th out of the 31 teams in both power-play efficiency (12.4%) and penalty kill efficiency (74.1%).
I anticipate some positive regression in both categories moving forward, but suspect that the Kings will remain undervalued in the betting market for the time being. — Sean Zerillo
---
Columbus Blue Jackets: Yes, a team that's picked up four points in the last two weeks can be trending up. At least when you dig a little deeper.
The Jackets own the fourth best expected goals for percentage this month, and have been excruciatingly close in a handful of games — a 3-2 loss to the Rangers that Columbus dominated, and overtime losses to the Senators and Penguins. Their one win in the last two weeks came in Washington as a big underdog.
And overall this season, Columbus ranks third overall in expected goal percentage thanks to stellar defense and about league average offense. The Jackets limit high-danger scoring chances from their opposition better than anyone but the Wild.
The goaltending has been fine, so that's not anchoring their excellent underlying metrics, and coach John Tortorella can get the most out of any group of players.
I expect this team to start picking off some more of the league's elite over the next few weeks and ultimately compete for a playoff spot. — Steve Petrella
Trending Down
Edmonton Oilers: It may seem obvious to pick on the Oilers given their current four-game losing streak and 2-6-1 record over their last nine games, but there's reason to believe things could get worse before they get better in The Big E.
The Oilers have never been a particularly strong team at 5-on-5, but they are floundering as of late. During its recent 9-game skid, Edmonton has been outscored, 27-11, at 5-on-5. On the season, the Oilers are scoring 2.28 goals and allowing 2.82 goals per 60 minutes at even strength. If it wasn't for their league-leading power play, Edmonton would be in some trouble.
At some point, relying so heavily on Connor McDavid, Leon Draisatl and special teams was going to catch up with Edmonton. That may be what's happening now. — Michael Leboff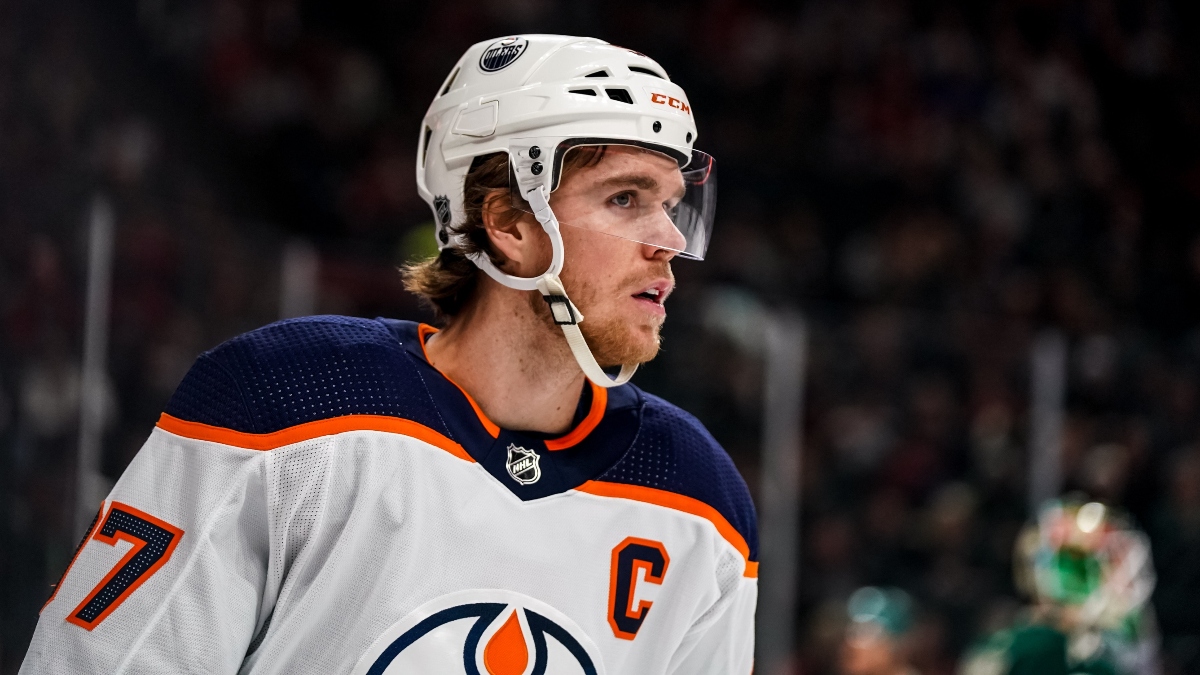 Edmonton Oilers: The Oilers rank 29th in expected goal share (43.5%) at even strength in December, and they are 2-6-1 in their last nine games including a 1-4 record at home.
For the year, Edmonton ranks 21st (48.6%) in the same category, playing a high-octane style with a top-ten offense and bottom-five defensive unit.
The Oilers finished 24th in expected goal rate, and below .500 last season and they currently carry a negative goal differential (-3) despite solid 18-13-4 record.
They could fall out of the playoff race completely, and make for a prime fade target moving forward. — Sean Zerillo
---
Winnipeg Jets: Above the surface, this season has been what many expected for the Jets — they're third in the Central and competing with the best teams in the league.
But they're doing it in a much different way.
Entering the year, it looked like Winnipeg would have a historically poor defensive corps after losing four mainstays from last season, including still-injured Dustin Byuglien.
But the Jets have played a much more deliberate defensive game so far, and been buoyed by goalie Connor Hellebuyck, who ranks third in goals saved above expected (per Moneypuck.com) and first in save percentage by a wide margin.
Goaltending isn't all that sticky and notoriously difficult to project, and the rest of the picture for Winnipeg hasn't been pretty — it's last in expected goal percentage at 43.65%.
Hellebuyck has been brilliant at times in his young NHL career, but I'm not counting on a .931 save percentage all year. He'll come back down to earth a little bit, and the Jets' inability to control the puck will come back to bite them. — Steve Petrella
---
Stats via HockeyViz.com, MoneyPuck and Evolving-Hockey.com.
How would you rate this article?