Blue Jackets vs. Maple Leafs Odds & Picks: Columbus Is a Live Dog On Sunday Night
Credit:
Patrick McDermott/NHLI via Getty Images. Pictured: Oliver Bjorkstrand
Blue Jackets vs. Maple Leafs Odds
Looking for Friday's game? Get our Game 4 preview here.
---
Odds as of Saturday night and via FanDuel. Get up to a $500 risk-free bet at FanDuel today or see more offers and reviews for the best online sportsbooks.
---
Styles make fights.
That's going to be the theme for the best-of-5 series between the all-offense Toronto Maple Leafs and the defense-first Columbus Blue Jackets.
These two teams want to play the game at very different speeds. The Maple Leafs are most comfortable in first-to-five-goals-wins type contests while the Blue Jackets do their best work in low-event games. Unstoppable force, meet immovable object.
Only the Pittsburgh Penguins are bigger favorites than the Leafs for Game 1 and I'm skeptical that the price should be this steep on Toronto. Sure, the Buds could go toe-to-toe with some of the best offenses in the NHL, but that isn't who they are playing.
Stylistically, this series could be an issue for Toronto.
| | Maple Leafs | Blue Jackets |
| --- | --- | --- |
| Goals For Per 60 Minutes | 2.74 | 2.14 |
| Goals Against Per 60 Minutes | 2.71 | 2.09 |
| Expected Goals For Per 60 Minutes | 2.61 | 2.22 |
| Expected Goals Against Per 60 Minutes | 2.45 | 2.08 |
| High-Danger Chances For Per 60 Minutes | 11.5 | 9 |
| High-Danger Chances Against Per 60 Minutes | 11 | 8.8 |
---
Expected goals (also known as xG) is a predictive statistic that gives an indication of whether results are based on sustainable factors like a steady creation of scoring chances, or whether it is down to aspects such as shooting luck or outstanding goaltending.
Simply put, an expected goals rate (xGF%) above 50% is considered good because it means a team is creating the majority of the scoring chances. Anything below 50% is usually a sign that a team is struggling to control play.
xG numbers cited from Evolving Hockey.
---
Columbus Blue Jackets
The Blue Jackets put together an impressive season against the odds in 2019-20. The hockey world left the Jackets for dead after they lsot Artemi Panarin, Sergei Bobrovsky and Matt Duchene to free agency, but John Tortorella was able to get his squad to buy into a defense-first system that paid big dividends during the regular season.
The Jackets allowed the third-fewest expected goals per 60 minutes during the regular season and that took pressure off an offense that lost its two best players in the summer. It may not be the prettiest way to play hockey, but there's no denying that Columbus' protect-the-house style worked out.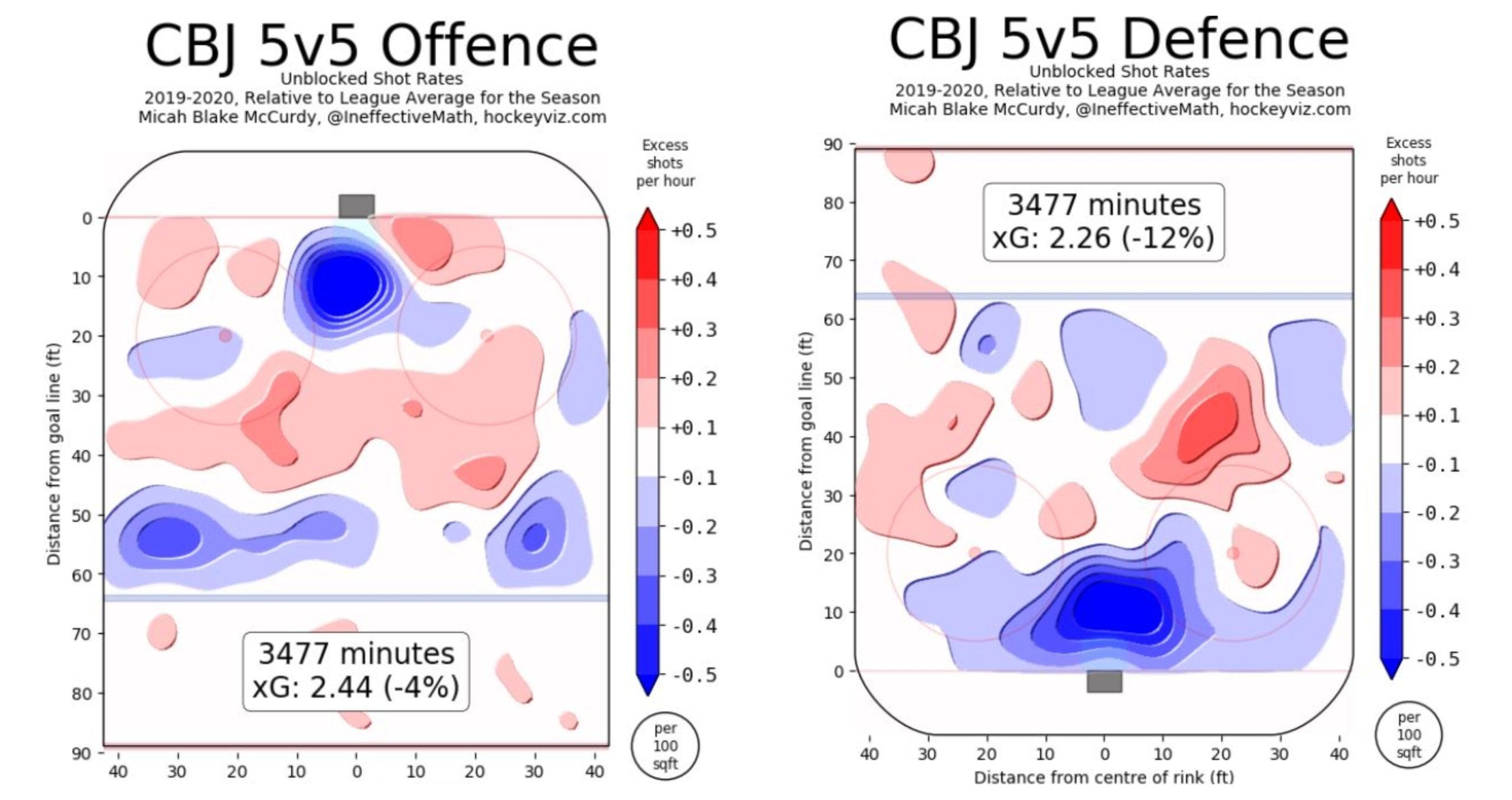 What's even more impressive is that the Blue Jackets achieved this modest success despite leading the NHL with 419 man-games lost to injury. Top-pair defenseman Seth Jones will be back for the tournament. As will the club's two best forwards, Oliver Bjorkstrand and Cam Atkinson.
It's possible we see the best version of Columbus this summer.
Toronto Maple Leafs
Perhaps no team in the NHL has more game-breaking talent than the Toronto Maple Leafs, which is why it's a bit unsettling to see them with the eighth-best points percentage in the Eastern Conference. In fact, the Leafs and Blue Jackets tallied the same amount of points in the same amount of games during the regular season. They came into the season with very different odds.
The Leafs were among the preseason favorites to win the Stanley Cup, but a sputtering start led to a coaching change in November. Former franchise savior Mike Babcock was ousted for the new franchise savior, Sheldon Keefe.
While the Leafs improved their overall numbers after Keefe took over, the defense was only marginally better going from 2.55 expected goals against per 60 minutes under Babcock to 2.47 under Keefe.
As dynamic as the Buds are going forward, they leave a lot to be desired on defense. Toronto is good enough to outscore its problems, but the Leafs are playing with fire if their defense doesn't improve.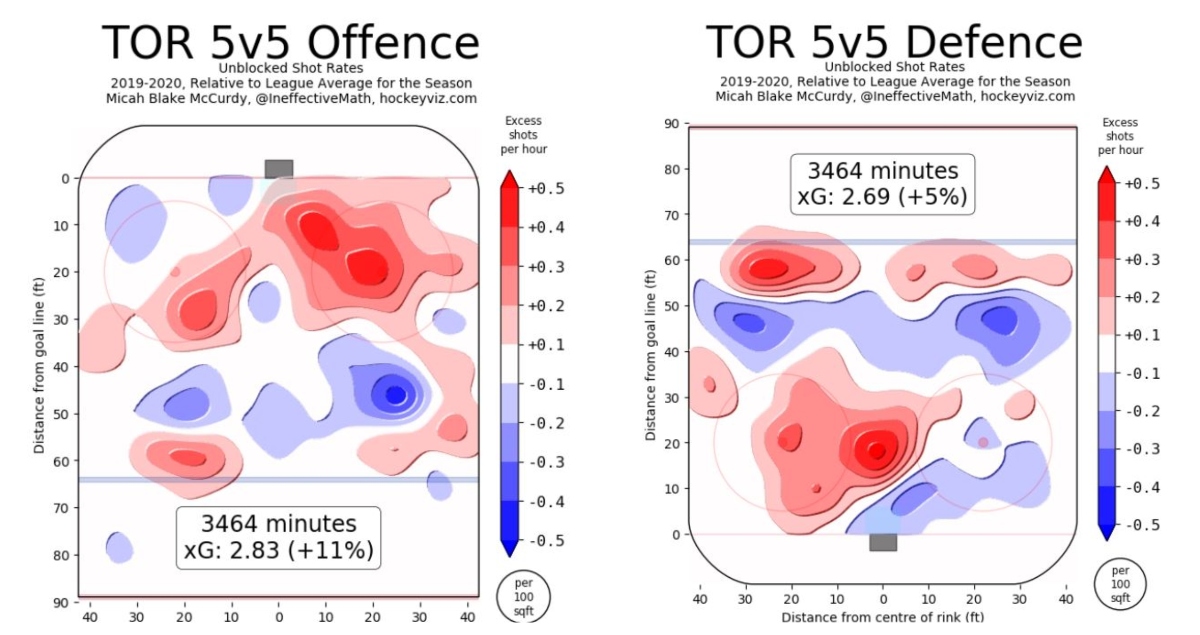 Toronto's defense particularly struggled against good forechecks during the regular season as no team allowed more goals off the cycle than the Leafs did.
That doesn't bode well against the Jackets, who despite not having a glitzy offense, led the NHL in goals created off the forecheck and finished second in scoring chances created off the forecheck (via The Point Hockey).
If the Leafs improve their team defense just a little, they will be dangerous. But until we see that happen, they remain a vulnerable favorite.
Betting Analysis
Columbus flew under the radar for much of 2019/20 and I don't expect that to change in this series. Bettors typically gravitate towards more exciting teams like Toronto, so don't be surprised if the Leafs are one of the most popular teams during the qualifying round.
That is good news for underdog bettors as it means that the price should stay relatively high on the Jackets throughout this series. When you convert the Game 1 odds to implied probability, you get Toronto with nearly a 60% chance of winning:
Maple Leafs: 59.2% win probability
Blue Jackets: 40.8% win probability
I'm not arguing that the Leafs aren't deserving favorites, they are, but this price is too high considering the path to success for Columbus. I like a bet on Columbus in Game 1 at +130 or better, to win the series at +135 or better and to win the Stanley Cup at +5500 or better.
How would you rate this article?