NHL Betting Odds and Picks: Canadiens-Capitals, Penguins-Maple Leafs and More (Thursday, Feb. 20)
Credit:
Patrick McDermott/NHLI via Getty Images. Pictured: Alex Ovechkin
Will the Capitals return to form or will their current skid continue? It's one of several questions Michael Leboff addresses in his Thursday NHL breakdown.
The Penguins crushed the Maple Leafs last night in the first leg of a home-and-home. Are they headed for another repeat performance in a rematch tonight?
See betting analysis for the Caps' (-190) showdown with the Canadiens as well a tilt between the Penguins and Maple Leafs (-118).
All of a sudden the playoff race in the Eastern Conference is flush with teams falling all over themselves:
Columbus Blue Jackets (0-3-3 in last six games)
New York Islanders (0-4-0 in last four)
Washington Capitals (2-5-0 in last seven)
Florida Panthers (4-6-1 in last 11)
Toronto Maple Leafs (3-5-1 in last nine)
And then there's the big boys. The Tampa Bay Lightning have won 12 in a row. The Boston Bruins have won nine of 10. The Pittsburgh Penguins are 7-2-1 in their last 10. The cream has certainly begun to rise to the top.
Plenty of these teams are in action on Thursday, so let's jump into the slate:
Thursday NHL Odds & Picks
---
Odds as of Thursday at 11 a.m. and via DraftKings. Get up to a $1,000 sign-up bonus at DraftKings today or see more offers and reviews for the best online sportsbooks.
---
Canadiens at Capitals Odds
Canadiens odds: +163
Capitals odds: -190
Over/Under: 6
Time: 7 p.m. ET
This is a buy-low spot for both teams.
Washington returns home after a recent skid that saw them collect just four of a possible 14 points. For the first time all season, the Capitals have dropped out of first place in the Metropolitan Division, supplanted by the Pittsburgh Penguins.
Montreal's most recent tailspin culminated on Tuesday night as the Habs melted down against the historically-bad Detroit Red Wings, losing 4-3 in regulation. The Canadiens are cooked and have begun to trade away assets with an eye on 2020-21.
It's a real shame that Montreal's season has gone this way because the Habs boast the third-best expected goals rate (53.5%) this season and have ranked near the top of the xG table for most of the campaign. Injuries, bad luck and a lack of high-end talent has doomed Montreal to mediocrity in 2019-20, but the process looked right.
The Washington Capitals are a different story, posting good results despite mediocre 5-on-5 metrics for most of the season. The Caps have enough elite players to outrun their underlying numbers, but they've been playing with fire all season — especially in their own zone.
Washington allows too many scoring high-danger scoring chances (11.2 per 60 minutes at 5-on-5) and the Caps rank 20th in the NHL in expected goals against per 60 minutes at 5-on-5. Those aren't terrible numbers, but they aren't good either.
Montreal, for all of its flaws, is able to take advantage of poor defenses. The Habs rank third in the NHL at creating high-danger scoring chances and their 2.64 expected goals for per 60 minutes at 5-on-5 is bested by only two teams in the circuit.
Only two teams in the NHL average more expected goals and high-danger scoring chances per 60 minutes at 5-on-5 than the Habs this season.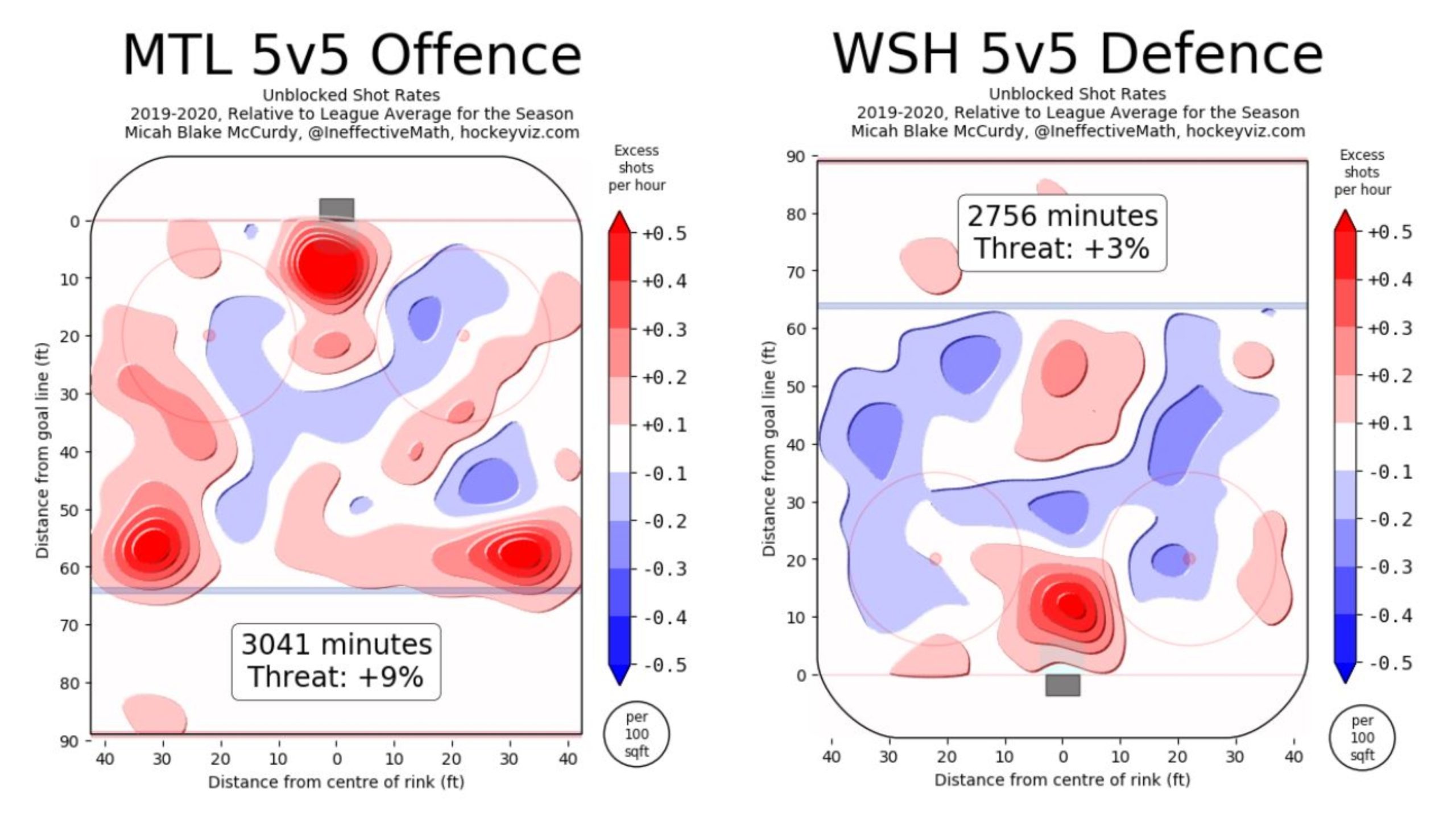 Backing a team that has waved the white flag is nobody's idea of fun, but the number on Montreal looks good enough to take a shot. The listed odds suggest that Washington wins this game 63.3% of the time and I think that's a shade too high against a team with strong 5-on-5 metrics.
[Bet now at DraftKings. NJ, PA, IN and WV only.]
Around the League
The Pittsburgh Penguins (+102) and Toronto Maple Leafs (-118) will wrap up their home-and-home in Ontario after the Pens smushed the Buds, 5-2, on Tuesday night.
The Penguins closed as -148 favorites (DraftKings) at home on Tuesday, so in theory we should know how these two teams should be priced for the return leg by adjusting for the change in venue. Here's how:
At -148/+125, Pittsburgh had a 57.3% implied probability
Home-ice advantage is worth 4.9% in the NHL
When you take that away from Pittsburgh and give it to Toronto, you should get Pittsburgh with a 47.5% implied probability on Thursday night
The current odds (-118/+102) give Pittsburgh a 47.8% chance of winning
Going by that there is the slightest of edges on Toronto, but I don't think there's any reason to get involved in this game.
You can apply the same logic to Columbus Blue Jackets (-124) vs. Philadelphia Flyers (+108), who are also finishing up a home-and-home. The Flyers took the first game, 5-1, in Philly. Philadelphia closed at -160 (59.1%), which means they should be just under 50% to win the rematch in Columbus.
The current prices imply Philadelphia has a 46.5% chance of winning this game, so there's value on the Flyers against the banged-up Blue Jackets.
Another underdog that caught my eye are the Arizona Coyotes (+145), who are on the road to take on the St. Louis Blues (-170) on Thursday night. St. Louis boasts some pretty unremarkable 5-on-5 numbers this season and has struggled lately thanks to poor goaltending.
Arizona's metrics are nothing to write home about, either, but I think the Yotes have better than a 39.3% chance of winning in St. Louis on Thursday.
How would you rate this article?