NHL Betting Picks and Odds: Penguins vs. Blue Jackets, Hurricanes vs. Devils and More (Thursday, March 12)
Credit:
Jeff Vinnick/NHLI via Getty Images. Pictured: Elvis Merzlikins, Nick Foligno
There's obviously a lot more important stuff going on than betting on hockey.
Good on the Columbus Blue Jackets for being aggressive and proactive in the face of these unprecedented times. It's a tough decision to make, telling their fans and visiting supporters to stay home from the arena, but it's clearly the right move (even if they really had no choice). The Jackets put the long-term health of their fans, players and staff over some short-term revenue. Hopefully other teams, in this sport and the next, follow along.
It's way down the pecking order in terms of importance, but let's just get this out of the way. I've got no idea what an empty arena means for handicapping a professional hockey game. To my knowledge, this has never happened before in the modern NHL. I won't lie to you and say I've got an edge on either side of this game because the rink will be quiet.
Do you want to consider whether or not an empty arena takes away from home-ice advantage? Sure, you can make a good case that it does. But you can also argue that these are professional athletes and, whether they're playing in an empty arena or in front of the pope, they will be very good at their trade.
Instead of focusing on whether or not the empty arena in Columbus helps or hurts the home or away side, I'm approaching this fixture like it's any other game on the schedule — even though it isn't.
---
Odds as of Wednesday at 7 p.m. ET and via PointsBet. Get up to $25 FREE and $250 in free bets at PointsBet today or see more offers and reviews for the best online sportsbooks.
---
Pittsburgh Penguins at Columbus Blue Jackets Odds
Penguins odds: -150
Blue Jackets odds: +130
Over/Under: 6
Time: 7 p.m. ET
The Pittsburgh Penguins and Columbus Blue Jackets both got hot — and cold — at the same time this season. When these two Metro Division rivals were going well, it was because of their defensive play.
Through the first half of the season the Blue Jackets and Penguins allowed 1.99 and 2.01 expected goals against per 60 minutes at 5-on-5, respectively. Since Jan. 1, the Blue Jackets are allowing 2.2 xGA/60 while the Penguins are ceding 2.45.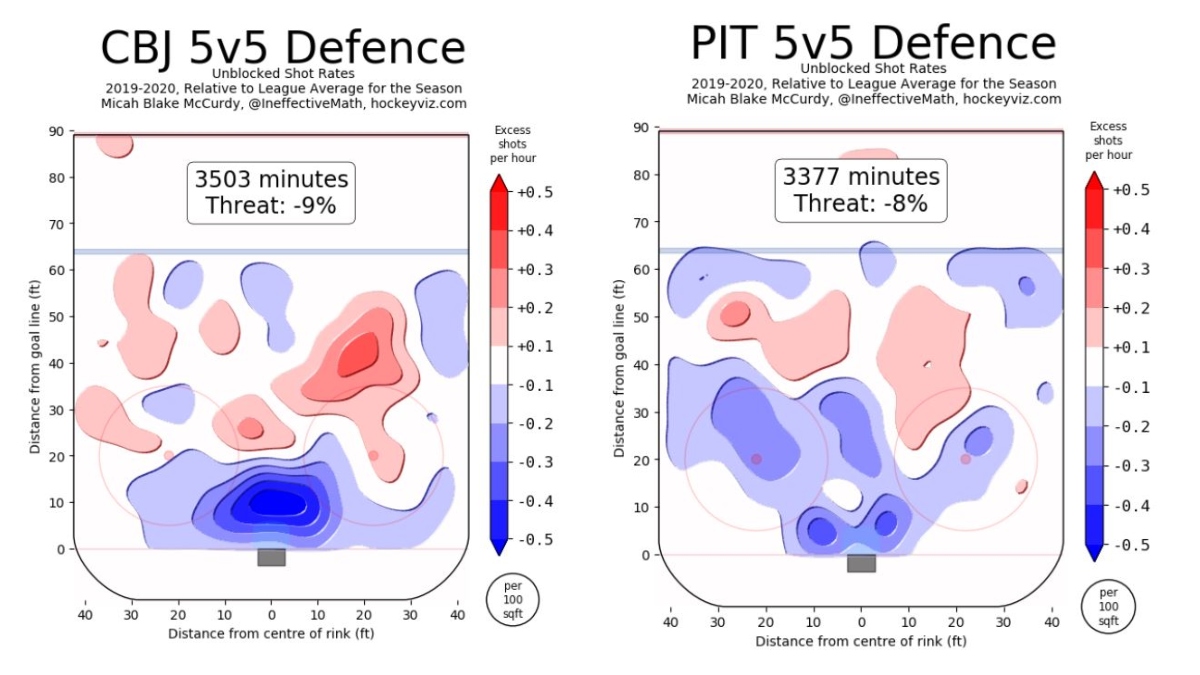 Allowing 2.2 expected goals against at 5-on-5 is still strong, but given Columbus' lack of scoring talent its margin for error is quite slim. Pittsburgh, on the other hand, has plenty of goal-scorers on its roster, so the Pens are built to survive some defensive deficiencies.
It is imperative for the Jackets to drive play at 5-on-5 if they want to have success. Their lack of starpower means they need to control play and generate more high-grade scoring opportunities than their opponents. They haven't been doing that lately — the Blue Jackets have a 47.2% expected goals rate over their last 10 games — but neither have the Penguins, who boast a 48% expected goals share in their last 10.
I'm projecting both teams will try and dig in for a defensive battle and I like taking underdogs when the game-script looks like it will play out like that.
Pittsburgh's talent should win out long-term, and I don't think this number is that off-putting, but I do think the Blue Jackets deserve a little bit more credit than what the market is implying.
At the listed odds the Penguins have an implied probability of 58%. Even if you throw out home-ice advantage, the Pens are at a schedule disadvantage, playing their fourth game in six nights.
Do the Pens win this game more often than not? Yes. Do they win it 58% of the time? I don't think so.
Around the League
Once again, I'm drawn to the Buffalo Sabres (+130) as an underdog. The Montreal Canadiens (-150) boast one of the best expected goals rates in the NHL this season but the key to the Habs' success is an offense that creates 2.66 expected goals for per 60 minutes. Buffalo, on the other hand, plays a defense-first style and does a solid job at suppressing goal-scoring opportunities.
This is a strength-against-strength matchup and I'm happy to side with the Sabres at +130 or better. A low-scoring game will suit Buffalo and the Sabres have the defense to turn this contest into a mud fight.
The New Jersey Devils (+155) have been lucky to win a bunch of games lately, their 5-on-5 metrics are abysmal over the past six weeks, but I think they are worth a bet as home underdogs against the Carolina Hurricanes (-180), who are playing their fourth game in six nights.
After a good wobble, the Hurricanes have turned their 5-on-5 play around over their last 10 games but they still are a bit porous on defense and are down to their No. 3 goaltender on the depth chart. That's a recipe for chaos, so I'll gladly take the shot on New Jersey at these odds.
How would you rate this article?