NHL Betting Odds & Betting Picks (Friday, Feb. 28): Rangers vs. Flyers, Sabres vs. Golden Knights, More
Credit:
Len Redkoles/NHLI via Getty Images. Pictured: Kevin Hayes
The updated betting odds for Friday's Rangers-Flyers matchup list Philly as favorites at home (-170).
Both the Rangers and Flyers have been red-hot in recent weeks.
Get our expert's betting picks for tonight's game, plus see how he is betting the rest of the slate.
Don't look now, but the New York Rangers are just two points out of a playoff spot and could occupy the final wild card spot tonight if they beat the Philadelphia Flyers and the Carolina Hurricanes and Columbus Blue Jackets both lose in regulation.
The Blueshirts are still more likely than not to miss the postseason, but the fact that Dave Quinn's team is playing meaningful games into March is certainly a surprise.
Let's see if New York can top Philly and extend its road winning streak to 10 games.
New York Rangers at Philadelphia Flyers
Rangers odds: +145
Flyers odds: -170
Over/Under: 6
Time: 7 p.m. ET
---
Odds via FanDuel. Get up to a $500 risk-free bet at FanDuel today or see more offers and reviews for the best online sportsbooks.
---
While the rest of the Metropolitan Division is in a tailspin, the Flyers and Rangers are soaring. They have combined for nine wins in a row (Rangers 5, Flyers 4) and a 16-4 record over their last 20 combined games (Rangers 9-1, Flyers 7-3).
Both of these hot streaks appear legitimate under the surface, though the Flyers boast the more impressive 5-on-5 numbers since the beginning of the month. In their last 12 games, the Flyers have a 56.5% expected goals rate and are allowing just 1.87 expected goals against (xGA) per 60 minutes at 5-on-5.
In that same span, the Rangers boast a 50% expected goals rate, which is an improvement on their overall numbers, but New York's defense is still a bit leaky, allowing 2.65 expected goals against per 60 minutes.
The Rangers are still succeeding thanks to their prolific offense and stalwart goaltending.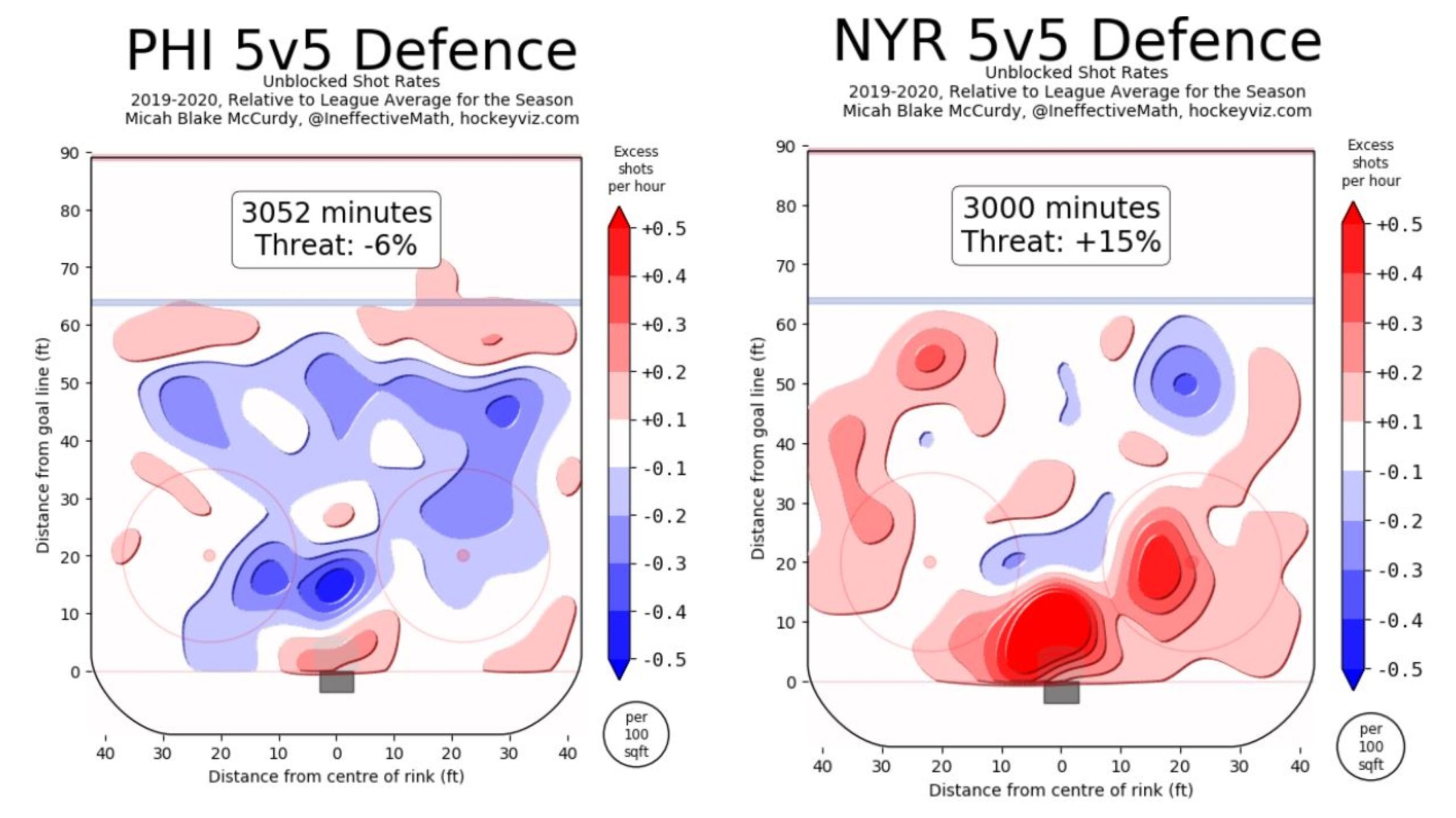 Not only are the Rangers on the road, but they are also at a schedule disadvantage on Friday, since they are on a back-to-back.
That being said, should the odds be this wide between two teams trending in the right direction?
At -170/+145, you'd need the Rangers to win this game more than 39.3% of the time to see value. I think it's pretty close to that number, but given New York's talent advantage, I still think the Blueshirts are a fine bet at +145. I wouldn't go any lower than that, however.
[Bet now at FanDuel. NJ, PA, IN and WV only.]
Around the League
The price on the Minnesota Wild (+105) is interesting considering they are on the second night of a back-to-back after trouncing the Red Wings, 7-1, on Thursday. The Wild may be at a rest disadvantage, but the Columbus Blue Jackets (-125) have been decimated by injuries and are hanging on to a playoff spot by the skin of their teeth.
Both Minnesota and Columbus rank among the league's best at preventing scoring chances, so this game figures to be a low-event contest, and I think this game is basically a coin flip. That being the case, I'll play Minnesota if the Wild get up to +110.
I like the Colorado Avalanche (-105) on the road against the Carolina Hurricanes (-115) in a battle of two very banged up teams. The Hurricanes added a few reinforcements at the trade deadline, but I don't think they solve Carolina's issues on defense. Over their last 12 games, the Hurricanes have allowed 2.75 expected goals against per 60 minutes at 5-on-5 and they are down to their third-string goaltender, which just throws gas onto the fire.
That isn't a recipe for success against any team, but especially not against the Colorado Avalanche. The Avs are missing half of their top-six forwards, but I still think they should be favored in this game, even on the road.
I played the Buffalo Sabres at +235 against the red-hot Vegas Golden Knights, but wouldn't hold it against anybody for passing on that game. I like betting on good defensive teams at big numbers and the Sabres, for all their offensive flaws, are one of the best teams in the league at limiting scoring chances.
I'd play Buffalo at +230 or higher, which means you need them to win this game about 30% of the time to start to see value.
How would you rate this article?