NHL Odds & Picks (Tuesday, Dec. 31): How To Bet on Wild vs. Maple Leafs, Canadiens vs. Hurricanes and More
Credit:
Mark Blinch, Getty Images. Pictured: Auston Matthews
The NHL will ring in the new decade with the 12th Winter Classic on New Year's Day, but before the Predators and Stars meet on the ice at the Cotton Bowl, there's a 13-game slate on New Year's Eve.
It would be nice if the league put a little more marketing oomph behind both days, considering there's hockey on all day on New Year's Eve, but maybe that can be the NHL's resolution for 2020. Either way, it's nice to have a robust slate to whet the whistle before the entire sporting world stops dead in its tracks for the Winter Classic.
---
Odds as of Wednesday morning and via FanDuel, where Action Network users get a risk-free bet up to $500.
---
Toronto Maple Leafs at Minnesota Wild Odds
Maple Leafs odds: -135
Wild odds: +115
Over/Under: 6.5
Time: 6 p.m. ET
If you wanted to pair up the NHL's two polar opposites, this would be the matchup.
The Toronto Maple Leafs have started to blossom into an offensive powerhouse under Sheldon Keefe, going 12-4-1 in the 39-year-old's first 16 games in charge. There may be some "new manager bounce" shenanigans at play here, but the success looks legitimate for Toronto. The Leafs have earned 54.8% of the expected goals in 17 games with Keefe behind the pine.
Toronto's high-octane offense remains its bread-and-butter, but the defense is a bit leaky, allowing 2.42 expected goals and 2.67 goals per 60 minutes at 5-on-5 in its last 10 games. The job will get tougher for the Leafs on defense as top-pair defenseman Jake Muzzin is out week-to-week with a broken foot.
On most nights the Leafs can outscore their defensive shortcomings — they have scored 3.7 goals per hour at 5-on-5 in their last 10 games — but that won't be easy against the NHL's best defensive team.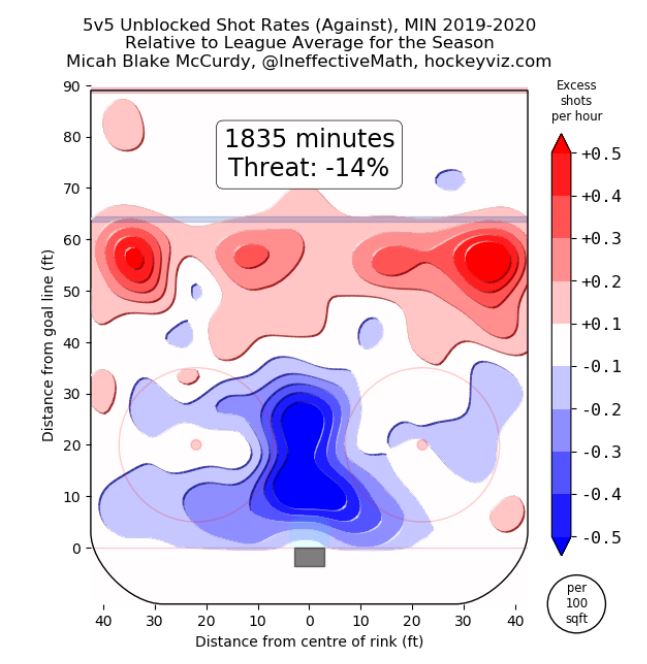 No team in the NHL suppresses scoring opportunities like the Wild, who lead the circuit in expected goals against and high-danger scoring chances against at 5-on-5.
Unfortunately, the Wild have very little goaltending to speak of, even though Minnesota's defense does a great job at setting up its goaltenders for success. Despite the easy workload, Devan Dubnyk and Alex Stalock grade out as two of the worst goaltenders in the NHL this season and have a combined -29.5 Goals Saved Above Expectation (GSAx) according to Evolving-Hockey.
Despite their shortcomings in goal, I think the number on the Wild is too good to pass up.
One way to help spot value in the NHL is to adjust for home-ice advantage. According to the listed odds, the Leafs win this game 55.3% of the time. That means Toronto, even without Muzzin and top-six forward Ilya Mikheyev, would be roughly -164 against the Wild (~60.2% implied probability) on neutral ice.
The Leafs are hot, but that's a pretty lofty price against a well-structured team like the Wild. I'd play Minnesota at +105 or better.
Montreal Canadiens at Carolina Hurricanes Odds
Canadiens odds: +145
Hurricanes odds: -165
Over/Under: 6
Time: 7 p.m. ET
This one should be fun. The Hurricanes and Canadiens are two of the best 5-on-5 teams in the league and both clubs rank inside the top 10 in total goals per game.
The Hurricanes lead the NHL with a 54.7% expected goals rate and generate 0.48 more expected goals per 60 minutes than they allow. Carolina's offense has been the key to its success as no team creates more high-danger scoring chances per 60 minutes than the Hurricanes do.
That being said, the Canes have experienced a dip in form over the past month with a 51.6% expected goals share in their last 14 games. That's not all that alarming, but considering where the Hurricanes' numbers usually are, it is interesting to note.
Montreal, which owns the fifth-best xG% in the NHL this season, has been trending up recently. The results haven't reflected it, but Montreal has been one of the league's best teams since Thanksgiving, and have earned 57% of the expected goals in its last 14 games.
According to Evolving Hockey's expected goals model, the Canadiens should have scored an average of 2.72 goals per 60 minutes the past month. In reality, the Habs managed just 2.11 goals per hour in that span. Montreal is struggling to finish off chances, but the real problem is in goal, where Carey Price has struggled to a -12.8 GSAx in 19 games this season.
The good news is that goaltending and scoring are both volatile and the big picture looks good for the Habs.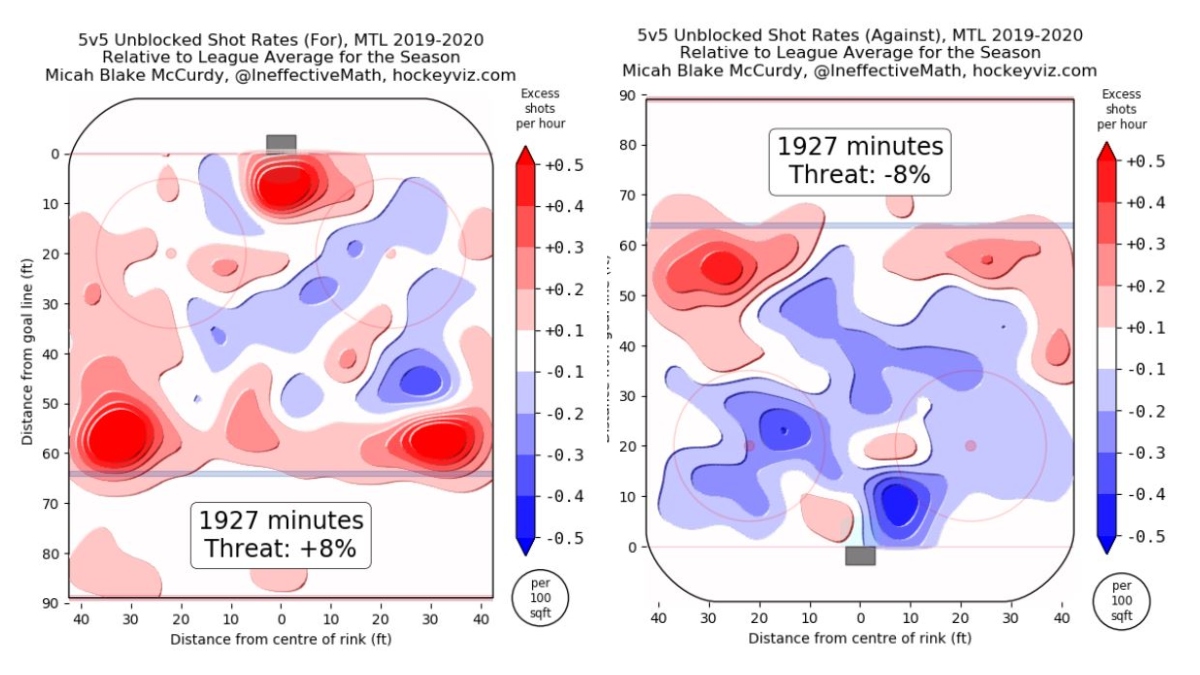 Montreal is missing a couple of key forwards and is playing its third game in four nights, but I still don't think the gulf between these two teams is this wide. The listed odds imply that Carolina wins this game about 60.7% of the time and I believe that's a tad high.
Perhaps Montreal's mediocre record is keeping its price down, but the Canadiens continue to play great hockey at 5-on-5 and if they can get some goaltending, they should have some value at this number. I'd play Montreal at any number north of +140.
Around the League
The New York Islanders (+140) continue to be a tough team to read for both bettors and bookmakers. The Isles don't boast particularly strong underlying metrics, but they have still managed their way to the fourth-best record in the NHL this season.
The Washington Capitals (-165) have the best record in the NHL but their underlying metrics aren't all that eye-popping, either. The Caps can always get by thanks to their talent, but they aren't dominating teams at 5-on-5.
Grinding out a result against the league-leading Capitals is a tall task, but the Islanders' low-risk system and their ability to turn games into coin flips means they often have value at prices like this. The odds for this game varies from book to book, so be sure to shop for the best number available.
I know the Columbus Blue Jackets (-105) are banged up and are missing their starting goaltender, Joonas Korpisalo, but I don't think they should be underdogs against the Florida Panthers on Tuesday night. The Blue Jackets have been the best 5-on-5 team, at least according to their 58.4% expected goals share, for the past month.
The Blue Jackets have played fantastic defensive hockey all season long, so they should give Elvis Merzlikins a fighting chance against a Florida Panthers team that ranks 27th in the league at creating high-danger scoring chances. Even with all the injuries, I like Columbus at -120 or better.
If you're into bets that will be very little fun, there's probably some value on the Anaheim Ducks (+175) on the road in Vegas and the New Jersey Devils (+155) at home against the Bruins. There's not much I can say to defend Anaheim or New Jersey, but those numbers are a bit inflated. I'll likely end up on both teams, though I'm waiting to see if the market bumps up on both sides, as I don't envision many people lining up to bet the Ducks or Devils.
How would you rate this article?